Abstract
Globally, Sus scrofa is one of the most widely recognized species inhabiting earth alongside humans. Known by many names (wild boar, domestic swine, feral pig), S. scrofa is both an ecosystem engineer and an important agricultural species. Originating in Southeast Asia 5 million years ago, S. scrofa naturally expanded throughout Eurasia and into North Africa but now inhabits every continent, except Antarctica. The worldwide distribution of S. scrofa can be attributed largely to human-mediated transport occurring over the course of the past 500 years particularly during the European age of exploration. Biologically, the differences between wild, domestic, and feral populations can be traced to these historical events, which resulted in a marked increase in reproductive rates and growth rates among domestic populations that have generally been shown to regress when these populations become feral. Given the importance of this species ecologically and the great deal of available research describing it, this review summarizes existing literature on the global expansion and corresponding biological changes of S. scrofa within a historical and genetic context to allow for better understanding of the species.
Access options
Buy single article
Instant access to the full article PDF.
USD 39.95
Price excludes VAT (USA)
Tax calculation will be finalised during checkout.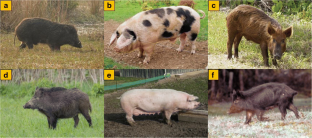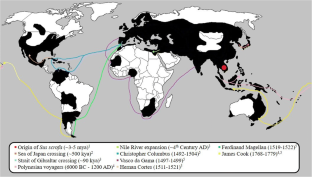 References
Ahmad E, Brooks JE, Hussain I, Khan MH (1995) Reproduction in Eurasian wild boar in Central Punjab, Pakistan. Acta Theriol 40:163–173

Alexander N, Massei G, Wint, W (2015) The European distribution of Sus scrofa. Model outputs from the project described within the poster - where are all the boars? An attempt to gain a continents perspective. Figshare Data. https://doi.org/10.6084/m9.figshare.1502662.v1

Alexandri P, Megens HJ, Crooijmans RP et al (2017) Distinguishing migration events of different timing for wild boar in the Balkans. J Biogeogr 44:259–270

Ali T (1994) A manual for the primary animal health care worker. Food and Agriculture Organization, Rome

Allen MS, Matisoo-Smith E, Horsburgh A (2001) Pacific 'babes': issues in the origins and dispersal of Pacific pigs and the potential of mitochondrial DNA analysis. Int J Osteoarchaeol 11:4–13

Alves PC, Pinheiro I, Godinho R, Vicente J, Gortazar C, Scandura M (2010) Genetic diversity of wild boar populations and domestic pig breeds (Sus scrofa) in South-Western Europe. Biol J Linn Soc 101:797–822

Andersen IL, Nævdal E, Bøe KE (2011) Maternal investment, sibling competition, and offspring survival with increasing litter size and parity in pigs (Sus scrofa). Behav Ecol Sociobiol 65:1159–1167

Aravena P, Skewes O, Gouin N (2015) Mitochondrial DNA diversity of feral pigs from Karukinka Natural Park, Tierra del Fuego Island, Chile. Genet Mol Res 14:4245–4257

Ballari SA, Barrios-García MN (2014) A review of wild boar Sus scrofa diet and factors affecting food selection in native and introduced ranges. Mammal Rev 44:124–134

Barrios-Garcia MN, Ballari SA (2012) Impact of wild boar (Sus scrofa) in its introduced and native range: a review. Biol Inv 14:2283–2300

Baxter E, Rutherford K, D'eath R et al (2013) The welfare implications of large litter size in the domestic pig II: management factors. Anim Welf 22:219–238

Beattie V, O'Connell N, Moss B (2000) Influence of environmental enrichment on the behaviour, performance and meat quality of domestic pigs. Livest Sci 65:71–79

Blench RM, MacDonald KC (2006) The origins and development of African livestock: archaeology, genetics, linguistics and ethnography. Routledge, London

Bosse M, Megens HJ, Madsen O, Frantz LAF, Paudel Y, Crooijmans R, Groenen MAM (2014) Untangling the hybrid nature of modern pig genomes: a mosaic derived from biogeographically distinct and highly divergent Sus scrofa populations. Mol Ecol 23:4089–4102

Bosse M, Madsen O, Megens HJ, Frantz LAF, Paudel Y, Crooijmans R, Groenen MAM (2015) Hybrid origin of European commercial pigs examined by an in-depth haplotype analysis on chromosome 1. Front Genet 5:1–9

Brook RK, van Beest FM (2014) Feral wild boar distribution and perceptions of risk on the Central Canadian prairies. Wildl Soc Bull 38:486–494

Burney DA, James HF, Burney LP et al (2001) Fossil evidence for a diverse biota from Kaua'i and its transformation since human arrival. Ecol Monogr 71:615–641

Bywater KA, Apollonio M, Cappai N, Stephens PA (2010) Litter size and latitude in a large mammal: the wild boar Sus scrofa. Mammal Rev 40:212–220

Caliebe A, Nebel A, Makarewicz C, Krawczak M, Krause-Kyora B (2017) Insights into early pig domestication provided by ancient DNA analysis. Sci Rep 7:e44550

Campbell TA, Long DB (2009) Feral swine damage and damage management in forested ecosystems. Forest Ecol Manag 257:2319–2326

Cannon J, Morgan J, Schmidt G et al (1996) Growth and fresh meat quality characteristics of pigs supplemented with vitamin E. J Anim Sci 74:98–105

Choi SK, Lee JE, Kim YJ, Min MS, Voloshina I, Myslenkov A, Oh J, Kim TH, Markov N, Seryodkin I, Ishiguro N, Yu L, Zhang YP, Lee H, Kim K (2014) Genetic structure of wild boar (Sus scrofa) populations from East Asia based on microsatellite loci analyses. BMC Genet 15:85

Clarke CMH, Dzieciolowski RM (1991) Feral pigs in the northern South Island, New Zealand. 2. Breed composition of present populations. J Royal Soc NZ 21:249–260

Crosby AW (2004) Ecological imperialism: the biological expansion of Europe 900–1900, 2nd edn. Cambridge University, Cambride

Cuevas MF, Novillo A, Campos C, Dacar MA, Ojeda RA (2010) Food habits and impact of rooting behaviour of the invasive wild boar, Sus scrofa, in a protected area of the Monte Desert, Argentina. J Arid Environ 74:1582–1585

Danilov PI, Panchenko DV (2012) Expansion and some ecological features of the wild boar beyond the northern boundary of its historical range in European Russia. Russ J Ecol 43:45–51

Delgado-Acevedo J, Zamorano A, DeYoung RW, Campbell TA, Hewitt DG, Long DB (2010) Promiscuous mating in feral pigs (Sus scrofa) from Texas, USA. Wildl Res 37:539–546

Demirbas Y, Ozkan Koca A, Pamukoglu N, Sert H, Suchentrunk F (2016) Mitochondrial DNA control region variability of wild boar Sus scrofa with various external phenotypes in Turkey. Turk J Zool 40:957–971

Dexter N (2003) The influence of pasture distribution, and temperature on adult body weight of feral pigs in a semi-arid environment. Wildl Res 30:75–79

Ding N, Guo Y, Knorr C, Ma J, Mao H, Lan L, Xiao S, Ai H, Haley CS, Brenig B, Huang L (2009) Genome-wide QTL mapping for three traits related to teat number in a White Duroc x Erhualian pig resource population. BMC Genet 10:6

Diong CH (1982) Population biology and management of the feral pig (Sus scrofa) in Kipahulu Valley, Maui. University of Hawaii at Manoa, Dissertation

Dobney K, Cucchi T, Larson G (2009) The pigs of island Southeast Asia and the Pacific: new evidence for taxonomic status and human-mediated dispersal. Asian Persp 47:59–74

Dye TS, Pantaleo J (2010) Age of the O18 site, Hawaii. Archae Oceania 45:113–119

Evin A, Cucchi T, Cardini A, Vidarsdottir US, Larson G, Dobney K (2013) The long and winding road: identifying pig domestication through molar size and shape. J Archaeol Sci 40:735–743

FAO (2009) Farmer's hand book on pig production. FAO, Rome

Fernandez A, Alves E, Ovilo C, Rodríguez M, Silió L (2011) Divergence time estimates of east Asian and European pigs based on multiple near complete mitochondrial DNA sequences. Anim Genet 42:86–88

Fernandez-Llario P, Carranza J (2000) Reproductive performance of the wild boar in a Mediterranean ecosystem under drought conditions. Ethol Ecol Evo 12:335–343

Fernandez-Llario P, Mateos-Quesada P (1998) Body size and reproductive parameters in the wild boar Sus scrofa. Acta Theriol 43:439–444

Fernandez-Llario P, Mateos-Quesada P (2003) Population structure of the wild boar (Sus scrofa) in two Mediterranean habitats in the western Iberian Peninsula. Folia Zool 52:143–148

Fernandez-Llario P, Mateos-Quesada P (2005) Influence of rainfall on the breeding biology of wild boar (Sus scrofa) in a Mediterranean ecosystem. Folia Zool 54:240–248

Field JS, Graves MW (2008) A new chronology for Pololu Valley, Hawaii Island: occupational history and agricultural development. Radiocarbon 50:205–222

Fonseca C, Da Silva AA, Alves J, Vingada J, Soares AM (2011) Reproductive performance of wild boar females in Portugal European. J Wildl Res 57:363–371

Frantz AC, Zachos FE, Kirschning J, Cellina S, Bertouille S, Mamuris Z, Koutsogiannouli EA, Burke T (2013a) Genetic evidence for introgression between domestic pigs and wild boars (Sus scrofa) in Belgium and Luxembourg: a comparative approach with multiple marker systems. Biol J Linn Soc 110:104–115

Frantz LA, Schraiber JG, Madsen O et al (2013b) Genome sequencing reveals fine scale diversification and reticulation history during speciation in Sus. Genome Biol 14:R107

Frantz LA, Meijaard E, Gongora J, Haile J, Groenen MAM, Larson G (2016) The evolution of Suidae. Annu Rev Anim Biosci 4:61–85

Fulgione D, Rippa D, Buglione M, Trapanese M, Petrelli S, Maselli V (2016) Unexpected but welcome. Artificially selected traits may increase fitness in wild boar. Evol Appl 9:769–776

Fulgione D, Trapanese M, Buglione M, Rippa D, Polese G, Maresca V, Maselli V (2017) Pre-birth sense of smell in the wild boar: the ontogeny of the olfactory mucosa. Zool 123:11–15

Gamelon M, Besnard A, Gaillard JM, Servanty S, Baubet E, Brandt S, Gimenez O (2011) High hunting pressure selects for earlier birth date: wild boar as a case study. Evol 65:3100–3112

Gamelon M, Focardi S, Baubet E, Brandt S, Franzetti B, Ronchi F, Venner S, Sæther BE, Gaillard JM (2017) Reproductive allocation in pulsed-resource environments: a comparative study in two populations of wild boar. Oeceol 183:1065–1076

Garcia G, Vergara J, Lombardi R (2011) Genetic characterization and phylogeography of the wild boar Sus scrofa introduced into Uruguay. Genet Mol Biol 34:329–U315

Geisser H, Reyer HU (2005) The influence of food and temperature on population density of wild boar Sus scrofa in the Thurgau (Switzerland). J Zool 267:89–96

Giffin JG (1978) Ecology of the feral pig on the island of Hawaii. Dept Land Nat Res, Honolulu

Giuffra E, Kijas JMH, Amarger V, Carlborg O, Jeon JT, Andersson L (2000) The origin of the domestic pig: independent domestication and subsequent introgression. Genet 154:1785–1791

Gongora J, Fleming P, Spencer PBS, Mason R, Garkavenko O, Meyer JN, Droegemueller C, Lee JH, Moran C (2004) Phylogenetic relationships of Australian and New Zealand feral pigs assessed by mitochondrial control region sequence and nuclear GPIP genotype. Mol Phylogenet Evol 33:339–348

Graves H (1984) Behavior and ecology of wild and feral swine (Sus scrofa). J Anim Sci 58:482–492

Gray SM, Roloff GJ, Montgomery RA, Beasley JC, Pepin KM (2019) Wild pig spatial ecology and behavior. In: VerCauteren KC, Beasley JC, Ditchkoff SS, Mayer JJ, Roloff GJ, Strickland BK (eds) Invasive wild pigs in North America: ecology, impacts, and management. CRC, Boca Raton, pp 33–56

Groenen MAM, Archibold AL, Uenishi H et al (2012) Analyses of pig genomes provide insight into porcine demography and evolution. Nature 491:393–398

Hafeez S, Abbas M, Khan ZH, Rehman EU (2011) Preliminary analysis of the diet of wild boar (Sus scrofa L., 1758) in Islamabad, Pakistan. Turk J Zool 35:115–118

Hagen D, Kephart K (1980) Reproduction in domestic and feral swine. I. Comparison of ovulatory rate and litter size. Biol Reprod 22:550–552

Hampton JO, Pluske JR, Spencer PBS (2004a) A preliminary genetic study of the social biology of feral pigs in South-Western Australia and the implications for management. Wildl Res 31:375–381

Hampton JO, Spencer PBS, Alpers DL et al (2004b) Molecular techniques, wildlife management and the importance of genetic population structure and dispersal: a case study with feral pigs. J Appl Ecol 41:735–743

Hegel CGZ, de Santos LR, Pichorim M, Marini MÂ (2019) Wild pig (Sus scrofa L.) occupancy patterns in the Brazilian Atlantic forest. Biota Neotrop 19:e20180719

Herrero J, Couto S, Rosell C, Arias P (2004) Preliminary data on the diet of wild boar living in a Mediterranean coastal wetland. Galemys 16:115–123

Hess SC (2016) A tour de force by Hawaii's invasive mammals: establishment, takeover, and ecosystem restoration through eradication. Mammal Study 41:47–60

Hess SC, Jeffrey JJ, Ball DL, Babich L (2006) Efficacy of feral pig removals at Hakalau forest national wildlife refuge, Hawaii. Trans Western Sect Wildl Soc 42:53–67

Hess SC, Wehr NH, Litton CM (2019) Wild pigs in the Pacific Islands. In: VerCauteren KC, Beasley JC, Ditchkoff SS, Mayer JJ, Roloff GJ, Strickland BK (eds) Invasive wild pigs in North America: ecology, impacts, and management. CRC, Boca Raton, pp 403–422

Hongo H, Ishiguro N, Watanobe T, Shigehara N, Anezaki T, The Long V, Vu Binh D, Tien NT, Nam NH (2002) Variation in mitochondrial DNA of Vietnamese pigs: relationships with Asian domestic pigs and Ryukyu wild boars. Zool Sci 19:1329–1335

Iacolina L, Scandura M, Bongi P, Apollonio M (2009) Nonkin associations in wild boar social units. J Mammal 90:666–674

Iacolina L, Pertoldi C, Amills M, Kusza S, Megens HJ, Bâlteanu VA, Bakan J, Cubric-Curik V, Oja R, Saarma U, Scandura M, Šprem N, Stronen AV (2018) Hotspots of recent hybridization between pigs and wild boars in Europe. Sci Rep 8:17372

Ickes K (2001) Hyper-abundance of native wild pigs (Sus scrofa) in a lowland dipterocarp rain forest of peninsular Malaysia 1. Biotrop 33:682–690

Johnson AK, McGlone JJ (2011) Behaviour genetics of the domestic pig. In: In: Rothschild MF, Ruvinsky a (eds) The genetics of the pig, 2nd edn. CABI, Oxfordshire, pp 200–217

Keiter DA, Mayer JJ, Beasley JC (2016) What is in a "common" name? A call for consistent terminology for nonnative Sus scrofa. Wildl Soc Bull 40:384–387

Khalilzadeh P, Rezaei HR, Fadakar D, Serati M, Aliabadian M, Haile J, Goshtasb H (2016) Contact zone of Asian and European wild boar at north west of Iran. PLoS One 11:e0159499

Khederzadeh S, Kusza S, Huang CP, Markov N, Scandura M, Babaev E, Šprem N, Seryodkin IV, Paule L, Esmailizadeh A, Xie HB, Zhang YP (2019) Maternal genomic cariability of the wild boar (Sus scrofa) reveals the uniqueness of east-Caucasian and central Italian populations. Ecol Evol 9:9467–9478

Kirch PV (2011) When did the Polynesians settle Hawai'i? A review of 150 years of scholarly inquiry and a tentative answer. Hawaiian Archaeology 12:3–26

Kirilyuk VE, Obyazov VA, Tkachuk TE, Kirilyuk OK (2012) Influence of climate change on vegetation and wildlife in the Daurian eco-region. In: van Staalduinen MA (ed) Weger MJA. Eurasian steppes. ecological problems and livelihoods in a changing world. Springer, Dordrecht, pp 397–424

Kusza S, Podgorski T, Scandura M et al (2014) Contemporary genetic structure, phylogeography and past demographic processes of wild boar Sus scrofa population in central and Eastern Europe. PLoS One 9:e0091401

Larson G, Dobney K, Albarella U et al (2005) Worldwide phylogeography of wild boar reveals multiple centers of pig domestication. Sci 307:1618–1621

Larson G, Cucchi T, Fujita M, Matisoo-Smith E, Robins J, Anderson A, Rolett B, Spriggs M, Dolman G, Kim TH, Thuy NTD, Randi E, Doherty M, Due RA, Bollt R, Djubiantono T, Griffin B, Intoh M, Keane E, Kirch P, Li KT, Morwood M, Pedrina LM, Piper PJ, Rabett RJ, Shooter P, van den Bergh G, West E, Wickler S, Yuan J, Cooper A, Dobney K (2007) Phylogeny and ancient DNA of Sus provides insights into neolithic expansion in island Southeast Asia and Oceania. PNAS 104:4834–4839

Lega C, Raia P, Rook L, Fulgione D (2016) Size matters: a comparative analysis of pig domestication. Holocene 26:327–332

Lewis JS, Farnsworth ML, Burdett CL, Theobald DM, Gray M, Miller RS (2017) Biotic and abiotic factors predicting the global distribution and population density of an invasive large mammal. Sci Rep 7:44152

Li M, Tian S, Yeung CK et al (2014) Whole-genome sequencing of Berkshire (European native pig) provides insights into its origin and domestication. Sci Rep 4:4678

Linderholm A, Spencer D, Battista V, Frantz L, Barnett R, Fleischer RC, James HF, Duffy D, Sparks JP, Clements DR, Andersson L, Dobney K, Leonard JA, Larson G (2016) A novel MC1R allele for black coat colour reveals the Polynesian ancestry and hybridization patterns of Hawaiian feral pigs. Royal Soc Open Sci 3:160304

Liu L, Bosse M, Megens HJ, Frantz LAF, Lee YL, Irving-Pease EK, Narayan G, Groenen MAM, Madsen O (2019) Genomic analysis on pygmy hog reveals extensive interbreeding during wild boar expansion. Nature Comm 10:1992

Long JL (2003) Introduced mammals of the world: their history, distribution and influence. CSIRO Publishing, Clayton

Markov N, Pankova N, Filippov I (2019) Wild boar (Sus scrofa L.) in the north of western Siberia: history of expansion and modern distribution. Mamm Res 64:99–107

Martins FI, Mourão GM, Campos Z, Pellegrin A, Silva VS (2019) Activity pattern and habitat selection by invasive wild boar (Sus scrofa) in Brazilian agroecosystems. Mastozool Neotrop 26:129–141

Maselli V, Rippa D, Russo G et al (2014) Wild boars' social structure in the Mediterranean habitat. Hystrix 81:610–617

Massei G, Genov PV, Staines BW (1996) Diet, food availability and reproduction of wild boar in a Mediterranean coastal area. Acta Theriol 41:307–320

Mauget R (1981) The welfare of pigs. Springer, Dordrecht

Maximov A, Vasilenko V, Maximov G, Svinarev I (2019) Determining genotypes of 3-breed pig hybrids by marker genes and their interrelation with meat productivity. Bulgar J Agri Sci 25:782–794

Mayer JJ, Smyser TJ, Piaggio AJ, Zervanos SM (2019) Wilf pig taxonomy, morphology, genetics, and physiology. In: VerCauteren KC, Beasley JC, Ditchkoff SS, Mayer JJ, Roloff GJ, Strickland BK (eds) Invasive wild pigs in North America: ecology, impacts, and management. CRC, Boca Raton, pp 7–32

McCann BE, Malek MJ, Newman RA, Schmit BS, Swafford SR, Sweitzer RA, Simmons RB (2014) Mitochondrial diversity supports multiple origins for invasive pigs. J Wildl Manag 78:202–213

McCann BE, Smyser TJ, Schmit BS et al (2018) Molecular population structure for feral swine in the United States. J Wildl Manag 82:821–832

McClure ML, Burdett CL, Farnsworth ML et al (2015) Modeling and mapping the probability of occurrence of invasive wild pigs across the contiguous United States. PLoS One 10:e0133771

McIlroy J (1989) Aspects of the ecology of feral pigs (Sus scrofa) in the Murchison area, New Zealand. NZ J Ecol 12:11–22

Milligan BN, Fraser D, Kramer DL (2001) Birth weight variation in the domestic pig: effects on offspring survival, weight gain and suckling behaviour. App Anim Behav Sci 73:179–191

Mizelle B (2011) Pig. Reaktion, London

Morelle K, Podgórski T, Prévot C, Keuling O, Lehaire F, Lejeune P (2015) Towards understanding wild boar Sus scrofa movement: a synthetic movement ecology approach. Mammal Rev 45:15–29

Morelle K, Fattebert J, Mengal C, Lejeune P (2016) Invading or recolonizing? Patterns and drivers of wild boar population expansion into Belgian agroecosystems. Agric Ecosyst Environ 222:267–275

Moretti M (2014) Biometric data and growth rates of a mountain population of wild boar (Sus scrofa L.), Ticino, Switzerland. J Mount Ecol 3:56–59

Nikitin SV, Knyazev SP, Shatkhin KS (2014) Miniature pigs of ICG as a model object for morphogenetic research. Russ J Genet 4:511–522

Novillo A, Ojeda RA (2008) The exotic mammals of Argentina. Biol Inv 10:1333–1344

Oostindjer M, Bolhuis JE, Simon K, van den Brand H, Kemp B (2011) Perinatal flavour learning and adaptation to being weaned: all the pig needs is smell. PLoS One 6:e25318

Ottoni C, Flink LG, Evin A et al (2012) Pig domestication and human-mediated dispersal in western Eurasia revealed through ancient DNA and geometric morphometrics. Molec Biol Evol 30:824–832

Parkes JP, Easdale TA, Williamson WM, Forsyth DM (2015) Causes and consequences of ground disturbance by feral pigs (Sus scrofa) in a lowland New Zealand conifer-angiosperm forest. NZ J Ecol 39:34–42

Pedone P, Mattioli S, Mattioli L (2014) Body size and growth patterns in wild boars of Tuscany, Central Italy. J Mount Ecol 3:66–68

Podgórski T, Baś G, Jędrzejewska B, Sönnichsen L, Śnieżko S, Jędrzejewski W, Okarma H (2013) Spatiotemporal behavioral plasticity of wild boar (Sus scrofa) under contrasting conditions of human pressure: primeval forest and metropolitan area. J Mammal 94:109–119

Podgórski T, Lusseau D, Scandura M, Sönnichsen L, Jędrzejewska B (2014) Long-lasting, kin-directed female interactions in a spatially structured wild boar social network. PLoS One 9:e99875

Qiao R, Li X, Han X, Wang K, Lv G, Ren G, Li X (2019) Population structure and genetic diversity of four Henan pig populations. Anim Genet 50:262–265

Ramirez O, Ojeda A, Tomas A, Gallardo D, Huang LS, Folch JM, Clop A, Sanchez A, Badaoui B, Hanotte O, Galman-Omitogun O, Makuza SM, Soto H, Cadillo J, Kelly L, Cho IC, Yeghoyan S, Perez-Enciso M, Amills M (2009) Integrating Y-chromosome, mitochondrial, and autosomal data to analyze the origin of pig breeds. Mol Biol Evol 26:2061–2072

Ramos-Onsins S, Burgos-Paz W, Manunza A, Amills M (2014) Mining the pig genome to investigate the domestication process. Heredity 113:471–484

Risch, DR (2019) Quantifying the impact of wild pigs on global biodiversity and the spatiotemporal ecology of feral pigs on Maui, Hawaii. Thesis, University of Hawaii at Manoa

Rubin CJ, Megens HJ, Barrio AM, Maqbool K, Sayyab S, Schwochow D, Wang C, Carlborg O, Jern P, Jorgensen CB, Archibald AL, Fredholm M, Groenen MAM, Andersson L (2012) Strong signatures of selection in the domestic pig genome. PNAS 109:19529–19536

Rutherford K, Baxter E, D'Eath R et al (2013) The welfare implications of large litter size in the domestic pig I: biological factors. Anim Welf 22:199–218

Ruvinsky A, Rothschild MF (1998) Systematics and evolution of the pig. In: Rothschild MF, Ruvinsky A (eds) The genetics of the pig, 1st edn. CABI, Oxfordshire, pp 1–16

Saunders G (1993) The demography of feral pigs (Sus Scrofa) in Kosciusko National Park, New South Wales. Wildl Res 20:559–569

Saunders G, Kay B (1991) Movements of feral pigs (Sus Scrofa) at sunny corner, New South Wales. Wildl Res 18:49–61

Scandura M, Iacolina L, Crestanello B et al (2008) Ancient vs. recent processes as factors shaping the genetic variation of the European wild boar: are the effects of the last glaciation still detectable? Mol Ecol 17:1745–1762

Scandura M, Iacolina L, Appolonio M (2011) Genetic diversity in the European wild boar Sus scrofa: phylogeography, population structure and wild x domestic hybridization. Mamm Rev 41:125–137

Scheffler PY, Pratt LW, Foote D, Magnacca KN (2012) A preliminary study of effects of feral pig density on native Hawaiian montane rainforest vegetation. University of Hawaii at Manoa, Honolulu

Schley L, Roper TJ (2003) Diet of wild boar Sus scrofa in western Europe, with particular reference to consumption of agricultural crops. Mammal Rev 33:43–56

Serenius T, Stalder K (2004) Genetics of length of productive life and lifetime prolificacy in the Finnish landrace and large White pig populations. J Anim Sci 82:3111–3117

Servanty S, Gaillard JM, Toigo C, Brandt S, Baubet E (2009) Pulsed resources and climate-induced variation in the reproductive traits of wild boar under high hunting pressure. J Anim Ecol 78:1278–1290

Servanty S, Gaillard JM, Ronchi F, Focardi S, Baubet E, Gimenez O (2011) Influence of harvesting pressure on demographic tactics: implications for wildlife management. J Appl Ecol 48:835–843

Sierra C (2001) The feral pig (Sus scrofa, Suidae) in Cocos Island, Costa Rica: composition of its diet, reproductive state and genetics. Rev Biol Trop 49:1147–1157

Snow NP, Jarzyna MA, VerCauteren KC (2017) Interpreting and predicting the spread of invasive wild pigs. J Appl Ecol 54:2022–2032

Snow NP, Miller RS, Beasley JC, Pepin KM (2019) Wild pig population dynamics. In: VerCauteren KC, Beasley JC, Ditchkoff SS, Mayer JJ, Roloff GJ, Strickland BK (eds) Invasive wild pigs in North America: ecology, impacts, and management. CRC, Boca Raton, pp 57–82

Soria-Boix C, Donat-Torres MP, Urios V (2017) Contacts in the last 90,000 years over the strait of Gibraltar evidenced by genetic analysis of wild boar (Sus scrofa). PLoS One 12:e0181929

Sparklin BD, Mitchell MS, Hanson LB, Jolley DB, Ditchkoff SS (2009) Territoriality of feral pigs in a highly persecuted population on fort Benning, Georgia. J Wildl Manag 73:497–502

Spencer PBS, Hampton JO (2005) Illegal translocation and genetic structure of feral pigs in Western Australia. J Wildl Manag 69:377–384

Spencer PBS, Hampton JO, Lapidge SJ, Mitchell J, Lee J, Pluske JR (2006) An assessment of the genetic diversity and structure within and among populations of wild pigs (Sus scrofa) from Australia and Papua New Guinea. J Genet 85:63–66

Taylor RB, Hellgren EC, Gabor TM, Ilse LM (1998) Reproduction of feral pigs in southern Texas. J Mammal 79:1325–1331

Tchernov E, Horwitz LK (1991) Body size diminution under domestication: unconscious selection in primeval domesticates. J Anthrop Archae 10:54–75

Tomich PQ (1986) Mammals in Hawaii: a synopsis and notational bibliography. Bernice Pauahi Bishop Museum, Honolulu

Van Barneveld R (2003) Modern pork production - balancing efficient growth and feed conversion with product quality requirements and consumer demands. Asia Pac J Clin Nutr 12:S31

Velickovic N, Djan M, Ferreira E, Stergar M, Obreht D, Maletic V, Fonseca C (2015) From north to south and back: the role of the Balkans and other southern peninsulas in the recolonization of Europe by wild boar. J Biogeogr 42:716–728

VerCauteren KC, Beasley JC, Ditchkoff SS, Mayer JJ, Roloff GJ, Strickland BK (2019) Invasive wild pigs in North America: ecology, impacts, and management. CRC, Boca Raton

Vilaca ST, Biosa D, Zachos FE et al (2014) Mitochondrial phylogeography of the European wild boar: the effect of climate on genetic diversity and spatial lineage sorting across Europe. J Biogeogr 41:987–998

Watanobe T, Ishiguro N, Nakano M (2003) Phylogeography and population structure of the Japanese wild boar Sus scrofa leucomystax: mitochondrial DNA variation. Zoo Sci 20:1477–1489

Wehr NH, Hess SC, Litton CM (2018) Biology and impacts of Pacific Islands invasive species. 14. Sus scrofa, the feral pig (Artiodactyla: Suidae). Pac Sci 72:177–198

Wehr NH, Kinney KM, Nguyen NH, Giardina CP, Litton CM (2019) Changes in soil bacterial community diversity following the removal of invasive feral pigs from a Hawaiian tropical montane wet forest. Sci Rep 9:14681

Wehr NH, Litton CM, Lincoln NK, Hess SC (2020) Relationships between soil macroinvertebrates and nonnative feral pigs (Sus scrofa) in Hawaiian tropical montane wet forests. Biol Inv 22:577–586

White S (2011) From globalized pig breeds to capitalist pigs: a study in animal cultures and evolutionary history. Environ Hist 16:94–120

Wilcox JT, Van Vuren DH (2009) Wild pigs as predators in oak woodlands of California. J Mammal 90:114–118

Wilson DE, Reeder DM (2005) Mammal species of the world: a taxonomic and geographic reference. JHU Press, Baltimore

Wu GS, Yao YG, Qu KX et al (2007) Population phylogenomic analysis of mitochondrial DNA in wild boars and domestic pigs revealed multiple domestication events in East Asia. Genome Biol 8:R245

Wurster CM, Robertson J, Westcott DA, Dryden B, Zazzo A, Bird MI (2012) Utilization of sugarcane habitat by feral pig (Sus scrofa) in northern tropical Queensland: evidence from the stable isotope composition of hair. PLoS One 7:e43538

Yang SL, Zhang H, Mao HM et al (2011) The local origin of the Tibetan pig and additional insights into the origin of Asian pigs. PLoS One 6:e0028215

Zeman J, Heroldova M, Svobodova P, Kamler J (2016) Importance of sugar beet in the diet of wild boar (Sus scrofa) and damage to this crop. Listy Cukrov Repar 132:227–229

Zhang JX, Jiao T, Zhao SG (2016) Genetic diversity in the mitochondrial DNA D-loop region of global swine (Sus scrofa) populations. Biochem Biophys Res Comm 473:814–820
Acknowledgments
A special thanks is being extended to Nanea Babila, Dr. Steven Hess, Dr. Melissa Price, Dr. Daniel Rubinoff, Dr. Timothy Smyser, and the anonymous reviewers for their helpful feedback in the production of this manuscript.
Funding
This work was supported by the College of Tropical Agriculture and Human Resources at the University of Hawai'i at Mānoa via the US Department of Agriculture National Institute of Food and Agriculture Hatch Program (HAW01127H) and McIntyre Stennis Program (HAW01123M) awarded to Dr. Creighton Litton.
Additional information
Communicated by: Cino Pertoldi
Publisher's note
Springer Nature remains neutral with regard to jurisdictional claims in published maps and institutional affiliations.
About this article
Cite this article
Wehr, N.H. Historical range expansion and biological changes of Sus scrofa corresponding to domestication and feralization. Mamm Res 66, 1–12 (2021). https://doi.org/10.1007/s13364-020-00534-7
Received:

Accepted:

Published:

Issue Date:

DOI: https://doi.org/10.1007/s13364-020-00534-7
Keywords