Abstract
The Japanese badger (Meles anakuma) is an endemic species in Japan. Although it has been considered a forest-dwelling species, a recent study has shown that badgers use pastures intensively to feed on earthworms, suggesting that pastures comprise an important habitat for them. Therefore, this study investigated the distribution of this species' setts (≥ 1 m deep) and couches (< 1 m deep) in a mosaic habitat composed of grasslands and forests. A significantly higher number of setts and couches were located at the forest edge neighboring to grassland than within the grassland or the inner part of the forest. This suggests that Japanese badgers preferentially construct their setts and couches near grasslands for easier access while avoiding various disturbances. This study found that significantly more setts and couches were situated on the north-facing slope, suggesting that this location avoids the trampling disturbances caused by the sika deer's (Cervus nippon) feeding activities, due to slow snow thawing. The proper conservation of Japanese badgers would require recognizing the grasslands' neighboring forest edge as an important sett or couch site.
This is a preview of subscription content,
to check access.
Access this article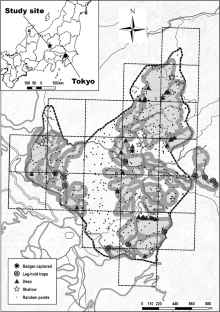 Similar content being viewed by others
References
Benham PFJ, Broom DM (1989) Interactions between cattle and badgers at pasture with reference to bovine tuberculosis transmission. Br Vet J 145:226–241

Butler J, Roper TJ, Clark AJ (1994) Investigation of badger (Meles meles) setts using soil resistivity measurements. J Zool 232:409–418

Drewe JA, O'Connor HM, Weber N, Mcdonald RA, Delahay RJ (2013) Patterns of direct and indirect contact between cattle and badgers naturally infected with tuberculosis. Epidemiol Infect 141:1467–1475

Funakoshi K, Shigenobu E (2006) The ecology of Japanese badgers in Kagoshima. Shizen-aigo 32:1–4 (in Japanese)

Geospatial Information Authority of Japan (2016) Digital Elevation Model (DEM10) 10-m data. https://fgd.gsi.go.jp/download/mapGis.php?tab=dem. Accessed 11 July 2019

Hata A, Tsukada H, Washida A, Mitsunaga T, Takada MB, Suyama T, Takeuchi M (2019) Temporal and spatial variation in the risk of grazing damage to sown grasslands by sika deer (Cervus nippon) in a mountainous area, central Japan. Crop Prot 119:185–190

Hijikata K, Minami M, Tsukada H (in press) Food habits and habitat utilization of the Japanese badger (Meles anakuma) in a grassland/forest mosaic. Mamm Stud

International Union for Conservation of Nature (2016) The IUCN red list of threatened species, version 2016–3. https://www.iucnredlist.org. Accessed 11 July 2019

Japan Wildlife Research Center (2004) The national survey on the natural environment, report of the distributional survey of Japanese animals (mammals). Biodiversity Center of Japan, Fujiyoshida (in Japanese)

Kaneko Y (2002) Inner structure of the badger (Meles meles) home range in Hinode-town (perspectives on the mammalian home range study by telemetry). Jpn J Ecol 52:243–252 (in Japanese)

Kaneko Y (2008) Life history and ecology–Japanese badger. In: Takatsuki S, Yamagiwa J (eds) Middle-, and large-sized mammals including primates (Mammalogy in Japan 2). University of Tokyo Press, Tokyo, pp 76–99 (in Japanese)

Kaneko Y (2015) Meles anakuma Temminck, 1842. In: Ohdachi SD, Ishibashi Y, Iwasa MA, Fukui D, Saitoh T (eds) The Wild Mammals of Japan, second edn. SHOUKADOH Book Sellers, Kyoto, pp 266–268

Kaneko Y, Maruyama N, Macdonald DW (2006) Food habits and habitat selection of suburban badgers (Meles meles) in Japan. J Zool 270:78–89

Kaneko Y, Buesching CD, Newman C (2017) Japan: Unjustified killing of badgers in Kyushu. Nature 544:7649

Kruuk H (1989) The Social Badger, Ecology and Behavior of a Group-living Carnivore (Meles meles). Oxford University Press, Oxford

Ministry of the Environment, Government of Japan (2018) Third revision to the 4th Version of the Japanese Red Lists. https://www.env.go.jp/press/files/jp/109278.pdf (in Japanese) Accessed 10 March 2019

Ministry of the Environment, Government of Japan (2013) FY2011 game statistics, Japan. Ministry of the Environment, Government of Japan. (in Japanese) https://www.env.go.jp/nature/choju/docs/docs2/h23/06h23tou.html.

Ministry of the Environment, Government of Japan (2019) FY2016 game statistics, Japan. Ministry of the Environment, Government of Japan. (in Japanese) https://www.env.go.jp/nature/choju/docs/docs2/h28/06h28tou.html

Neal E (1972) The national badger survey. Mammal Rev 2:55–64

Neal EG, Roper TJ (1991) The environmental impact of badgers (Meles meles) and their setts. Symp Zool Soc London 63:89–106

Neal EG, Cheeseman CL (1996) Badgers. T & AD Poyser Natural History, London

Piza-Roca C, van't Zelfde M, La Haye MJJ, Jongejans E, Raes N (2018) European badger habitat requirements in the Netherlands–combining ecological niche models with neighbourhood analysis. Wildl Biol 2018. https://doi.org/10.2981/wlb.00453

R Core Team (2017) R: A language and environment for statistical computing (version 3.4. 2). Vienna, Austria: R Foundation for Statistical Computing. www. R-proje ct. org. Accessed 10 March 2019

Takeuchi T, Matsuki R, Abe S, Nashimoto M, Hirata T, Ueno C, Tasaki K (2012) Habitat suitability analysis of badgers as a representative species for ecosystem impact assessment. Jpn Soc Imp Assessment 10:62–72 (in Japanese)

Tanaka H (2002) Ecology and social system of the Japanese badger, Meles meles anakuma (Carnivora; Mustelidae) in Yamaguchi, Japan. University of Yamaguchi, Dissertation (in Japanese)

Tanaka H, Yamanaka A, Endo K (2002) Spatial distribution and sett use by the Japanese badger, Meles meles anakuma. Mamm Stud 27:15–22

Tsukada H (2011) Effect of grazing on habitat and behavior of wild mammals. JIFS 8:49–54

Tsukada H, Ishikawa K, Shimizu N (2012) Damage to round bale silage caused by sika deer (Cervus nippon) in central Japan. Grassl Sci 58:179–187

Tsukada H, Kida T, Kitagawa M, Suyama T, Shimizu N (2013) Simple quantitative method for estimation of herbage damage caused by sika deer (Cervus nippon). Grassl Sci 59:146–155

Washida A (2017) Utilization of herbage grasses and Sasa bamboos by sika deer inhabiting at a mountainous ranch in Gunma prefecture. Azabu University, Master thesis of the Graduate School of Veterinary Science (in Japanese)

Wilson DE, Reeder DM (2005) Mammal species of the world: a taxonomic and geographic reference. JHU Press, Maryland

Yamamoto Y (1989) Researches of setts of Meles meles anakuma in Mt. Nyugasa, Nagano prefecture. Natl Environ Sci Lab 2:131–139 (in Japanese)

Yamazaki K, Saeki M, Takeuchi M, Oikawa H (2009) The present status of the raccoon, an alien mammal, and its control in Ibaraki prefecture, central Japan. Bull Ibaraki Nat Mus 12:41–49 (in Japanese)
Acknowledgments
We appreciate the assistance of the Kouzu Dairy Farm staff, the field work assistance by Nanami Kouso, Tomomi Harada, and Yujiro Tomita, and the assistance of members of the Laboratory of Wildlife Ecology and Conservation, Department of Animal Science and Biotechnology, School of Veterinary Medicine, Azabu University.
Funding
This study was partly supported by the JSPS KAKENHI Grant No. 17K8189 and by the research fund of Shimonita Geopark.
Additional information
Communicated by: Rafał Kowalczyk
Publisher's note
Springer Nature remains neutral with regard to jurisdictional claims in published maps and institutional affiliations.
About this article
Cite this article
Tsukada, H., Kawaguchi, Y., Hijikata, K. et al. Sett site selection by the Japanese badger Meles anakuma in a grassland/forest mosaic. Mamm Res 65, 517–522 (2020). https://doi.org/10.1007/s13364-020-00500-3
Received:

Accepted:

Published:

Issue Date:

DOI: https://doi.org/10.1007/s13364-020-00500-3
Keywords