Abstract
Shrews use several different call types for communication. In previous studies, two call types have been additionally associated with a possible function for echolocation: ultrasonic click-like emissions and sonic twittering calls. There is anecdotal evidence that the rate of shrew twittering calls is high in unfamiliar environments and lower in familiar ones. Here we quantitatively tested this assumption for the first time. In a simple laboratory experiment, we confronted three different shrew species with environments of different degrees of novelty. We could show that the twittering call rate indeed decreased with increasing familiarity with the environment. In a separate experiment, we tested if shrews would increase twittering call rate after a stressful event, which they did not. The finding of an increased call rate inside a novel environment that is not caused by stress is in line with the hypothesis of a very basic echolocation-like system in shrews, as also bats increase their echolocation call rate in novel environments. However, it is not in full agreement with the hypothesis that twittering in shrews mainly has a function for communication, as in territorial signalling, call rates are usually higher in familiar than in unfamiliar environments. Call rates did not change after a small structural alteration inside the familiar environment, suggesting that shrews use their twittering calls not for a fine-tuned echolocation like bats, but rather a coarse acoustic orientation in their surroundings ('echo-orientation'). Certainly, echo-orientation and communication might be two parallel, non-mutually exclusive functions of shrew twittering.
Access options
Buy single article
Instant access to the full article PDF.
USD 39.95
Price excludes VAT (USA)
Tax calculation will be finalised during checkout.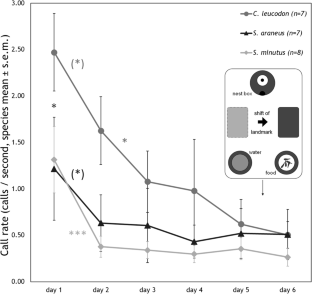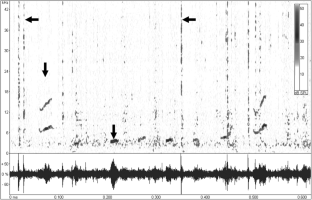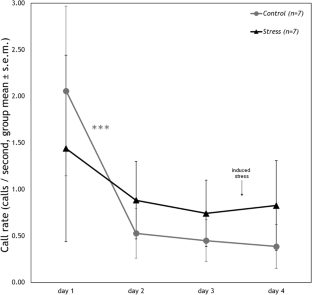 References
Anjum F, Turni H, Mulder PGH, van der Burg J, Brecht M (2006) Tactile guidance of prey capture in Etruscan shrews. Proc Natl Acad Sci U S A 103:16544–16549

Binz H, Zimmermann E (1989) The vocal repertoire of adult tree shrews (Tupaia Belangeri). Behaviour 109:142–162

Bradbury JW, Vehrencamp SL (1998) Principles of animal communication. Sinauer Associates, Inc., Sunderland

Branis M, Burda H (1994) Visual and hearing biology of shrews. In: Merritt JF, Kirkland GL, Rose RK (eds) Advances in the biology of shrews. Carnegie Museum for Natural History, Pittsburgh, pp 189–200

Briefer EF (2012) Vocal expression of emotions in mammals: mechanisms of production and evidence. J Zool 288:1–20

Brinkløv S, Fenton MB, Ratcliffe JM (2013) Echolocation in oilbirds and swiftlets. Front Physiol 4(123):1–12

Buchler ER (1976) Use of echolocation by wandering shrew (Sorex vagrans). Anim Behav 24:858–873

Catania KC (2013) Stereo and serial sniffing guide navigation to an odour source in a mammal. Nat Commun 4:1441. https://doi.org/10.1038/ncomms2444

Catania KC, Hare JF, Campbell KL (2008) Water shrews detect movement, shape, and smell to find prey underwater. Proc Natl Acad Sci U S A 105:571–576

Churchfield S (1990) The natural history of shrews. Cornell University Press, Ithaca, New York

Crowcroft P (1955) Notes on the behaviour of shrews. Behaviour 8:63–80

Darden SK, Dabelsteen T (2008) Acoustic territorial signalling in a small, socially monogamous canid. Anim Behav 75:905–912. https://doi.org/10.1016/j.anbehav.2007.07.010

Ellis JMS (2008) Which call parameters signal threat to conspecifics in white-throated magpie-jay mobbing calls? Ethology 114:154–163. https://doi.org/10.1111/j.1439-0310.2007.01439.x

Forsman KA, Malmquist MG (1988) Evidence for echolocation in the common shrew, Sorex araneus. J Zool 216:655–662

Gibson RM (1996) Female choice in sage grouse: the roles of attraction and active comparison. Behav Ecol Sociobiol 39:55–59

Gillam EH (2007) Eavesdropping by bats on the feeding buzzes of conspecifics. Can J Zool 85:795–801. https://doi.org/10.1139/Z07-060

Goerlitz HR, Greif S, Siemers BM (2008) Cues for acoustic detection of prey: insect rustling sounds and the influence of walking substrate. J Exp Biol 211:2799–2806. https://doi.org/10.1242/jeb.019596

Gottlander K (1987) Variation in the song rate of the male pied flycatcher Ficedula hypoleuca-causes and consequences. Anim Behav 35:1037–1043

Gould E (1969) Communication in three genera of shrews (Soricidae): Suncus, Blarina, & Cryptotis. Commun Behav Biol Part A 3:11–31

Gould E, Novick A, Negus NC (1964) Evidence for echolocation in shrews. J Exp Zool 156:19–37

Graham IM, Redpath SM, Thirgood SJ (1995) The diet and breeding density of common buzzards Buteo buteo in relation to indices of prey abundance. Bird Study 42:165–173

Greenfield MD, Minckley RL (1993) Acoustic dueling in tarbush grasshoppers-settlement of territorial contests via alternation of reliable signals. Ethology 95:309–326

Griffin DR (1958) Listening in the dark. Yale University Press, New Haven

Grünwald A (1969) Investigation on orientation in white-tooth-shrews (Soricidae-Crocidurinae). Z Vgl Physiol 65:191–217

Gursky S (2019) Echolocation in a nocturnal primate? Folia Primatol (Basel) 90:379–391. https://doi.org/10.1159/000497811

Holling CS (1958) Sensory stimuli involved in the location and selection of sawfly cocoons by small mammals. Can J Zool 36:633–653

Howard E (1920) Territory in bird life. Collins, London

Irwin DW, Baxter RM (1980) Evidence against the use of echolocation by Crocidura f. flavescens (Soricidae). Säugetierkd Mitteilungen 28:323

Jones G, Siemers BM (2011) The communicative potential of bat echolocation pulses. J Comp Physiol A 197:447–457. https://doi.org/10.1007/s00359-010-0565-x

Konstantinov AI, Movchan VN (1985) Acoustic communication in different groups of mammals (in Russian). In: Sounds in the life of animals (in Russian). Leningrad, pp 63–81

Marten K, Marler P (1977) Sound transmission and its significance for animal vocalization. I. Temperate habitats. Behav Ecol Sociobiol 2:271–290

Maust-Mohl M, Soltis J, Reiss D (2018) Underwater click train production by the hippopotamus (Hippopotamus amphibius) suggests an echo-ranging function. Behaviour 155:231–251. https://doi.org/10.1163/1568539X-00003484

Munz M, Brecht M, Wolfe J (2010) Active touch during shrew prey capture. Front Behav Neurosci 4:191. https://doi.org/10.3389/fnbeh.2010.00191

Naguib M, Altenkamp R, Griessmann B (2001) Nightingales in space: song and extra-territorial forays of radio tagged song birds. J Ornithol 142:306–312. https://doi.org/10.1007/BF01651369

Panyutina AA, Kuznetsov AN, Volodin IA et al (2017) A blind climber: the first evidence of ultrasonic echolocation in arboreal mammals. Integr Zool 12:172–184

Peichl L, Kuenzle H, Vogel P (2000) Photoreceptor types and distributions in the retinae of insectivores. Vis Neurosci 17:937–948

Core Team R (2010) R: A language and environment for statistical computing. R Foundation for Statistical Computing, Vienna

Rendall D (2003) Acoustic correlates of caller identity and affect intensity in the vowel-like grunt vocalizations of baboons. J Acoust Soc Am 113:3390–3402. https://doi.org/10.1121/1.1568942

Rice CE (1967) Human echo perception. Science 155:656–664

Robinson SR (1980) Antipredator behavior and predator recognition in Beldings ground-squirrels. Anim Behav 28:840–852

Römer H (2001) Ecological constraints for sound communication: from grasshoppers to elephants. In: Barth FG, Schmid A (eds) Ecology of sensing. Springer, Berlin, Heidelberg, pp 59–77

Rychlik L (1998) Evolution of social systems in shrews. In: Wojcik JM, Wolsan M (eds) Evolution of shrews. Mammal Research Institute, Polish Academy of Sciences, Białowieża, pp 347–406

Rychlik L, Jancewicz E (2002) Prey size, prey nutrition, and food handling by shrews of different body sizes. Behav Ecol 13:216–223

Rychlik L, Zwolak R (2005) Behavioural mechanisms of conflict avoidance among shrews. Acta Theriol 50:289–308

Sánchez C (2003) Stress-induced vocalisation in adult animals. A valid model of anxiety? Eur J Pharmacol 463:133–143. https://doi.org/10.1016/S0014-2999(03)01277-9

Sanchez L, Ohdachi SD, Kawahara A, Echenique-Diaz LM, Maruyama S, Kawata M (2019) Acoustic emissions of Sorex unguiculatus (Mammalia: Soricidae): assessing the echo-based orientation hypothesis. Ecol Evol 2019. https://doi.org/10.1002/ece3.4930

Schaub A (2007) Spatial orientation in vespertilionid bats commuting on flyways. Eberhard Karls Universität Tübingen

Schehka S, Zimmermann E (2009) Acoustic features to arousal and identity in disturbance calls of tree shrews (Tupaia belangeri). Behav Brain Res 203:223–231. https://doi.org/10.1016/j.bbr.2009.05.007

Schneiderová I (2014) Vocal repertoire ontogeny of the captive Asian house shrew Suncus murinus suggests that the male courtship call develops from the caravanning call of the young. Acta Theriol 59:149–164

Schneiderová I, Zouhar J (2014) Resting-associated vocalization emitted by captive Asian house shrews (Suncus murinus): acoustic structure and variability in an unusual mammalian vocalization. PLoS One 9:e111571. https://doi.org/10.1371/journal.pone.0111571

Schnitzler HU, Moss CF, Denzinger A (2003) From spatial orientation to food acquisition in echolocating bats. Trends Ecol Evol 18:386–394. https://doi.org/10.1016/s0169-5347(03)00185-x

Seggie JA, Brown GM (1975) Stress response patterns of plasma corticosterone, prolactin, and growth hormone in the rat, following handling or exposure to novel environment. Can J Physiol Pharmacol 53:629–637. https://doi.org/10.1139/y75-087

Siemers BM, Schauermann G, Turni H, von Merten S (2009) Why do shrews twitter? Communication or simple echo-based orientation. Biol Lett 5:593–596. https://doi.org/10.1098/rsbl.2009.0378

Siemers BM, Schnitzler HU (2004) Echolocation signals reflect niche differentiation in five sympatric congeneric bat species. Nature 429:657–661. https://doi.org/10.1038/nature02547

Sigmund L, Dandova R, Kodejsova V, Siegmund R (1989) Das Licht als Umweltfaktor im Leben der Wasserspitzmaus (Neomys fodiens). Z Säugetierk 63, Supplement 7

Simeonovska-Nikolova DM (2004) Vocal communication in the bicoloured white-toothed shrew Crocidura leucodon. Acta Theriol 49:157–165

Thaler L, Reich GM, Zhang X, Wang D, Smith GE, Tao Z, Abdullah RSABR, Cherniakov M, Baker CJ, Kish D, Antoniou M (2017) Mouth-clicks used by blind expert human echolocators-signal description and model based signal synthesis. PLoS Comput Biol 13:e1005670. https://doi.org/10.1371/journal.pcbi.1005670

Thaler L, Vos RD, Kish D, Antoniou M, Baker C, Hornikx M (2018) Human echolocators adjust loudness and number of clicks for detection of reflectors at various azimuth angles. Proc R Soc B 285:20172735. https://doi.org/10.1098/rspb.2017.2735

Thomas JA, Jalili M (2004) Review of echolocation in insectivores and rodents. In: Thomas JA, Moss CF, Vater M (eds) Echolocation in bats and dolphins. The University of Chicago Press, Chicago, pp 547–564

Thomas JA, Moss CF, Vater M (2004) Echolocation in bats and dolphins. The University of Chicago Press, Chicago and London

Tomasi TE (1979) Echolocation by the short-tailed shrew Blarina brevicauda. J Mammal 60:751–759

Voigt-Heucke SL, Taborsky M, Dechmann DK (2010) A dual function of echolocation: bats use echolocation calls to identify familiar and unfamiliar individuals. Anim Behav 80:59–67

Volodin IA, Panyutina AA, Abramov AV et al (2019) Ultrasonic bouts of a blind climbing rodent ( Typhlomys chapensis ): acoustic analysis. Bioacoustics:1–17. https://doi.org/10.1080/09524622.2018.1509374

Volodin IA, Zaytseva AS, Ilchenko OG, Volodina EV (2015) Small mammals ignore common rules: a comparison of vocal repertoires and the acoustics between pup and adult piebald shrews Diplomesodon pulchellum. Ethology 121:103–115. https://doi.org/10.1111/eth.12321

von Merten S, Siemers BM (2012) Exploratory behaviour in shrews: fast-lived Sorex versus slow-lived Crocidura. Anim Behav 84:29–38

Wohlgemuth MJ, Luo J, Moss CF (2016) Three-dimensional auditory localization in the echolocating bat. Curr Opin Neurobiol 41:78–86. https://doi.org/10.1016/j.conb.2016.08.002

Yovel Y, Geva-Sagiv M, Ulanovsky N (2011) Click-based echolocation in bats: not so primitive after all. J Comp Physiol A 197:515–530

Zaytseva AS, Volodin IA, Mason MJ, Frey R, Fritsch G, Ilchenko OG, Volodina EV (2015) Vocal development during postnatal growth and ear morphology in a shrew that generates seismic vibrations, Diplomesodon pulchellum. Behav Process 118:130–141

Zsebők S, Czabán D, Farkas J et al (2015) Acoustic species identification of shrews: twittering calls for monitoring. Ecol Inform 27:1–10
Acknowledgements
Many thanks go to Michaela Thiel for conducting experiment 2; Leonie Baier, Renate Heckel and Erich Koch for helping with data, shrews, and technics, respectively; Paweł Kardynia and Joaquim Tapisso for valuable comments on an earlier version of this manuscript; and Markus Fendt for providing the event recorder.
Funding
This study was funded by the Max Planck Society and CESAM (UID/AMB/50017/2019) through national funds by FCT/MCTES.
Additional information
Communicated by: Jan M. Wójcik
Publisher's note
Springer Nature remains neutral with regard to jurisdictional claims in published maps and institutional affiliations.
Björn M. Siemers was deceased
Electronic supplementary material
About this article
Cite this article
von Merten, S., Siemers, B.M. Shrew twittering call rate is high in novel environments—a lab-study. Mamm Res 65, 469–479 (2020). https://doi.org/10.1007/s13364-020-00488-w
Received:

Accepted:

Published:

Issue Date:

DOI: https://doi.org/10.1007/s13364-020-00488-w
Keywords