Abstract
According the IUCN Red List criteria, species must be tagged as "possibly extinct" when there is a small chance that they may be extant. This means that the formal acceptance of the extinction is very dependent on search effort. Here, we report two unsuccessful attempts to detect the critically endangered (possibly extinct) Peromyscus guardia on Angel de la Guarda Island (Gulf of California, Mexico). Instead, we found that invader house mice seem to be very abundant just at the same habitat (beaches) where P. guardia were lastly reported. We analyzed the isotopic niche of the house mice, confirming that the species is currently occupying the presumed trophic niche (common use of marine resources: stranded remains and littoral invertebrates) of the last known populations of P. guardia. The apparent replacement of the specialized endemic species by the ubiquitous house mouse is a new evidence of the current trend towards global biodiversity homogenization.
This is a preview of subscription content, log in to check access.
Access options
Buy single article
Instant access to the full article PDF.
US$ 39.95
Tax calculation will be finalised during checkout.
Subscribe to journal
Immediate online access to all issues from 2019. Subscription will auto renew annually.
US$ 99
Tax calculation will be finalised during checkout.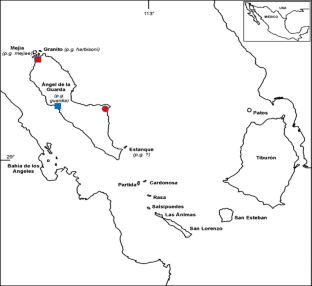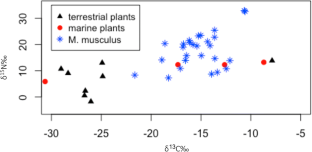 References
Alvarez-Castañeda ST, Castro-Arellano I, Lacher T, Vázquez E (2008) Peromyscus guardia. The IUCN Red List of Threatened Species 2008: e.T16664A6253065. https://doi.org/10.2305/IUCN.UK.2008.RLTS.T16664A6253065.en. Accessed on 01 March 2017

Alvarez-Castañeda ST, Cortes-Calva P (2009) Familia Muridae. In: Alvarez-Castañeda ST, Ortega-Rubio A (eds) Mamíferos del Noroeste de México. Centro de Investigaciones Biológicas del Noroeste, S.C, La Paz, pp 445–570

Alvarez-Castañeda ST, Ortega Rubio A (2003) Current status of rodents on islands in the Gulf of California. Biol Conserv 109:157–163

Banks RC (1967) The Peromyscus guardia interparietalis complex. J Mammal 48:210–218

Berry RJ (1970) The natural history of the house mouse. Field Stud 3:219–262

Brand LR, Ryckman RE (1968) Laboratory life histories of Peromyscus eremicus and Peromyscus interparietalis. J Mammal 49:495–501

Butchart SHM, Stattersfield AJ, Brooks TM (2006) Going or gone: defining 'Possibly Extinct' species to give a truer picture of recent extinctions. BOC Bulletin 126A:7–24

CONANP –FMCN (Fondo Mexicano para la Conservación de la Naturaleza) (2008) System of monitoring and evaluation of the Fund for the Natural Protected Areas. Unpublished Annual report. 122 pp. Available at: http://toolkit.conservationfinance.org/sites/default/files/documents/monitoring-and evaluation/sistema-de-monitoreo-y-evaluacion-fanp-2008-fmcn-mexico.pdf

Diamond JM (1987) Extant unless proven extinct? Or, extinct unless proven extant? Cons Biol 1:77–79

Fisher DO, Blomberg SP (2011) Correlates of rediscovery and the detectability of extinction in mammals. Proc R Soc London (Biol) 278:1090–1097

IUCN (2012) IUCN Red List categories and criteria: version 3.1. Second edition. Gland, Switzerland and Cambridge, UK: IUCN. iv + 32pp

IUCN (2016) The IUCN Red List of Threatened Species. Version 2016-3. http://www.iucnredlist.org. Accessed on 07 Dec 2016

Jones HP, Holmes ND, Stuart HM et al (2016) Invasive mammal eradication on islands results in substantial conservation gains. Proc Natl Acad Sci U S A 113:4033–4038

Lawlor TE (1982) The evolution of body size in mammals: evidence from insular populations in Mexico. Am Nat 119:54–72

Lawlor TE, Hafner DJ, Stapp P, Riddle BR, Álvarez-Castañeda ST (2002) The mammals. In: Case TJ, Cody ML, Ezcurra E (eds) A new island biogeography of the Sea of Cortes. Oxford University Press, Oxford, pp 326–361

Lindsay GE (1962) The Beldevere expedition to the Gulf of California. Trans San Diego Soc Nat Hist 13:1–44

McKinney ML, Lockwood JL (1999) Biotic homogenization: a few winners replacing many losers in the next mass extinction. Trends Ecol Evolut 14:450–453

Mellink E, Ceballos G, Luevano J (2002) Population demise and extinction threat of the Angel de la Guarda deer mouse (Peromyscus guardia). Biol Conserv 108:107–111

Michaux JR, Bellocq D, Goüy J, Sarà M, Morand S (2002) Body size increase in insular rodent populations: a role for predators? Glob Ecol Biogeogr 11:427–436

Newsome SD, Martínez Del Río C, Bearhop S, Phillips DL (2007) A niche for isotopic ecology. Front Ecol Environ 5:429–436

Rios E, Álvarez-Castañeda ST (2011) Peromyscus guardia (Rodentia: Cricetidae). Mamm Species 43:172–176

Stapp P, Polis GA (2003) Influence of pulsed resources and marine subsidies on insular rodent populations. Oikos 102:111–123

Townsend CH (1912) Mammals collected by the 'Albatross' expedition in Lower California in 1911, with descriptions of a new species. Bull Am Mus Nat Hist 31:117–130

Vázquez-Domínguez E, Ceballos G, Cruzado J (2004) Extirpation of an insular subspecies by a single introduced cat: the case of the endemic deer mouse Peromyscus guardia on Estanque Island, Mexico. Oryx 38:347–350
Acknowledgements
We thank Mr. C. Swann for field assistance and for the review of the English of the manuscript; Herbarium (Drs. R. Cadenas and A. Medel), Macroalgae Laboratory (M.C A. Mazariegos), and Animal Ecology Laboratory (A. Cota) of CIBNOR for identification of plants, algae, and cat's preys; S. Carrasco, J. Navarro, and the Laboratory of Stable Isotopes of EBD (CSIC) for isotopic analyses and explanations; and Dr. Lacher and two anonymous reviewers for their useful comments in improving the manuscript.
Funding
Research was supported by a sabbatical grant (number 454959) to M.C. Blázquez, Projects CONACYT 251919 and CONACYT 269540.
Additional information
Communicated by: Thales Renato Ochotorena de Freitas
About this article
Cite this article
Blázquez, M., Arnaud, G., Ortiz-Avila, V. et al. Stable isotope analyses suggest Mus musculus occupies the place of the "possibly extinct" Peromyscus guardia in Angel de la Guarda Island, (Mexico). Mamm Res 64, 121–125 (2019). https://doi.org/10.1007/s13364-018-0382-0
Received:

Accepted:

Published:

Issue Date:
Keywords
Conservation

Insular fauna

Invasive species

Marine subsidies

Threatened species