Abstract
Having knowledge of the habitat requirements of top predators is important for their conservation and also for the stability of wildlife communities since they are keystone species of ecosystems. This study aims to predict suitable habitats for the Persian leopard (Panther pardus saxicolor, Pocock 1927) in Tandooreh National Park, Iran. This species is the largest leopard subspecies in the Middle East and is at high risk of extinction. Presence points for the species have been obtained from field data, literature review, atlas data, and IUCN records. Variables related to human disturbance, terrain, land use/land cover, and the leopards' prey were used to predict the habitat selection of the Persian leopard by employing binary logistic regression. Our model predicted that the presence of Persian leopards is restricted to the southern, north-western, and western areas of the park which are under severe fragmentation threat. Moreover, leopards avoided areas near human development such as roads. We have also found that the availability of prey such as Capra aegagrus, Ovis vignei, and Ovis orientalis is one of the important parameters to predict habitat suitability for leopards. Our model provides a suitable tool for national park managers to identify biodiversity hotspots since leopards are often associated with high biodiversity.
This is a preview of subscription content, log in to check access.
Access options
Buy single article
Instant access to the full article PDF.
US$ 39.95
Price includes VAT for USA
Subscribe to journal
Immediate online access to all issues from 2019. Subscription will auto renew annually.
US$ 99
This is the net price. Taxes to be calculated in checkout.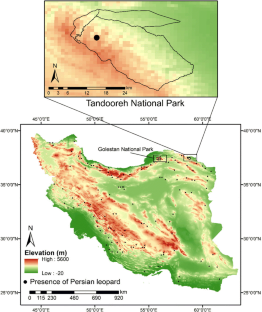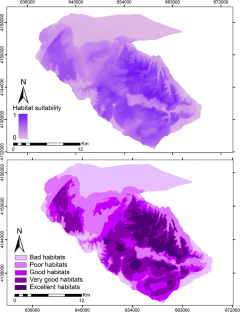 References
Abdollahi S (2015) Modeling habitat requirements of leopard (Panthera pardus) using genetic algorithm in Golestan National Park. Environ Resour Res 3(2):151–162

Ackers SH, Davis RJ, Olsen KA, Dugger KM (2015) The evolution of mapping habitat for northern spotted owls (Strix occidentalis caurina): a comparison of photo-interpreted Landsat-based and lidar-based habitat maps. Remote Sens Environ 156:361–373

Barbet-Massin M, Jiguet F, Albert CH, Thuiller W (2012) Selecting pseudo-absences for species distribution models: how where and how many? Methods Ecol Evol 3(2):327–338

Ebrahimi A, Farashi A, Rashki A (2017) Habitat suitability of Persian leopard (Panthera pardus saxicolor) in Iran in future. Environ Earth Sci 76(20):697–707

Bashari H, Hemami MR (2013) A predictive diagnostic model for wild sheep (Ovis orientalis) habitat suitability in Iran. J Nat Conserv 21(5):319–325

Bean WT, Prugh LR, Stafford R, Butterfield HS, Westphal M, Brashares JS (2014) Species distribution models of an endangered rodent offer conflicting measures of habitat quality at multiple scales. J Appl Ecol 51(4):1116–1125

Cardillo M, Mace GM, Jones KE, Bielby J, Bininda-Emonds OR, Sechrest W, Orme CD, Purvis A (2005) Multiple causes of high extinction risk in large mammal species. Science 309(5738):1239–1241

Carlson Mazur ML, Kowalski KP, Galbraith D (2014) Assessment of suitable habitat for Phragmites australis (common reed) in the Great Lakes coastal zone. Aquat Invasions 9(1):1–19

Department of the Environment (DoE) (2008) Management plant for Tandooreh national park, Tehran, pp 150 (in Persian)

Elith J, Phillips SJ, Hastie T, Dudík M, Chee YE, Yates CJ (2011) A statistical explanation of MaxEnt for ecologists. Divers Distrib 17(1):43–57

Erfanian B, Mirkarimi SH, Mahini AS, Rezaei HR (2013) A presence-only habitat suitability model for Persian leopard Panthera pardus saxicolor in Golestan National Park, Iran. Wildl Biol 19(2):170–178

Farashi A, Naderi M, Parvian N (2016) Identifying preservation zone using multi–criteria decision analysis. Anim Biodivers Conserv 1(4):29–36

Farashi A, Shariati M, Hosseini M (2017) Identifying biodiversity hotspots for threatened mammal species in Iran. Mamm Biol-Z Säugetierkd 87:71–88

Farhadinia MS, Ahmadi M, Sharbafi E, Khosravi S, Alinezhad H, Macdonald DW (2015) Leveraging trans-boundary conservation partnerships: persistence of Persian leopard (Panthera pardus saxicolor) in the Iranian Caucasus. Biol Conserv 191:770–778

Farhadinia MS, Mahdavi A, Hosseini-Zavarei F (2009) Reproductive ecology of the Persian leopard Panthera pardus saxicolor in Sarigol National Park, northeastern Iran: (Mammalia: Felidae). Zool Middle East 48(1):13–16

Gavashelishvili A, Lukarevskiy V (2008) Modelling the habitat requirements of leopard Panthera pardus in west and central Asia. J Appl Ecol 45(2):579–588

Ghoddousi A, Hamidi AK, Ghadirian T, Ashayeri D, Hamzehpour M, Moshiri H, Julayi L (2008) Territorial marking by the Persian leopard (Panthera pardus saxicolor Pocock, 1927) in Bamu National Park, Iran. Zool Middle East 44(1):101–103

Hebblewhite M, Miquelle DG, Murzin AA, Aramilev VV, Pikunov DG (2011) Predicting potential habitat and population size for reintroduction of the Far Eastern leopards in the Russian Far East. Biol Conserv 144(10):2403–2413

IUCN Standards and Petitions Subcommittee (2016) Guidelines for Using the IUCN Red List Categories and Criteria Version 2 Prepared by the Standards and Petitions Subcommittee http://cmsdocs.s3.amazonaws.com/RedListGuidelines.pdf

Jacobson AP, Gerngross P, Lemeris JR, Schoonover RF, Anco C, Breitenmoser-Würsten C, Laguardia A (2016) Leopard (Panthera pardus) status distribution and the research efforts across its range. PeerJ 4:e1974

Jowkar H, Ostrowski S, Tahbaz M, Zahler P (2016) The conservation of biodiversity in Iran: threats challenges and hopes. Iran Stud 49(6):1065–1077

Karami M, Ghadirian T, Faizolahi K (2015) The atlas of the mammals of Iran. Department of the Environment of Iran, Tehran

Khorozyan I, Malkhasyan A, Asmaryan S (2005) The Persian leopard prowls its way to survival. Endanger Species Update 22(2):51

Khoshnegah J, Mohri M, Mirshahi A, Mousavi SJ (2012) Detection of Hepatozoon sp. in a Persian leopard (Panthera pardus ciscaucasica). J Wildl Dis 48(3):776–780

Kiabi BH, Dareshouri BF, Ghaemi RA, Jahanshahi M (2002) Population status of the Persian leopard (Panthera pardus saxicolor Pocock, 1927) in Iran. Zool Middle East 26(1):41–47

Kimanzi JK, Sanderson RA, Rushton SP (2014) Habitat suitability modelling and implications for management of roan antelopes in Kenya. Afr J Ecol 52(1):111–121

Kimitei KK, Kimanzi J, Andanje SA (2015) Habitat suitability modelling for Hirola (Beatragus hunteri) in Tsavo East National Park Kenya. Afr J Ecol 53(4):550–559

Lundy MG, Buckley DJ, Boston ES, Scott DD, Prodöhl PA, Marnell F, Montgomery WI (2012) Behavioural context of multi-scale species distribution models assessed by radio-tracking. Basic Appl Ecol 13(2):188–195

Lunney D, Stalenberg E, Santika T, Rhodes JR (2014) Extinction in Eden: identifying the role of climate change in the decline of the koala in south-eastern NSW. Wildl Res 41(1):22–34

Makhdoum MF (2008) Management of protected areas and conservation of biodiversity in Iran. Int J Environ Stud 65(4):563–585

Nowak RM (1999) Walker's mammals of the world. The Johns Hopkins University Press, Baltimore

Nowell K, Jackson P (1996) Wild Cats: Status Survey and Conservation Action Plan IUCN/SSC. Cat Specialist Group IUCN, Gland

Peterson AT, Soberón J, Pearson RG, Anderson RP, Martínez-Meyer E, Nakamura M, Bastos M (2011) Ecological niches and geographic distributions Princeton. University Press Princeton, Princeton 328pp

Pradhan P (2016) Strengthening MaxEnt modelling through screening of redundant explanatory bioclimatic variables with variance inflation factor analysis. Researcher 8(5):29–34

Roscioni F, Rebelo H, Russo D, Carranza ML, Di Febbraro M, Loy A (2014) A modelling approach to infer the effects of wind farms on landscape connectivity for bats. Landsc Ecol 29(5):891–903

Sadeghinezhad J, Sheibani MT, Memarian I, Chiocchetti R (2017) Morphological study of the Persian leopard (Panthera pardus saxicolor) tongue. Anat Histol Embryol 46(3):240–248

Safaei M, Kahrom E, Mohammadi M (2012) Study on the causes of wildlife mortality on the Asian road in Golestan National Park in Iran. Wildl Middle East News 6:14

Sanei A, Zakaria M (2011) Survival of the Persian leopard (Panthera pardus saxicolor) in Iran: primary threats and human-leopard conflicts. Asia Life Sci Supplement 7:31–39

Sanei, A., Zakaria M, Hermidas S (2011) Prey composition in the Persian leopard distribution range in Iran. Asia Life Sciences Supplement 7(1):19–30

Sarhangzadeh J, Yavari AR, Hemami MR, Jafari HR, Shams-Esfandabad B (2013) Habitat suitability modeling for wild goat (Capra aegagrus) in a mountainous arid area, central Iran. Caspian J Environ Sci 11(1):41–51

Saura S, Bodin Ö, Fortin MJ (2014) EDITOR'S CHOICE: Stepping stones are crucial for species' long-distance dispersal and range expansion through habitat networks. J Appl Ecol 51(1):171–182

Stokland JN, Halvorsen R, Støa B (2011) Species distribution modeling—effect of design and sample size of pseudo-absence observations. Ecol Model 222(11):1800–1809

Valeix M, Loveridge AJ, Davidson Z, Madzikanda H, Fritz H, Macdonald DW (2010) How key habitat features influence large terrestrial carnivore movements: waterholes and African lions in a semi-arid savanna of north-western Zimbabwe. Landsc Ecol 25(3):337–351

Wingard J, Zahler P, Victurine R, Bayasgalan O, Buuveibaatar B (2014) Guidelines for addressing the impact of linear infrastructure on migratory large mammals in central Asia Convention on Migratory Species (CMS). Technical Report Bonn CMS, Bonn, pp 70

Youssefi M, Hoseini S, Zaheri B, Tabari MA (2010) First report of Ancylostoma tubaeforme in Persian leopard (Panthera pardus saxicolor). Iran J Parasitol 5(1):61–63

Ziaee H (2009) Field guide to mammals of Iran. Wildlife Center Publication, Tehran, pp 450 (in Persian)
Additional information
Communicated by: Hitoshi Suzuki
About this article
Cite this article
Farashi, A., Shariati, M. Evaluation of the role of the national parks for Persian leopard (Panther pardus saxicolor, Pocock 1927) habitat conservation (case study: Tandooreh National Park, Iran). Mamm Res 63, 425–432 (2018). https://doi.org/10.1007/s13364-018-0370-4
Received:

Accepted:

Published:

Issue Date:
Keywords
Tandooreh National Park

Habitat

Binary logistic regression

Protection