Abstract
Understanding predator-prey dynamics is an important component of management strategy development for wildlife populations that are directly affected by predation. Ungulates often serve as a significant source of prey for many large mammal predators, and patterns of predation are known to influence population dynamics. Although black bear and wolf diets have been investigated extensively, prey preference has been less commonly examined, especially in analyses that take into account age class (i.e., juvenile and adult) of the ungulate prey. We examined black bear (Ursus americanus), wolf (Canis lupus), and hybrids (Canis spp.) prey preference in Ontario based on the availability of three ungulate species—elk (Cervus elaphus), moose (Alces alces), and white-tailed deer (Odocoileus virginianus). We analyzed the presence of prey items in black bear and wolf scats collected over 3 years by examining prey hair cuticular scale patterns. We applied correction factors to frequencies of occurrence of prey items found in predator scat and related diet composition to the availability of ungulates, determined by fecal pellet transect surveys. In addition, non-ungulate diet items were identified to obtain full diet composition profiles. We found that black bear diet consisted of more than 87% vegetation, and they were opportunistic, not selecting for any particular ungulate species in either adult or juvenile age class. Wolf diet was comprised mainly of ungulates (~ 73.2%), muskrat (Ondatra zibethica; ~ 8.5%), and beaver (Castor canadensis; ~ 14.6%), and although moose were at least 1.5 times more abundant then each of the other ungulate prey species in the study area, wolves preferred elk, using moose less than expected. Although we found black bear diet to be opportunistic during the summer, wolves in our study heavily utilized both juvenile and adult ungulates, however, among ungulate species, displayed preference for elk. The preference displayed by wolves provides insight that wildlife managers can use to guide further investigation and assist with the development of strategies to ensure continued elk reintroduction success, and moose and white-tailed deer population sustainability.
This is a preview of subscription content, log in to check access.
Access options
Buy single article
Instant access to the full article PDF.
US$ 39.95
Price includes VAT for USA
Subscribe to journal
Immediate online access to all issues from 2019. Subscription will auto renew annually.
US$ 99
This is the net price. Taxes to be calculated in checkout.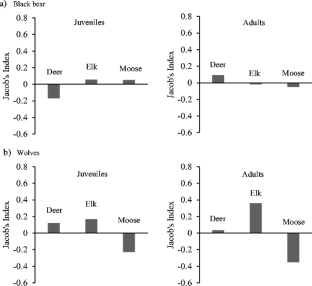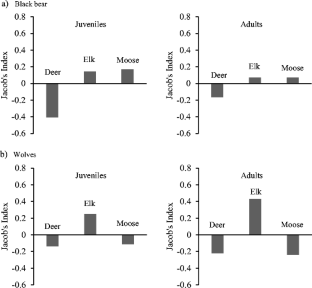 References
Adams LG, Singer FJ, Dale BW (1995) Caribou calf mortality in Denali National Park, Alaska. J Wildl Manag 59:584–594

Adorian AS, Kolenosky GB (1969) A manual for the identification of hairs of selected Ontario mammals. Ministry of Natural Resources

Arjo WM, Pletscher DH, Ream RR (2002) Dietary overlap between wolves and coyotes in northwestern Montana. J Mammal 83:754–766

Ballard WB (1992) Bear predation on moose: a review of recent North American studies and their management implications. Alces 1:162–176

Ballard W, Spraker TH, Taylor KP (1981) Causes of neonatal moose calf mortality in south central Alaska. J Wildl Manag 45:335–342

Ballard WB, Whitman JS, Gardner CL (1987) Ecology of an exploited wolf population in South-Central Alaska. Wildl Monogr 98:1–54

Barber-Meyer SM, Mech DL, White PJ (2008) Elk calf survival and mortality following wolf restoration to Yellowstone National Park. Wildl Monogr 169:1–30

Barja I (2009) Prey and prey-age preference by the Iberian wolf Canis lupus signatus in a multiple-prey ecosystem. Wildl Biol 15:147–154

Bastille-Rousseau G, Fortin D, Dussault C, Courtois R, Oullet J-P (2011) Foraging strategies by omnivores: are black bears actively searching for ungulate neonates or are they simply opportunistic predators? Ecography 34:558–596

Bergerud T, Page RE (1987) Displacement and dispersion of parturient caribou at calving as antipredator tactics. Can J Zool 65:1597–1606

Bertram BCR (1978) Living in groups: predators and prey. In: Krebs JR, Davies NB (eds) Behavioral ecology: an evolutionary approach. Blackwell Scientific Publications, pp 64–96

Bogomolova EM, Kurochkin JA, Anokhin PK (1992) Observations of moose behaviour on a moose farm. Alces 1:216

Boitani L, Powell RA (2012) Carnivore ecology and conservation: a handbook of techniques. Oxford University Press, USA

Bull EL, Torgersen TR (2001) The importance of vegetation, insects, and neonate ungulates in black bear diet in northeastern Oregon. Northw Sci 75:244–253

Carbyn LN (1983) Wolf predation on elk in Riding Mountain National Park, Manitoba. J Wildl Manag 47:963–976

Carl G, Robbins CT (1988) The energetic cost of predator avoidance in neonatal ungulates: hiding versus following. Can J Zool 66:239–246

Carter RA (2006) DNA profiles and foraging strategies of large canids in central Ontario. M.Sc. thesis, Laurentian University

Chambers BK, Legasy K, Bentley CV (1996) Forest plants of central Ontario. Lone Pine Publishing

Christianson D, Creel S (2014) Ecosystem scale decline in elk recruitment and population growth with wolf colonization: a before-after-control-impact approach. PLoS One 9:e102330

Conger SL, Giusti GA (1992) Observations of black bear (Ursus americanus) predation on Columbian black-tailed deer (Odocoileus hemionus columbicanus). Calif Fish Game 78:131–132

Eder T (2002) Mammals of Ontario. Lone Pine Publishing

Forsyth DM (2005) Protocol for estimating changes in the relative abundance of deer in New Zealand forests using the Faecal Pellet Index (FPI). Department of Conservation. Landcare Research Contract Report: LC0506/027

Forsyth DM, Barker RJ, Morris G, Scroggie MP (2007) Modeling the relationship between fecal pellet indices and deer density. J Wildl Manag 71:964–970

Franzmann AW, Schwartz CC, Peterson RO (1980) Causes of summer moose calf mortality on the Kenai peninsula. J Wildl Manag 44:764–768

Fuller TK, Keith LB (1980) Wolf population dynamics and prey relationships in Northeastern Alberta. J Wildl Manag 44:583–602

Gaillard JM, Festa-Bianchet M, Yoccoz NG, Loison A, Toigo C (2000) Temporal variation in fitness components and population dynamics of large herbivores. Annu Rev Ecol Evol 31:367–393

Galliard JM, Festa-Bianchet M, Yocoz NG (1998) Population dynamics of large herbivores: variable recruitment with constant adult survival. Trends Ecol Evol 13:58–63

García Alaniz N, Naranjo EJ, Mallory FF (2010a) Human-felid interactions in three mestizo communities of the Selva Lacandona, Chiapas, Mexico: benefits, conflicts and traditional uses of felid species. Hum Ecol 38:451–457

García Alaniz N, Naranjo EJ, Mallory FF (2010b) Hair-snares: a non-invasive method for monitoring felid populations in the Selva Lacandona, Mexico. Trop Conserv Sci 3:403–411

Gasaway WC, Boertje RD, Grangaard DV, Keeleyhouse DG, Stephenson RO, Larsen DG (1992) The role of predation in limiting moose at low densities in Alaska and Yukon and implications for conservation. Wildl Monogr 120:3–59

Geist V (2002) Adaptive behavioural strategies. In: Toweill DE, Thomas JW (eds) North American elk ecology and management. Smithsonian Institution Press. pp, pp 389–433

Graber DM, White M (1983) Black bear food habits in Yosemite National Park. Bears Biol Manag 5:1–10

Hamilton WD (1971) Geometry for the selfish group. J. Theor Ecol 31:295–311

Hayward MW, Hofmeyr M, O'Brien J, Kerley GIH (2006) Prey preferences of the cheetah (Acinonyx jubatus). J Zool 270:615–627

Hayward MW, Jedrzejewski W, Jedrzejewska B (2012) Prey preferences of the tiger Panthera tigris. J Zool 286:221–231

Hebblewhite M, Pletscher DH (2002) Effects of elk group size on predation by wolves. Can J Zool 80:800–809

Hebblewhite M, White CA, Nietvelt CG, McKenzie JA, Hurd TE, Fryxell JM, Bayley SE, Paquet PC (2005) Human activity mediates a trophic cascade caused by wolves. Ecology 86:2135–2144

Huggard DJ (1993a) Prey selectivity of wolves in Banff National Park. I. Prey species. Can J Zool 71:130–139

Huggard DJ (1993b) Prey selectivity of wolves in Banff National Park. II. Age, sex, and condition of elk. Can J Zool Zoology 71:140–147

Jacobs J (1974) Quantitative measurement of food selection—a modification of the forage ratio and Ivlev's electivity index. Oecologia 14:413–417

Jedrzejewski W, Jedrzejewska B, Okarma H, Ruprecht L (1992) Wolf predation and snow cover as mortality factors in the ungulate community of the Białowieza National Park, Poland. Oecologia 90:27–36

Johnson DE (1951) Biology of the elk calf, Cervus canadensis Nelsoni. J Wildl Manag 15:396–410

Jost MA, Hamr J, Filion I, Mallory FF (1999) Forage selection by elk in habitats common to the French River – Burwash region of Ontario. Can J Zool 77:1429–1438

Keech MR, Boerthe RD, Bowyer RT, Dale BW (1999) Effects of birth weight on growth of young moose: do low-weight neonates compensate? Alces 35:51–57

Kittle AM, Fryxell JM, Desy GE, Hamr J (2008) The scale-dependent impact of wolf predation risk on resource selection by three sympatric ungulates. Oecologia 157:163–175

Klare U, Kamler JF, Macdonald DW (2011) A comparison and critique of different scat-analysis methods for determining carnivore diet. Mammal Rev 41:294–312

Kunkel KE, Mech DL (1994) Wolf and bear predation on white-tailed deer fawns in northeastern Minnesota. Can J Zool 72:1557–1565

Kunkel KR, Ruth TK, Pletscher DH, Hornocker MG (1999) Winter prey selection by wolves and cougars in and near Glacier National Park Montana. J Wildl Manag 63:901–910

Lamothe AR, Parker GH (1989) Winter feeding habits of wolves in the Keewatin District, Northwest Territories, Canada. Musk-Ox 37:144–149

Lewis KP, Gullage SE, Fifield DA, Jennings DH, Mahoney SP (2016) Manipulations of black bear and coyote affect caribou calf survival. J Wildl Manag 81:1–11

Lyngdoh S, Shrotriya S, Goyal SP, Clements H, Hayward MW, Habib B (2014) Prey preferences of the snow leopard (Panthera uncia): regional diet specificity holds global significance for conservation. PLoS One 9:e88349

Mahoney SP, Abbot H, Russell LH, Porter BR (1990) Woodland caribou calf mortality in insular Newfoundland. Trans. 19th IUGB Congress, Trondheim, Norway

Mech LD, Nelson ME (1990) Evidence of prey-caused mortality in three wolves. Am Midl Nat 129:266–271

Mech LD, Peterson RO (2003) Wolf-prey relations. In: Mech DL, Boitani L (eds) Wolves: behavior, ecology, and conservation. University of Chicago Press, pp 131–160

Mech LD, Smith DW, Murphy KM, MacNulty DR (2001) Winter severity and wolf predation on a formerly wolf-free elk herd. J Wildl Manag 65:998–1003

Mosnier A, Oullet J-P, Courtois R (2008) Black bear adaptation to low productivity in the boreal forest. Ecoscience 15:485–497

Murrow JL, Clark JD, Delozier EK (2009) Demographics of an experimentally released population of elk in Great Smoky Mountains National Park. J Wildl Manag 73:1261–1168

Neff DJ (1968) The pellet-group count technique for big game trend, census, and distribution: a review. J Wildl Manag 32:597–614

Nelson ME, Mech DL (1986) Relationship between snow depth and gray wolf predation on white-tailed deer. J Wildl Manag 50:471–474

Newsome TM, Boitani L, Chapron G, Ciucci P, Dickman CR, Dellinger JA, Lopez-Bao JV (2016) Food habits of the world's grey wolves. Mammal Rev 45:255–269

OMNR (2009) Cervid Ecological Framework. 18p

OMNR (2014) Black Bear Ecological Zones (BBEZ), Black Bear Density Map. Available at: https://www.ontario.ca/document/bear-density-map

Paquet PC (1992) Prey use strategies of sympatric wolves and coyotes in Riding Mountain National Park, Manitoba. J Mammal 73:337–343

Paquet PC, Carbyn LN (2003) Gray wolf Canis lupus and allies. In: Feldhamer GA, Thompson BS, Champan JA (eds) Wild mammals of North America: biology, management, and conservation. JHU Press. pp: 483–510

Patterson BR, MacDonald BA, Lock BA, Anderson DG, Benjamin LK (2002) Proximate factors limiting population growth of white-tailed deer in Nova Scotia. J Wildl Manag 66:511–521

Patterson BR, Benson JF, Middel KR, Mills KJ, Silver A, Obbard ME (2013) Moose calf mortality in central Ontario, Canada. J Wildl Manag 77:832–841

Pimlott DH (1967) Wolf predation and ungulate populations. Amer Zool 7:267–278

Potvin F, Jolicoeur H, Huot J (1987) Wolf diet and prey selectivity during two periods for deer in Quebec: decline versus expansion. Can J Zool 66:1274–1279

Pulliam HR, Caraco T (1984) Living in groups: is there an optimal group size? In: Krebs JR, Davies NB (eds) Behavioral ecology: an evolutionary approach. 2nd ed. Blackwell Scientific Publications, pp 122–147

Raine RM, Kansas JL (1990) Black bear seasonal food habits and distribution by elevation in Banff National Park, Alberta. Bears Biol Manag 8:297–304

Raithel JD, Kauffman MK, Pletscher DH (2007) Impact of spatial and temporal variation in calf survival on the growth of elk populations. J Wildl Manag 71:795–803

Ranta B (1979) Range and habitat relationships of wapiti (Cervus canadensis) in the Burwash-French River area of Ontario. M.Sc. thesis, Carleton University

Ripple WJ, Larsen EJ, Renkin RA, Smith DW (2001) Trophic cascades among wolves, elk and aspen on Yellowstone National Parks' northern range. Biol Conserv 102:227–234

Rowe JS (1972) Forest regions of Canada. Canadian Forest Service, Ottawa

Schlegel M (1976) Factors affecting calf elk survival in northcentral Idaho—a progress report. Proc. 56th Ann. Conf. W. Assoc. State Game Fish Comm 56:342–355

Smith BL, Anderson SH (1998) Juvenile survival and population regulation of the Jackson elk herd. J Wildl Manag 62:1036–1045

Smith RH, Neff DJ, McCulloch CY (1969) A model for the installation and use of a deer pellet group survey. Arizona Game and Fish Department Special Report No. 1

Smith DW, Mech LD, Meagher M, Clark WE, Jaffe R, Phillips MK, Mack JA (2000) Wolf-bison interaction in Yellowstone National Park. J Mammal 81:1128–1135

Spaulding R, Krausman PR, Ballard WB (2000) Observer bias and analysis of gray wolf diets from scats. Wildl Soc Bull 28:947–950

Triesman M (1975) Predation and the evolution of gregariousness I. Detection of prey. Anim Behav 23:779–801

Vankat JL (1979) The natural vegetation of North America: an introduction. John Wiley & Sons

Verme LJ (1969) Reproductive patterns of white-tailed deer related to nutritional plane. J Wildl Manag 33:881–887

Vreeland JK, Diefenbach DR, Wallingford BD (2004) Survival rates, mortality causes, and habitats of Pennsylvania white-tailed deer fawns. Wildl Soc Bull 32:542–553

Weaver J (1978) The wolves of Yellowstone. Natural Resources Report no. 14. National Park Service, Washington, D.C., USA

Weaver JL (1993) Refining the equation for interpreting prey occurrence in gray wolf scats. J Wildl Manag 57:534–538

Weaver JL, Arvidson C, Wood P (1992) Two wolves, Canis lupus, killed by a moose in Jasper National Park, Alberta. Can Field-Nat 106:126–127

White PJ, Garrott RA (2005) Northern Yellowstone elk after wolf restoration. Wildl Soc Bull 33:942–955

Wilson PJ, Grewal SK, Mallory FF, White BN (2009) Genetic characterization of hybrid wolves across Ontario. J Hered 100:S80–S89

Wiwchar DMA, Mallory FF (2012) Prey specialization and morphological conformation of wolves associated with woodland caribou and moose. Rangifer 19:309–328

Yarkovich J, Clark DD, Murrow JL (2011) Effects of black bear relocation on elk calf recruitment at great Smoky Mountains National Park. J Wildl Manag 75:1145–1154
Acknowledgements
The authors acknowledge the Sudbury Elk Restoration Committee (SERC) and the Natural Sciences and Engineering Research Council of Canada (NSERC) for funding this research as well as Dr. Mark Boyce, Dr. Art Rodgers, Dr. Michael Persinger, and Dr. Robert Lafrenie for their review of this manuscript prior to submission.
Additional information
Communicated by: Quinn Fletcher
About this article
Cite this article
Popp, J.N., Hamr, J., Larkin, J.L. et al. Black bear (Ursus americanus) and wolf (Canis spp.) summer diet composition and ungulate prey selectivity in Ontario, Canada. Mamm Res 63, 433–441 (2018). https://doi.org/10.1007/s13364-018-0368-y
Received:

Accepted:

Published:

Issue Date:
Keywords
Black bear diet

Prey selectivity

Ungulate

Wolf diet