Abstract
The paper presents a description of a rare finding of the partial frozen corpse of the Yukagir horse. Discovered from thawing deposits in northern East Siberia (Yakutia, Russia), its age is confirmed to be Mid-Holocene (about 4600 BP). The mummy had a preserved head with the neck and the back of the torso with the legs and tail. The Yukagir horse was relatively short, with short ears and tail. Compared to the modern breeds, including the Yakutian domestic horse, wild Przewalski's horse, and extinct Lena horse, Equus lenensis, the Yukagir horse was closest to the latter, which was also confirmed by studies of the hair microstructure. The pollen and plant remains from the horse's intestines indicated a preference to grasses. The late geological age of the Yukagir horse is an indication that this species survived the Pleistocene–Holocene crisis and lived through the Mid-Holocene in northern Eastern Siberia.
Access options
Buy single article
Instant access to the full article PDF.
US$ 39.95
Tax calculation will be finalised during checkout.
Subscribe to journal
Immediate online access to all issues from 2019. Subscription will auto renew annually.
US$ 79
Tax calculation will be finalised during checkout.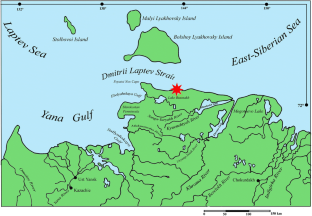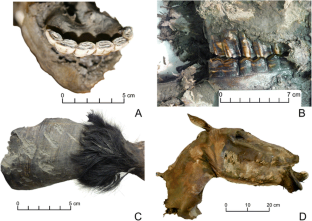 References
Akaevsky AI (1975) Anatomiya domashnikh zhivotnykh. Izdatelstvo Kolos, Moscow (in Russian)

Andreev A, Schirrmeister L, Tarasov P, Ganopolski A, Brovkin V, Siegert C, Hubberten H-W (2011) Vegetation and climate history in the Laptev Sea region (Arctic Siberia) during Late Quaternary inferred from pollen records. Quat Sci Rev 30:2182–2199

Arslanov HA, Chernov SB (1977) Ob absolyutnom vozraste Selerikanskoy loshadi. In: Vereschagin NK (ed) Fauna i Flora Antropogena Severo-Vostoka. Nauka, Leninrad, pp 76–78 (in Russian)

Balaschov NT (1961) Die Zucht der Przewalski-Pferde in Askania-Nova. In: Veselovsky Z (ed) Equus. Proceedings of the 1-st Intern. Symp. on Przewalski Horse. Nakladatelstvi Československe Akademie ved, Praha, ss 59–84

Bannikov AG (1954) Mlekopitayushie Mongolskoy Narodnoy Respubliki. Izdatelstvo Vysshaya Shkola, Moscow (in Russian)

Boeskorov GG (2000) K istorii taksonomicheskih issledovanij pozdneplejstocenovyh loshadej Vostochnoj Sibiri i vklad professora A.A. Braunera v jeto napravlenie. In: Lobkov VA (ed) Chtenija pamjati A.A. Braunera. Materialy Mezhdunarodnoi Konferentsii. Astroprint, Odessa, pp 76–85 (In Russian)

Boeskorov GG, Protopopov AV, Mashchenko EN, Potapova OR, Kuznetsova TV, Plotnikov VV, Grigoryev SE, Belolyubskii IN, Tomshin MD, Shchelchkova MV, Kolesov SD, van der Plicht I, Tikhonov AN (2013) New findings of unique preserved fossil mammals in the permafrost of Yakutia. Dokl Biol Sci 452:291–295

Boeskorov GG, Potapova OR, Protopopov AV, Plotnikov VV, Kirikov KS et al (2016) The Yukagir bison: analysis of a complete frozen mummy of the bison, Bison priscus from the early Holocene of Northern Eurasia. Quat Int 406:94–110

Chernova OF, Boeskorov GG, Protopopov AV (2015) Identifikatsiya volos golocenovoi mumii Jukagirskoij loshadi, Equus spp. Dokl Akad Nauk. Obshhaya Biol 462(3):373–375 (In Russian)

Cherskiy ID (1891) Opisaniye kollektsii posletretichnykh mlekopitayushchikh zhivotnykh, sobrannykh Novo-Sibirskoyu ekspeditsiyey v 1885-1886 gg. Zapiski Akademii Nauk 65(1):1–706 (In Russian)

Formozov AN (1946) Snezhnyi pokrov kak factor sredy, ego znachenie v zhizni mlekopitayushikh I ptic SSSR. Materialy k poznaniyu fauny I flory SSSR. Moscovskoye obshestvo ispytateley prirody, Moscow (In Russian)

Gabyshev MF (1957) Jakutskaya loshad. Jakutskoe Knizhnoe Izdatelstvo, Jakutsk (in Russian)

Gravendeel B, Protopopov A, Bull I, Duijm E, Gill F, Nieman A, Rudaya N, Tikhonov AN, Trofimova S, van Reenen GBA, Vos R, Zhilich S, van Geel B (2014) Multiproxy study of the last meal of a mid-Holocene Oyogos Yar horse, Sakha Republic, Russia. The Holocene 24:1288–1296. https://doi.org/10.1177/0959683614540953

Gromov IM, Gureev AA, Novikov GA, Sokolov II, Strelkov PP, Chapskii KK (1963) Fauna SSSR. Mlekopitayushie. Opredelitel mlekopitaiushikh. Chast 2. (Kitoobraznye, Khishnye, Lastonogie, Nepanopalye, Parnopalye). Moscow-Leningrad, Academiya Nauk SSSR (in Russian)

Guriev IP (1998) Evolutsiya domashnei loshadi. Nauka i Obrazovanie 1:51–57 (in Russian)

Kaplina TN, Lozhkin AV (1982) History of the development of vegetation in the coastal lowlands during the Holocene of Yakutia. Development of Nature in the Pleistocene and Holocene. Nauka, Moscow, pp 207–220 (in Russian)

Kirillova IV, Zanina OG, Kosintsev PA, Kulkova MA, Lapteva EG et al (2013) First find of the Holocene bison (Bison priscus Bojanus, 1827) frozen carcass on Chukotka. Dokl Ross Akad Nauk 452:466–469 (in Russian)

Kuzmina IE (1997) Loshadi Severnoi Evrazii ot Pliocena do Sovremennosti. Zoological Institute, RAS Press, Sankt-Petersburg (in Russian)

Kuznetsova TV, van der Plicht J (2009) Pozdnepleystotsenovyye i golotsenovyye loshadi Severnoy Yakutii. In: Barskova IS, Nazarova VN (eds) 200 Let Otechestvennoy Paleontologii. PIN RAN, Moscow, pp. 65–66 (in Russian)

Kuznetsova TV, Sulerzhitsky LD, Siegert Ch (2001) New data on the "mammoth" fauna of the Laptev Shelf Land (Arctic Siberia). Proceedings of the First International Congress "The World of Elephants". Rome 16–20 October 2001, pp. 289–292

Lazarev PA (1980) Anthropogeovye loshadi Yakutii. Nauka, Moscow (in Russian)

Lazarev PA (2002) Kadastr mestonakhozhdeniy fauny mlekopitayushchikh pozdnego kaynozoya Yakutii. Nauka, Novosibirsk (in Russian)

Lazarev PA (2008) Krupnyye mlekopitayushchiye antropogena Yakutii. Nauka, Novosibirsk (in Russian)

Lazarev PA, Grigoriev SE, Plotnikov VV, Savvinov GN (2011) Nakhodki unikalnych ostatkov trupov loshadi I bizona v Verkhoyanskom rayone Yakutii. Probl Reg Ecol 4:13–18 (in Russian)

Librado P, Der Sarkissian C, Ermini L, Schubert M, Albrechtsen A, Fumagalli M et al (2015) Tracking of the origins of Yakutian horses and the genetic basis for their fast adaptation to Subarctic environments. PNAS 112(50):E6889–E6897. https://doi.org/10.1073/pnas.1513696112

Liskun EF (1949) Exterier selskokhozyaystvennykh zhivotnykh. Gosudarstvennoye izdatelstvo selskokhozyaystvennoy literatury, Moscow (in Russian)

McDonald GM, Velichko AA, Kremenetski CV, Borisova OK, Goleva AA et al (2000) Holocene treeline history and climate change across Northern Eurasia. Quat Res 53:302–311

Monserud RA, Tchebakova NM, Denissenko OV (1998) Reconstruction of the mid-Holocene palaeoclimate of Siberia using a bioclimatic vegetation model. Palaeogeogr Palaeoclimatol Palaeoecol 139:15–36

Mook WG, van der Plicht J (1999) Reporting 14C activities and concentrations. Radiocarbon 41:227–239

Nikolsky PA, Basilyan AE (2003) Mys Svyatoy Nos—opornyi razrez chetvertichnykh otlozheniy Yano-Indigirskoy nizmennosti. In: Balakireva (ed) Estestvennaya istoriya Rossiyskoy vostochnoy Arctiki v Pleistocene I Holocene. GEOS, Moscow, pp 5–13 (in Russian)

Pisaric MFJ, MacDonald GM, Velichko AA, Cwynar LC (2001) The late-glacial and post-glacial vegetation history of the northwestern limits of Beringia, from pollen, stomata and megafossil evidence. Quat Sci Rev 20:235–245

Reimer PJ, Bard E, Bayliss A, Beck JW, Blackwell PG, Bronk Ramsey C, Buck CE, Cheng H, Edwards RL, Friedrich M, Grootes PM, Guilderson TP, Haflidason H, Hajdas I, Hatté C, Heaton TJ, Hoffmann DL, Hogg AG, Hughen KA, Kaiser KF, Kromer B, Manning SW, Niu M, Reimer RW, Richards DA, Scott EM, Southon JR, Staff RA, Turney CSM, van der Plicht J (2013) IntCal13 and Marine13 radiocarbon age calibration curves, 0–50,000 years cal BP. Radiocarbon 55:1869–1887

Sablin MV (1991) Vozmozhnoye sootnoshenie vidov krupnych mlekopitayushikh v faune tundro-stepi Severnoy Yakutii. Abstracts 6th Soveshaniya "Izuchenie Mamontov I Mamontovoi Fauny". Zoological Institute, St. Petersburg, pp 48–49 (in Rusian)

Sulerzhitsky LD, Romanenko FA (1997) Vozrast I rasprostranenie "Mamontovoy fauny" v polyarnom regione Azii. Kriosfera Zemli 1(4):12–19 (in Russian)

Tikhonov VN, Kotrjen EG, Knyazev SP (1998) Populyatsionno-geneticheskie parametry aborigennykh Yakutskih loshadei v svyazi s filogeniei sovremennykh porod domashnei loshadi Equus caballus L. Genetika 6:796–809 (in Russian)

Tomirdiaro SV (1982) Arkticheskiy i subarkticheskiy tipy merzlotnogo lessa I vydelenie edomnykh formaciy shelfovogo I kontinentalnogo tipov. Nauka, Moscow (in Russian)

Velichko AA (1973) Prirodnyi process v Pleistocene. Nauka, Moscow (in Russian)

Velichko AA, Andreev AA, Klimanov VA (1997) Climate and vegetation dynamics in the tundra and forest zone during the Late Glacial and Holocene. Quat Int 41/42:71–96

Vereschagin NK, Lazarev PA (1977) Opisaniye chastey trupa i skeletnykh ostatkov selerikanskoy loshadi. Trudy Zoologicheskogo Instituta, AN SSR 63: 85–185 (in Russian)
Acknowledgements
The authors thank Julia Mossman (Hot Springs, SD, USA) for editing the text.
Additional information
Communicated by: Jan M. Wójcik
About this article
Cite this article
Boeskorov, G.G., Potapova, O.R., Protopopov, A.V. et al. A study of a frozen mummy of a wild horse from the Holocene of Yakutia, East Siberia, Russia. Mamm Res 63, 307–314 (2018). https://doi.org/10.1007/s13364-018-0362-4
Received:

Accepted:

Published:

Issue Date:
Keywords
Lena horse

Equus lenensis

Remains of frozen corpse

Morphology

Yakutia

Holocene