Abstract
Artibeus jamaicensis is a medium-sized frugivorous microchiropteran bat that complements its diet with nectar and pollen during the dry season. We investigated which species of pollen are carried by A. jamaicensis in order to determine its potential role as a plant pollinator in the northern Yucatan Peninsula. We collected pollen from the fur of 192 individuals throughout the year from April 2004 to March 2005. We recorded pollen from nine plant species of eight families and found five unidentified pollen types, with the highest pollen species richness recorded in June. A. jamaicensis moved pollen of Erythrina standleyana and Mimosa bahamensis, which have not hitherto been reported as visited by this species. The most abundant pollen in the samples was found to be that of three tree species: Ceiba pentandra, C. aesculifolia and Lysiloma latisiliquum. Very few samples contained pollen in the rainy season, when the bats fed mainly on fruits. A. jamaicensis can fly several kilometres among foraging locations and dispersed large amounts of pollen from tree species growing near cenotes as well as those not present at cenotes but occurring in other forest fragments, highlighting its importance as a pollen vector among forest fragments in the largely deforested landscape of the Yucatan Peninsula, helping to reduce the negative effects of forest fragmentation. Ceiba appears to benefit from the role of A. jamaicensis as a pollen vector, and the species play an important ecological role in the Yucatán landscape, supplying shade, nectar and fruit for wildlife.
Access options
Buy single article
Instant access to the full article PDF.
US$ 39.95
Tax calculation will be finalised during checkout.
Subscribe to journal
Immediate online access to all issues from 2019. Subscription will auto renew annually.
US$ 79
Tax calculation will be finalised during checkout.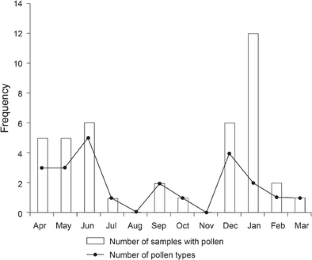 References
Baker HG, Baker I (1990) The predictive value of nectar chemistry to the recognition of pollinator types. Isr J Bot 39:157–166

Bolívar-Cimé BS, Laborde J, MacSwiney GMC, Muñoz-Robles C, Tun-Garrido J (2013) Response of phytophagous bats to patch quality and landscape attributes in fragmented tropical semi-deciduous forest. Acta Chiropt 15:399–409. doi:10.3161/150811013X679026

Bumrungsri S, Lang D, Harrower C, Sripaoraya E, Kitpipit K, Racey PA (2013) The dawn bat, Eonycteris spelaea Dobson (Chiroptera: Pteropodidae) feeds mainly on pollen of economically important food plants in Thailand. Acta Chiropt 15:95–104 http://dx.doi.org/10.3161/150811013X667894

Colunga-Garcíamarín P, Coello-Coello J, Eguiarte LE, Piñero D (1999) Isozymatic variation and phylogenetic relationships between Henequén (Agave fourcroydes) and its wild ancestor A. angustifolia (Agavaceae). Am J Bot 86:115–123

Erdtman G (1960) The acetolysis method. A revised description. Sven Bot Tidskr 54:561–564

Fleming TH, Geiselman C, Kress WJ (2009) The evolution of bat pollination: a phylogenetic perspective. Ann Bot 104:1017–1043. doi:10.1093/aob/mcp197

Frick WF, Shipley JR, Kelly JF, Heady PA III, May KM (2014) Seasonal reliance on nectar by an insectivorous bat revealed by stable isotopes. Oecologia 174:55–65. doi:10.1007/s00442-013-2771-z

Gentry AH (1974) Flower phenology and diversity in tropical Bignoniaceae. Biotropica 6:64–68. doi:10.2307/2989698

Heithaus R, Fleming T, Opler P (1975) Foraging patterns and resource utilization in seven species of bats in a seasonal tropical forest. Ecology 56:841–854. doi:10.2307/1936295

Herrerias-Diego Y, Quesada M, Stoner KE, Lobo JA (2006) Effects of forest fragmentation on phenological patterns and reproductive success of the tropical dry forest tree Ceiba aesculifolia. Conserv Biol 20:1111–1120. doi:10.1111/j.1523-1739.2006.00370.x

INEGI (Instituto Nacional de Estadística, Geografía e Informática) (2009) Prontuario de información geográfica municipal de los Estados Unidos Mexicanos. Buctzotz, Yucatán. Clave geoestadística 31006. http://www3.inegi.org.mx/sistemas/mexicocifras/datos-geograficos/31/31006.pdf Downloaded on 18 July 2016

Korine C, Kalko EKV (2005) Fruit detection and discrimination by small fruit-eating bats (Phyllostomidae): echolocation call design and olfaction. Behav Ecol Sociobiol 59:12–23. doi:10.1007/s00265-005-0003-1

Lobo JA, Quesada M, Stoner KE, Fuchs EJ, Herrerías-Diego Y, Rojas J, Saborío G (2003) Factors affecting phenological patterns of bombacaceous trees in seasonal forest in Costa Rica and Mexico. Am J Bot 90:1054–1063. doi:10.3732/ajb.90.7.1054

Lobo JA, Quesada M, Stoner KE (2005) Effects of pollination by bats on the mating system of Ceiba pentandra (Bombacaceae) populations in two tropical zones in Costa Rica. Am J Bot 92:370–376. doi:10.3732/ajb.92.2.370

Lobova TA, Geiselman CK, Mori SA (2009) Seed dispersal by bats in the Neotropics. Memoirs of The New York Botanical Garden Volume 101. The New York Botanical Garden Press, New York.

Loveaux J, Maurizio A, Vorwohl G (1978) Methods of melissopalynology. Bee World 5:139–157

MacSwiney GMC, Vilchis LP, Clarke FM, Racey PA (2007) The importance of cenotes in conserving bat assemblages in the Yucatan, Mexico. Biol Conserv 136:499–509 http://dx.doi.org/10.1016/j.biocon.2006.12.021

Morrison DW (1978) Influence of habitat on the foraging distances of the fruit bat, Artibeus jamaicensis. J Mammal 59:622–624

Muchhala N, Thomson JD (2010) Fur versus feathers: pollen delivery by bats and hummingbirds and consequences for pollen production. Am Nat 175:717–726. doi:10.1086/652473

Ortega J, Castro-Arellano I (2001) Artibeus jamaicensis. Mamm Species 662:1–9 http://dx.doi.org/10.1644/1545-1410(2001)662<0001:AJ>2.0.CO;2

Palacios-Chávez R, Ludlow-Wierchers B, Villanueva R (1991) Flora palinológica de la Reserva de Sian Ka'an, Quintana Roo, México. Centro de Investigaciones de Quintana Roo, México

Pennington TD, Sarukhán J (1998) Árboles tropicales de México. Universidad Nacional Autónoma de México. Fondo de Cultura Económica, México

Ruiz-Velásquez E, Andrés-Reyes JV, Santos-Moreno A (2014) Registros notables de tres especies de mamíferos del estado de Oaxaca, México. Rev Mex Biodiv 85:325–327. doi:10.7550/rmb.33961

Standley PC, Steyermare JA, Williams LO (1946-1977) Flora de Guatemala. Field Bot 24:1–13

Stewart AB, Dudash MR (2015) Differential pollen placement on an Old World nectar bat increases pollination efficiency. Ann Bot. doi:10.1093/aob/mcv163

Tschapka M, Dressler S (2002) Chiropterophily: on bat-flowers and flower bats. Curtis's Bot Mag 19:114–125

Tzab-Hernández LA (2012) Variación estacional de murciélagos frugívoros y polinectarívoros y transporte de recursos polínicos en selvas de la Reserva de la Biosfera de Ria Lagartos, Yucatán, México. Universidad Autónoma de Yucatán, Undergraduate Thesis. Campus de Ciencias Biológicas y Agropecuarias

Vance C, Geoghegan J (2002) Temporal and spatial modelling of tropical deforestation: a survival analysis linking satellite and household survey data. Agr Econ 27:317–332. doi:10.1016/S0169-5150(02)00074-9

Vogel S, Lopes AV, Machado IC (2005) Bat pollination in the NE Brazilian endemic Mimosa lewisii: an unusual case and first report for the genus. Taxon 54:693–700

Young A, Boyle T, Brown T (1996) The population genetic consequences of habitat fragmentation for plants. Trends Ecol Evol 11:413–418. doi:10.1016/0169-5347(96)10045-8
Acknowledgements
This study was funded by the Consejo Nacional de Ciencia y Tecnología (CONACyT 168790), Secretaría de Educación, México and the University of Aberdeen. We thank P. Vilchis, C. Gelati, E. Christie, J.M. Pech and many other field assistants for their invaluable help. Lilia Ruiz helped with editing the figure. Keith MacMillan and two anonymous reviewers made useful comments to the manuscript.
Additional information
Communicated by: Justin G. Boyles
About this article
Cite this article
MacSwiney G., M.C., Bolívar-Cimé, B., Alfaro-Bates, R. et al. Pollen movement by the bat Artibeus jamaicensis (Chiroptera) in an agricultural landscape in the Yucatan Peninsula, Mexico. Mamm Res 62, 189–193 (2017). https://doi.org/10.1007/s13364-016-0306-9
Received:

Accepted:

Published:

Issue Date:
Keywords
Ceiba pentandra

Cenotes

Chiroptera

Pastureland

Pollinator