Abstract
Accurate identification of species and populations is essential for biodiversity conservation and for monitoring of international trade in wild species. Morphological and behavioural traits are not always reliable for species identification of samples of unknown origin, and suspected hybridization augments this challenge. We used mitochondrial DNA (mtDNA) markers to identify 24 canid skins illegally imported from Mongolia to Denmark in 1997. Our results indicated that the skins included both wolf (Canis lupus) and dog (Canis lupus familiaris) haplotypes. One of the wolf haplotypes was new. A phylogenetic analysis revealed that the skins shared haplotypes with wolves in Europe and Mongolia, which appears to support the assumption of a Mongolic origin though a different provenance cannot be excluded. We observed an apparent discrepancy between the skins' morphological traits and the mtDNA identification for 10 out of 24 individuals. This might suggest the presence of hybrids, but poor quality DNA precluded reliable microsatellite typing to investigate hybridization. At present, the scarcity of published records for wolf mtDNA sequences from central Asia limits more detailed investigation and we recommend increased efforts to document genetic variation in this region.
Access options
Buy single article
Instant access to the full article PDF.
USD 39.95
Price includes VAT (USA)
Tax calculation will be finalised during checkout.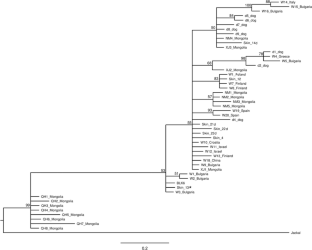 References
Andersen LW, Harms V, Caniglia R, Czarnomska SD, Fabbri E, Jędrzejewska B, Kluth G, Nowak C, Pertoldi C, Randi E, Reinhardt I, Stronen AV (2015) Long-distance dispersal of a wolf, Canis lupus, in northwestern Europe. Mamm Res 60:163–168

Ardalan A, Oskarsson MC, Asch B, Rabakonandriania E, Savolainen P (2015) African origin for Madagascan dogs revealed by mtDNA analysis. R Soc Open Sci 2:140552

Caniglia R, Fabbri E, Mastrogiuseppe L, Randi E (2013) Who is who? Identification of livestock predators using forensic genetic approaches. Forensic Sci Int Genet 7:397–404

Chetri M, Jhala YV, Jnawali SR, Subedi N, Dhakal M, Yumnam B (2016) Ancient himalayan wolf (Canis lupus chanco) lineage in upper mustang of the annaourna conservation area, Nepal. ZooKeys 582:143–156

Djan M, Maletić V, Trbojević I, Popović D, Veličković N, Burazerović J, Ćirović D (2014) Genetic diversity and structuring of the grey wolf population from the Central Balkans based on mitochondrial DNA variation. Mamm Biol 79:277–282

Elias M, Hill RI, Willmott KR, Dasmahapatra KK, Brower AVZ, Mallet J, Jiggins CD (2007) Limited performance of DNA barcoding in the diverse community of tropical butterflies. Proc R Soc B 274:2881–2889

Galov A, Fabbri E, Caniglia R, Arbanasić H, Lapalombella S, Florijančić T, Bošković I, Galaverni M, Randi E (2015) First evidence of hybridization between golden jackal (Canis aureus) and domestic dog (Canis familiaris) as revealed by genetic markers. R Soc Open Sc 2:150450

Godinho R, Llaneza L, Blanco JC, Lopes S, Álvares F, García EJ, Palacios V, Cortés Y, Talegón J, Ferrand N (2011) Genetic evidence for multiple events of hybridization between wolves and domestic dogs in the Iberian Peninsula. Mol Ecol 20:5154–5166

Hindrikson M, Männil P, Ozolins J, Krzywinski A, Saarma U (2012) Bucking the trend in wolf-dog hybridization: first evidence from Europe of hybridization between female dogs and male wolves. PLoS One 7(10):e46465

Jansson E, Harmoinen J, Ruokonen M, Aspi J (2014) Living on the edge: reconstructing the genetic history of the Finnish wolf population. BMC Evol Biol 14:64

Kraus RHS, von Holdt B, Cocchiararo B, Harms V, Bayerl H, Kühn R, Förster DW, Fickel J, Roos C, Nowak C (2015) A single-nucleotide polymorphism-based approach for rapid and cost-effective genetic wolf monitoring in Europe based on noninvasively collected samples. Mol. Ecol Res 14:295–305

Mech D, Boitani L (2003) Wolves: behavior, ecology, and conservation. The University of Chicago Press, Chicago

Monzon J, Kays R, Dykhuizen DE (2014) Assessment of coyote-wolf-dog admixture using ancestry-informative diagnostic SNPs. Mol Ecol 23:182–197

Pilot M, Branicki W, Jędrzejewski W, Goszczyński J, Jędrzejewska B, Dykyy I, Shkvyrya M, Rsingarska E (2010) Phylogeographic history of grey wolves in Europe. BMC Evol Biol 10:104

Randi E, Lucchini V (2002) Detecting rare introgression of domestic dog genes into wild wolf (Canis lupus) populations by Bayesian admixture analyses of microsatellite variation. Conserv Genet 3:31–45

Randi E, Hulva P, Fabbri E, Galaverni M, Galov A, Kusak J, Bigi D, Bolfíková BČ, Smetanová M, Caniglia R (2014) Multilocus detection of wolf x dog hybridization in Italy, and guidelines for marker selection. PLoS One 9(1):e86409

Randi E, Lucchini V, Christensen MF, Mucci N, Funk SM, Dolf G, Loeschcke V (2000) Mitochondrial DNA variability in Italian and East European wolves: detecting the consequences of small population size and hybridization. Conserv Biol 14:464–473

Ronquist R, Teslenko M, Van der Mark P, Ayres DL, Darling A, Höhna S, Larget B, Lui L, Suchard M, Huelsenbeck JP (2012) MrBayes 3.2: efficient Bayesian phylogenetic inference and model choice across a large model space. Syst Biol 61:539–542

Savolainen P, Zhang Y, Luo J, Lundeberg J, Leitner T (2002) Asian origin of domestic dogs. Science 298:1610–1613

Snyder-Mackler N, Majoros WH, Yuan ML, Shaver AO, Gordon JB, Kopp GH, Schlebusch SA, Wall JD,Alberts SC, Mukherjee S, Zhou X, Tung J (2016) Efficient genome-wide sequencing and low coverage pedigree analysis from non-invasively collected samples. Genetics. doi:10.1534/genetics.116.187492

Tamura K, Stecher G, Peterson D, Filipski A, Kumar S (2013) MEGA6: molecular evolutionary genetics analysis version 6.0. Mol Biol Evol 30:2725–2729

Thalmann O, Shapiro B, Cui P, et al. (2013) Complete mitochondrial genomes of ancient canids suggest a European origin of domestic dogs. Science 342:871–874

Vilà C, Walker C, Sundqvist AK, Flagstad Ø, Andersone Z, Casulli A, Kojola I, Valdmann H, Halverson J, Ellegren H (2003) Combined use of maternal, paternal and bi-parental genetic markers for the identification of wolf-dog hybrids. Heredity 90:17–24
Acknowledgments
We thank Aalborg Zoo and Naturstyrelsen for loan of skins and information. We thank Aarhus University for laboratory space, Linda Hartun Konggaard for laboratory assistance, and reviewers for valuable comments that improved the manuscript.
Ethics declarations
Funding
This work was supported by Aalborg Zoo Conservation Foundation (AZCF).
Additional information
Communicated by: Cino Pertoldi
About this article
Cite this article
Thomsen, C.L., Andersen, L.W. & Stronen, A.V. Forensic DNA analyses suggest illegal trade of canid skins. Mamm Res 61, 423–426 (2016). https://doi.org/10.1007/s13364-016-0296-7
Received:

Accepted:

Published:

Issue Date:
Keywords
Canis lupus
Canis lupus familiaris

Mongolia

Morphology

mtDNA