Abstract
Leopard cats (Prionailurus bengalensis) are wild felids that have been reported to thrive in human-modified habitats in Asia. It has been suggested that they may be adapters of plantation forests by exploiting the availability of murid prey and are abundant in these habitats. However, these hypotheses have yet to be tested or quantified. Here, camera trapping, qualitative and quantitative diet analyses were used to determine the occurrence, population density, activity pattern and diet of leopard cats in human-modified habitats in Singapore. Leopard cat density and habitat use were higher in oil palm monoculture environs compared to secondary forests and were negatively related with canopy closure and distance from plantation. Leopard cats were exclusively nocturnal in the monoculture area, but also exhibited diurnal activity in secondary forests. Consumption of nocturnal murids was significantly higher in the monocultures than secondary forests. Our results provide evidence that leopard cats thrive in oil palm monocultures where they forage on murid prey.
Access options
Buy single article
Instant access to the full article PDF.
USD 39.95
Price excludes VAT (USA)
Tax calculation will be finalised during checkout.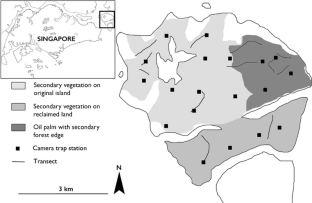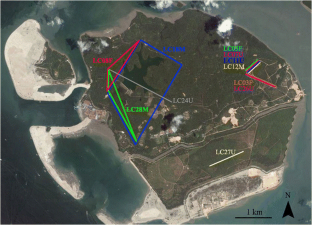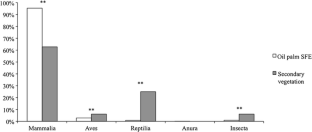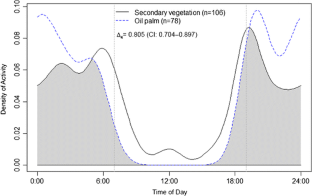 References
Anon. (1987) Tekong to be the main SAF training area. The Straits Times, p 17

Austin SC, Tewes ME, Grassman LI Jr, Silvy NJ (2007) Ecology and conservation of the leopard cat Prionailurus bengalensis and clouded leopard Neofelis nebulosa in Khao Yai National Park, Thailand. Acta Zoologica Sinica 53(1):1–14

Azlan JM, Sharma DSK (2006) The diversity and activity patterns of wild felids in a secondary forest in Peninsular Malaysia. Oryx 40(1):36–41

Bowkett AE, Rovero F, Marshall AR (2007) The use of camera trap data to model habitat use by antelope species in the Udzungwa Mountain forests, Tanzania. Afr J Ecol 46:479–487

Brook BW, Sodhi NS, Ng PKL (2003) Catastrophic extinctions follow deforestation in Singapore. Nature 424:420–423

Chang A-L (2006) Tekong's treasure. The Straits Times 26 Apr 2006. P. H9

Chasen FN (1924) A preliminary account of the mammals of Singapore Island. Singap Nat 3:76–86

Chen PS, Lee LS (2012) A retrospect on the dust laden history: the past and present of Tekong Island of Singapore. World Scientific, Singapore, pp 121

Corlett RT (2011) Terrestrial Ecosystems. In: Ng PKL, Corlett RT, Tan HTW (eds) Singapore biodiversity: an encyclopedia of the natural environment and sustainable development. Editions Didier Millet, Singapore, pp 44–51

Crooks KR, Soulé ME (1999) Mesopredator release and avifaunal extinctions in a fragmented system. Nature 400:563–566

Danielsen F, Heegaard M (1995) Impact of logging and plantation development on species diversity: a case study from Sumatra. In: Sandbukt Ø (ed) Management of tropical forests: towards an integrated perspective. Centre for Development and the Environment, University of Oslo, pp 73–92

Fitzherbert EB, Struebig MJ, Morel A, Danielsen F, Brühl CA, Donald PF, Phalan B (2008) How will oil palm expansion affect biodiversity? Trends Ecol Evol 23(10):538–545

Grassman LI Jr (2000) Movement and diet of the leopard cat Prionailurus bengalensis in a seasonal evergreen forest in south-central Thailand. Acta Theriologica 45(3):421–426

Grassman LI Jr, Tewes ME, Silvy N, Kreetiyutanont K (2005) Spatial organization and diet of the leopard cat (Prionailurus bengalensis) in north-central Thailand. J Zool 266:45–54

Jennings AP, Mohd N, Advento AD, Aryawan AAK, Sudharto P, Caliman J-P, Verwilghen A, Veron G (2015) Diversity and occupancy of small carnivores within oil palm plantations in central Sumatra, Indonesia. Mamm Res 60:181–188

Karanth KU, Nichols JD (1998) Estimation of tiger densities in India using photographic captures and recaptures. Ecology 79:2852–2862

Karanth KU, Nichols JD, Kumar NS (2011) Estimating tiger abundance from camera trap data: field surveys and analytical issues. In: O'Connell AF, Nichols JD, Karanth KU (eds) Camera Traps in Animal Ecology. Springer, Tokyo, pp 97–117

Kawanishi K, Sunquist ME (2004) Conservation status of tigers in a primary rainforest of Peninsular Malaysia. Biol Conserv 120:329–344

Klare U, Kamler JF, Macdonald DW (2011) A comparison and critique of different scat-analysis method for determining carnivore diet. Mamm Rev 41(4):294–312

Langham N (1983) Distribution and ecology of small mammals in three rain forest localities in Peninsular Malaysia with particular references to Kedah Peak. Biotropica 15(3):199–206

Lim BL (1999) The distribution, food habits and parasite patterns of the leopard cat (Prionailurus bengalensis) in Peninsular Malaysia. J Wildl Parks 17:17–27

Lim KKP, Subaraj R, Yeo SH, Lim N, Lane D, Lee BYH (2008) Mammals. In: Davison GWH, Ng PKL, Ho HC (eds) The Singapore Red Data Book—Threatened Plants & Animals of Singapore (Second Edition). Nature Society (Singapore), Singapore, pp 190–207

Lorica MRP, Heaney LR (2013) Survival of a native mammalian carnivore, the leopard cat Prionailurus bengalensis Kerr, 1792 (Carnivore: Felidae), in an agricultural landscape on an oceanic Philippine island. J Threatened Taxa 5(10):4451–4460, http://dx.doi.org/10.11609/JoTT.o3352.4451-60

Lynam AJ, Jenks KE, Tantipisanuh N, Chutipong W, Ngoprasert D, Gale GA, Steinmetz R, Sukmasuang R, Bhumpakphan N, Grassman LI Jr, Cutter P, Kitamura S, Reed DH, Baker MC, McShea W, Songsasen N, Leimgruber P (2013) Terrestrial activity patterns of wild cats from camera-trapping. Raffles Bull Zool 61(1):407–415

Macdonald DW, Loveridge AJ, Nowell K (2010) Dramatis personae: an introduction to the wild felids. In: Macdonald DW, Loverridge AJ (eds) Biology and Conservation of Wild Felids. Oxford University Press, New York, pp 3–58

McDonald JE Jr, Fuller TK (2005) Effects of spring acorn availability on black bear diet, milk composition, and cub survival. J Mammal 86:1022–1028

Mckinney ML (2002) Urbanization, biodiversity, and conservation. BioScience 52(10):883–890

Mohamed A, Sollmann R, Bernard H, Ambu LN, Lagan P, Mannan S, Hofer H, Wilting A (2013) Density and habitat use of the leopard cat (Prionailurus bengalensis) in three commercial forest reserves in Sabah, Malaysian Borneo. J Mammology 94(1):82–89

Moreno RS, Kays RW, Samudio R Jr (2006) Competitive release in diets of ocelot (Leopardus pardalis) and puma (Puma concolor) after jaguar (Panthera onca) decline. J Mammology 87(4):808–816

Mukherjee S, Goyal SP, Johnsingh AJT, Leite Pitman MRP (2004) The importance of rodents in the diet of jungle cat (Felis chaus), caracal (Caracal caracal) and golden jackal (Canis aureus) in Sariska Tiger Reserve, Rajasthan, India. J Zool 262:405–411

Mukherjee S, Krishnan A, Tamma K, Home C, Navya R, Joseph S, Das A, Ramakrishnan U (2010) Ecology driving genetic variation: a comparative phylogeography of the jungle cat (Felis chaus) and leopard cat (Prionailurus bengalensis) in India. PLoS ONE 5(1), e13724. doi:10.1371/journal.pone.0013724

National Environment Agency (2007) Guide to Singapore's Weather. National Environmental Agency, Singapore, p 24

Natural Areas Survey Team (2008) A Rapid Biodiversity Assessment of Pulau Tekong. National Biodiversity Centre, National Parks Board, Singapore, p 51

Nowell K, Jackson P (1996) Wild cats: status survey and conservation action plan. IUCN, Gland, Switzerland, pp 382

Otis DL, Burnham KP, White GC, Anderson DR (1978) Statistical inference from capture data from closed animal populations. Wildl Monogr 62:1–135

Rabinowitz A (1990) Notes on the behavior and movement of leopard cats, Felis bengalensis, in a dry tropical forest mosaic in Thailand. Biotropica 22(4):397–403

Rajaratnam R (2000) Ecology of the leopard cat (Prionailurus bengalensis) in Tabin Wildlife Reserve, Sabah. Universiti Kebangsaan Malaysia, Bangi, Malaysia, Malaysia. PhD Dissertation, p 249

Rajaratnam R, Sunquist M, Rajaratnam L, Ambu L (2007) Diet and habitat selection of the leopard cat (Prionailurus bengalensis borneoensis) in an agricultural landscape in Sabah, Malaysian Borneo. J Trop Ecol 23:209–217

Rexstad E, Burnham KP (1991) User's Guide for Interactive Program CAPTURE. Abundance Estimation of Closed Animal Populations. Colorado State University, Fort Collins, Colorado, USA, p 29

Ridout MS, Linkie M (2009) Estimating overlap of daily activity patterns from camera trap data. J Agric Biol Environ Stat 14:322–327

Ritchie EG, Johnson CN (2009) Predator interactions, mesopredator release and biodiversity conservation. Ecol Lett 12(9):982–998

Selvan M, Lyngdoh S, Gopi GV, Habib B (2014) Density estimation of leopard cat Prionailurus bengalensis using capture recaptures sampling in lowland forest of Pakke Tiger Reserve, Arunachal Pradesh, India. Mammalia 78(4):555–559

Silmi M, Mislan, Anggara S and Dahlen B (2013) Using leopard cats (Prionailurus bengalensis) as a biological pest control of rats in a palm oil plantation. J Indones Nat Hist 1(1): 31–36.

Sodhi NS, Lee TM, Koh LP, Brook BW (2009) A meta-analysis of the impact of anthropogenic forest disturbance on Southeast Asia's biotas. Biotropica 41:103–109

Sodhi NS, Koh LP, Clements R, Wanger TC, Hill JK, Hamer KC, Clough Y, Tscharnke T, Posa MRC, Lee TM (2010) Conserving Southeast Asian forest biodiversity in human-modified landscapes. Biol Conserv 143:2375–2384

Sollmann R, Mohamed A, Samejima H, Wilting A (2013) Risky business or simple solution—relative abundance indices from camera-trapping. Biol Conserv 159:405–412

Stuebing RB, Gasis J (1989) A survey of small mammals within a Sabah tree plantation in Malaysia. J Trop Ecol 5(2):203–214

Tatara M, Doi T (1994) Comparative analyses on food habits of Japanese marten, Siberian weasel and leopard cat in the Tsushima Islands, Japan. Ecol Res 9:99–107

Tobler MW (2013) Camera Base Version 1.6. Botanical Research Institute of Texas. http://www.atrium-biodiversity.org/tools/camerabase/

Tobler MW, Powell GVN (2013) Estimating jaguar densities with camera traps: problems with current designs and recommendations for future studies. Biol Conserv 159:109–118

Wachter B, Blanc A-S, Melzheimer J, Höner OP, Jago M, Hofer H (2012) An advanced method to assess the diet of free-ranging large carnivores based on scats. PLoS ONE 7(6), e38066. doi:10.1371/journal.pone.003866

White GC, Anderson DR, Burnham KP, Otis DL (1982) Capture-recapture Removal Methods for Sampling Closed Population. Los Alamos National Laboratory, Los Alamos, New Mexico, USA, p 235

Wilcove DS, Giam X, Edwards DP, Fisher B, Koh LP (2013) Navjot's nightmare revisited: logging, agriculture, and biodiversity in Southeast Asia. Trends Ecol Evol 28(9):531–540

Wong PP (2011) Physical Geography of Singapore. In: Ng PKL, Corlett RT, Tan HTW (eds) Singapore Biodiversity: An Encyclopedia of the Natural Environment and Sustainable Development. Editions Didier Millet, Singapore, pp 38–43

Wood BJ, Chung GF (2003) A critical review of the development of rat control in Malaysian agriculture since 1960s. Crop Prot 22(3):445–461

Yee ATK, Corlett RT, Liew SC, Tan HTW (2011) The vegetation of Singapore—an updated map. Gard Bull (Singapore) 63(1&2):205–212

Zuur AF, Ieno EN, Walker NJ, Saveliev AA, Smith G (2009) Mixed Effects Models and Extensions in Ecology with R. Springer, New York, p 574
Acknowledgements
The first author would like to thank Peter K.L. Ng for supervising the project and providing valuable comments on the manuscript. We thank the Ministry of Defence and the National Parks Board (research permit NP/RP10-086) for their kind permission to conduct biodiversity research on Pulau Tekong and for their generous support of the project. We are grateful to Airani Ramli, Alan Tan, Celine Low, Francis Lim, Kelvin Lim, Paul Chen, Robert Teo, Robin Ngiam, Subaraj Rajathurai, Tan Siong Kiat, Vilma D'Rozario, Wang Luan Keng and Yeo Keng Hui for their assistance in the field. Amrita Srivathsan and Denise Tan provided valuable assistance with genetic work. This project was funded by the Wildlife Reserves Singapore Conservation Grant. Finally, we thank the four anonymous reviewers for their helpful suggestions to improve the submitted manuscript.
Additional information
Communicated by: Krzysztof Schmidt
Electronic supplementary material
Below is the link to the electronic supplementary material.
About this article
Cite this article
Chua, M.A.H., Sivasothi, N. & Meier, R. Population density, spatiotemporal use and diet of the leopard cat (Prionailurus bengalensis) in a human-modified succession forest landscape of Singapore. Mamm Res 61, 99–108 (2016). https://doi.org/10.1007/s13364-015-0259-4
Received:

Accepted:

Published:

Issue Date:

DOI: https://doi.org/10.1007/s13364-015-0259-4
Keywords
Activity pattern

Felidae

Habitat use

Oil palm

Scat analysis