BLANKA: an Algorithm for Blank Subtraction in Mass Spectrometry of Complex Biological Samples
Abstract
Multispecies microbiome systems are known to be closely linked to human, animal, and plant life processes. The growing field of metabolomics presents the opportunity to detect changes in overall metabolomic profiles of microbial species interactions. These metabolomic changes provide insight into function of metabolites as they correlate to different species presence and the observed phenotypic changes, but detection of subtle changes is often difficult in samples with complex backgrounds. Natural environments such as soil and food contain many molecules that convolute mass spectrometry–based analyses, and identification of microbial metabolites amongst environmental metabolites is an informatics problem we begin to address here. Our microbes are grown on solid or liquid cheese curd media. This medium, which is necessary for microbial growth, contains high amounts of salts, lipids, and casein breakdown products which make statistical analyses using LC-MS/MS data difficult due to the high background from the media. We have developed a simple algorithm to carry out background subtraction from microbes grown on solid or liquid cheese curd media to aid in our ability to conduct statistical analyses so that we may prioritize metabolites for further structure elucidation.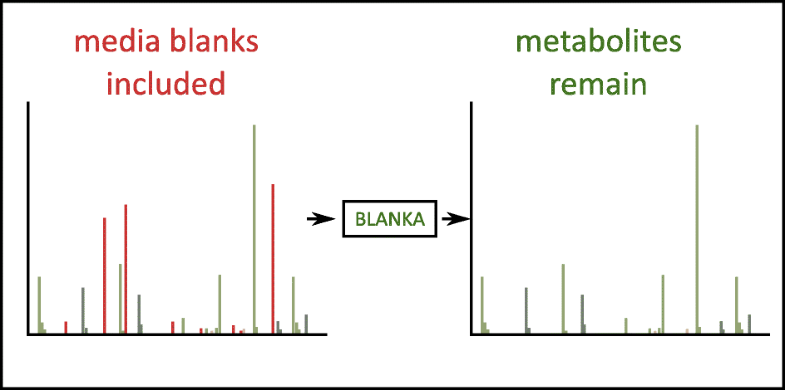 Keywords
LC-MS/MS 
Cheese curd media 
Bacteria 
Fungi 
Multispecies interactions 
Notes
Acknowledgements
This publication was funded in part by UIC Startup funds (L.M.S.). Research reported in this publication was supported in part by the National Center for Complementary and Integrative Health of the National Institutes of Health under Award Number T32AT007533 (J.L.C) and the National Institute of General Medicine of the National Institutes of Health under Award Number T32GM7240-40 (E.C.P). The content is solely the responsibility of the authors and does not necessarily represent the official views of the National Institutes of Health. This work was supported by NSF grant 1817955 and 1817887 (to L.M.S. and R.J.D.).
Copyright information
© American Society for Mass Spectrometry 2019