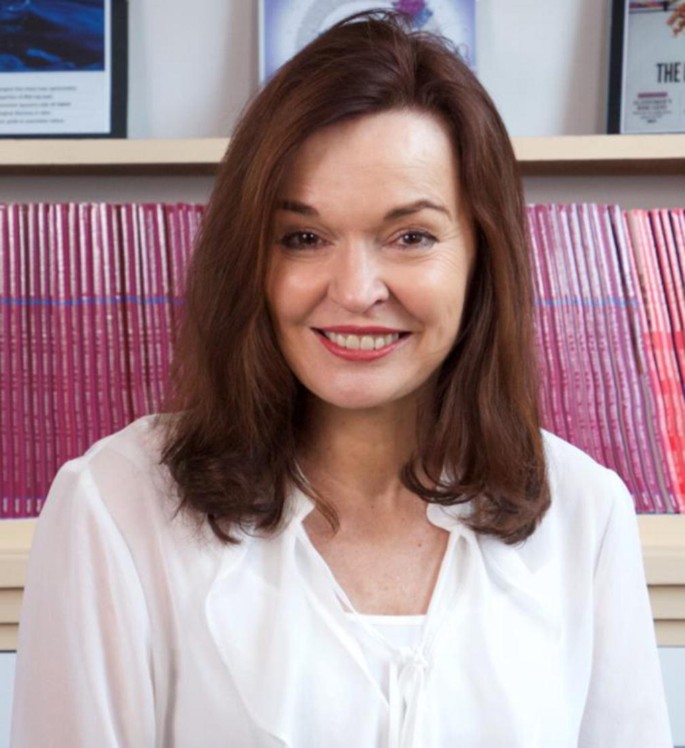 Photo courtesy of Robert Taylor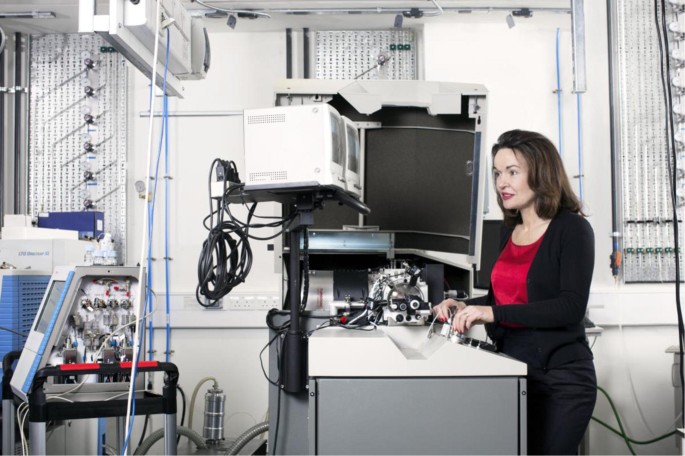 Photo courtesy of Brigette Lacombe
We extend our congratulations to Dame Carol Robinson for her election as a foreign associate of the US National Academy of Sciences (NAS) in 2017. Carol joins an elite group of scientists, including a very small subset of mass spectrometrists who have earned this spectacular honor. This JASMS focus recognizes Carol's achievements via a collection of original articles authored by former students, past post-docs and collaborators, all who are proud of their affiliation with Carol and applaud her accomplishments.
Carol Robinson is a Professor of Chemistry at the Physical and Theoretical Chemistry Laboratory, Oxford University. Not only is she the first female full Professor of Chemistry at Oxford University but also was the first female Professor of Chemistry at the University of Cambridge prior to her move to Oxford. She holds the Chair of Doctor Lee's Professor of Chemistry and is a Dame Commander of the Order of the British Empire, a title she was awarded in 2013. Carol's early roots in mass spectrometry developed while earning her Ph.D. under the supervision of Dudley Williams at Cambridge in 1982. She elected to take an 8-year break to focus on her family, then resumed her scientific work at Oxford in 1999 as a titular professor after a post-doctoral stint at the University of Bristol. She returned to Cambridge in 2001 where she subsequently received a succession of honors, including election as a Professorial Fellow at Churchill College, a fellow of the Royal Society in 2004, a Royal Society Research Professor in 2006, and Doctor Lee's Professor of Chemistry in 2009. Among her honors and awards, the three that are dearest to Carol include the Biemann Medal in 2003, the Thomson Medal Award in 2014, and the ACS Field and Franklin Award in 2018, all of which recognize Carol's significant impact in the mass spectrometry community.
Carol has compiled an outstanding record of mentorship and leadership. Over 35 doctoral students and 50 postdoctoral fellows have worked in Carol's group, contributing to the over 450 publications that have emerged. Carol has recently become the President of the Royal Society of Chemistry (in 2018), another terrific example of her leadership.
Although her research has bridged many areas, Carol is best known for her groundbreaking work to develop and use mass spectrometry for characterization of protein structure. Carol's group focuses on gaining new insight into the interactions, structure and function of proteins, and protein complexes and most recently the challenging explorations into membrane protein complexes. She is one of the original pioneers to recognize and exploit the capabilities of mass spectrometry in the field of structural biology, in essence to decipher the three dimensional structures of proteins.
To honor Carol, this Special Focus of JASMS showcases the broad impact of mass spectrometry in the context of structural biology and protein characterization via a series of 20 papers contributed by leaders in the field, all of whose careers and lives have intersected with Carol. The focus opens with a perspective by Carol which provides some historical context and highlights her interactions with the other authors that contributed original articles. A listing of the articles is as follows:
1.

Distinct Stabilities of the Structurally Homologous Heptameric Co-Chaperonins GroES and gp31 by Andrey Dyachenko, Sem Tamara, Albert J. R. Heck

2.

Native Top-Down Mass Spectrometry and Ion Mobility Spectrometry of the Interaction of Tau Protein with a Molecular Tweezer Assembly Modulator by Michael Nshanian, Carter Lantz, Piriya Wongkongkathep, Thomas Schrader, Frank-Gerrit Klärner, Anika Blümke, Clément Despres, Michael Ehrmann, Caroline Smet-Nocca, Gal Bitan, Joseph A. Loo

3.

Initial Protein Unfolding Events in Ubiquitin, Cytochrome c and Myoglobin Are Revealed with the Use of 213 nm UVPD Coupled to IM-MS by Alina Theisen, Rachelle Black, Davide Corinti, Jeffery M. Brown, Bruno Bellina, Perdita E. Barran

4.

Maximizing Selective Cleavages at Aspartic Acid and Proline Residues for the Identification of Intact Proteins by David J. Foreman, Eric T. Dziekonski, Scott A. McLuckey

5.

Probing the Dissociation of Protein Complexes by Means of Gas-Phase H/D Exchange Mass Spectrometry by Ulrik H. Mistarz, Shane A. Chandler, Jeffery M. Brown, Justin L.P. Benesch, Kasper D. Rand

6.

Quantitative Evaluation of Native Protein Folds and Assemblies by Hydrogen Deuterium Exchange Mass Spectrometry (HDX-MS) by Matthew J. Harris, Deepika Raghavan, Antoni J. Borysik

7.

POPPeT: a New Method to Predict the Protection Factor of Backbone Amide Hydrogens by Jürgen Claesen, Argyris Politis

8.

Solvent Mediation of Peptide Conformations: Polyproline Structures in Water, Methanol, Ethanol, and 1-Propanol as Determined by Ion Mobility Spectrometry-Mass Spectrometry by Tarick J. El-Baba, Daniel R. Fuller, David A. Hales, David H. Russell, David E. Clemmer

9.

Inhibiting and Remodeling Toxic Amyloid-Beta Oligomer Formation Using a Computationally Designed Drug Molecule That Targets Alzheimer's Disease by Matthew A. Downey, Maxwell J. Giammona, Christian A. Lang, Steven K. Buratto, Ambuj Singh, Michael T. Bowers

10.

Collision-Induced Unfolding Reveals Unique Fingerprints for Remote Protein Interaction Sites in the KIX Regulation Domain by Jessica N. Rabuck-Gibbons, Jean M. Lodge, Anna K. Mapp, Brandon T. Ruotolo

11.

Ion Mobility-Mass Spectrometry Reveals Details of Formation and Structure for GAA·TCC DNA and RNA Triplexes by Jiawei Li, Alexander Begbie, Belinda J. Boehm, Alexander Button, Charles Whidborne, Yannii Pouferis, David M. Huang, Tara L. Pukala

12.

On the Effect of Sphere-Overlap on Super Coarse-Grained Models of Protein Assemblies by Matteo T. Degiacomi

13.

MetaUniDec: High-Throughput Deconvolution of Native Mass Spectra by Deseree J. Reid, Jessica M. Diesing, Matthew A. Miller, Scott M. Perry, Jessica A. Wales, William R. Montfort, Michael T. Marty

14.

DNA Binding and Phosphorylation Regulate the Core Structure of the NF-κB p50 Transcription Factor by Matthias Vonderach, Dominic P. Byrne, Perdita E. Barran, Patrick A. Eyers, Claire E. Eyers

15.

The First MS-Cleavable, Photo-Thiol-Reactive Cross-Linker for Protein Structural Studies by Claudio Iacobucci, Christine Piotrowski, Anne Rehkamp, Christian H. Ihling, Andrea Sinz

16.

Oligomerisation of Synaptobrevin-2 Studied by Native Mass Spectrometry and Chemical Cross-Linking by Sabine Wittig, Caroline Haupt, Waldemar Hoffmann, Susann Kostmann, Kevin Pagel, Carla Schmidt

17.

Measurements of Atmospheric Proteinaceous Aerosol in the Arctic Using a Selective UHPLC/ESI-MS/MS Strategy by Farshid Mashayekhy Rad, Javier Zurita, Philippe Gilles, Laurens A. J. Rutgeerts, Ulrika Nilsson, Leopold L. Ilag, Caroline Leck

18.

Exploring the Potential of Dendritic Oligoglycerol Detergents for Protein Mass Spectrometry by Leonhard H. Urner, Yasmine B. Maier, Rainer Haag, Kevin Pagel

19.

LILBID and nESI: Different Native Mass Spectrometry Techniques as Tools in Structural Biology by Oliver Peetz, Nils Hellwig, Erik Henrich, Julija Mezhyrova, Volker Dötsch, Frank Bernhard, Nina Morgner

20.

Development and Evaluation of a Reverse-Entry Ion Source Orbitrap Mass Spectrometer by Michael L. Poltash, Jacob W. McCabe, John W. Patrick, Arthur Laganowsky, David H. Russell
Additional information
On behalf of the Editors of JASMS and all members of ASMS, we offer our heartfelt congratulations to Carol for her amazing accomplishments as a mentor, pioneer, friend, and leader in mass spectrometry. We look forward to many exciting advances in the years to come.
About this article
Cite this article
Brodbelt, J.S., Russell, D.H. A Focus Honoring Carol Robinson's Election to the National Academy of Sciences. J. Am. Soc. Mass Spectrom. 30, 1–3 (2019). https://doi.org/10.1007/s13361-018-2096-6
Keywords
Hydrogen/deuterium Exchange Mass Spectrometry (HDX-MS)

Female Full Professors

Polyproline Structure

Native Protein Folds

Dame Commander