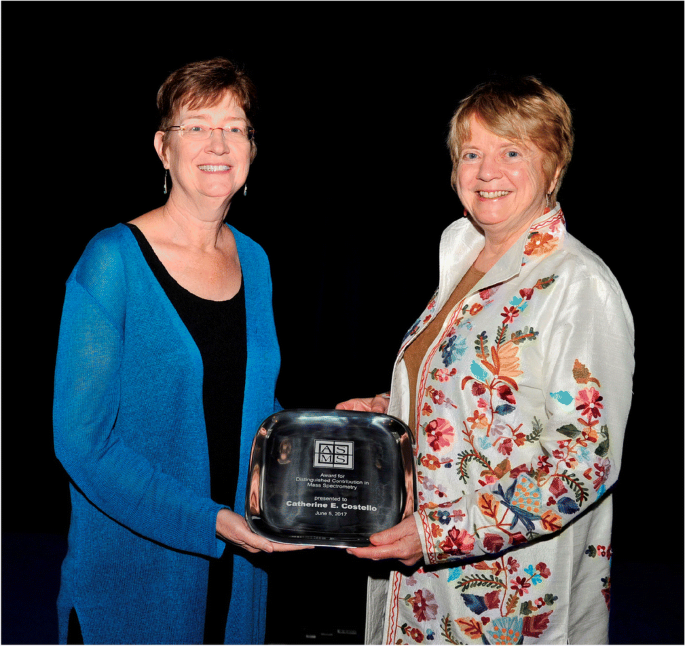 ASMS President Vicki Wysocki presenting the Award for a Distinguished Contribution in Mass Spectrometry to Professor Catherine E. Costello during the 2017 ASMS annual conference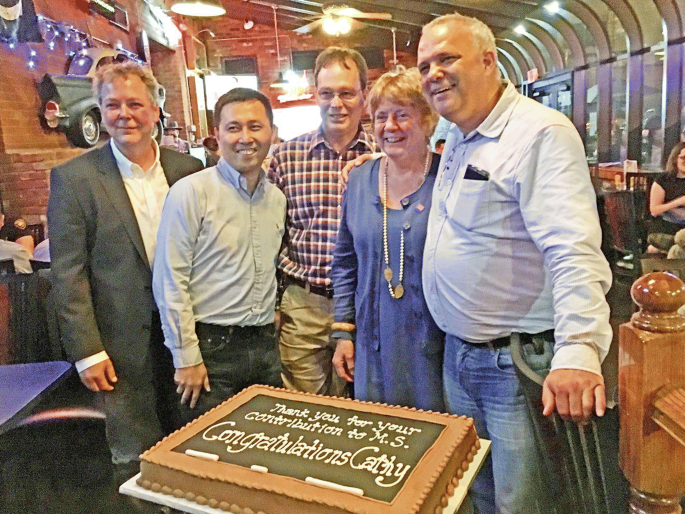 Cathy celebrating at the ASMS Conference with four close colleagues. Left to right: Mark McComb, Chen Lin, Joe Zaia, and Pete O'Connor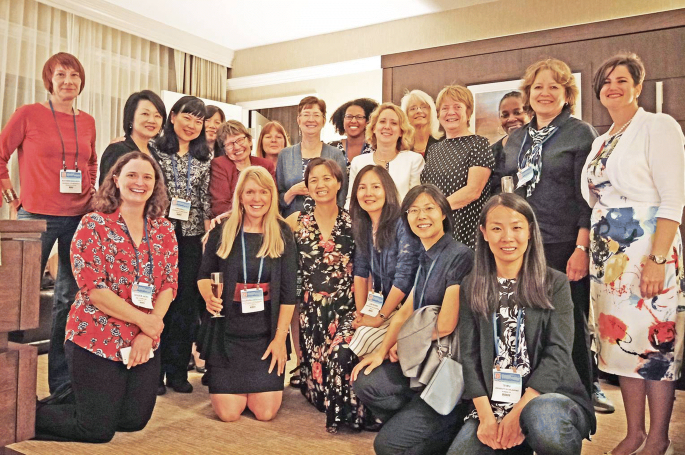 Celebrating with many friends and colleagues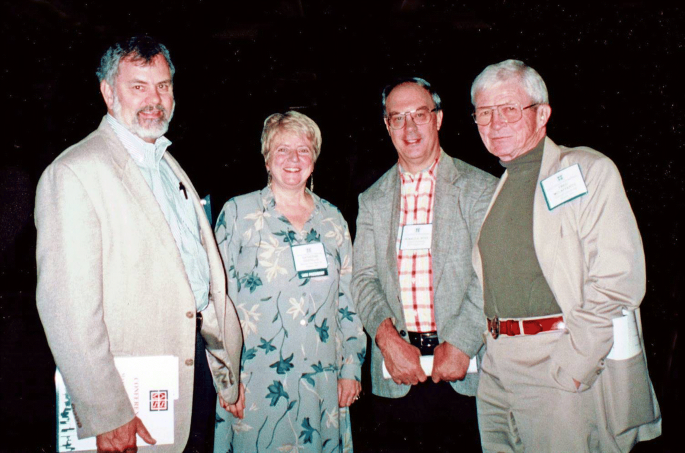 Cathy with three "old" friends. Left to right: Bob Murphy, Ron Hites, and Fred McLafferty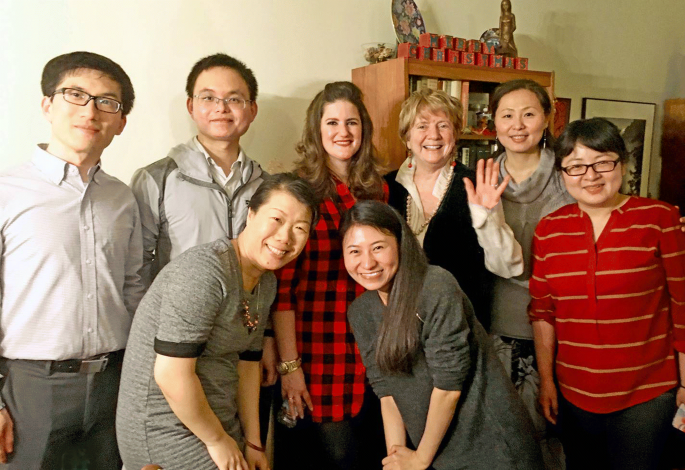 Cathy with present and former group members. Left to right, front row: Chunxiang Yao and Juan Wei. Back row: Bo Yan, Han Hu, Deborah Leon, Cathy, Yan Jiang, and Yuhuan Ji
The 2017 ASMS Award for a Distinguished Contribution in Mass Spectrometry was presented to Prof. Catherine E. Costello for her pioneering contributions to glycoconjugate mass spectrometry. This honor reflects Cathy's vision and leadership in glycoscience mass spectrometry over the course of her career.
Cathy received her A.B. in Chemistry from Emmanuel College, and both M.S. and Ph.D. degrees in Organic Chemistry from Georgetown University. After postdoctoral training with Professor Klaus Biemann, a mass spectrometry pioneer at the Massachusetts Institute of Technology, she served for 20 years as the Associate Director of the mass spectrometry resource at MIT. In 1994, she was recruited to Boston University School of Medicine, where she established the internationally recognized Center for Biomedical Mass Spectrometry. In 2013, Boston University conferred on her its highest faculty distinction, the William Fairfield Warren Distinguished University Professorship.
She has served as President of the American Society for Mass Spectrometry and of the Human Proteome Organization (HUPO), Vice President of the International Mass Spectrometry Foundation, and a member of the Council of the American Chemical Society and of the boards of HUPO and the International Union of Pure and Applied Chemistry (IUPAC). She serves on the editorial boards of several major journals and is a member of academic and institutional advisory committees in the USA, Puerto Rico, and Canada. Cathy has received numerous awards for her work, including the 2004 Henry A. Hill Award from the American Chemical Society, the 2008 HUPO prize for Discoveries in Proteomics, and the 2009 Thomson Medal from the International Mass Spectrometry Foundation. She was named the 2010 recipient of the Field and Franklin Award from the American Chemical Society for achievements in mass spectrometry, among the highest honors in her field. In 2015, she received the Distinguished Service Award from the Human Proteome Organization.
Cathy's research interests are in the determination of the structures and functions of biologically important polymers, with particular emphasis on glycoconjugates, post-translational modifications of proteins, cardiovascular disease, and protein folding disorders. She is author or coauthor of over 350 scientific papers.
In eukaryotes, glycans differ from proteins in that their biosynthesis derives from a series of enzymatic reactions in the endoplasmic reticulum and Golgi apparatus and not from a template-driven process. Glycans, depending on class, may be branched, and their structural characterization requires determination of stereochemistry. The function of a glycan depends on the protein to which it binds. Thus, a difference in a single monosaccharide linkage in a glycan alters the partners to which a glycan, and its attached protein, binds.
Proteins exist as populations of proteoforms. For glycoproteins, the large number of proteoforms reflects glycan heterogeneity at each glycosylation site. Thus, the population of glycoprotein proteoforms present differs in their capacities to bind to partners that contain carbohydrate-binding domains.
In the late 1980s, Cathy was among the first to recognize the utility of tandem mass spectrometry for characterization of glycoconjugates. Today, her 1988 publication defining the dissociation nomenclature for glycans has been cited more than 2200 times, including 108 in 2017. Cathy delineated the strategy of producing the greatest degree of structural detail on glycans in a single tandem mass spectrometry step. This innovation was critical because the effectiveness with which we can solve biological problems depends on the ability to sequence glycans in high throughput. The challenge is to produce a sufficient number of glycosidic and cross-ring cleavage product ions for glycan sequencing in a single tandem MS step.
Cathy recognized that while collisional dissociation provides useful information, its utility is limited by low abundances of key cross-ring cleavage product ions. She developed activated electron dissociation methods for glycans and glycoconjugates that are inherently more effective for producing cross-ring cleavages. To do this, she investigated the metal cationic precursor ion forms that produce the most informative product ion patterns. She applied these to electron capture, electron detachment, and electron transfer dissociation methods for glycans and glycoconjugates. She demonstrated these methods on a time scale compatible with on-line LC-tandem MS. She has recently developed an approach for using ion mobility profiles for identification of glycans and glycopeptides. These methods are the future of glycan and glycoconjugate analysis.
Cathy was the first to demonstrate top-down tandem MS on an intact glycoprotein. This is significant because most cell surface and secreted proteins are glycosylated, and progress in biomedicine depends on the ability to characterize glycosylated proteoforms. Each glycosylation site on a glycoprotein reflects a distribution of glycoforms, multiplying the number of molecular forms (proteoforms) of the protein, and represents a gradation of biological function based on the differing abilities to interact with carbohydrate binding proteins.
All scientists working in biomedical glycosciences are in debt to Cathy's contributions on understanding the fundamental dissociation mechanisms and application of advanced activated dissociation methods. The future leaders of biomedicine will be those capable of understanding the functions of mature protein molecules, necessarily including glycosylation.
In addition to her seminal work in glycobiology, Cathy has made an indelible impact on the field of mass spectrometry through her incomparable service, her wide-ranging collaborations, and her generous support of colleagues, both young and old. Cathy's patience, wisdom, and vision have guided and inspired a generation of students, postdocs, and faculty at Boston University. The great esteem and affection of the scientific community for Cathy is evidenced by the enthusiastic response to this Special Focus in her honor, both by excellent manuscripts from many colleagues and by prompt, insightful comments from many reviewers. This issue contains twenty-one contributions, beginning with an Account and Perspective, followed by research articles that highlight a wide array of important themes in glycobiology and related fields.
1.

"Cracking the Sugar Code by Mass Spectrometry" by Ekaterina Mirgorodskaya, Niclas G. Karlsson, Carina Sihlbom, Göran Larson, and Carol L. Nilsson.

2.

"Comparison of Collisional and Electron-based Dissociation Modes for Middle-down Analysis of Multiply Glycosylated Peptides" by Kshitij Khatri, Yi Pu, Joshua A. Klein, Juan Wei, Catherine E. Costello, Cheng Lin, and Joseph Zaia.

3.

"Absolute Quantitation of Glycoforms of Two Human IgG Subclasses Using Synthetic Fc Peptides and Glycopeptides" by Rini Roy, Evelyn Ang, Emy Komatsu, Ronald Domalaon, Adrien Bosseboeuf, Jean Harb, Sylvie Hermouet, Oleg Krokhin, Frank Schweizer, and Hélène Perreault.

4.

"Comprehensive Proteoform Characterization of Plasma Complement Component C8αβγ by Hybrid Mass Spectrometry Approaches" by Vojtech Franc, Jing Zhu, and Albert J.R. Heck.

5.

"Gas-phase Enrichment of Multiply-charged Peptide Ions by Differential Ion Mobility Extends the Comprehensiveness of SUMO Proteome Analyses" by Sibylle Pfammatter, Eric Bonneil, Francis P. McManus, and Pierre Thibault.

6.

"Analytical Scheme Leading to Integrated High-Sensitivity Profiling of Glycosphingolipids together with N- and O-glycans from One Sample" by John D. Benktander, Solomon T. Gizaw, Stefan Gaunitz, and Milos V. Novotny.

7.

"Identification of Poly-N-acetyllactosamine-carrying Glycoproteins from HL-60 Human Promyelocytic Leukemia Cells using a Site-specific Glycome Analysis Method, Glyco-RIDGE" by Akira Togayachi, Azusa Tomioka, Mika Fujita, Masako Sukegawa, Erika Noro, Daisuke Takakura, Michiyo Miyazaki, Toshihide Shikanai, Hisashi Narimatsu, and Hiroyuki Kaji.

8.

"A Traveling Wave Ion Mobility Spectrometry (TWIMS) Study of the Robo1-Heparan Sulfate Interaction" by Yuejie Zhao, Jeong Yeh Yang, David F. Thieker, Yongmei Xu, Chengli Zong, Geert-Jan Boons, Jian Liu, Robert J. Woods, Kelley W. Moremen, and I. Jonathan Amster.

9.

"Distinctive and Complementary MS2 Fragmentation Characteristics for Identification of Sulfated Sialylated N-glycopeptides by NanoLC-MS/MS Workflow" by Chu-Wei Kuo, Shih-Yun Guu, and Kay-Hooi Khoo.

10.

"Structural Studies of Fucosylated N-glycans by Ion Mobility Mass Spectrometry and Collision- Induced Fragmentation of Negative Ions" by David J. Harvey and Weston B. Struwe.

11.

"Discrimination of Isomers of Released N- and O-glycans using Diagnostic Product Ions in Negative Ion PGC-LC-ESI-MS/MS" by Christopher Ashwood, Chi-Hung Lin, Morten Thaysen-Andersen, and Nicolle H. Packer.

12.

"Status Report on the High-throughput Characterization of Complex Intact O-glycopeptide Mixtures" by Adam Pap, Eva Klement, Eva Hunyadi-Gulyas, Zsuzsanna Darula, and Katalin F. Medzihradszky.

13.

"Top Down Tandem Mass Spectrometric Analysis of a Chemically Modified Rough-type Lipopolysaccharide Vaccine Candidate" by Benjamin L. Oyler, Mohd M. Khan, Donald F. Smith, Erin M. Harberts, David P. A. Kilgour, Robert K. Ernst, Alan S. Cross, and David R. Goodlett.

14.

"Tandem Mass Spectrometry and Ion Mobility Reveals Structural Insight into Eicosanoid Product Ion Formation" by James P. Di Giovanni, Robert M. Barkley, David N. M. Jones, Joseph A. Hankin, and Robert C. Murphy.

15.

"Analysis of Sulfate Patterns in Glycosaminoglycan Oligosaccharides by MSn Coupled to Infrared Ion Spectroscopy: The Case of GalNAc4S and GalNAc6S" by G. Renois-Predelus, B. Schindler, and I. Compagnon.

16.

"Collision Cross Sections and Ion Mobility Separation of Fragment Ions from Complex N-glycans" by David J. Harvey, Yasunori Watanabe, Joel Allen, Pauline Rudd, Kevin Pagel, Max Crispin, and Weston B. Struwe.

17.

"Negative Electron Transfer Dissociation Sequencing of 3-O-sulfation Containing Heparan Sulfate Oligosaccharides" by Jiandong Wu, Juan Wei, John D. Hogan, Pradeep Chopra, Apoorva Joshi, Weigang Lu, Joshua Klein, Geert-Jan Boons, Cheng Lin, and Joseph Zaia.

18.

"Identification of Sialic Acid Linkages on Intact Glycopeptides via Differential Chemical Modification using IntactGIG-HILIC" by Shuang Yang, Wells W. Wu, Rong-Fong Shen, Marshall Bern, and John Cipollo.

19.

"Comprehensive Characterization of Swine Cardiac Troponin T Proteoforms by Top-down Mass Spectrometry" by Ziqing Lin, Fang Guo, Zachery R. Gregorich, Ruixiang Sun, Han Zhang, Yang Hu, Dhanansayan Shanmuganayagam, and Ying Ge.

20.

"Characterization of Isomeric Glycans by Reversed Phase Liquid Chromatography-Electronic Excitation Dissociation Tandem Mass Spectrometry" by Yang Tang, Juan Wei, Catherine E. Costello, and Cheng Lin.

21.

"Assignment by Negative-ion Electrospray Tandem Mass Spectrometry of the Tetrasaccharide Backbones of Monosialylated Glycans Released from Bovine Brain Gangliosides" by Wengang Chai, Yibing Zhang, Laura Mauri, Maria G. Ciampa, Barbara Mulloy, Sandro Sonnino, and Ten Feizi.
On behalf of the ASMS community, the JASMS editors, and her many colleagues and friends, we congratulate Cathy on her outstanding achievements and wish her many more years of exciting discoveries in mass spectrometry.
About this article
Cite this article
Zaia, J., Bierbaum, V.M. Focus on Mass Spectrometry in Glycobiology and Related Fields, Honoring Catherine E. Costello, Recipient of the 2017 ASMS Award for a Distinguished Contribution in Mass Spectrometry. J. Am. Soc. Mass Spectrom. 29, 1061–1064 (2018). https://doi.org/10.1007/s13361-018-1957-3