Structural Characterization and Disulfide Assignment of Spider Peptide Phα1β by Mass Spectrometry
Abstract
Native Phα1β is a peptide purified from the venom of the armed spider Phoneutria nigriventer that has been shown to have an extensive analgesic effect with fewer side effects than ω-conotoxin MVIIA. Recombinant Phα1β mimics the effects of the native Phα1β. Because of this, it has been suggested that Phα1β may have potential to be used as a therapeutic for controlling persistent pathological pain. The amino acid sequence of Phα1β is known; however, the exact structure and disulfide arrangement has yet to be determined. Determination of the disulfide linkages and exact structure could greatly assist in pharmacological analysis and determination of why this peptide is such an effective analgesic. Here, we used biochemical and mass spectrometry approaches to determine the disulfide linkages present in the recombinant Phα1β peptide. Using a combination of MALDI-MS, direct infusion ESI-MS, and nanoLC-MS/MS analysis of the undigested recombinant Phα1β peptide and digested with AspN, trypsin, or AspN/trypsin, we were able to identify and confirm all six disulfide linkages present in the peptide as Cys1-2, Cys3-4, Cys5-6, Cys7-8, Cys9-10, and Cys11-12. These results were also partially confirmed in the native Phα1β peptide. These experiments provide essential structural information about Phα1β and may assist in providing insight into the peptide's analgesic effect with very low side effects.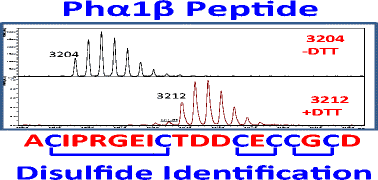 Keywords
Disulfide bridges 
Mass spectrometry 
Venom peptides 
Protein structure 
Abbreviations:
MALDI

Matrix-assisted laser desorption ionization

MS

Mass spectrometry

MALDI-MS

MALDI mass spectrometry

ESI

Electrospray ionization

ESI-MS

Electrospray ionization mass spectrometry

nanoLC

Nanoliquid chromatography

nanoLC-MS/MS

Nanoliquid chromatography tandem mass spectrometry

DTNB

5,5-Dithio-bis-(2-nitrobenzoic acid)

E. coli

Escherichia coli

FA

Formic acid

ACN

Acetonitrile

Q-TOF

Quadrupole-time of flight

UPLC

Ultra performance liquid chromatography

HPLC

High-performance liquid chromatography

MS/MS

Tandem mass spectrometry

HCAA

α-Cyano-4-hydroxycinnamic acid

TFA

Trifluoroacetic acid

TOPA

3,4,6-Trihydroxy-phenylalanine

Cys

Cysteine
Notes
Acknowledgements
The authors thank the members of the lab for fruitful discussions.
Funding Information
KLW was supported by the ASPIRE Graduate Student Fellowship through Clarkson University's CUPO Office. MM was supported by the Fulbright Senior Postdoctoral Fellowship awarded by the Romania-USA Fulbright Commission to MM (guest) and CCD (host). MVG's work was supported through REDE Fapemig (CBB-RED-00006-14), CNPq (471070/2012-2), Capes Toxinology (AUX-PE 1444/2011), and Fapemig (PPM-00482-15).
Copyright information
© American Society for Mass Spectrometry 2018