Mapping Lipid Fragmentation for Tailored Mass Spectral Libraries
Abstract
Libraries of simulated lipid fragmentation spectra enable the identification of hundreds of unique lipids from complex lipid extracts, even when the corresponding lipid reference standards do not exist. Often, these in silico libraries are generated through expert annotation of spectra to extract and model fragmentation rules common to a given lipid class. Although useful for a given sample source or instrumental platform, the time-consuming nature of this approach renders it impractical for the growing array of dissociation techniques and instrument platforms. Here, we introduce Library Forge, a unique algorithm capable of deriving lipid fragment mass-to-charge (m/z) and intensity patterns directly from high-resolution experimental spectra with minimal user input. Library Forge exploits the modular construction of lipids to generate m/z transformed spectra in silico which reveal the underlying fragmentation pathways common to a given lipid class. By learning these fragmentation patterns directly from observed spectra, the algorithm increases lipid spectral matching confidence while reducing spectral library development time from days to minutes. We embed the algorithm within the preexisting lipid analysis architecture of LipiDex to integrate automated and robust library generation within a comprehensive LC-MS/MS lipidomics workflow.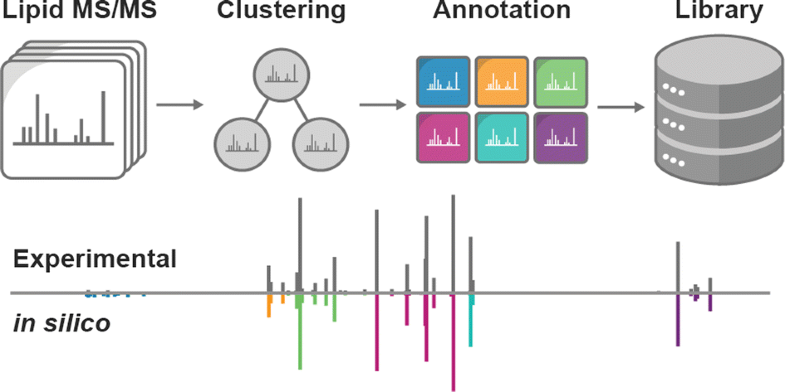 Keywords
Lipidomics 
Mass spectrometry 
Spectral libraries 
In silico fragmentation modeling 
Lipid identifications 
Notes
Acknowledgements
We gratefully acknowledge support from the National Institutes of Health Grant P41 GM108538 (awarded to J.J.C.) and the Morgridge Institute for Research Metabolism Theme. We also acknowledge support from the Great Lakes Bioenergy Research Center, U.S. Department of Energy, Office of Science, Office of Biological and Environmental Research, under Award Numbers DE-SC0018409 and DE-FC02-07ER64494. Additionally, we thank the Pagliarini Lab for generating the HAP1 cell lipid extracts.
Compliance with Ethical Standards
Conflict of Interest
The authors declare that they have no competing interests.
Copyright information
© American Society for Mass Spectrometry 2019