Isotopic Exchange HPLC-HRMS/MS Applied to Cyclic Proanthocyanidins in Wine and Cranberries
Abstract
Cyclic B-type proanthocyanidins in red wines and grapes have been discovered recently. However, proanthocyanidins of a different chemical structure (non-cyclic A-type proanthocyanidins) already known to be present in cranberries and wine possess an identical theoretical mass. As a matter of fact, the retention times and the MS/MS fragmentations found for the proposed novel cyclic B-type tetrameric proanthocyanidin in red wine and the known tetrameric proanthocyanidin in a cranberry extract are herein shown to be identical. Thus, hydrogen/deuterium (H/D) exchange was applied to HPLC-HRMS/MS to confirm the actual chemical structure of the new oligomeric proanthocyanidins. The comparison of the results in water and deuterium oxide and between wine and cranberry extract indicates that the cyclic B-type tetrameric proanthocyanidin is the actual constituent of the recently proposed novel tetrameric species ([C60H49O24]+, m/z 1153.2608). Surprisingly, the same compound was also identified as the main tetrameric proanthocyanidin in cranberries. Finally, a totally new cyclic B-type hexameric proanthocyanidin ([C90H73O36]+, m/z 1729.3876) belonging to this novel class was identified for the first time in red wine.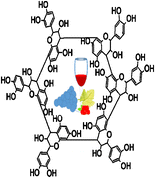 Keywords
Cyclic proanthocyanidins 
Hydrogen/deuterium exchange 
High-resolution mass spectrometry 
Wine 
Cranberries 
Cyclic B-type hexameric proanthocyanidin 
Notes
Acknowledgments
The authors thank Kellerei Bozen (Bolzano, Italy) for providing the samples of Lagrein wine used for the analysis. The authors thank the Province of Bolzano (Italy) (Landesregierung mittels Beschluss Nr. 1472, 07.10.2013) for their financial support.
Copyright information
© American Society for Mass Spectrometry 2018