Comparison of Different Ion Mobility Setups Using Poly (Ethylene Oxide) PEO Polymers: Drift Tube, TIMS, and T-Wave
Abstract
Over the years, polymer analyses using ion mobility-mass spectrometry (IM-MS) measurements have been performed on different ion mobility spectrometry (IMS) setups. In order to be able to compare literature data taken on different IM(-MS) instruments, ion heating and ion temperature evaluations have already been explored. Nevertheless, extrapolations to other analytes are difficult and thus straightforward same-sample instrument comparisons seem to be the only reliable way to make sure that the different IM(-MS) setups do not greatly change the gas-phase behavior. We used a large range of degrees of polymerization (DP) of poly(ethylene oxide) PEO homopolymers to measure IMS drift times on three different IM-MS setups: a homemade drift tube (DT), a trapped (TIMS), and a traveling wave (T-Wave) IMS setup. The drift time evolutions were followed for increasing polymer DPs (masses) and charge states, and they are found to be comparable and reproducible on the three instruments.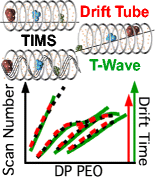 Keywords
Ion mobility 
Mass spectrometry 
TIMS 
Drift tube 
Traveling wave 
Synthetic polymers 
Poly (ethylene oxide) 
Notes
Acknowledgments
The authors thank the F.R.S.-FNRS for the financial support (Jean R. N. Haler and Philippe Massonnet are F.R.I.A. doctorate fellows). Bruker is acknowledged for their TIMS instrument and software support. The research leading to these results has received funding from the European Research Council under the European Union's Seventh Framework Programme (FP7/2007-2013 Grant agreement N°320659).
Compliance with ethical standards
Conflict of interest disclosure
The authors declare no competing financial interest.
Copyright information
© American Society for Mass Spectrometry 2017