Characterization of Lipid A Variants by Energy-Resolved Mass Spectrometry: Impact of Acyl Chains
Focus: Honoring R. G. Cooks' Election to the National Academy of Sciences: Research Article
Abstract
Lipid A molecules consist of a diglucosamine sugar core with a number of appended acyl chains that vary in their length and connectivity. Because of the challenging nature of characterizing these molecules and differentiating between isomeric species, an energy-resolved MS/MS strategy was undertaken to track the fragmentation trends and map genealogies of product ions originating from consecutive cleavages of acyl chains. Generalizations were developed based on the number and locations of the primary and secondary acyl chains as well as variations in preferential cleavages arising from the location of the phosphate groups. Secondary acyl chain cleavage occurs most readily for lipid A species at the 3′ position, followed by primary acyl chain fragmentation at both the 3′ and 3 positions. In the instances of bisphosphorylated lipid A variants, phosphate loss occurs readily in conjunction with the most favorable primary and secondary acyl chain cleavages.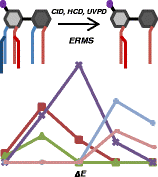 Keywords
Tandem mass spectrometry 
Collisional activation 
Lipid A 
Acyl chain 
Notes
Acknowledgments
Funding from the NIH (R01 GM103655 to J.S.B. and RO1s AI064184 and AI076322 to M.S.T.) and the Welch Foundation (F-1155) is gratefully acknowledged.
Copyright information
© American Society for Mass Spectrometry 2016