Improving Secondary Ion Mass Spectrometry Image Quality with Image Fusion
Abstract
The spatial resolution of chemical images acquired with cluster secondary ion mass spectrometry (SIMS) is limited not only by the size of the probe utilized to create the images but also by detection sensitivity. As the probe size is reduced to below 1 μm, for example, a low signal in each pixel limits lateral resolution because of counting statistics considerations. Although it can be useful to implement numerical methods to mitigate this problem, here we investigate the use of image fusion to combine information from scanning electron microscope (SEM) data with chemically resolved SIMS images. The advantage of this approach is that the higher intensity and, hence, spatial resolution of the electron images can help to improve the quality of the SIMS images without sacrificing chemical specificity. Using a pan-sharpening algorithm, the method is illustrated using synthetic data, experimental data acquired from a metallic grid sample, and experimental data acquired from a lawn of algae cells. The results show that up to an order of magnitude increase in spatial resolution is possible to achieve. A cross-correlation metric is utilized for evaluating the reliability of the procedure.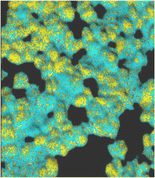 Key words
SIMS 
Image processing 
Image fusion 
Algae 
Biofuels 
Botryococcus braunii
Notes
Acknowledgments
The authors acknowledge financial support from the National Institute of Health under grant no. 5R01 EB002016-19, and the Department of Energy under grant no. DE-FG-02-06ER15803. The authors thank Richard Caprioli for suggesting the use of image fusion in SIMS, as well as Jordan Lerach for preparing and Hua Tian for obtaining SEM and SIMS images of gold-coated grid samples.
Copyright information
© American Society for Mass Spectrometry 2014