Electron Capture Dissociation Studies of the Fragmentation Patterns of Doubly Protonated and Mixed Protonated-Sodiated Peptoids
Abstract
The fragmentation patterns of a group of doubly protonated ([P + 2H]2+) and mixed protonated-sodiated ([P + H + Na]2+) peptide-mimicking oligomers, known as peptoids, have been studied using electron capturing dissociation (ECD) tandem mass spectrometry techniques. For all the peptoids studied, the primary backbone fragmentation occurred at the N-Cα bonds. The N-terminal fragment ions, the C-ions (protonated) and the C′-ions (sodiated) were observed universally for all the peptoids regardless of the types of charge carrier. The C-terminal ions varied depending on the type of charge carrier. The doubly protonated peptoids with at least one basic residue located at a position other than the N-terminus fragmented by producing the Z•-series of ions. In addition, most doubly protonated peptoids also produced the Y-series of ions with notable abundances. The mixed protonated-sodiated peptoids fragmented by yielding the Z•′-series of ions in addition to the C′-series. Chelation between the sodium cation and the amide groups of the peptoid chain might be an important factor that could stabilize both the N-terminal and the C-terminal fragment ions. Regardless of the types of the charge carrier, one notable fragmentation for all the peptoids was the elimination of a benzylic radical from the odd-electron positive ions of the protonated peptoids ([P + 2H]•+) and the sodiated peptoids ([P + H + Na]•+). The study showed potential utility of using the ECD technique for sequencing of peptoid libraries generated by combinatorial chemistry.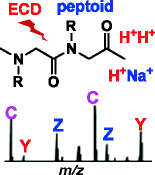 Keywords
ECD 
Radical assisted fragmentation 
Odd-electron negative ion 
Peptide-mimicking oligomer 
Poly(N-substituted glycine) 
Notes
Acknowledgments
The authors thank Dr. Kiran Morishetti (University of the Pacific, currently at Abon Pharmaceuticals LLC) for helping to interpret some of the spectra data, and Dr. Ronald Zuckermann (The Molecular Foundry, Lawrence Berkeley National Laboratory) for providing peptoid-10. J.R. acknowledges the support from the National Science Foundation [CHE-0749737 (prior) and CHE-1301505 (current)]. D.R. acknowledges the support from the Laboratory-Directed Research and Development program at Sandia National Laboratories (DE-AC04-94AL85000). Peptoid synthesis at the Molecular Foundry was supported by the Office of Science, Office of Basic Energy Sciences, US Department of Energy (DE-AC02-05CH11231). All ECD experiments were conducted at the Center for Regulatory and Environmental Analytical Metabolomics (CREAM) of the University of Louisville. The authors thank Dr. Shenheng Guan for assisting with the ETD experiments at the mass spectrometry facility of the University of California at San Francisco. They are also thankful for performing some of the ETD experiments in Dr. Joseph Loo's laboratory at the University of California at Los Angeles.
Copyright information
© American Society for Mass Spectrometry 2014