Neutron-Encoded Protein Quantification by Peptide Carbamylation
Abstract
We describe a chemical tag for duplex proteome quantification using neutron encoding (NeuCode). The method utilizes the straightforward, efficient, and inexpensive carbamylation reaction. We demonstrate the utility of NeuCode carbamylation by accurately measuring quantitative ratios from tagged yeast lysates mixed in known ratios and by applying this method to quantify differential protein expression in mice fed a either control or high-fat diet.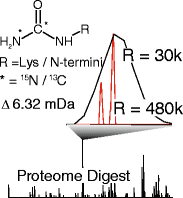 Key words
Quantitative proteomics 
NeuCode 
FTMS 
Chemical label 
Isobaric tag 
Mass defect 
Notes
Acknowledgments
This work was supported by the National Institutes of Health grants R01 DK066369, DK058037 and DK091207 (A.D.A.), and GM080148 (J.J.C.). A.E.M. gratefully acknowledges support from a National Institutes of Health-funded Genomic Sciences Training Program (5T32HG002760).
Copyright information
© American Society for Mass Spectrometry 2013