Abstract
The tortoise beetle, Laccoptera nepalensis Boheman (Coleoptera: Chrysomelidae), is an important insect pest of the sweet potato, and is naturally distributed in southern to eastern Asia. The species has recently been expanding its range to the main islands of Japan, where it had previously not been distributed. In this study, the life-history traits of a local population in southern Kyushu, Japan were examined. The adults showed a long-day photoperiodic response at 20 and 25 °C with critical photophases of 13.97 and 12.52 h/day, respectively: female adults reared under long-day conditions laid eggs, whereas those reared under short-day conditions did not and entered diapause. When adults that had been reared under 16L–8D at 20 °C were transferred to 12L–12D at 20 °C, they ceased laying eggs. These results, together with the developmental threshold temperature and thermal constant obtained for each stage, suggest that the beetle overwinters in the adult stage in a state of diapause and produces a maximum of three generations per year in southern Kyushu.
Access options
Buy single article
Instant access to the full article PDF.
US$ 39.95
Tax calculation will be finalised during checkout.
Subscribe to journal
Immediate online access to all issues from 2019. Subscription will auto renew annually.
US$ 79
Tax calculation will be finalised during checkout.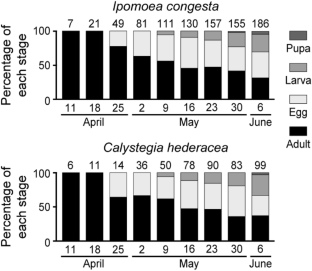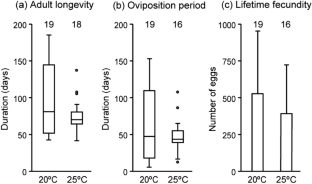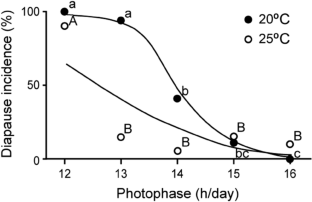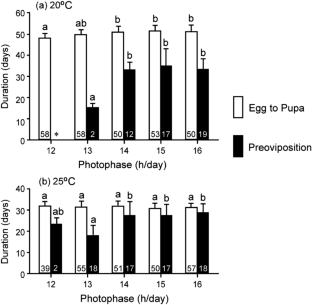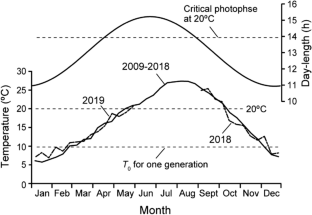 References
Bean DW, Dalin P, Dudley TL (2012) Evolution of critical day length for diapause induction enables range expansion of Diorhabda carinulata, a biological control agent against tamarisk (Tamarix spp.). Evol Appl 5:511–523

Bean DW, Wang T, Bartelt RJ, Zilkowski BW (2014) Diapause in the leaf beetle Diorhabda elongata (Coleoptera: Chrysomelidae), a biological control agent for tamarisk (Tamarix spp.). Environ Entomol 36:531–540

Danks HV (1987) Insect dormancy: an ecological perspective. Biological Survey of Canada (terrestrial arthropods), Ottawa

Doležal P, Habuštová O, Sehnal F (2007) Effects of photoperiod and temperature on the rate of larval development, food conversion efficiency, and imaginal diapause in Leptinotarsa decemlineata. J Insect Physiol 53:849–857

Gomi T (1997) Geographic variation in critical photoperiod for diapause induction and its temperature dependence in Hyphantria cunea Drury (Lepidoptera: Arctiidae). Oecologia 111:160–165

Gomi T, Takeda M (1996) Changes in life-history traits in the fall webworm within half a century of introduction to Japan. Funct Ecol 10:384–389

Gotthard K (1998) Life history plasticity in the satyrine butterfly Lasiommata petropolitana: investigating an adaptive reaction norm. J Evol Biol 11:21–39

Hodek I (1979) Intermittent character of adult diapause in Aelia acuminata (Heteroptera). J Insect Physiol 25:867–871

Ishihara M, Hayashi T (2000) Photoperiodic induction and termination of adult diapause in the willow leaf beetle, Plagiodera versicolora (Coleoptera: Chrysomelidae). Entomol Sci 3:439–441

Japan Meteorological Agency (2020) Meteorological data. http://www.data.jma.go.jp/obd/stats/etrn/index.php. Accessed 19 Apr 2020 (in Japanese)

Kimoto S, Takizawa H (1994) Leaf beetles (Chrysomelidae) of Japan. Tokai University Press, Hadano (in Japanese)

Koštál V (2006) Eco-physiological phases of insect diapause. J Insect Physiol 52:113–127

Kurota H, Shimada M (2001) Photoperiod- and temperature-dependent induction of larval diapause in a multivoltine bruchid, Bruchidius dorsalis. Entomol Exp Appl 99:361–369

Lefevere KS, De Wilde J (1984) Effect of photoperiod and allatectomy on reproduction and (second) diapause induction in post-diapause adult females of the Colorado potato beetle, Leptinotarsa decemlineata Say. Int J Invertebr Reprod Dev 7:69–72

Lounibos LP, Escher RL, Lourenço-de-Oliveira R (2003) Asymmetric evolution of photoperiodic diapause in temperate and tropical invasive populations of Aedes albopictus (Diptera: Culicidae). Ann Entomol Soc Am 96:512–518

Morrison CR, Windsor DM (2017) The life history of Chelymorpha alternans (Coleoptera: Chrysomelidae: Cassidinae) in Panamá. Ann Entomol Soc Am 111:31–41

Musolin DL, Dolgovskaya MY, Protsenko VY, Karpun NN, Reznik SY, Saulich AK (2019) Photoperiodic and temperature control of nymphal growth and adult diapause induction in the invasive Caucasian population of the brown marmorated stink bug, Halyomorpha halys. J Pest Sci 92:621–631

Musolin DL, Numata H (2003a) Photoperiodic and temperature control of diapause induction and colour change in the southern green stink bug Nezara viridula. Physiol Entomol 28:65–74

Musolin DL, Numata H (2003b) Timing of diapause induction and its life-history consequences in Nezara viridula: is it costly to expand the distribution range? Ecol Entomol 28:694–703

Nakamura K, Numata H (2006) Effects of photoperiod and temperature on the induction of adult diapause in Dolycoris baccarum (L.) (Heteroptera: Pentatomidae) from Osaka and Hokkaido. Japan Appl Entomol Zool 41:105–109

Nakamura K, Hodek I, Hodková M (1996) Recurrent photoperiodic response in Graphosoma lineatum (Heteroptera: Pentatomidae). Eur J Entomol 93:19–523

Numata H, Hidaka T (1982) Photoperiodic control of adult diapause in the bean bug, Riptortus clavatus Thunberg (Heteroptera: Coreidae). I. Reversible induction and termination of diapause. Appl Entomol Zool 17:530–538

R Core Team (2019) R: a language and environment for statistical computing. R Foundation for Statistical Computing, Vienna

Ruberson JR, Shen YJ, Kring TJ (2000) Photoperiodic sensitivity and diapause in the predator Orius insidiosus (Heteroptera: Anthocoridae). Ann Entomol Soc Am 93:1123–1130

Sadakiyo S, Ishihara M (2011) Rapid seasonal adaptation of an alien bruchid after introduction: geographic variation in life cycle synchronization and critical photoperiod for diapause induction. Entomol Exp Appl 140:69–76

Shigetoh H, Suenaga H, Minami M, Watanabe K (2020) Records and current state of distribution of Laccoptera nepalensis Boheman, 1855 (Coleoptera, Chrysomelidae, Cassidinae) in Japan. Bull Hoshizaki Green Found 23:227–243 (in Japanese with English summary)

Shintani Y, Numata H (2010) Adaptive significance of the recurrent photoperiodic response in a spring-breeding carabid beetle, Carabus yaconinus. Entomol Sci 13:367–374

Shintani Y, Tatsuki S, Ishikawa Y (1996) Geographic variation of photoperiodic response in larval development of the yellow-spotted longicorn beetle, Psacothea hilaris (Pascoe) (Coleoptera: Cerambycidae). Appl Entomol Zool 31:495–504

Shintani Y, Hirose Y, Terao M (2011) Effects of temperature, photoperiod and soil humidity on induction of pseudopupal diapause in the bean blister beetle Epicauta gorhami. Physiol Entomol 36:14–20

Shintani Y, Kawazu K, Hirose Y (2015) Photoperiodic induction of prepupal diapause and its role in synchronization with host phenology in the hibiscus caterpillar, Xanthodes transversa. Entomol Sci 18:360–367

Shintani Y, Kato Y, Saito T, Oda Y, Terao M, Nagamine K (2018) Maladaptive photoperiodic response in an invasive alien insect, Milionia basalis pryeri (Lepidoptera: Geometridae), in southern Kyushu, Japan. Appl Entomol Zool 53:343–351

Tajima J, Miyahara R, Terao M, Shintani Y (2018) Environmental control of the seasonal life cycle of a zoophytophagous mirid, Adelphocoris triannulatus (Hemiptera: Miridae). Appl Entomol Zool 53:333–341

Tanaka K, Murata K, Matsuura A (2015) Rapid evolution of an introduced insect Ophraella communa LeSage in new environments: temporal changes and geographical differences in photoperiodic response. Entomol Sci 18:104–112

Tauber MJ, Tauber CA (1969) Diapause in Chrysopa carnea (Neuroptera: Chrysopidae): I. Effect of photoperiod on reproductively active adults. Can Entomol 101:364–370

Tauber MJ, Tauber CA (1972) Geographic variation in critical photoperiod and in diapause intensity of Chrysopa carnea (Neuroptera). J Insect Physiol 18:25–29

Tauber MJ, Tauber CA, Masaki S (1986) Seasonal adaptations of insects. Oxford University Press, New York

Time and Date AS (2019) Sunrise and sunset calculator—city lookup. https://www.timeanddate.com/sun/. Accessed 22 Feb 2019

Vaz Nunes M, Koveos DS, Veerman A (1990) Geographical variation in photoperiodic induction of diapause in the spider mite (Tetranychus urticae): A causal relation between critical nightlength and circadian period? J Biol Rhythms 5:47–57

Wang X, Xue F, Tan Y, Lei C (2007) The role of temperature and photoperiod in diapause induction in the brassica leaf beetle, Phaedon brassicae (Coleoptera: Chrysomelidae). Eur J Entomol 104:693–697

Xue F, Spieth HR, Aiqing L, Ai H (2002) The role of photoperiod and temperature in determination of summer and winter diapause in the cabbage beetle, Colaphellus bowringi (Coleoptera: Chrysomelidae). J Insect Physiol 48:279–286

Yoshio M, Ishii M (1998) Geographical variation of pupal diapause in the great mormon butterfly, Papilio memnon L. (Lepidoptera: Papilionidae), in western Japan. Appl Entomol Zool 33:281–288

Zar JH (2009) Biostatistical analysis, 5th edn. Prentice Hall, New Jersey
Additional information
Publisher's Note
Springer Nature remains neutral with regard to jurisdictional claims in published maps and institutional affiliations.
About this article
Cite this article
Shintani, Y., Takahashi, Y., Nakagawa, K. et al. Photoperiodic induction of reproductive diapause and life-history traits of a tortoise beetle, Laccoptera nepalensis (Coleoptera: Chrysomelidae), a range-expanding pest of southern origin. Appl Entomol Zool 56, 99–106 (2021). https://doi.org/10.1007/s13355-020-00716-4
Received:

Accepted:

Published:

Issue Date:
Keywords
Laccoptera nepalensis

Photoperiodism

Reproductive diapause

Seasonal adaptation

Voltinism

Range-expanding insect