Abstract
The edible grasshopper Ruspolia differens (Orthoptera: Tettigoniidae) gathered seasonally from the wild is a highly valued and an economically important edible insect, particularly in East Africa. To reduce the pressure on wild populations, a sustainable mass production technique needs to be developed. Unfortunately, however, basic biological know-how on feeding habits of R. differens is poorly understood, which poses a constraint on the development of mass-rearing technology. Here, we evaluated the acceptance and feeding preference of R. differens for 16 cultivated or processed foods using no-choice and multiple-choice laboratory bioassays. The results indicated that adultR. differens can eat a wide variety of foods but does not necessarily accept all the foods equally. Furthermore, our experiments showed that R. differens has high ability to select diet among those available. The order of decreasing preference was wheat bran > germinated finger millet > rice seed head > finger millet seed head > chicken feed egg booster > sorghum seed head. Finally, our study indicated that sex and color morph are not associated with the order of acceptance and preference of diets in R. differens. These results show potential foods that could be utilized for developing future mass-rearing methods for R. differens.
Access options
Buy single article
Instant access to the full article PDF.
USD 39.95
Price includes VAT (USA)
Tax calculation will be finalised during checkout.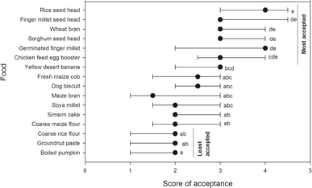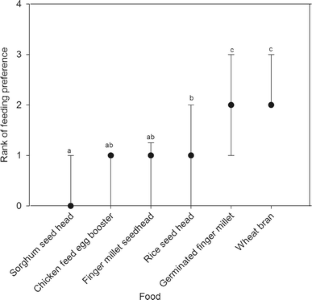 References
Abushama FTE, Elhag EAG (1971) Distribution and food-plant selection of the riverain Acridids near Khartoum. J Appl Entomol 69:1–4

Agea JG, Biryomumaisho D, Buyinza M, Nabanoga GN (2008) Commercialisation of Ruspolia Nitidula (Nsenene grasshoppers) in Central Uganda. Afr J Food Agric Nutr Dev 8:319–332

Babiker MS (2012) Chemical composition of some non-conventional and local feed resources for poultry in Sudan. Int J Poult Sci 11:283–287

Bailey WJ, McCrae AWR (1978) The general biology and phenology of swarming in the East African tettigoniid Ruspolia differens (Serville) (Orthoptera). J Nat Hist 12:259–288

Barbeau WE, Hilu KW (1993) Protein, calcium, iron and amino acid contents of selected wild and domesticated cultivars of finger millet. Plant Foods Hum Nutr 43:97–104

Bernays EA, Barbehenn R (1987) Nutritional ecology of grass foliage-chewing insects. In: Slansky F, Rodriguez JG (eds) Nutritional ecology of insects, mites, spiders and related invertebrates. Wiley, New York, pp 147–175

Brits JA, Thornton CH (1981) On the biology of Ruspoila differens (Serville) (Orthoptera: Tettigoniidae) in South Africa. Phytophylactica 13:169–173

Bukya A, Vijayakumar TP (2013) Properties of industrial fraction of sesame seed (Sesamum indicum L.). Int J Agric Food Sci 3:86–89

Capinera JL (1993) Host–plant selection by Schistocerca americana (Orthoptera: Acrididae). Environ Entomol 22:127–133

Capinera JL (2014) Host plant selection by Romalea microptera (Orthoptera: Romaleidae). Fla Entomol 97:38–49

Cheme OB, Chinma CE (2008) Effects of soaking and germination on some physicochemical properties of millet flour for porridge production. J Food Technol 6:185–188

FAO (2016) FAO/INFOODS Food composition database for biodiversity version 3.0—BioFoodComp 3.0. FAO, Rome

Franzke A, Unsicker SB, Specht J, Köhler G, Weisser WW (2010) Being a generalist herbivore in a diverse world: how do diets from different grasslands influence food plant selection and fitness of the grasshopperChorthippus parallelus? Ecol Entomol 35:126–138

Hartley JC (1967) Laboratory culture of a tettigoniid, Homorocoryphus nitidulus vicinus (WLK.) (Othoptera). Bull Entomol Res 7:203–207

Hemp C (2005) The Chagga Home Gardens—relict areas for endemic Saltatoria Species (Insecta: Orthoptera) on Mt Kilimanjaro. Biol Conserv 125:203–210

Karpestam E, Forsman A (2013) Stable isotopes reveal dietary divergence between dispersal phenotypes in Tetrix subulata Pygmy grasshoppers (Orthoptera: Tetrigidae). Eur J Entomol 110:65–70

Kinyuru NJ, Kenji MG, Muhoho NS, Ayieko M (2010) Nutritional potential of longhorn grasshoppers (Ruspolia differens) consumed in Siaya district, Kenya. J Agr Sci Technol 12:32–46

Kumar A, Metwal M, Kaur S, Gupta AK, Puranik S, Singh S, Singh M, Gupta S, Babu BK, Sood S, Yadav R (2016) Nutraceutical value of finger millet (Eleusine coracana (L.) Gaertn.) and their improvement using omics approaches. Front Plant Sci 7:935

Lewis AC, Barnays EA (1985) Feeding behavior: selection of both wet and dry food for increased growth in Schistocerca gregaria nymphs. Entomol Exp Appl 37:105–112

Malinga GM, Valtonen A, Lehtovaara JV, Rutaro K, Opoke R, Nyeko P, Roininen H (2018) Mixed artificial diets enhance the developmental and reproductive performance of the edible grasshopper, Ruspolia differens (Orthoptera: Tettigoniidae). Appl Entomol Zool (in press)

Massa B (2015) Taxonomy and distribution of some katydids (Orthoptera Tettigoniidae) from tropical Africa. ZooKeys 524:17–44

Matojo ND, Hosea KM (2013) Phylogenetic relationship of the Longhorn grasshopper Ruspolia differens Serville (Orthoptera: Tettigoniidae) from northwest Tanzania based on 18S ribosomal nuclear sequences. J Insects 2013:1–5

Matojo DN, Yarro GJ (2010) Variability in polymorphism and sex ratio of the conehead Ruspolia differens Serville (Orthoptera: Conocephalidae) in north-west Tanzania. Int J Integr Biol 9:131–136

Matojo N, Yarro JG (2013) Anatomic morphometrics of the "senene"Tettigoniid Ruspolia differens Serville (Orthoptera: Concephalidae) from North-West Tanzania. Int Sch Res Notices Entomol. 2013, Article ID 176342. https://doi.org/10.1155/2013/176342

Mattson WJ Jr (1980) Herbivory in relation to plant nitrogen content. Annu Rev Ecol Syst 11:119–161

Mbithi-Mwikya S, Van Camp J, Yiru Y, Huyghebaert A (2000) Nutrient and anti-nutrient changes in finger millet (Eleusine coracana) during sprouting. Food Sci Technol 33:9–14

Miura K, Ohsaki N (2004) Diet mixing and its effect on polyphagous grasshopper nymphs. Ecol Res 19:269–274

Muyanja CMBK, Kikafunda JK, Narvhus JA, Helgetun K, Langsrud T (2003) Production methods and composition of bushera: a Ugandan traditional fermented cereal beverage. Afr J Food Agric Nutr Dev 3:10–19

Nyeko P, Nzabmwita PH, Nalika N, Okia CA, Odongo W, Ndimubandi J (2014) Unlocking the potential of edible insects for improved food security, nutrition and adaptation to climate change in the Lake Victoria Basin–a project technical report No: NR-05-10

Okia CA, Odongo W, Nzabamwita P, Ndimubandi J, Nalika N, Nyeko P (2017) Local knowledge and practices on use and management of edible insects in Lake Victoria basin, East Africa. J Insects Food Feed 3:83–93

Quinn GP, Keough MJ (2002) Experimental design and data analysis for biologists, 1st edn. Cambridge University Press, Cambridge

Roa R (1992) Design and analysis of multiple-choice feeding-preference experiments. Oecologia 89:509–515

Smith TR, Capinera JL (2005) Host preferences and habitat associations of some Florida grasshoppers (Orthoptera: Acrididae). Environ Entomol 34:210–224

Sripriya G, Antony U, Chandra TS (1997) Changes in carbohydrate, free amino acids, organic acids, phytate and HCl extractability of minerals during germination and fermentation of finger millet (Eleusine coracana). Food Chem 58:345–350

Swaine G (1964) The bush-cricket, Homorocoryphus nitidulus Vicinus Walker (Tettigoniidae). E Afr Agr For J 29:340–342

United States Department of Agriculture, Agricultural Research Service. USDA National Nutrient Database for Standard Reference, Release 28 (2016). Nutrient Data Laboratory Home Page

van Huis A (2003) Insects as food in Sub-Saharan Africa. Insect Sci Appl 23:163–185

Zar JH (1996) Biostatistical analysis, 3rd edn. Prentice Hall, Upper Saddle River
Acknowledgements
This study was funded by a Finnish Academy of Science grant (Project no 14956 to HR). We thank the office of the Ugandan President and the Uganda National Council of Science and Technology for permission to conduct the study. We thank Isaiah Mwesige for help during the experiments and the Makerere University Agricultural Research Institute, Kabanyolo for providing the laboratory space.
About this article
Cite this article
Malinga, G.M., Valtonen, A., Lehtovaara, V.J. et al. Diet acceptance and preference of the edible grasshopper Ruspolia differens (Orthoptera: Tettigoniidae). Appl Entomol Zool 53, 229–236 (2018). https://doi.org/10.1007/s13355-018-0550-3
Received:

Accepted:

Published:

Issue Date:
Keywords
African edible bush cricket

Artificial food

Feeding test

Insect rearing

Uganda