Abstract
The yellow-legged hornet Vespa velutina Lepeletier 1836, accidentally introduced into France in 2004, is rapidly colonizing other European countries. In Italy the species is spreading throughout the northwest part of the country. Setting up management plans for controlling invasive alien species requires an understanding of the spread modalities and distribution range of the species, information currently not available for the yellow-legged hornet in Italy. The aims of this work are to reconstruct the spread of the yellow-legged hornet from its first arrival in the country, evaluating its distribution range and spread modalities. The area occupied by the species increased from 205 km2 in 2013 to 930 km2 in 2015. In 2015 the frontline of the species was at 55 km along the coast from the French border, with a linear spread of 18.3 ± 3.3 km/year. A human-mediated dispersion could be recognized in different occasions. A cluster analysis of the range allowed the identification of 17 core areas used by the species, with a mean nest density of 2.9–3.5 nests/km2. These details are fundamental to improve control plans and to establish an early warning and rapid response system for the yellow-legged hornet in Italy and, therefore, setup an effective management plan for the species.
This is a preview of subscription content, log in to check access.
Access options
Buy single article
Instant access to the full article PDF.
US$ 39.95
Price includes VAT for USA
Subscribe to journal
Immediate online access to all issues from 2019. Subscription will auto renew annually.
US$ 99
This is the net price. Taxes to be calculated in checkout.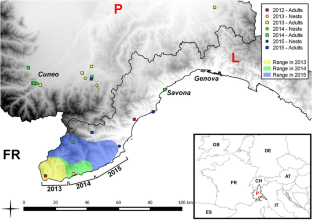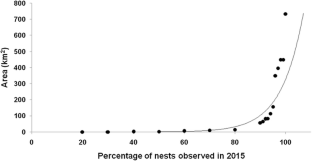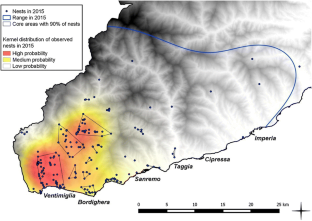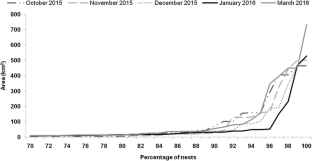 References
Anonymous (2011) La amenaza de la avispa asiática para la producción apícola de la CAPV. Grupo Técnico en Apicultura del Departamento de Medio Ambiente, Planificación Territorial, Agricultura y Pesca del Gobierno Vasco, Diputaciones Forales de País Vasco, Servicios de Ganadería, Instituto Vasco de Investigación y Desarrollo Agrario. Sustrai Revista Agropesquera 95:78–83

Anonymous (2014) Estrategia para la deteccion y control del Avispon Asiatico o Avispa Negra (Vespa velutina nigrithorax) en el Principado de Asturias. Gobierno del Principado de Asturias, Consejeria de Agroganaderia y Recursos Autoctonos, Direccion General de Recursos Naturales, Oviedo

Archer ME (1994) Taxonomy, distribution and nesting biology of the Vespa bicolor group (Hym., Vespinae). Entomol Mon Mag 130:149–158

Balmori A (2015) Sobre el riesgo real de una expansiòn generalizada de la Avispa Asiàtica Vespa velutina Lepeletier, 1836 (Hymenoptera: Vespidae) en la Penìnsula Ibérica. Bull Soc Entomol Aragonesa 56:283–289

Beggs JR, Brockerhoff EG, Corley JC, Kenis M, Masciocchi M, Muller F, Rome Q, Villemant C (2011) Ecological effects and management of invasive alien Vespidae. Biocontrol 56:505–526

Bellard C, Genovesi P, Jeschke J (2016) Global patterns in threats to vertebrates by biological invasions. Proc R Soc B. doi:10.1098/rspb.2015.2454

Bertolino S, Perrone A, Gola L (2005) Effectiveness of coypu control in small Italian wetland areas. Wildl Soc Bull 33:714–720

Bertolino S, Montezemolo NC, Preatoni DG, Wauters LA, Martinoli A (2014) A grey future for Europe: Sciurus carolinensis is replacing native red squirrels in Italy. Biol Invasions 16:53–62

Braysher M (1993) Managing vertebrate pests: principles and strategies. Australian Government Publishing Service, Canberra

Bruneau E (2011) Le frelon asiatique, déjà là! Actu API 55:1–8

Calenge C (2006) The package adehabitat for the R software: a tool for the analysis of space and habitat use by animals. Ecol Model 197:516–519

Carpenter JM, Kojima J (1997) Checklist of the Species in the subfamily Vespinae (Insecta: Hymenoptera: Vespidae). Nat Hist Bull Ibaraki Univ 1:51–92

Castro L, Pagola-Carte S (2010) Vespa velutina Lepeletier, 1836 (Hymenoptera: Vespidae), recolectada en la Península Ibérica. Heteropterus Rev Entomol 10:193–196

Choi MB, Martin SJ, Lee JW (2012) Distribution, spread, and impact of the invasive hornet Vespa velutina in South Korea. J Asia Pac Entomol 15:473–477

Choi MB, Lee SA, Suk HY, Lee JW (2013) Microsatellite variation in colonizing populations of yellow-legged Asian hornet, Vespa velutina nigrithorax, in South Korea. Entomol Res 43:208–214

De Haro L, Labadie M, Chanseau P, Cabot C, Blanc-Brisset I, Penouil F (2010) Medical consequences of the Asian black hornet (Vespa velutina) invasion in South-western France. Toxicon 55:650–652

Demichelis S, Manino A, Minuto G, Mariotti M, Porporato M (2014) Social wasp trapping in north west Italy: comparison of different bait-traps and first detection of Vespa velutina. B Insectol 67:307–317

Grosso-Silva JM, Maia M (2012) Nota/Note. Vespa velutina Lepeletier, 1836 (Hymenoptera, Vespidae), new species for Portugal. Arquivos Entomol 6:53–54

Haxaire J, Bouguet JP, Tamisier JP (2006) Vespa velutina Lepeletier, 1836, une redoutable nouveauté pour la faune de France (Hym., Vespidae). Bull Soc Entomol Fr 111:194

Homans F, Horie T (2011) Optimal detection strategies for an established invasive pest. Ecol Econ 70:1129–1138

Liu Z, Chen S, Zhou Y, Xie C, Zhu B, Zhu H, Liu S, Wang W, Chen H, Ji Y (2015) Deciphering the venomic transcriptome of killer-wasp Vespa velutina. Sci Rep. doi:10.1038/srep09454

López S, González M, Goldarazena A (2011) Vespa velutina Lepeletier, 1836 (Hymenoptera: Vespidae): first records in Iberian Peninsula. EPPO Bull 41:439–441

Marris G, Brown MA, Cuthbertson AG (2011) GB Non-native Organism Risk Assessment for Vespa velutina nigrithorax. http://www.nonnativespecies.org. Accessed 13 Jan 2016

Martin SJ (1995) Hornets (Hymenoptera: Vespinae) of Malaysia. Malays Nat J 49:71–82

Milanesio D, Saccani M, Maggiora R, Laurino D, Porporato M (2016) Design of an harmonic radar for the tracking of the Asian yellow-legged hornet. Ecol Evol 6(7):2170–2178

Monceau K, Thiéry D (2016) Vespa velutina nest distribution at a local scale: an eight-year survey of the invasive honeybee predator. Insect Sci. doi:10.1111/1744-7917.12331 (accepted article)

Monceau K, Maher N, Bonnard O, Thiéry D (2013) Predation pressure dynamics study of the recently introduced honeybee killer Vespa velutina: learning from the enemy. Apidologie 44:209–221

Monceau K, Bonnard O, Thiéry D (2014) Vespa velutina: a new invasive predator of honeybees in Europe. J Pest Sci 87:1–16

Porporato M, Manino A, Laurino D, Demichelis S (2014) Vespa velutina Lepeletier (Hymenoptera Vespidae): a first assessment two years after its arrival in Italy. Redia 97:189–194

QGIS Development Team (2015) QGIS geographic information system. Open source geospatial foundation project. http://qgis.osgeo.org. Accessed 29 Sept 2015

R Core Team (2015) R: a language and environment for statistical computing. R foundation for statistical computing, Vienna, Austria. https://www.R-project.org/. Accessed 15 Oct 2015

R Studio Team (2015). RStudio: integrated development for R. R Studio, Inc., Boston, 509 MA. http://www.rstudio.com/. Accessed 15 Oct 2015

Rome Q, Muller F, Gargominy O, Villemant C (2009) Bilan 2008 de l'invasion de Vespa velutina Lepeletier en France (Hymenoptera, Vespidae). Bull Soc Entomol Fr 114:297–302

Rome Q, Perrard A, Muller F, Villemant C (2011). Monitoring and control modalities of a honeybee predator, the yellow-legged hornet Vespa velutina nigrithorax (Hymenoptera: Vespidae). Newsletter of the IUCN/SSC Invasive Species Specialist Group, pp 7–15

Rome Q, Dambrine L, Onate C, Muller F, Villemant C, García-Pérez AL, Maia M, Carvalho Esteves P, Bruneau E (2013) Spread of the invasive hornet Vespa velutina Lepeletier, 1836, in Europe in 2012 (Hym., Vespidae). Bull Soc Entomol Fr 118:15–21

Simberloff D, Martin JL, Genovesi P et al (2013) Impacts of biological invasions: what's what and the way forward. Trends Ecol Evol 28:58–66

Suarez AV, Holway DA, Case TJ (2001) Patterns of spread in biological invasions dominated by long- distance jump dispersal: insights from Argentine ants. Proc Natl Acad Sci USA 98:1095–1100

Tabar A, Chugo S, Joral A, Lizaso MT, Lizarza S, Alvarez-Puebla MJ, Arroabarren E, Vela C, Lombardero M (2015) Vespa velutina nigrithorax: a new causative agent for anaphylaxis. Clin Transl Allergy. doi:10.1186/2045-7022-5-S3-P43

Ueno T (2014) Establishment of the Invasive Hornet Vespa velutina (Hymenoptera: Vespidae) in Japan. Int J Chem Environ Biol Sci 2:220–222

Villemant C, Barbet-massin M, Perrard A, Muller F, Gargominy O, Jiguet F, Rome Q (2011a) Predicting the invasion risk by the alien bee-hawking Yellow-legged hornet Vespa velutina nigrithorax across Europe and other continents with niche models. Biol Conserv 144:2142–2150

Villemant C, Muller F, Haubois S, Perrard A, Darrouzet E, Rome Q (2011b) Bilan des travaux (MNHN et IRBI) sur l'invasion en France de Vespa velutina, le frelon asiatique prédateur d'abeilles. In: Barbançon JM, L'Hostis M (eds) Journée Scientifique Apicole, Oniris-Fnosad, Arles, 11 février 2011, pp 3–12

Witt R (2015) Erstfund eines Nestes der Asiatischen Hornisse Vespa velutina Lepeletier, 1838 in Deutschland und Details zum Nestbau (Hymenoptera, Vespinae). Ampulex 7:42–53
Acknowledgments
The authors are grateful to the many people who reported observations of the yellow-legged hornet during these years, particularly beekeepers and Luca Croce, Davide Greco, and Andrea Romano who monitored the species in 2015. Furthermore we are grateful to the Département des Alpes-Maritimes for the communication of the location of nests. This work was realized under the LIFE14 NAT/IT/001128 STOPVESPA project; this is paper No. 1 of the STOPVESPA project.
About this article
Cite this article
Bertolino, S., Lioy, S., Laurino, D. et al. Spread of the invasive yellow-legged hornet Vespa velutina (Hymenoptera: Vespidae) in Italy. Appl Entomol Zool 51, 589–597 (2016). https://doi.org/10.1007/s13355-016-0435-2
Received:

Accepted:

Published:

Issue Date:
Keywords
Invasive species

Beekeeping

Species distribution

Range analysis

Cluster analysis