Abstract
We manipulated the density of the wolf spider, Pardosa astrigera L. Koch in enclosed cabbage plots (2 × 2 m) to assess the impact on the herbivore density and crop yield. P. astrigera was introduced to half of the enclosures at densities of 25 and 50 individuals/m2 in the spring and autumn experiments, respectively; spiders were removed from other enclosures. The results indicated that P. astrigera significantly suppressed the densities of the diamondback moth, Plutella xylostella (L.), in the spring, and the green peach aphid, Myzus persicae (Sulzer), in the autumn experiments. The cabbage yield did not increase, despite the suppression of these herbivores. P. astrigera had no impact on three other lepidopteran species: Pieris rapae crucivora Boisduval, Autographa nigrisigna (Walker), and Mamestra brassicae (L.). The number of spiders increased by 23 % but decreased by 62 % at the end of the spring and autumn experiments, respectively, compared with the initial numbers introduced. Our results show that wolf spiders (Lycosidae) would be effective biocontrol agents of certain herbivore species if spiders abundantly occur early in the crop season and remain stable throughout the season. However, further investigations are required to determine the effect of spiders on the crop yield.
Access options
Buy single article
Instant access to the full article PDF.
US$ 39.95
Tax calculation will be finalised during checkout.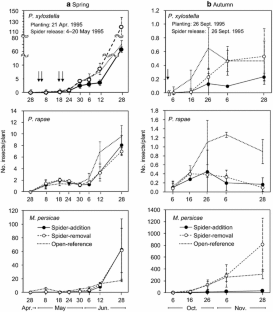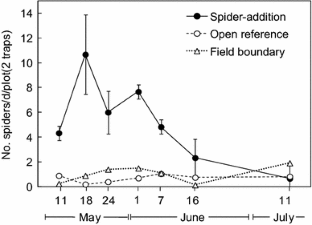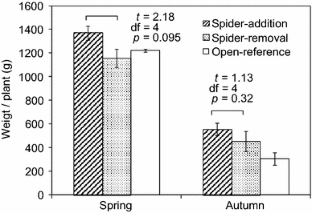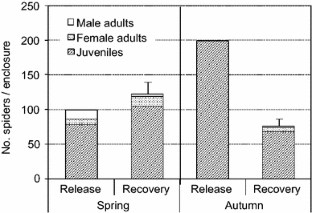 References
Ayalew G (2006) Comparison of yield loss on cabbage from diamondback moth, Plutella xylostella L. (Lepidoptera: Plutellidae) using two insecticides. Crop Prot 25:915–919

Birkhofer K, Gavish-Regev E, Endlweber K, Lubin YD, von Berg K, Wise DH, Scheu S (2008) Cursorial spiders retard initial aphid population growth at low densities in winter wheat. Bull Entomol Res 98:249–255

Carter PE, Rypstra AL (1995) Top-down effects in soybean agroecosystems: spider density affects herbivore damage. Oikos 72:433–439

Chikuni Y (1989) Pictorial encyclopedia of spiders in Japan. Kaisei-Sha Publishing, Tokyo

de Roincé CB, Lavigne C, Mandrin J-F, Rollard C, Symondson WOC (2013) Early-season predation on aphids by winter-active spiders in apple orchards revealed by diagnostic PCR. Bull Entomol Res 103:148–154

Ditner N, Balmer O, Beck J, Blick T, Nagel P, Luka H (2013) Effects of experimentally planting non-crop flowers into cabbage fields on the abundance and diversity of predators. Biodivers Conserv 22:1049–1061

Finke DL, Denno RF (2004) Predator diversity dampens trophic cascades. Nature 429:407–410

Furlong MJ, Shi ZH, Liu YQ, Guo SJ, Lu YB, Liu SS, Zalucki MP (2004) Experimental analysis of the influence of pest management practice on the efficacy of an endemic arthropod natural enemy complex of the diamondback moth. J Econ Entomol 97:1814–1827

Furlong MJ, Wright DJ, Dosdall LM (2013) Diamondback moth ecology and management: problems, progress, and prospects. Annu Rev Entomol 58:517–541

Halaj J, Wise DH (2002) Impact of a detrital subsidy on trophic cascades in a terrestrial grazing food web. Ecology 83:3141–3151

Halaj J, Cady AB, Uetz GW (2000) Modular habitat refugia enhance generalist predators and lower plant damage in soybeans. Environ Entomol 29:383–393

Keppel G (1991) Design and analysis: a researcher's handbook, 3rd edn. Prentice- Hall, New Jersey

Kiritani K, Kakiya N (1975) An analysis of the predator–prey system in the paddy field. Res Popul Ecol 17:29–38

Kiritani K, Kawahara S, Sasaba T, Nakasuji F (1972) Quantitative evaluation of predation by spiders on the green rice leafhopper, Nephotettix cincticeps Uhler, by a sight-count method. Res Popul Ecol 13:187–200

Lang A (2003) Intraguild interference and biocontrol effects of generalist predators in a winter wheat field. Oecologia 134:144–153

Langellotto GA, Denno RF (2006) Refuge from cannibalism in complex-structured habitats: implications for the accumulation of invertebrate predators. Ecol Entomol 31:575–581

Liu YQ, Shi ZH, Zalucki MP, Liu SS (2014) Conservation biological control and IPM practices in Brassica vegetable crops in China. Biol Control 68:37–46

Luff ML (1987) Biology of polyphagous ground beetles in agriculture. Agric Zool Rev 2:237–278

Miranda F, Bylund H, Grönberg L, Larsson L, Björkman C (2011) Population density and killing capacity by predators of eggs and larvae of the diamondback moth in Nicaragua. Environ Entomol 40:333–341

Miyashita K (1968) Quantitative feeding biology of Lycosa T-insignita Boes. et Str. (Araneae: Lycosidae). Bull Nat Inst Agric Sci Ser C 22:329–344

Miyashita K (1969) Seasonal changes of population density and some characteristics of overwintering nymph of Lycosa T-insignita Boes. et Str. (Araneae: Lycosidae). Appl Entomol Zool 4:1–8

Morishita M (1998) Tolerable larval density of diamondback moth (Plutella xylostella L.) in cabbage. Proc Kansai Pl Prot 40:77–81

Nakasuji F, Yamanaka H, Kiritani K (1973) The disturbing effect of micryphantid spiders on the larval aggregation of the tobacco cutworm, Spodoptera litura (Lepidoptera: Noctuidae). Kontyû 41:220–227

Nemoto H (1986) Factors inducing resurgence in the diamondback moth after application of methomyl. In: Talekar NS, Griggs TD (eds) Diamondback moth management. Proceedings of the first international workshop, 11–15 March, 1985. AVRDC, Tainan, pp 387–394

Nentwig W (1987) III The prey of spiders. In: Nentwig W (ed) Ecophysiology of spiders. Springer, Berlin, pp 249–263

Okada T (2003) Pieris rapae (Linnaeus), Autographa nigrisigna (Walker), Mamestra brassicae (Linnaeus). In: Umeya K, Okada T (eds) Agricultural insect pests in Japan. Zennokyo, Tokyo, pp 195–200

Ozaki Y, Ozaki K, Okamoto H (1977) Seasonal prevalence of predators, spiders and Orius sauteri, preying on common cutworm larvae in a Chinese-cabbage field. Proc Assoc Pl Prot Shikoku 12:75–84 (in Japanese)

Rickers S, Scheu S (2005) Cannibalism in Pardosa palustris (Araneae, Lycosidae): effects of alternative prey, habitat structure, and density. Basic Appl Ecol 6:471–478

Riechert SE (1998) The role of spiders and their conservation in the agroecosystem. In: Pickett CH, Bugg RL (eds) Enhancing biological control: habitat management to promote natural enemies of agricultural pests. University of California Press, Berkeley, pp 211–237

Riechert SE, Bishop L (1990) Prey control by an assemblage of generalist predators: spiders in garden test systems. Ecology 71:1441–1450

Sasaba T, Kiritani K (1974) Simulations of the population changes of Lycosa in the paddy field (Lycosidae: Lycosa). Appl Entomol Zool 9:273–275

Schmidt MH, Thewes U, Thies C, Tscharntke T (2004) Aphid suppression by natural enemies in mulched cereals. Entomol Exp Appl 113:87–93

Senior LJ, Healey MA (2011) Predators in early season brassica crops in South East Queensland (Australia). In: Srinivasan R, Shelton AM, Collins HL (eds) Proceedings of the sixth international workshop on management of the diamondback moth and other crucifer insect pests, 21–25 March, 2011. AVRDC, Tainan, pp 114–122

Snyder WE, Wise DH (1999) Predator interference and the establishment of generalist predator populations for biocontrol. Biol Control 15:283–292

Snyder WE, Wise DH (2001) Contrasting trophic cascades generated by a community of generalist predators. Ecology 82:1571–1583

StatSoft Inc (1999) User's manual, 2nd edn. StatSoft Japan, Tokyo (in Japanese)

Suenaga H, Hamamura T (1998) Laboratory evaluation of carabid beetles (Coleoptera: Carabidae) as predators of diamondback moth (Lepidoptera: Plutellidae) larvae. Environ Entomol 27:767–772

Suenaga H, Hamamura T (2001) Occurrence of carabid beetles (Coleoptera: Carabidae) in cabbage fields and their possible impact on lepidopteran pests. Appl Entomol Zool 36:151–160

Sunderland K, Samu F (2000) Effects of agricultural diversification on the abundance, distribution, and pest control potential of spiders: a review. Entomol Exp Appl 95:1–13

Suzuki Y, Okuma C (1975) Spiders inhabiting the cabbage field. Acta Arachnol 26:58–63 (in Japanese with English summary)

Symondson WOC, Sunderland KD, Greenstone MH (2002) Can generalist predators be effective biocontrol agents? Annu Rev Entomol 47:561–594

Toft S (2005) The quality of aphids as food for generalist predators: implications for natural control of aphids. Eur J Entomol 102:371–383

Vichitbandha P, Wise DH (2002) A field experiment on the effectiveness of spiders and carabid beetles as biocontrol agents in soybean. Agric For Entomol 4:31–38

von Ende CN (2001) Repeated-measures analysis: growth and other time-dependent measures. In: Scheiner SM, Gurevitch J (eds) Design and analysis of ecological experiments, 2nd edn. Oxford Univ Press, Oxford, pp 134–157

Welch KD, Pfannenstiel RS, Harwood JD (2012) The role of generalist predators in terrestrial food webs: lessons for agricultural pest management. In: Gurr GM, Wratten SD, Snyder WE, Read DMY (eds) Biodiversity and insect pests: key issues for sustainable management. Wiley, Oxford, pp 41–56

Wise DH (1993) Spiders in ecological webs. Cambridge Univ Press, Cambridge

Yamada H, Yamaguchi T (1985) Notes on the parasites and predators attacking the diamondback moth, Plutella xylostella (L.). Jpn J Appl Entomol Zool 29:170–173 (in Japanese with English summary)

Yamamura K (1999) Transformation using (x + 0.5) to stabilize the variance of populations. Res Popul Ecol 41:229–234

Yasudomi N, Wakisaka S, Murai K, Umetsu N, Okuma C (1993) Spiders inhabiting the cabbage field and quantitative of predation by spiders on diamondback moth larvae. Proc Assoc Pl Prot Shikoku 28:89–96 (in Japanese with English summary)
Acknowledgments
We thank H. Tanaka of Sonoda Women's College for identifying the spider species. We also thank K. Yamamura of the National Institute for Agro-Environmental Sciences (NIAES) for useful advice on statistical analyses. Thanks are also due to K. Tanaka of NIAES and two anonymous reviewers for useful comments and suggestions on the early version of this manuscript. Additional appreciation is expressed to K. Bessho of the National Research Institute of Vegetables, Ornamental Plants and Tea (currently National Agriculture and Food Research Organization (NARO), Institute of Vegetable and Tea Science) for helpful assistance in preparing experiments.
Additional information
National Research Institute of Vegetables, Ornamental Plants and Tea is currently National Agriculture and Food Research Organization (NARO), Institute of Vegetable and Tea Science.
About this article
Cite this article
Suenaga, H., Hamamura, T. Effects of manipulated density of the wolf spider, Pardosa astrigera (Araneae: Lycosidae), on pest populations and cabbage yield: a field enclosure experiment. Appl Entomol Zool 50, 89–97 (2015). https://doi.org/10.1007/s13355-014-0310-y
Received:

Accepted:

Published:

Issue Date:
Keywords
Wolf spiders

Plutella xylostella

Straw mulch

Conservation biological control

Generalist predators