Abstract
Maggot debridement therapy using live Lucilia sericata (Meigen) larvae is an efficient and cost-effective way to treat chronic wounds. The recent increase in studies to assess the antibacterial properties of L. sericata has created a need for a simple, low-cost, and comprehensible rearing and investigative method for researchers with little or no entomological experience. This paper describes and evaluates a reproducible protocol for sterilising and rearing blowfly larvae utilising two sterile artificial diets (blood–yeast agar and pre-prepared blood agar plates) that is suitable for directly investigating the effect of larvae on microbial growth. Using Lucilia sericata as a model, the results show that larval growth on the pre-prepared blood agar diet is detrimental to larval growth and survival, whereas larval growth and survival on the blood–yeast agar diet are comparable to those of larvae raised on porcine liver. This diet is proposed as a standard for blowfly and bacteria interaction studies investigating clinical microbial strains. Developmental data are provided for L. sericata larvae raised on both sterile and nonsterile diets so that researchers can determine the effect of treatment based on the length of time for larvae to reach the required life stage at 25 ± 2 °C. Information on larval ageing (instars at an average of 1, 2, 3 and 4 days), oviposition times (4–5 days after adult emergence) and adult longevity on the diets (102–116 days) is also given.
Access options
Buy single article
Instant access to the full article PDF.
US$ 39.95
Tax calculation will be finalised during checkout.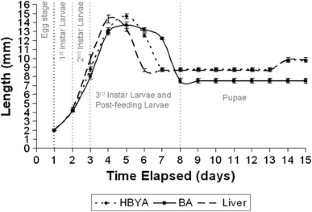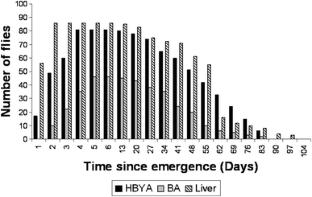 References
Altincicek B, Vilcinskas A (2009) Septic injury-inducible genes in medicinal maggots of the green blowfly Lucilia sericata. Insect Mol Biol 18(1):119–125

Andersen FS (1961) Effect of density on animal sex ratio. Oikos 12(1):1–16

Andersen AS, Sandvang D, Schnorr KM, Kruse T, Neve S, Joergensen B, Karlsmark T, Krogfelt KA (2010) A novel approach to the antimicrobial activity of maggot debridement therapy. J Antimicrob Chemother 65(8):1646–1654

Barlow JS, Kollberg S (1971) An improved chemically defined diet for Lucilia sericata (Diptera: Calliphoridae). Can Entomol 103:1341–1345

Barnes KM, Gennard DE (2011) The effect of bacterially dense environments on the development and immune defences of the blowfly Lucilia sericata. Physiol Entomol 36:96–100

Bexfield A, Nigama Y, Thomas S, Ratcliffe NA (2004) Detection and partial characterisation of two antibacterial factors from the excretions/secretions of the medicinal maggot Lucilia sericata and their activity against methicillin-resistant Staphylococcus aureus (MRSA). Microbes Infect 6:1297–1304

Bexfield A, Bond AE, Dudley E, Newton RP, Nigam Y, Ratcliffe NA (2008) Antimicrobial composition and a method of controlling contamination and infection using said composition. UK Pat WO/2008/087416

Bexfield A, Bond AE, Morgan C, Wagstaff J, Newton RP, Ratcliffe NA, Dudley E, Nigam Y (2010) Amino acid derivative from Lucilia sericata excretions/secretions may contribute to the beneficial effects of maggot therapy via increased angiogenesis. Br J Dermatol 162(3):554–562

Bowling FL, Salgami EV, Boulton AJM (2007) Larval therapy: a novel treatment in eliminating methicillin-resistant Staphylococcus aureus from diabetic foot ulcers. Diabetes Care 30(2):370–371

Čeřovský V, Ždárek J, Fučík V, Monincová L, Voburka Z, Bém R (2010) Lucifensin, the long-sought antimicrobial factor of medicinal maggots of the blowfly Lucilia sericata. Cell Mol Life Sci 67:455–466

Corwcroft NS, Catchpole M (2002) Mortality from methicillin resistant Staphylococcus aureus in England and Wales: analysis of death certificates. BMJ 325:1390–1391

Daeschlein G, Mumcuoglu KY, Assadian O, Hoffmeister B, Kramer A (2007) In vitro antibacterial activity of Lucilia sericata maggot secretions. Skin Pharmacol Physiol 20:112–115

Daniels S, Simkiss K, Smith RH (1991) A simple larval diet for population studies on the blowfly Lucilia sericata (Diptera: Calliphoridae). Med Vet Entomol 5:283–292

Diver J, Thomas S (2000) Maggots can benefit patients with MRSA. Pract Nurse 2:101–104

Dumville JC, Worthy G, Bland JM, Cullum N, Dowson C, Iglesias C, Mitchell JL, Nelson EA, Soares MO, Torgerson DJ (2009) Larval therapy for leg ulcers (VenUS II): randomised controlled trial. BMJ 338:b773

Grassberger G, Reiter C (2001) Effect of temperature on Lucilia sericata (Diptera: Calliphoridae) development with special reference to the isomegalen- and isomorphen-diagram. Forensic Sci Int 120:32–36

Hobson RP (1932) Studies on the nutrition of blowfly larvae. II. Role of the intestinal flora in digestion. J Exp Biol 9(2):128–138

Honěk A (1993) Intraspecific variation in body size and fecundity in insects: a general relationship. Oikos 66:483–492

Huberman L, Gollop N, Mumcuoglu KY, Breuer E, Bhusare SR, Shai Y, Galun R (2007a) Antibacterial substances of low molecular weight isolated from the blowfly, Lucilia sericata. Med Vet Entomol 21(2):127–131

Huberman L, Gollop N, Mumcuoglu KY, Block C, Galun R (2007b) Antibacterial properties of whole body extracts and haemolymph of Lucilia sericata maggots. J Wound Care 16(3):123–127

Jaklic D, Lapanje A, Zupancic K, Smrke D, Gunde-Cimerman N (2008) Selective antimicrobial activity of maggots against pathogenic bacteria. J Med Microbiol 57:617–625

Kamal AS (1958) Comparative study of thirteen species of sarcosaprophagous Calliphoridae and Sarcophagidae (Diptera). 1. Bionomics. Ann Entomol Soc Am 51(3):261–271

Kawabata T, Mitsui H, Yokota K, Ishino K, Oguma K, Sano S (2010) Induction of antibacterial activity in larvae of the blowfly Lucilia sericata by an infected environment. Med Vet Entomol 24:375–381

Kerridge A, Lappin-Scott H, Stevens JR (2005) Antibacterial properties of larval secretions of the blowfly, Lucilia sericata. Med Vet Entomol 19:333–337

Lamagni TL, Potz N, Powell D, Pebody R, Wilson J, Duckworth G (2011) Mortality in patients with meticillin-resistant Staphylococcus aureus bacteraemia, England 2004–2005. J Hosp Infect 77:16–20

Lerch K, Linde HJ, Lehn N, Grifka J (2003) Bacteria ingestion by blowfly larvae: an in vitro study. Dermatology 207:362–366

Mandeville JD (1988) Rearing Phaenicia sericata (Diptera: Calliphoridae) on dry cat food with CSMA. J Med Entomol 25:197–198

Margolin L, Gialanella P (2010) Assessment of the antimicrobial properties of maggots. Int Wound J 7(3):202–204

Michelbacher AE, Hoskins WM, Herms WB (1932) The nutrition of flesh fly larvae, Lucilia sericata (Meig.). I The adequacy of sterile synthetic diets. J Exp Zool 64:109–128

Mumcuoglu KY, Ingber A, Gilead L, Stessman J, Friedmann R, Schulman H, Bichucher H, Ioffe-Uspensky I, Miller J, Galun R, Raz I (1999) Maggot therapy for the treatment of intractable wounds. Int J Dermatol 38(8):623–627

Murdoch FF, Smart TL (1931) A method for producing sterile blowfly larvae for surgical use. US Nav Med Bull 29:406–417

Nigam Y, Bexfield A, Thomas S, Ratcliffe NA (2006) Maggot therapy: the science and implication for CAM. Part 1: history and bacterial resistance. ECAM Advance Access. Oxford University Press, New York, pp 1–5

Russell FM, Biribo SSN, Selvaraj G, Oppedisano F, Warren S, Seduadua A, Mulholland EK, Carapetis JR (2006) As a bacterial culture medium, citrated sheep blood agar is a practical alternative to citrated human blood agar in laboratories of developing countries. J Clin Microbiol 44(9):3346–3351

Sherman RA, My-Tien Tran J (1995) A simple, sterile food source for rearing the larvae of Lucilia sericata (Diptera: Calliphoridae). Med Vet Entomol 9:393–398

Sherman RA, Wyle FA (1996) Low-cost, low-maintenance rearing of maggot in hospitals, clinics and schools. Am J Trop Med Hyg 54(1):38–41

Tachibana SI, Numata H (2001) An artificial diet for blowfly larvae, Lucilia sericata (Meigen) (Diptera: Calliphoridae). Appl Entomol Zool 36(4):521–523

Telford G, Brown AP, Kind A, English JSC, Pritchard DI (2011) Maggot chymotrypsin I from Lucilia sericata is resistant to endogenous wound protease inhibitors. Br J Dermatol 164(1):192–196

Tenquist JD (1971) Rearing of Lucilia sericata (Diptera: Calliphoridae) on a modified Musca domestica medium. N Z Entomol 5:30–31

Thomas DB (1993) Fecundity and oviposition in laboratory colonies of the screwworm fly (Diptera: Calliphoridae). J Econ Entomol 86(5):1464–1472

Thomas S (2006) Cost of managing chronic wounds in the UK, with particular emphasis on maggot debridement therapy. J Wound Care 15(10):465–469

Thomas S, Jones M (2001) Wound debridement: evaluating the costs. Nurs Stand 15:59–61

Vogt WG, Woodburn TL, Ellem BA, van Gerwen ACM, Barton Browne L, Wardhaugh KG (1985) The relationship between fecundity and oocyte resorption in field populations of Lucilia cuprina. Entomol Exp Appl 39(1):91–99

Wall R (1993) The reproductive output of the blowfly Lucilia sericata. J Insect Physiol 39(9):743–750

Wayman J, Nirojogi V, Walker A, Sowinski A, Walker MA (2000) The cost effectiveness of larval therapy in venous ulcers. J Tissue Viability 10:91–94 (erratum in: J Tissue Viability 11:51, 2001)

Webber LG (1955) The relationship between larval and adult size of the Australian sheep blowfly Lucilia cuprina (Wied.). Aust J Zool 3(3):346–353

Wolff H, Hansson C (2005) Rearing larvae of Lucilia sericata for chronic ulcer treatment—an improved method. Acta Derm Venereol 85:126–131

World Health Organisation (2012) The evolving threat of antimicrobial resistance: options for action. http://whqlibdoc.who.int/publications/2012/9789241503181_eng.pdf. Accessed 16 May 2012

Zhang B, Numata H, Mitsui H, Goto SG (2009) A simple, heat-sterilizable artificial diet excluding animal-derived ingredients for adult blowfly, Lucilia sericata. Med Vet Entomol 23(4):443–447
Acknowledgments
The authors would like to thank Dr Mark Bulling for proofreading the article and for his assistance with the statistical analyses. This research was conducted with money received from The Health Protection Agency.
About this article
Cite this article
Barnes, K.M., Gennard, D.E. Rearing bacteria and maggots concurrently: a protocol using Lucilia sericata (Diptera: Calliphoridae) as a model species. Appl Entomol Zool 48, 247–253 (2013). https://doi.org/10.1007/s13355-013-0181-7
Received:

Accepted:

Published:

Issue Date:
Keywords
Artificial diet

Antibacterial

Insect

Maggot debridement therapy

Wounds