Abstract
The goal of this research was to develop a new genetic database of simple sequence repetition (SSR) primers for faba and classify them according to their target genes and respective biological processes. Approximately 75,605 and 148,196 previously published genomic and transcriptomic faba sequences, respectively, have been used to detect possible SSRs. The numbers of identified SSRs from each dataset were 25,502 and 12,319, respectively. The distribution of different repeat classes indicated that trinucleotides represent the largest number of repeat counts, followed by dinucleotides. The extracted genic SSR sequences were used to design 1091 polymerase chain reaction (PCR) primers, of which only 238 (21.8%) primers target genomic sequences and the other 853 PCR primers targeted transcriptomic sequences. The annotation of gene-targeted SSRs showed that approximately 897 genes were targeted by our SSR primers. Approximately 1890 gene ontology (GO) identification codes have been obtained. The GO keywords were distributed among distinct molecular cell features. The highest redundancies involved 554 technical words, 196 domains, and 160 molecular feature phrases. These GO codes belonged to the general level of GO and included molecular function, cellular component, and biological process (544, 670, and 676 GOs, respectively). Twenty-seven SSR PCR primers were synthesized to 12 Egyptian faba bean genotypes. Approximately 11 SSR provided one to two PCR bands, whereas other SSRs provided only one sharp band with polymorphic band size. There were 13 polymorphic primers. The polymorphism information content was 0.3, which implied moderate informativeness.
Access options
Buy single article
Instant access to the full article PDF.
USD 39.95
Price excludes VAT (USA)
Tax calculation will be finalised during checkout.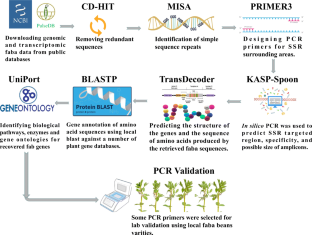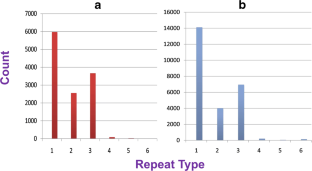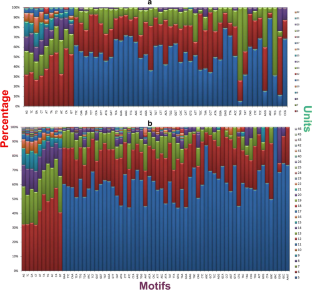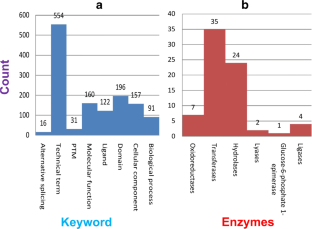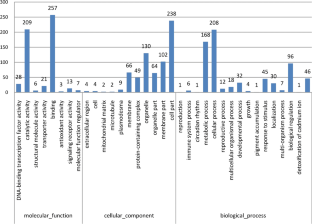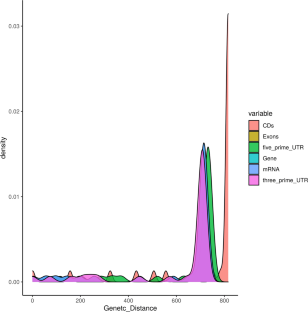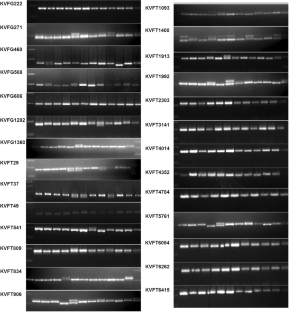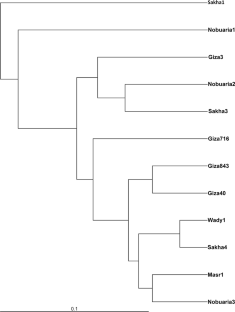 Data availability
All relevant data are within the manuscript and its Supporting Information files. The data are also uploaded to Zenodo and publicly accessible via the following URL: https://doi.org/10.5281/zenodo.3629145.
References
Abuzayed MA, Goktay M, Allmer J, Doganlar S, Frary A (2017 Feb 1) Development of genomic simple sequence repeat markers in faba bean by next-generation sequencing. Plant Mol Biol Report 35(1):61–71

Alghamdi SS, Khan MA, Ammar MH, Sun Q, Huang L, Migdadi HM, El-Harty EH, Al-Faifi SA (2018 Dec) Characterization of drought stress-responsive root transcriptome of faba bean (Vicia faba L.) using RNA sequencing. 3. Biotech. 8(12):1–9

Alsamman AM (2019) The art of bioinformatics learning in our Arabic World. Highlights in BioScience. https://doi.org/10.36462/H.BioSci.20193

Altschul SF et al (1990) Basic local alignment search tool. J Mol Biol 215(3):403–410

Amer A, EL Azab K, Ismail A, El-Shazly M (2018 Dec 1) Saline soil management to improve its fertility and productivity by some agricultural practices application. Journal of Soil Sciences and Agricultural Engineering 9(12):743–751

Arun-Chinnappa KS, McCurdy DW (2015) De novo assembly of a genome-wide transcriptome map of Vicia faba (L.) for transfer cell research. Front Plant Sci 6:217

Asadi A, Ebrahimi A, Rashidi-Monfared S, Basiri M, Akbari-Afjani J (2020 Feb 1) Comprehensive functional analysis and mapping of SSR markers in the chickpea genome (Cicer arietinum L.). Computational biology and chemistry 84:107169

Awan Z, Ali A, Iqbal A (2019 May 5) Plant molecular biology databases. Highlights in BioScience. 2:1–7

Biswas MK, Bagchi M, Nath UK, Biswas D, Natarajan S, Jesse DM, Park JI, Nou IS (2020 Oct 29) Transcriptome wide SSR discovery cross-taxa transferability and development of marker database for studying genetic diversity population structure of Lilium species. Sci Rep 10(1):1–3

Botstein D, White RL, Skolnick M, Davis RW (1980) Construction of a genetic linkage map in man using restriction fragment length polymorphisms. Am J Hum Genet 32(3):314

Chen J, Li R, Xia Y, Bai G, Guo P, Wang Z, Zhang H, Siddique KH (2017 Sep 13) Development of EST-SSR markers in flowering Chinese cabbage (Brassica campestris L. ssp. chinensis var. utilis Tsen et Lee) based on de novo transcriptomic assemblies. PloS one 12(9):e0184736

Dubey H, Rawal HC, Rohilla M, Lama U, Kumar PM, Bandyopadhyay T, Gogoi M, Singh NK, Mondal TK (2020 Jan) TeaMiD: a comprehensive database of simple sequence repeat markers of tea. Database. 1:2020

Duc G, Bao S, Baum M, Redden B,Sadiki M, Suso MJ, Vishniakova M, Zong X (2010) Diversity maintenance and use of Vicia faba L. genetic resources. Field Crops Res 115(3):270–278

Duhan N, Meshram M, Loaiza CD, Kaundal R (2020) citSATdb: genome-wide simple sequence repeat (SSR) marker database of Citrus species for germplasm characterization and crop improvement. Genes 11(12):1486

El-Esawi MA (2017 Nov 1) SSR analysis of genetic diversity and structure of the germplasm of faba bean (Vicia faba L.). Comptes Rendus Biologies 340(11–12):474–480

El-Rodeny W, Kimura M, Hirakawa H, Sabah A, Shirasawa K, Sato S, Tabata S, Sasamoto S, Watanabe A, Kawashima K, Kato M (2014) Development of EST-SSR markers and construction of a linkage map in faba bean (Vicia faba). Breed Sci 64(3):252–263

FAO Faostat (2021) "Crops", Food and Agriculture Organization of the United Nations. Available online at http://www.fao.org/faostat

Faraji S, Rasouli SH, Kazemitabar SK (2018 Dec) Genome-wide exploration of C2H2 zinc finger family in durum wheat (Triticum turgidum ssp. Durum): insights into the roles in biological processes especially stress response. Biometals. 31(6):1019–1042

Gnanasambandam A et al (2012) Impact of molecular technologies on faba bean (Vicia Faba L.) breeding strategies. Agronomy 2(3):132–166

Hass B. TransDecoder (find coding regions within transcripts). http://transdecoder.github.io/. 2015

Jensen ES, Peoples MB, Hauggaard-Nielsen H (2010) Faba bean in cropping systems. Field Crops Res 115(3):203–216

Kaur S, Pembleton LW, Cogan NO, Savin KW, Leonforte T, Paull J, Materne M, Forster JW (2012 Dec) Transcriptome sequencing of field pea and faba bean for discovery and validation of SSR genetic markers. BMC Genomics 13(1):1–2

Kaur S, Cogan NOI, Forster JW, Paull JG (2014) Assessment of genetic diversity in faba bean based on single nucleotide polymorphism. Diversity 6(1):88–101

Li GQ, Song LX, Jin CQ, Li M, Gong SP, Wang YF (2019 Jun) Genome survey and SSR analysis of Apocynum venetum. Biosci Rep 28:39(6)

Li W (2015) Fast program for clustering and comparing large sets of protein or nucleotide sequences. In: Encyclopedia of metagenomics. Springer, pp 173–177

Liu H, Wang YX, Li H, Teng RM, Wang Y, Zhuang J (2019 Aug 1) Genome-wide identification and expression analysis of calcineurin B-like protein and calcineurin B-like protein-interacting protein kinase family genes in tea plant. DNA Cell Biol 38(8):824–839

Liu K, Muse SV (2005) PowerMarker: an integrated analysis environment for genetic marker analysis. Bioinformatics 21(9):2128–2129

Mahmoud AF, Abd El-Fatah BE (2020 Feb) Genetic diversity studies and identification of molecular and biochemical markers associated with fusarium wilt resistance in cultivated faba bean (Vicia faba). The plant pathology journal 36(1):11

Marondedze C (2020 Sep 30) The increasing diversity and complexity of the RNA-binding protein repertoire in plants. Proc R Soc B 287(1935):20201397

Mason AS (2015) SSR genotyping. In: Plant genotyping. Humana Press, New York, NY, pp 77–89

Mindrebo JT, Nartey CM, Seto Y, Burkart MD, Noel JP (2016 Dec 1) Unveiling the functional diversity of the alpha/beta hydrolase superfamily in the plant kingdom. Curr Opin Struct Biol 41:233–246

Mokhtar MM, Adawy SS, El-Assal SE, Hussein EH (2016 Jul 19) Genic and intergenic SSR database generation, SNPs determination and pathway annotations, in date palm (Phoenix dactylifera L.). PLOS one 11(7):e0159268

Mohamed RK, El-Eraky MB, Kandeal MS, El-Sawy MA (2019 Sep 1) An economic study for the important factor on the gap of faba beans in Egypt. Arab Universities Journal of Agricultural Sciences 27(3):1761–1770

Morad MM, Atia MAM (2018) SSRome: an integrated database and pipelines for exploring microsatellites in all organisms. Nucleic Acids Res 47(D1):D244–D252

Nahas LD, Alsamman AM, Hamwieh A, Al-Husein N, Lababidi G (2020 May 11) Characterization of EST-SSR markers in bread wheat EST related to drought tolerance and functional analysis of SSR-containing unigenes. Highlights in BioScience 3:1–2

Noman M, Aysha J, Ketehouli T, Yang J, Du L, Wang F, Li H (2021 Jan 1) Calmodulin binding transcription activators: an interplay between calcium signalling and plant stress tolerance. J Plant Physiol 256:153327

Oliveira HR et al (2016) Genetic diversity and population structure in Vicia baba L. landraces and wild related species assessed by nuclear SSRs. PloS one 11(5):e0154801

Pan G, Chen A, Li J, Huang S, Tang H, Chang L, Zhao L, Li D (2020 Apr) Genome-wide development of simple sequence repeats database for flax (Linum usitatissimum L.) and its use for genetic diversity assessment. Genet Resour Crop Evol 67(4):865–874

Portis E, Lanteri S, Barchi L, Portis F, Valente L, Toppino L, Rotino GL, Acquadro A (2018 Mar 28) Comprehensive characterization of simple sequence repeats in eggplant (Solanum melongena L.) genome and construction of a web resource. Frontiers in plant science 9:401

Redden B (2018) Efficient and sustainable production of faba bean. Burleigh Dodds Science Publishing, Cambridge

Rozen, Steve, and Helen Skaletsky. 2000. "Primer3 on the WWW for general users and for biologist programmers." In Bioinformatics Methods and Protocols, Springer, 365–386

Tan C, Chapman B, Wang P, Zhang Q, Zhou G, Zhang XQ, Barrero RA, Bellgard MI, Li C (2020 Jan) BarleyVarDB: a database of barley genomic variation. Database. 1:2020

Tufan H, Erdoğan C (2017) Genetic diversity in some faba bean (Vicia faba L.) genotypes assessed by simple sequence repeats. Biotechnology & Biotechnological Equipment 31(1):29–35

Tulsani NJ, Hamid R, Jacob F, Umretiya NG, Nandha AK, Tomar RS, Golakiya BA (2020) Transcriptome landscaping for gene mining and SSR marker development in Coriander (Coriandrum sativum L.). Genomics 112(2):1545–1553

Wang L, Gong X, Jin L, Li H, Lu J, Duan J, Ma L (2019 Aug) Development and validation of EST-SSR markers of Magnolia wufengensis using de novo transcriptome sequencing. Trees. 33(4):1213–1223

Wang S, Wang B, Liu J, Ren J, Huang X, Zhou G, Wang A (2017 Nov 27) Novel polymorphic EST-based microsatellite markers characterized in lettuce (Lactuca sativa). Biologia. 72(11):1300–1305

Wang X, Yang S, Chen Y, Zhang S, Zhao Q, Li M, Gao Y, Yang L, Bennetzen JL (2018) Comparative genome-wide characterization leading to simple sequence repeat marker development for Nicotiana. BMC Genomics. https://doi.org/10.1186/s12864-018-4878-4

Wu Q, Zang F, Xie X, Ma Y, Zheng Y, Zang D (2020 Oct 1) Full-length transcriptome sequencing analysis and development of EST-SSR markers for the endangered species Populus wulianensis. Sci Rep 10(1):1–1

Yang T et al (2012) High-throughput novel microsatellite marker of faba bean via next generation sequencing. BMC Genomics 13(1):602

Zheng Y, Zhang Z, Wan Y, Tian J, Xie W (2020 Oct) Development of EST-SSR markers linked to flowering candidate genes in Elymus sibiricus L. Based on RNA Sequencing Plants 9(10):1371
Ethics declarations
Ethics approval
Not applicable.
Consent to participate
All authors voluntarily agree to participate in this research study.
Consent for publication
All authors agree to publish this research study in the Journal of Applied Genetics.
Competing interests
The authors declare no competing interests.
Additional information
Communicated by: Izabela Pawłowicz
Publisher's note
Springer Nature remains neutral with regard to jurisdictional claims in published maps and institutional affiliations.
Supplementary information
About this article
Cite this article
Khalifa, K.A., Ibrahim, S.D., El-Garhy, H.A.S. et al. Developing a new genic SSR primer database in faba bean (Vicia faba L.). J Appl Genetics 62, 373–387 (2021). https://doi.org/10.1007/s13353-021-00626-3
Received:

Revised:

Accepted:

Published:

Issue Date:

DOI: https://doi.org/10.1007/s13353-021-00626-3
Keywords