Abstract
According to the World Health Organization, bacterium Acinetobacter baumannii is the first on the critical priority list of pathogens in urgent need for new antibiotics. The increasing resistance of A. baumannii to the last-line treatment options, including carbapenems, is a global problem. We report the molecular epidemiology of 12 carbapenem-resistant clinical isolates of A. baumannii collected from hospitalised patients in three neighbouring countries in Southeast Europe: Croatia, Serbia, and Bosnia and Herzegovina, giving an insight into the molecular characterisation and evolutionary history of the acquisition of resistance genes. Besides the blaOXA-23 gene, the endemic presence of OXA-72 oxacillinase of the same origin for more than a decade as the leading mechanism of carbapenem resistance in Southeast Europe was confirmed. To the best of our knowledge, this is the first paper that investigates and analyses the phylogenetic association of the most common mechanisms of resistance to carbapenems in clinical isolates of A. baumannii originating from three neighbouring countries in Southeast Europe.
Access options
Buy single article
Instant access to the full article PDF.
US$ 39.95
Tax calculation will be finalised during checkout.
Subscribe to journal
Immediate online access to all issues from 2019. Subscription will auto renew annually.
US$ 79
Tax calculation will be finalised during checkout.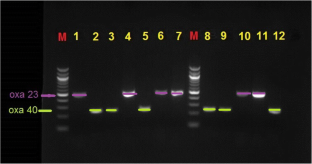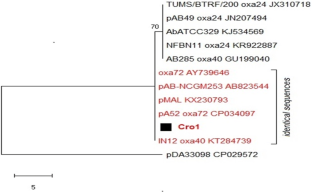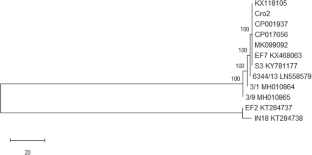 References
Croatian Academy of Medical Science (CAMS) Antibiotic resistance in Croatia, 2018. Available from: www.hdkm.hr

Chen HY, Yang YS, Hsu WJ, Chou YC, Huang LS et al (2018) Emergence of carbapenem-resistant Acinetobacter nosocomialis strain ST410 harbouring plasmid-borne blaOXA-72 gene in Taiwan. Clin Microbiol Infect 24:1023–1024

Col A, Dedeic-Ljubovic A, Salimovic-Besic I, Hukic M (2016) Antibiotic resistance profiles and genetic similarities within a new generation of carbapenem-resistant Acinetobacter calcoaceticus-A. baumannii complex resistotypes in Bosnia and Herzegovina. Microb Drug Resist 22:655–661

Da Silva GJ, Quintera S, Bertolo E, Sousa JC, Gallego L et al (2004) Portugese Resistance Study Group. Long-term dissemination of an OXA-40 carbapenemase-producing Acinetobacter baumannii clone in the Iberian Peninsula. J Antimicrob Chemother 54:255–258

Dedeic-Ljubovic A, Granov Đ, Hukic M (2015) Emergence of extensive drug-resistant (XDR) Acinetobacter baumannii in the Clinical Center University of Sarajevo, Bosnia and Herzegovina. Med Glas (Zenica) 12:169–176

Djahmi N, Dunyach-Remy C, Pantel A, Dekhil M, Sotto A et al (2014) Epidemiology of carbapenemase-producing Enterobacteriaceae and Acinetobacter baumannii in Mediterranean countries. Biomed Res Int 2014:305784

Dortet L, Bonnin RA, Bernabeu S, Escault L, Vittecoq D et al (2016) First occurrence of OXA-72-producing Acinetobacter baumannii in Serbia. Antimicrob Agents Chemother 23:5724–5730

EUCAST (2017) European Committee on Antimicrobial Susceptibility Testing Breakpoint tables for interpretation of MICs and zone diameters Version 7.1. Available from: http://www.eucast.org/2017

Ewers C, Klotz P, Scheufen S, Leidner U, Göttig S, Semmler T (2016) Genome sequence of OXA-23 producing Acinetobacter baumannii IHIT7853, a carbapenem-resistant strain from a cat belonging to international clone IC1. Gut Pathog 8:37

Goic-Barisic I (2018a) Epidemiology and resistance of clinical isolates of Acinetobacter baumannii in Croatia over a ten-year period–what has changed? Medicina fluminensis 54:268–273

Goic-Barisic I (2018b) Comment and correct to the paper "Arrival of carbapenem-hydrolyzing-oxacillinases in Acinetobacter baumannii in Bosnia and Herzegovina". Infect Genet Evol 61:207

Goic-Barisic I, Kaliterna V (2011) Multidrug-resistant Acinetobacter baumannii–the pathogen with no borders? Med Glas (Zenica) 8:312–313

Goic-Barisic I, Towner KJ, Kovacic A, Sisko-Kraljevic K, Tonkic M et al (2011) Outbreak in Croatia caused by a new carbapenem-resistant clone of Acinetobacter baumannii producing OXA-72 carbapenemase. J Hosp Infect 77:368–369

Goic-Barisic I, Hrenovic J, Kovacic A, Seruga Musić M (2016) Emergence of oxacillinases in environmental carbapenem-resistant Acinetobacter baumannii associated with clinical isolates. Microb Drug Resist 22:559–563

Goic-Barisic I, Seruga Music M, Kovacic A, Tonkic M, Hrenovic J (2017) Pan drug-resistant environmental isolate of Acinetobacter baumannii from Croatia. Microb Drug Resist 23:494–496

Higgins PG, Lehmann M, Seifert H (2010) Inclusion of OXA-143 primers in a multiplex polymerase chain reaction (PCR) for genes encoding prevalent OXA carbapenemases in Acinetobacter spp. Int J Antimicrob Agents 35:305–314

Higgins PG, Perez-Llarena FJ, Zander E, Fernandez A, Bou G, Seifert H (2013) OXA-235, a novel class D β-lactamase involved in resistance to carbapenems in Acinetobacter baumannii. Antimicrob Agents Chemother 57:2121–2126

Hrenovic J, Durn G, Music MS, Dekic S, Troskot-Corbic T, Skoric D (2017) Extensively and multi drug-resistant Acinetobacter baumannii recovered from technosol at a dump site in Croatia. Sci Total Environ 607-608:1049–1055

Jia H, Sun Q, Ruan Z, Xie X (2019) Characterization of a small plasmid carrying the carbapenem resistance gene bla OXA-72 from community-acquired Acinetobacter baumannii sequence type 880 in China. Infect Drug Resist 12:1545–1553

Kaufman ME (1998) Pulsed-Field Gel Electrophoresis. In: Woodfor N and Johnsons A, eds. Molecular bacteriology. Protocols and clinical applications, 1st edn. New York: Humana Press Inc. Totowa 33-51.

Kovacic A, Seruga Music M, Dekic S, Tonkic M, Novak A et al (2017) Transmission and survival of carbapenem-resistant Acinetobacter baumannii outside hospital setting. Int. Microbiol 20:165–169

Lu PL, Doumith M, Livermore DM, Chen TP, Woodford N (2009) Diversity of carbapenem resistance mechanisms in Acinetobacter baumannii from Taiwan hospital: spread of plasmid-borne OXA-72 carbapenemase. J Antimicrob Chemother 63:641–647

Ly TDA, Hadjadj L, Hoang VT, Louni M, Dao TL et al (2019) Low prevalence of resistance genes in sheltered homeless population in Marseille, France, 2014-2018. Infect Drug Resist 12:1139–1151

Novovic K, Mihajlovic S, Vasiljevic Z, Filipcic B, Begovic J, Jovcic B (2015) Carbapenem-resistant Acinetobacter baumannii from Serbia: revision of CarO classification. PLoS One 10:e0122793

Paton R, Miles RS, Hood J, Amyes SG, Miles RS, Amyes SG (1993) ARI 1: beta-lactamase-mediated imipenem resistance in Acinetobacter baumannii. Int J Antimicrob Agents 2:81–87

Peleg AY, Seifert H, Paterson DL (2008) Acinetobacter baumannii: emergence of a successful pathogen. Clin Microbiol Rev 21:538–582

Petrović T, Uzunović S, Barišić I, Luxner J, Grisold A et al (2018) Arrival of carbapenem-hydrolyzing-oxacillinases in Acinetobacter baumannii in Bosnia and Herzegovina. Infect Genet Evol 58:192–198

Poirel L, Figueiredo S, Cattoir V, Carattoli A, Nordmann P (2008) Acinetobacter radioresistens as a silent source of carbapenem resistance for Acinetobacter spp. Antimicrob Agents Chemother 52:1252–1256

Potron A, Poirel L, Nordmann P (2015) Emerging broad-spectrum resistance in Pseudomonas aeruginosa and Acinetobacter baumannii: mechanisms and epidemiology. Int J Antimicrob Agents 45:568–585

Tada T, Miyoshi-Akiyama T, Shimada K, Shimojima M, Kirikae T (2014) Dissemination of 16S rRNA methylase ArmA-producing Acinetobacter baumannii and emergence of OXA-72 carbapenemase coproducers in Japan. Antimicrob Agents Chemother 58:2916–2920

Tenover FC, Arbeit RD, Georing RV, Mickelsen PA, Murray BE et al (1995) Interpreting chromosomal DNA restriction patterns produced by pulsed-field gel electrophoresis: criteria for bacterial strain typing. J Clin Microbiol 33:2233–2239

Towner KJ (2009) Acinetobacter: an old friend, but a new enemy. J Hosp Infect 73:355–363

Towner KJ, Levi K, Vlassiadi M (2008) Genetic diversity of carbapenem-resistant isolates of Acinetobacter baumannii in Europe. Clin Microbiol Infect 14:161–167

Vranić-Ladavac M, Bedenić B, Minandri F, Ištok M, Bošnjak Z et al (2014) Carbapenem resistance and acquired class D beta-lactamases in Acinetobacter baumannii from Croatia 2009-2010. Eur J Clin Microbial Infect Dis 33:471–478

Wang H, Guo P, Sun H, Wang H, Yang Q et al (2007) Molecular epidemiology of clinical isolates of carbapenem-resistant Acinetobacter spp. from Chinese hospitals. Antimicrob Agents Chemother 51:4022–4028

Woodford N, Ellington MJ, Coelho JM, Turton JF, Ward ME et al (2006) Multiplex PCR for genes encoding prevalent OXA carbapenemases in Acinetobacter spp. Int J Antimicrob Agents 27:351–353

Zarrilli R, Pournaras S, Giannouli M, Tsakris A (2013) Global evolution of multidrug-resistant Acinetobacter baumannii clonal lineages. Int J Antimicrob Agents 41:11–19

Zhou H, Zhang T, Yu D, Pi B, Yang Q et al (2011) Genomic analysis of the multidrug-resistant Acinetobacter baumannii strain MDR-ZJ06 widely spread in China. Antimicrob Agents Chemother 55:4506–4512
Funding
This research was supported by awards for excellence (institutional funding) of the University of Split School of Medicine and the Croatian Science Foundation (grant no. IP-2014-09-5656). The blaOXA-72 gene sequence determined in this study has been marked as Cro1 and deposited in GenBank under number MN366238. The blaOXA-23 gene sequences determined in this study has been marked as Cro2 and deposited in GenBank under number MT393582.
Ethics declarations
Ethical approval
This article does not contain any studies with human participants or animals performed by any of the authors.
Conflict of interest
The authors declare no conflicts of interest.
Additional information
Publisher's note
Springer Nature remains neutral with regard to jurisdictional claims in published maps and institutional affiliations.
The part of this investigation was presented as a poster on the 12th International Symposium on the Biology of Acinetobacter in September 2019, in Frankfurt, Germany.
Communicated by: Agnieszka Szalewska-Palasz
About this article
Cite this article
Goic-Barisic, I., Kovacic, A., Medic, D. et al. Endemicity of OXA-23 and OXA-72 in clinical isolates of Acinetobacter baumannii from three neighbouring countries in Southeast Europe. J Appl Genetics 62, 353–359 (2021). https://doi.org/10.1007/s13353-021-00612-9
Received:

Revised:

Accepted:

Published:

Issue Date:
Keywords
Acinetobacter baumannii

Endemic oxacillinase

Croatia

Serbia

Bosnia and Herzegovina