Abstract
Fish scale is an attractive model in bone physiology research and is also a crucial character for breeding new varieties. Thus, it is important to identify loci in the genome associated with scale formation. In this study, 290 microsatellite markers in common carp (Cyprinus carpio L.) were selected and tested for their segregation in a full-sib mapping panel containing 96 individuals (population 1). Association analysis identified seven simple sequence repeats (SSRs) (HLJ2509, HLJ3227, HLJ3675, HLJ3766, HLJ3863, FGFR1, FGFR7) that showed significant correlation with scale cover pattern in population 1. When the seven SSRs were investigated in two other populations, seven and five SSRs were significantly correlated with scale cover pattern in population 2 (116 individuals) and population 3 (57 individuals), respectively. The exceptions were FGFR1 and HLJ3227. A genetic linkage map was constructed using the 290 SSRs and 241 SSRs were mapped into 47 linkage groups (LGs), with 2–15 markers per LG. The map spanned 2,241.7 cM, with LG sizes that varied from 1.1 to 124.9 cM. All seven markers associated with scale cover mapped into LG3. We considered that a gene cluster that affected the scale cover pattern possibly existed in LG3. By aligning the seven markers with the zebrafish (Danio rerio) genome, we identified six candidate genes (atoh1a, ptch1, bmp1a, fgfr1a, fgf17, wnt5a) that may be associated with scale formation. We propose that the seven markers could be used with marker-assisted selection to breed a new variety of common carp, and the six candidate genes could help in understanding the scale cover mechanism.
Access options
Buy single article
Instant access to the full article PDF.
USD 39.95
Price excludes VAT (USA)
Tax calculation will be finalised during checkout.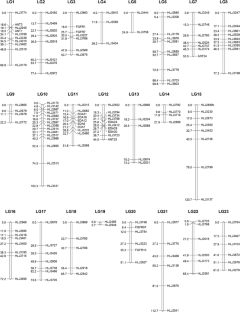 References
Andersson L, Haley CS, Ellegren H, Knott SA, Johansson M, Andersson K, Andersson-Eklund L, Edfors-Lilja I, Fredholm M, Hansson I, Håkansson J, Lundström K (1994) Genetic mapping of quantitative trait loci for growth and fatness in pigs. Science 263:1771–1773

Asharani PV, Keupp K, Semler O, Wang W, Li Y, Thiele H, Yigit G, Pohl E, Becker J, Frommolt P, Sonntag C, Altmüller J, Zimmermann K, Greenspan DS, Akarsu NA, Netzer C, Schönau E, Wirth R, Hammerschmidt M, Nürnberg P, Wollnik B, Carney TJ (2012) Attenuated BMP1 function compromises osteogenesis, leading to bone fragility in humans and zebrafish. Am J Hum Genet 90:661–674

Bridges DW (1971) The pattern of scale development in juvenile Atlantic croaker (Micropogon undulatus). Copeia 2:331–332

Cao Y, Zhao J, Sun ZH, Zhao ZX, Postlethwait J, Meng A (2004) fgf17b, a novel member of Fgf family, helps patterning zebrafish embryos. Dev Biol 271:130–143

Cheung CHY, Chaillé PM, Randall DJ, Gray JS, Au DWT (2007) The use of scale increment as a means of indicating fish growth and growth impairment. Aquaculture 266:102–111

David L, Rajasekaran P, Fang J, Hillel J, Lavi U (2001) Polymorphism in ornamental and common carp strains (Cyprinus carpio L.) as revealed by AFLP analysis and a new set of microsatellite markers. Mol Genet Genomics 266:353–362

De Vrieze E, Metz JR, Von den Hoff JW, Flik G (2010) ALP, TRAcP and cathepsin K in elasmoid scales: a role in mineral metabolism? J Appl Ichthyol 26:210–213

Elouafi I, Nachit MM, Martin LM (2001) Identification of a microsatellite on chromosome 7B showing a strong linkage with yellow pigment in durum wheat (Triticum turgidum L. var. durum). Hereditas 135:255–261

Felber K, Croucher P, Roehl HH (2011) Hedgehog signalling is required for perichondral osteoblast differentiation in zebrafish. Mech Dev 128:141–152

Fisher JP, Pearcy WG (2005) Seasonal changes in growth of coho salmon (Oncorhynchus kisutch) off Oregon and Washington and concurrent changes in the spacing of scale circuli. Fish Bull 103:34–51

Fishman L, Kelly AJ, Morgan E, Willis JH (2001) A genetic map in the Mimulus guttatus species complex reveals transmission ratio distortion due to heterospecific interactions. Genetics 159:1701–1716

Galli P, Broggini GAL, Kellerhals M, Gessler C, Patocchi A (2010) High-resolution genetic map of the Rvi15 (Vr2) apple scab resistance locus. Mol Breeding 26:561–572

Georges M, Nielsen D, Mackinnon M, Mishra A, Okimoto R, Pasquino AT, Sargeant LS, Sorensen A, Steele MR, Zhao XY, Womack JE, Hoeschele I (1995) Mapping quantitative trait loci controlling milk production in dairy cattle by exploiting progeny testing. Genetics 139:907–920

Harris MP, Rohner N, Schwarz H, Perathoner S, Konstantinidis P, Nüsslein-Volhard C (2008) Zebrafish eda and edar mutants reveal conserved and ancestral roles of ectodysplasin signaling in vertebrates. PLoS Genet 4:e1000206

Keenlyne KD, Jenkins LG (1993) Age at sexual maturity of the pallid sturgeon. Trans Am Fish Soc 122:393–396

Kirpitchnikov VS (1937) A major gene for scale cover in the common carp. Biol J (Moscow) 6:601–632

Kirpitchnikov VS (1999) Genetics and breeding of common carp. INRA, Paris, France, pp 1–97

Kirpitchnikov VS, Balkashina EI (1935) Materials on genetics and selection of common carp. I. Zool J (Moscow) 14:45–78

Kirpitchnikov VS, Balkashina EI (1936) Materials on genetics and selection of common carp. II. Biol J (Moscow) 5:327–376

Kwon YS, Eun MY, Sohn JK (2001) Marker-assisted selection for identification of plant regeneration ability of seed-derived calli in rice (Oryza sativa L.). Mol Cells 12:103–106

Matsuda M, Chitnis AB (2010) Atoh1a expression must be restricted by Notch signaling for effective morphogenesis of the posterior lateral line primordium in zebrafish. Development 137:3477–3487

Metz JR, de Vrieze E, Lock E-J, Schulten IE, Flik G (2012) Elasmoid scales of fishes as model in biomedical bone research. J Appl Ichthyol 28:382–387

Morita K, Fukuwaka M (2007) Why age and size at maturity have changed in Pacific salmon. Mar Ecol Progr Ser 335:289–294

Nei M, Li WH (1979) Mathematical model for studying genetic variation in terms of restriction endonucleases. Proc Natl Acad Sci U S A 76:5269–5273

Rohner N, Bercsényi M, Orbán L, Kolanczyk ME, Linke D, Brand M, Nüsslein-Volhard C, Harris MP (2009) Duplication of fgfr1 permits Fgf signaling to serve as a target for selection during domestication. Curr Biol 19:1642–1647

Rudzinskie E (1928) Uber Kreuzungversuche bei Karpfen. Fischerei Zeitung 30:593–597, 31:613–618

Schneider JC, Laarman PW, Gowing H (2000) Chapter 9. Age and growth methods and state averages. Schneider JC (ed) Manual of fisheries survey methods II: with periodic updates. Michigan Department of Natural Resources, Fisheries Special Report 25

Siefert RE (1965) Early scale development in the white crappie. Trans Am Fish Soc 94:182–182

Sun XW (2010) Molecular breeding of fish (in Chinese). Ocean Press, Beijing

Sun X, Liang L (2004) A genetic linkage map of common carp (Cyprinus carpio L.) and mapping of a locus associated with cold tolerance. Aquaculture 238:165–172

Van Ooijen JW (2006) JoinMap 4, software for the calculation of genetic linkage maps in experimental populations. Kyazma B.V., Wageningen, the Netherlands

Wang J, He A, Ma Y, Wang C (2012) Genetic map construction and quantitative trait locus (QTL) analysis on growth-related traits in common carp (Cyprinus carpio L.). Afr J Biotechnol 11:7812–7818

White DS (1977) Early development and pattern of scale formation in the spotted sucker, Minytrema melanops (Catostomidae). Copeia 1977:400–403

Wyngaarden LA, Vogeli KM, Ciruna BG, Wells M, Hadjantonakis AK, Hopyan S (2010) Oriented cell motility and division underlie early limb bud morphogenesis. Development 137(15):2551–2558

Xu YL, Zhang XF, Zheng XH, Kuang YY, Lu CY, Cao DC, Yin S, Li C, Sun XW (2013) Studies on quantitative trait loci related to superoxide dismutase in mirror carp (Cyprinus carpio L.). Aquacult Res 44(12):1860–1871

Yoshikubo H, Suzuki N, Takemura K, Hoso M, Yashima S, Iwamuro S, Takagi Y, Tabata MJ, Hattori A (2005) Osteoblastic activity and estrogenic response in the regenerating scale of goldfish, a good model of osteogenesis. Life Sci 76(23):2699–2709

Zhang Y, Xu P, Lu CY, Kuang YY, Zhang XF, Cao DC, Li C, Chang YM, Hou N, Li HD, Wang S, Sun XW (2011) Genetic linkage mapping and analysis of muscle fiber-related QTLs in common carp (Cyprinus carpio L.). Mar Biotechnol (NY) 13(3):376–392

Zheng XH, Kuang YY, Zhang XF, Lu CY, Cao DC, Li C, Sun XW (2011) A genetic linkage map and comparative genome analysis of common carp (Cyprinus carpio L.) using microsatellites and SNPs. Mol Genet Genomics 286(3–4):261–277
Acknowledgments
This study was supported by grants from the National High Technology Research and Development Program of China (no. 2011AA100402-5), the China Ministry of Agriculture "948" Program (no. 2011-G12), and the Special Scientific Research Funds for Central Non-profit Institutes, Chinese Academy of Fishery Sciences (no. 2014A05CG01).
Additional information
Tongqian Xiao and Cuiyun Lu contributed equally to this work.
About this article
Cite this article
Xiao, T., Lu, C., Xu, Y. et al. Screening of SSR markers associated with scale cover pattern and mapped to a genetic linkage map of common carp (Cyprinus carpio L.). J Appl Genetics 56, 261–269 (2015). https://doi.org/10.1007/s13353-014-0250-9
Received:

Revised:

Accepted:

Published:

Issue Date:

DOI: https://doi.org/10.1007/s13353-014-0250-9
Keywords