Abstract
MicroRNAs (miRNAs) are class of molecular regulators found to participate in numerous biological processes, such as adipogenesis and obesity in mammals. To determine the roles of miRNAs involved in castration-induced body fatness, we investigated the different miRNA expression patterns in subcutaneous adipose tissue between intact and castrated male pigs. Our results showed that castration led to decrease serum testosterone but increase serum Leptin levels (P < 0.01). Moreover, castration also increased adipocyte size, body fat content and backfat thickness in male pigs (P < 0.01). Meanwhile, miRNA expression profiles in adipose tissue were changed by castration, and 18 miRNAs were considered as the differentially expressed candidates between intact and castrated male pigs. Furthermore, functional analysis indicated that the differential expressed miRNAs and their target genes are involved in the regulation of fatty acid metabolism. In brief, our present study provides a comprehensive view on how miRNAs works in subcutaneous adipose tissue with castration. These results suggested that miRNAs might play an important role in the castration-induced fat deposition in male pigs.
Access options
Buy single article
Instant access to the full article PDF.
US$ 39.95
Tax calculation will be finalised during checkout.
Subscribe to journal
Immediate online access to all issues from 2019. Subscription will auto renew annually.
US$ 79
Tax calculation will be finalised during checkout.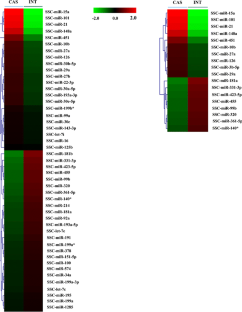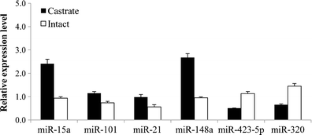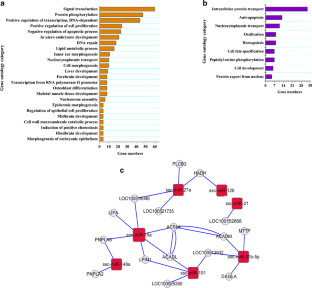 References
Andersen DC, Jensen CH, Schneider M, Nossent AY, Eskildsen T, Hansen JL, Teisner B, Sheikh SP (2010) MicroRNA-15a fine-tunes the level of Delta-like 1 homolog (DLK1) in proliferating 3T3-L1 preadipocytes. Exp Cell Res 316:1681–1691

Anderson LA, McTernan PG, Barnett AH, Kumar S (2001) The effects of androgens and estrogens on preadipocyte proliferation in human adipose tissue: influence of gender and site. J Clin Endocrinol Metab 86(10):5045–5051

Bélanger C, Hould FS, Lebel S, Biron S, Brochu G, Tchernof A (2006) Omental and subcutaneous adipose tissue steroid levels in obese men. Steroids 71:674–682

Bolstad BM, Irizarry RA, Astrandand M, Speed TP (2003) A comparison of normalization methods for high density oligonucleotide array data based on variance and bias. Bioinformatics 19:185–193

Chen C, Deng B, Qiao M, Zheng R, Chai J, Ding Y, Peng J, Jiang S (2012) Solexa sequencing identification of conserved and novel microRNAs in backfat of Large White and Chinese Meishan pigs. PLoS One 7(2):e31426

Christoffersen BO, Gade LP, Golozoubova V, Svendsen O, Raun K (2010) Influence of castration-induced testosterone and estradiol deficiency on obesity and glucose metabolism in male Göttingen minipigs. Steroids 75(10):676–684

Cline MS, Smoot M, Cerami E, Kuchinsky A, Landys N, Workman C, Christmas R, Avila-Campilo I, Creech M, Gross B, Hanspers K, Isserlin R, Kelley R, Killcoyne S, Lotia S, Maere S, Morris J, Ono K, Pavlovic V, Pico AR, Vailaya A, Wang PL, Adler A, Conklin BR, Hood L, Kuiper M, Sander C, Schmulevich I, Schwikowski B, Warner GJ, Ideker T, Bader GD (2007) Integration of biological networks and gene expression data using Cytoscape. Nat Protoc 2(10):2366–2382

Donkor J, Sparks LM, Xie H, Smith SR, Reue K (2008) Adipose tissue lipin-1 expression is correlated with proxisome proliferator-activated receptor alpha gene expression and insulin sensitivity in healthy young men. J Clin Endocrinol Metab 93(1):233–239

Esau C, Kang X, Peralta E, Hanson E, Marcusson EG, Ravichandran LV, Sun Y, Koo S, Perera RJ, Jain R, Dean NM, Freier SM, Bennett CF, Lollo B, Griffey R (2004) MicroRNA-143 regulates adipocyte differentiation. J Biol Chem 279:52361–52365

Etherton TD, Walton PE (1986) Hormonal and metabolic regulation of lipid metabolism in domestic livestock. J Anim Sci 63(Suppl2):76–88

Gerin I, Bommer GT, McCoin CS, Sousa KM, Krishnan V, MacDougald OA (2010) Roles for miRNA-378/378* in adipocyte gene expression and lipogenesis. Am J Physiol Endocrinol Metab 299(2):E198–206

Gondret F, Riquet J, Tacher S, Demars J, Sanchez MP, Billon Y, Bidanel JP, Milan D (2012) Towards candidate genes affecting body fatness at the SSC7 QTL by expression analyses. J Anim Breed Genet 129(4):316–324

Grimson A, Farh KK, Johnston WK, Garrett-Engele P, Lim LP, Bartel DP (2007) MicroRNA targeting specificity in mammals: determinants beyond seed pairing. Mol Cell 27(1):91–105

Kajimoto K, Naraba H, Iwai N (2006) MicroRNA and 3T3-L1 pre-adipocyte differentiation. RNA 12:1626–1632

Keller P, Gburcik V, Petrovic N, Gallagher IJ, Nedergaard J, Cannon B, Timmons JA (2011) Gene-chip studies of adipogenesis-regulated microRNAs in mouse primary adipocytes and human obesity. BMC Endocr Disord 11:7

Kim YJ, Hwang SJ, Bae YC, Jung JS (2009) MiR-21 regulates adipogenic differentiation through the modulation of TGF-beta signaling in mesenchymal stem cells derived from human adipose tissue. Stem Cells 27:3093–3102

Kim SY, Kim AY, Lee HW, Son YH, Lee GY, Lee JW, Kim JB (2010) miR-27a is a negative regulator of adipocyte differentiation via suppressing PPARgamma expression. Biochem Biophys Res Commun 392:323–328

Lee EK, Lee MJ, Abdelmohsen K, Kim W, Kim MM, Srikantan S, Martindale JL, Hutchison ER, Kim HH, Marasa BS, Selimyan R, Eqan JM, Smith SR, Fried SK, Gorospe M (2011) miR-130 suppresses adipogenesis by inhibiting peroxisome proliferator-activated receptor gamma expression. Mol Cell Biol 31:626–638

Levadoux E, Morio B, Montaurier C, Puissant V, Boirie Y, Fellmann N, Picard B, Rousset P, Beaufrere B, Ritz P (2001) Reduced whole-body fat oxidation in women and in the elderly. Int J Obes Relat Metab Disord 25(1):39–44

Lewis BP, Burge CB, Bartel DP (2005) Conserved seed pairing, often flanked by adenosines, indicates that thousands of human genes are microRNA targets. Cell 120(1):15–20

Lhakhang TW, Chaudhry MA (2012) Current approaches to micro-RNA analysis and target gene prediction. J Appl Genet 53(2):149–158

Li M, Bjorntorp P (1995) Effects of testosterone on triglyceride uptake and mobilization in different adipose tissues in male rats in vivo. Obes Res 3:113–119

Li Y, Wang F, Xu J, Ye F, Shen Y, Zhou J, Lu W, Wan X, Ma D, Xie X (2011a) Progressive miRNA expression profiles in cervical carcinogenesis and identification of HPV-related target genes for miR-29. J Pathol 224:484–495

Li G, Li Y, Li X, Ning X, Li M, Yang G (2011b) MicroRNA identity and abundance in developing swine adipose tissue as determined by Solexa sequencing. J Cell Biochem 112(5):1318–1328

Lin Q, Gao Z, Alarcon RM, Ye J, Yun Z (2009) A role of miR-27 in the regulation of adipogenesis. FEBS J 276:2348–2358

Livak KJ, Schmittgen TD (2001) Analysis of relative gene expression data using real-time quantitative PCR and the 2(−Delta Delta C(T)) Method. Methods 25(4):402–408

Marsh EE, Lin Z, Yin P, Milad M, Chakravati D, Bulun E (2008) Differential expression of microRNA species in human uterine leiomyoma versus normal myometrium. Fertil Steril 89(6):1771–1776

Mashek DG, Li LO, Coleman RA (2006) Rat long-chain acyl-CoA synthetase mRNA, protein, and activity vary in tissue distribution and in response to diet. J Lipid Res 47(9):2004–2010

Mersmann HJ (1984) Effect of sex on lipogenic activity in swine adipose tissue. J Anim Sci 58:600–604

Takanabe R, Ono K, Abe Y, Takaya T, Horie T, Wada H, Kita T, Satoh N, Shimatsu A, Hasegawa K (2008) Up-regulated expression of microRNA-143 in association with obesity in adipose tissue of mice fed high-fat diet. Biochem Biophys Res Commun 376:728–732

Varlamov O, White AE, Carroll JM, Bethea CL, Reddy A, Slayden O, O'Rourke RW, Roberts CT Jr (2012) Androgen effects on adipose tissue architecture and function in nonhuman primates. Endocrinology 153(7):3100–3110

Wang C, Su Z, Sanai N, Xue X, Lu L, Chen Y, Wu J, Zheng W, Zhuge Q, Wu ZB (2012) MicroRNA expression profile and differentially-expressed genes in prolactinomas following bromocriptine treatment. Oncol Rep 27(5):1312–1320

Xie H, Lim B, Lodish HF (2009) MicroRNAs induced during adipogenesis that accelerate fat cell development are downregulated in obesity. Diabetes 58:1050–1057

Yehya N, Yerrapureddy A, Tobias J, Margulies SS (2012) MicroRNA modulate alveolar epithelial response to cyclic stretch. BMC Genomics 13:154
Acknowledgments
This work is supported by grants from the National Natural Science Foundation of China (No.31200921 and No.31000997), Zhejiang Provincial Natural Science Foundation of China (No. LQ12C04003), and Zhejiang Provincial Program for the Cultivation of High-level Innovative Health talents
Conflict of Interest
The authors declare that they have no conflict of interest.
Additional information
Zhaowei Cai and Lifan Zhang equally contributed to this work
Electronic supplementary material
Below is the link to the electronic supplementary material.
About this article
Cite this article
Cai, Z., Zhang, L., Chen, M. et al. Castration-induced changes in microRNA expression profiles in subcutaneous adipose tissue of male pigs. J Appl Genetics 55, 259–266 (2014). https://doi.org/10.1007/s13353-014-0194-0
Received:

Revised:

Accepted:

Published:

Issue Date:
Keywords
Adipose tissue

Microarray

MicroRNA

Pig

Testosterone