Abstract
The captive bred animal populations showing centric fusion polymorphism can serve as a model for analysis of the impact of the rearrangement on meiosis and reproduction. The synapsis of homologous chromosomes and the frequency and distribution of meiotic recombination events were studied in pachytene spermatocytes of captive bred male impalas (Aepyceros melampus) polymorphic for der(14;20) by immunofluorescent analysis and fluorescence in situ hybridization. The chromosomes 14 and 20 involved in the centric fusion were significantly shorter due to the loss of sat I repeats indicating ancient origin of the rearrangement. The fused chromosome and the normal acrocentric chromosomes 14 and 20 formed trivalent in pachynema which showed either protruding proximal ends of the acrocentric chromosomes or single axis with synaptic adjustment in the pericentromeric region. There was no significant difference in the number of recombination events per cell between the group of translocation heterozygotes and the animals with normal karyotype. A significant reduction in the number of recombination events was observed in the trivalent chromosomes compared to the normal chromosomes 14 and 20. The level of the recombination reduction was related to the trivalent configuration. The centric fusion der(14;20) was not apparently demonstrated by any spermatogenic defects or reproductive impairment in heterozygous impalas. However, the high incidence of the chromosomal polymorphism within the captive bred population shows the importance of cytogenetic examinations in captive breeding and wildlife conservation programs, especially in the case of reintroduction of the endangered species.
Access options
Buy single article
Instant access to the full article PDF.
USD 39.95
Price excludes VAT (USA)
Tax calculation will be finalised during checkout.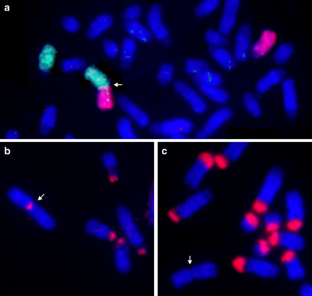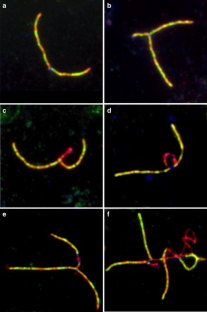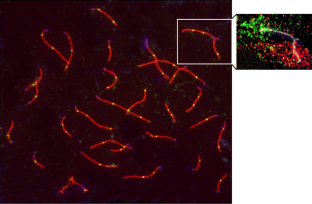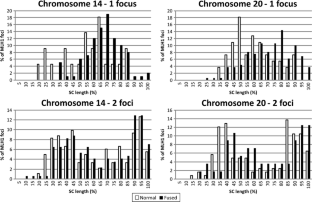 References
Anderson LK, Reeves A, Webb LM, Ashley T (1999) Distribution of crossing over on mouse synaptonemal complexes using immunofluorescent localization of MLH1 protein. Genetics 151:1569–1579

Baker RJ, Bickham JW (1986) Speciation by monobrachial centric fusions. Proc Natl Acad Sci 83:8245–8248

Barlow AL, Hultén MA (1998) Crossing over analysis at pachytene in man. Eur J Hum Genet 6:350–358

Basheva EA, Bidau CJ, Borodin PM (2008) General pattern of meiotic recombination in male dogs estimated by MLH1 and RAD51 immunolocalization. Chromosom Res 16:709–719

Bonnet-Garnier A, Pinton A, Berland HM, Khireddine B, Eggen A, Yerle M, Darré R, Ducos A (2006) Sperm nuclei analysis of 1/29 Robertsonian translocation carrier bulls using fluorescence in situ hybridization. Cytogenet Genome Res 112:241–247

Bonnet-Garnier A, Lacaze S, Beckers JF, Berland HM, Pinton A, Yerle M, Ducos A (2008) Meiotic segregation analysis in cows carrying the t(1;29) Robertsonian translocation. Cytogenet Genome Res 120:91–96

Brown PW, Judis L, Chan ER, Schwartz S, Seftel A, Thomas A, Hassold TJ (2005) Meiotic synapsis proceeds from a limited number of subtelomeric sites in the human male. Am J Hum Genet 77:556–566

Burgoyne PS, Mahadevaiah SK, Turner JM (2009) The consequences of asynapsis for mammalian meiosis. Nat Rev Genet 10:207–216

Cernohorska H, Kubickova S, Vahala J, Rubes J (2012) Molecular insights into X;BTA5 chromosome rearrangements in the tribe Antilopini (Bovidae). Cytogenet Genome Res 136:188–198

Chaves R, Guedes-Pinto H, Heslop-Harrison J, Schwarzacher T (2000) The species and chromosomal distribution of the centromeric alpha-satellite I sequence from sheep in the tribe Caprini and other Bovidae. Cytogenet Cell Genet 91:62–66

Davisson MT, Akeson EC (1993) Recombination suppression by heterozygous Robertsonian chromosomes in the mouse. Genetics 133:649–667

Dyrendahl I, Gustavsson I (1979) Sexual functions, semen characteristics and fertility of bulls carrying the 1/29 chromosome translocation. Hereditas 90:281–289

Ferguson KA, Chow V, Ma S (2008) Silencing of unpaired meiotic chromosomes and altered recombination patterns in an azoospermic carrier of a t(8;13) reciprocal translocation. Hum Reprod 23:988–995

Gallagher DS Jr, Derr JN, Womack JE (1994) Chromosome conservation among the advanced pecorans and determination of the primitive bovid karyotype. J Hered 85:204–210

Iannuzzi A, Di Meo GP, Caputi Jambrenghi A, Vonghia G, Iannuzzi L, Rangel-Figueiredo T (2008) Frequency and distribution of rob(1;29) in eight Portuguese cattle breeds. Cytogenet Genome Res 120:147–149

Joerg H, Garner D, Rieder S, Suwattana D, Stranzinger G (2001) Molecular genetic characterization of Robertsonian translocations in cattle. J Anim Breed Genet 118:371–377

Johannisson R, Schwinger E, Wolff HH, vom Ende V, Löhrs U (1993) The effect of 13;14 Robertsonian translocations on germ-cell differentiation in infertile males. Cytogenet Cell Genet 63:151–155

Kingswood SC, Kumamoto AT, Sudman PD, Fletcher KC, Greenbaum IF (1994) Meiosis in chromosomally heteromorphic goitered gazelle, Gazella subgutturosa (Artiodactyla, Bovidae). Chromosom Res 2:37–46

Kubickova S, Cernohorska H, Musilova P, Rubes J (2002) The use of laser microdissection for the preparation of chromosome-specific painting probes in farm animals. Chromosom Res 10:571–577

Lian J, Yin Y, Oliver-Bonet M, Liehr T, Ko E, Turek P, Sun F, Martin RH (2008) Variation in crossover interference levels on individual chromosomes from human males. Hum Mol Genet 17:2583–2594

Logue DN, Harvey MJ (1978a) Meiosis and spermatogenesis in bulls heterozygous for a presumptive 1/29 Robertsonian translocation. J Reprod Fertil 54:159–165

Logue DN, Harvey MJ (1978b) A 14/20 Robertsonian translocation in Swiss Simmental cattle. Res Vet Sci 25:7–12

Manterola M, Page J, Vasco C, Berríos S, Parra MT, Viera A, Rufas JS, Zuccotti M, Garagna S, Fernández-Donoso R (2009) A high incidence of meiotic silencing of unsynapsed chromatin is not associated with substantial pachytene loss in heterozygous male mice carrying multiple simple robertsonian translocations. PLoS Genet 5:e1000625

Modi WS, Gallagher DS, Womack JE (1996) Evolutionary histories of highly repeated DNA families among the Artiodactyla (Mammalia). J Mol Evol 42:337–349

Moses MJ, Poorman PA, Roderick TH, Davisson MT (1982) Synaptonemal complex analysis of mouse chromosomal rearrangements. IV. Synapsis and synaptic adjustment in two paracentric inversions. Chromosoma 84:457–474

Navarro J, Vidal F, Benet J, Templado C, Marina S, Egozcue J (1991) XY-trivalent association and synaptic anomalies in a male carrier of a Robertsonian t(13;14) translocation. Hum Reprod 6:376–381

Pagacova E, Cernohorska H, Kubickova S, Vahala J, Rubes J (2011) Centric fusion polymorphism in captive animals of family Bovidae. Conserv Genet 12:71–77

Pinton A, Raymond Letron I, Berland HM, Bonnet N, Calgaro A, Garnier-Bonnet A, Yerle M, Ducos A (2008) Meiotic studies in an azoospermic boar carrying a Y;14 translocation. Cytogenet Genome Res 120:106–111

Pinton A, Calgaro A, Bonnet N, Ferchaud S, Billoux S, Dudez AM, Mary N, Massip K, Bonnet-Garnier A, Yerle M, Ducos A (2009) Influence of sex on the meiotic segregation of a t(13;17) Robertsonian translocation: a case study in the pig. Hum Reprod 24:2034–2043

Ropiquet A, Gerbault-Seureau M, Deuve JL, Gilbert C, Pagacova E, Chai N, Rubes J, Hassanin A (2008) Chromosome evolution in the subtribe Bovina (Mammalia, Bovidae): the karyotype of the Cambodian banteng (Bos javanicus birmanicus) suggests that Robertsonian translocations are related to interspecific hybridization. Chromosome Res 16:1107–1118

Roux C, Tripogney C, Morel F, Joanne C, Fellmann F, Clavequin MC, Bresson JL (2005) Segregation of chromosomes in sperm of Robertsonian translocation carriers. Cytogenet Genome Res 111:291–296

Rubes J, Kubickova S, Pagacova E, Cernohorska H, Di Berardino D, Antoninova M, Vahala J, Robinson TJ (2008) Phylogenomic study of spiral-horned antelope by cross-species chromosome painting. Chromosom Res 16:935–947

Rybar R, Horakova J, Machatkova M, Hanzalova K, Rubes J (2005) Embryos produced in vitro from bulls carrying 16;20 and 1;29 Robertsonian translocations: detection of translocations in embryos by fluorescence in situ hybridization. Zygote 13:31–34

Schmutz SM, Moker JS, Barth AD, Mapletoft RJ (1991) Embryonic loss in superovulated cattle caused by the 1;29 Robertsonian translocation. Theriogenology 35:705–714

Schmutz SM, Moker JS, Pawlyshyn V, Haugen B, Clark EG (1997) Fertility effects of the 14;20 Robertsonian translocation in cattle. Theriogenology 47:815–823

Sciurano RB, Rahn MI, Rey-Valzacchi G, Coco R, Solari AJ (2012) The role of asynapsis in human spermatocyte failure. Int J Androl 35:541–549

Sun F, Oliver-Bonet M, Liehr T, Starke H, Ko E, Rademaker A, Navarro J, Benet J, Martin RH (2004) Human male recombination maps for individual chromosomes. Am J Hum Genet 74:521–531

Sun F, Oliver-Bonet M, Liehr T, Starke H, Turek P, Ko E, Rademaker A, Martin RH (2006) Analysis of non-crossover bivalents in pachytene cells from 10 normal men. Hum Reprod 21:2335–2339

Villagómez DA, Ayala-Valdovinos MA, Galindo-García J, Sánchez-Chipres DR, Mora-Galindo J, Taylor-Preciado JJ (2008) Extensive nonhomologous meiotic synapsis between normal chromosome axes of an rcp(3;6)(p14;q21) translocation in a hairless Mexican boar. Cytogenet Genome Res 120:112–116

Vozdova M, Kubickova S, Cernohorska H, Rubes J (2008) Detection of translocation rob(1;29) in bull sperm using a specific DNA probe. Cytogenet Genome Res 120:102–105

Vozdova M, Oracova E, Kasikova K, Prinosilova P, Rybar R, Horinova V, Gaillyova R, Rubes J (2013a) Balanced chromosomal translocations in men: relationships among semen parameters, chromatin integrity, sperm meiotic segregation and aneuploidy. J Assist Reprod Genet 30:391–405

Vozdova M, Sebestova H, Kubickova S, Cernohorska H, Vahala J, Rubes J (2013b) A comparative study of meiotic recombination in cattle (Bos taurus) and three wildebeest species (Connochaetes gnou, C. taurinus taurinus and C. t. albojubatus). Cytogenet Genome Res 140:36–45

Wallace C, Fairall N (1967) Chromosomal polymorphism in the impala. S Afr J Sci 63:482–486

Wurster DH, Benirschke K (1968) Chromosome studies in the superfamily Bovoidea. Chromosoma 25:152–171
Acknowledgments
This work was supported by grant P502/11/0719 from the Grant Agency of the Czech Republic and CEITEC – Central European Institute of Technology (ED1.1.00/02.0068) from European Regional Development Fund.
About this article
Cite this article
Vozdova, M., Sebestova, H., Kubickova, S. et al. Impact of Robertsonian translocation on meiosis and reproduction: an impala (Aepyceros melampus) model. J Appl Genetics 55, 249–258 (2014). https://doi.org/10.1007/s13353-014-0193-1
Received:

Revised:

Accepted:

Published:

Issue Date:

DOI: https://doi.org/10.1007/s13353-014-0193-1
Keywords