Abstract
The simultaneous presence of Down syndrome and achondroplasia has rarely been reported in the literature, and our search revealed only six patients with such an association. We are reporting the first case of a patient with Down syndrome and hypochondroplasia. In this patient, Down syndrome was clinically recognised and confirmed by the cytogenetic finding of mosaic karyotype (47,XX,+21/46,XX) shortly after birth. She was subsequently diagnosed with hypochondroplasia at the age of 6 years when disproportional short stature, stocky habitus and macrocephaly were observed. These phenotypic findings were later confirmed by the presence of fibroblast growth factor receptor 3 (FGFR3) gene mutation N540K. The overlapping common clinical features of Down syndrome and hypochondroplasia resulted in delayed diagnosis of hypochondroplasia in our patient and the associated deleterious effect on her linear growth. Her final height is 126.5 cm, which is −3.76 standard deviations (SD) lower than the median height in patients with Down syndrome, and is under the lower borderline of the adult height range for women with hypochondroplasia.
Access options
Buy single article
Instant access to the full article PDF.
USD 39.95
Price includes VAT (USA)
Tax calculation will be finalised during checkout.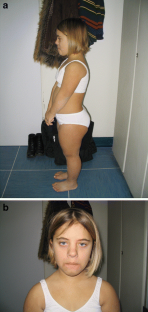 References
Bellus GA, McIntosh I, Smith EA, Aylsworth AS, Kaitila I, Horton WA, Greenhaw GA, Hecht JT, Francomano CA (1995) A recurrent mutation in the tyrosine kinase domain of fibroblast growth factor receptor 3 causes hypochondroplasia. Nat Genet 10:357–359

Carakushansky G, Rosembaum S, Ribeiro MG, Kahn E, Carakushansky M (1998) Achondroplasia associated with Down syndrome. Am J Med Genet 77:168–169

Chen H, Mu X, Sonoda T, Kim KC, Dailey K, Martinez J, Tuck-Muller C, Wertelecki W (2000) FGFR3 gene mutation (Gly380Arg) with achondroplasia and i(21q) Down syndrome: phenotype–genotype correlation. South Med J 93:622–624

Dabir T, McCrossan BA, Sweeney L, Magee A, Sands AJ (2008) Down syndrome, achondroplasia and tetralogy of Fallot. Neonatology 94:68–70

de Azevedo Moreira LM, Matos MA, Schiper PP, Carvalho AF, Gomes IC, Rolemberg JC, Ferreira de Lima RL, Toralles MB (2010) Co-occurrence of achondroplasia and Down syndrome: Genotype/phenotype association. Birth Defects Res A Clin Mol Teratol 88:228–231

Devlin L, Morrison PJ (2004) Mosaic Down's syndrome prevalence in a complete population study. Arch Dis Child 89:1177–1178

Friedman JM (1981) Genetic disease in the offspring of older fathers. Obstet Gynecol 57:745–749

Hertel NT, Müller J (1994) Anthropometry in skeletal dysplasia. J Pediatr Endocrinol 7:155–161

Myrelid A, Gustafsson J, Ollars B, Annerén G (2002) Growth charts for Down's syndrome from birth to 18 years of age. Arch Dis Child 87:97–103

Palmer CG, Cronk C, Pueschel SM, Wisniewski KE, Laxova R, Crocker AC, Pauli RM (1992) Head circumference of children with Down syndrome (0–36 months). Am J Med Genet 42:61–67

Sánchez O, Guerra D, Nastasi J, Escalona J (1999) Achondroplasia and Down syndrome in the same patient. Report of a case. Invest Clin 40:143–154

Sommer A, Eaton AP (1970) Achondroplasia and Down's syndrome. J Med Genet 7:63–66

Vajo Z, Francomano CA, Wilkin DJ (2000) The molecular and genetic basis of fibroblast growth factor receptor 3 disorders: the achondroplasia family of skeletal dysplasias, Muenke craniosynostosis, and Crouzon syndrome with acanthosis nigricans. Endocr Rev 21:23–39
About this article
Cite this article
Dumic, K., Barisic, I., Potocki, K. et al. Hypochondroplasia due to FGFR3 gene mutation (N540K) and mosaic form of Down syndrome in the same patient. J Appl Genetics 52, 209–212 (2011). https://doi.org/10.1007/s13353-010-0024-y
Received:

Revised:

Accepted:

Published:

Issue Date:
Keywords
Hypochondroplasia

Down syndrome

Mosaicism

FGFR3 gene