Abstract
Based on magnetic medium theory, a newly invited magnetic corrosion detector (MCD) showed great potential in quantitative monitoring the corrosion process of steel rebar in concrete. To furtherly explore the application performance of MCD, a numerical model was established to simulate the magnetic induction intensity variation caused by corrosion of steel rebar. And the influence of the length and the positioning variance of steel rebar on the measurement were discussed based on experimental and numerical investigation. The research results indicate that the numerical simulation is a valid approach to reveal the essential performance of MCD in measuring the corrosion ratio of steel rebar in concrete. Based on the geometric and physical properties of MCD, the corrosion ratio of the steel rebar can be effectively measured. And the positioning variance of steel rebar has significant influence on the precision and sensitivity of MCD. It is suggested that the steel rebar should be placed right at the center of the test area during the measurement to achieve a high accuracy.
Access options
Buy single article
Instant access to the full article PDF.
US$ 39.95
Tax calculation will be finalised during checkout.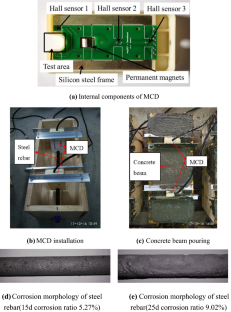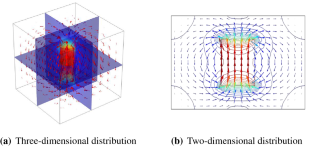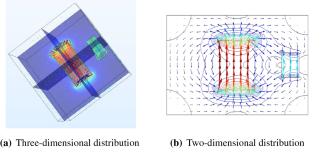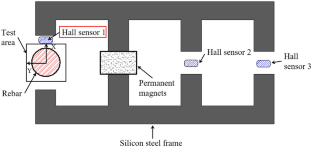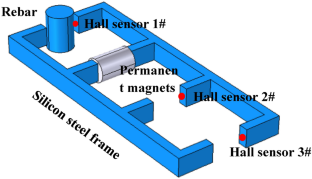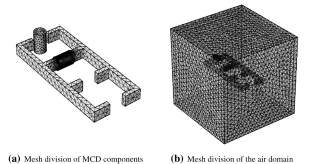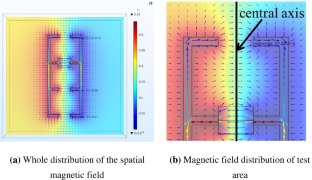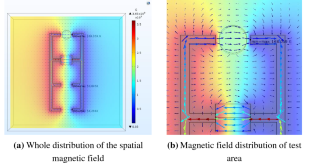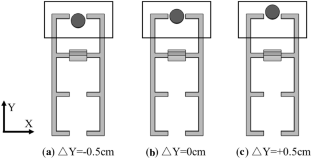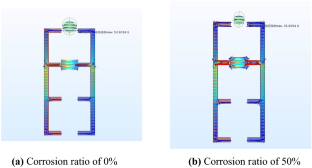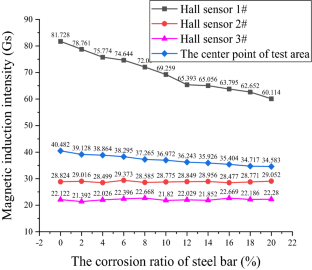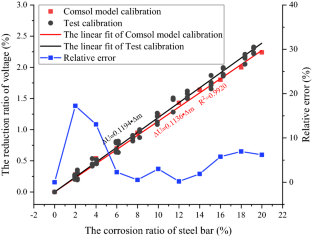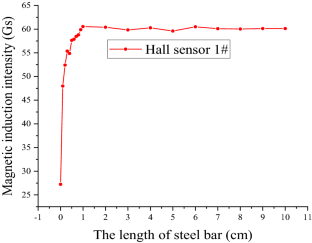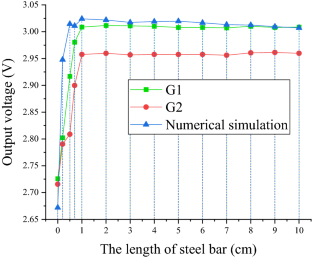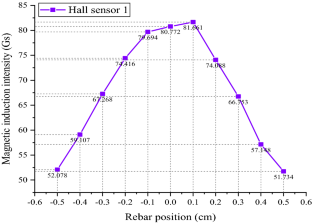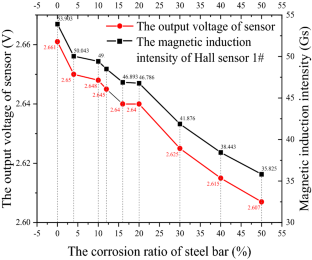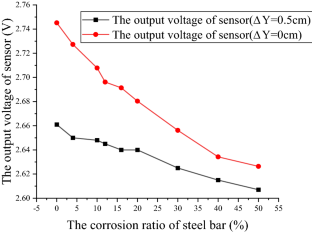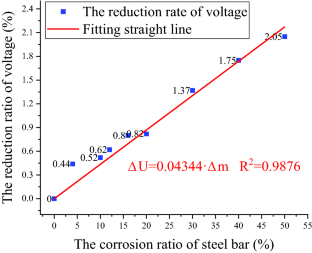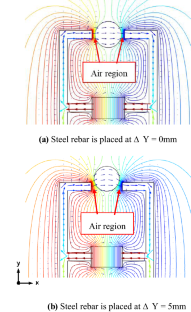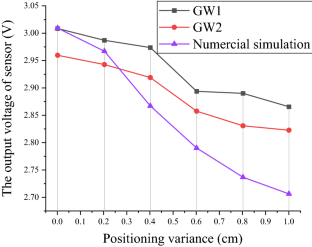 References
1.

Raupach M (1996) Chloride-induced macrocell corrosion of steel in concrete-theoretical background and practical consequences. Constr Build Mater 10(5):329–338

2.

Verma SK, Bhadauria SS, Akhtar S (2014) Monitoring corrosion of steel bars in reinforced concrete structures. Sci World J 2014:957904

3.

Rodriguez P, Ramirez E, Gonzalez JA (1994) Methods for studying corrosion in reinforced-concrete. Mag Concr Res 46(167):81–90

4.

Val DV, Stewart MG (2003) Life-cycle cost analysis of reinforced concrete structures in marine environments. Struct Saf 25(4):343–362

5.

Huang Y, Yang LJ, Xu YZ, Cao YZ, Song SD (2016) A novel system for corrosion protection of reinforced steels in the underwater zone. Corros Eng Sci Technol 51(8):566–572

6.

Hong S, Wiggenhauser H, Helmerich R, Dong B, Dong P, Xing F (2017) Long-term monitoring of reinforcement corrosion in concrete using ground penetrating radar. Corros Sci 114:123–132

7.

Verma SK, Bhadauria SS, Akhtar S (2013) Review of nondestructive testing methods for condition monitoring of concrete structures. J Constr Eng 4:834572

8.

Schießl P, Raupach M (1992) Monitoring system for the corrosion risk of steel in concrete structures. Concr Int 14(7):52–55

9.

Schießl P, Breit W, Raupach M (1996) Sensortechnik: Schutz statt Instandsetzung - Überwachung von Betonbauwerken. Deutsches Ingenieur-Blatt 3(11):40–46

10.

Raupach M (1999) Corrosion monitoring using a new sensor system for installation into existing structures.IN: Durability of building materials and components 8. Institute for Research in Construction, Ottawa ON, K1A 0R6, Canada, pp 365–375

11.

Raupach M, Schießl P (2001) Macrocell sensor systems for monitoring of the corrosion risk of the reinforcement in concrete structures. NDT&E Int 34(6):435–442

12.

GmbH SRS (2009) Specification of the anode ladder corrosion sensor

13.

Inc VT (2013) Embedded corrosion instrument model ECI-2 product manual

14.

Bennett KD, Mclaughlin LR (1995) Monitoring of corrosion in steel structures using optical fiber sensors. SPIE, Bellingham

15.

Li XM, Chen WM, Huang ZQ, Huang SL, Bennett KD (1998) Fiber optic corrosion sensor fabricated by electrochemical method. In: Claus RO, Spillmaneditors WB (eds) Proceedings of the society of photo-optical instrumentation engineers (SPIE). SPIE, Bellingham, pp 126–133

16.

Li XM, Chen WM, Zhu Y, Huang SL, Bennett KD (2000) Monitoring the corrosion of steel in reinforced concrete using optical waveguide methods. In: Claus RO, Spillmaneditors WB (eds) Proceedings of the society of photo-optical instrumentation engineers (SPIE). SPIE, pp 172–179

17.

Gu XL, Chen ZY, Ansari F (2000) Embedded fiber optic crack sensor for reinforced concrete structures. ACI Struct J 97(3):468–476

18.

Zhao X, Gong P, Qiao G, Lu J, Lv X, Ou J (2011) Brillouin corrosion expansion sensors for steel reinforced concrete structures using a fiber optic coil winding method. Sensors (Basel, Switz) 11(11):10798–10819

19.

Mao J, Chen J, Cui L, Jin W, Xu C, He Y (2015) Monitoring the corrosion process of reinforced concrete using BOTDA and FBG sensors. Sens Basel 15(4):8866–8883

20.

Li W, Xu C, Ho SCM, Wang B, Song G (2017) Monitoring concrete deterioration due to reinforcement corrosion by integrating acoustic emission and FBG strain measurements. Sens 17(3):657

21.

Cheng Y, Zhao C, Zhang J, Wu Z (2019) Application of a novel long-gauge fiber Bragg grating sensor for corrosion detection via a two-level strategy. Sens 19(4):954

22.

Lu Y, Zhang J, Li Z, Dong B (2013) Corrosion monitoring of reinforced concrete beam using embedded cement-based piezoelectric sensor. Mag Concr Res 65(21):1265–1276

23.

Talakokula V, Bhalla S (2015) Reinforcement corrosion assessment capability of surface bonded and embedded piezo sensors for reinforced concrete structures. J Intell Mater Syst Struct 26(17):2304–2313

24.

Peng J (2017) Corrosion detection of reinforcement of building materials with piezoelectric sensors. Kemija U Industriji-J Chem Chem Eng 66(5–6):261–265

25.

Shi W, Chen Y, Liu P, Xu D (2019) Corrosion investigation of reinforced concrete based on piezoelectric smart materials. Materials 12(3):519

26.

Liu C (2016) Development and application of innovative corrosion detection transducers for civil engineering. Dissertation, Hong Kong University of Science and Technology

27.

Zhang J, Liu C, Sun M, Li Z (2017) An innovative corrosion evaluation technique for reinforced concrete structures using magnetic sensors. Constr Build Mater 135:68–75

28.

Cao C (2014) 3D simulation of localized steel corrosion in chloride contaminated reinforced concrete. Constr Build Mater 72:434–443

29.

Soltanova D, Baranov P, Baranova V, Chudinova A (2015) Simulating magnetic field of a ferromagnetic pipe underwater in COMSOL multiphysics. IOP Conf Ser Mater Sci Eng 93:12023

30.

Touazi A, Dergham I, Alayli Y, Chassagne L, Linares J (2018) COMSOL simulation of an attenuated magnetic field through a metallic plate. J Phys Conf Ser 1141:12156
Acknowledgements
This research is financially supported by National Key Basic Research Program of China (973 program, Grant no. 2015CB655103). National Natural Science Foundation of China (Grant no. 51578497, 51378012), Integrated application of intelligent operation and maintenance technology for Hong Kong-Zhuhai-Macao Bridge (2019YFB1600700).
Additional information
Publisher's Note
Springer Nature remains neutral with regard to jurisdictional claims in published maps and institutional affiliations.
About this article
Cite this article
Lei, I., Jin, X., Tian, Y. et al. Numerical simulation of a magnetic corrosion detector for corrosion detection of steel rebar in concrete. J Civil Struct Health Monit (2021). https://doi.org/10.1007/s13349-021-00521-9
Received:

Revised:

Accepted:

Published:
Keywords
Magnetic corrosion detector

Magnetic field

Nondestructive detection

Numerical simulation

Quantitative characterization