Abstract
Determination of modal parameters is one of the most important steps in a maintenance strategy and/or structure health monitoring of aging fixed offshore jacket platforms during service life. This paper presents a new Ensemble Empirical Mode Decomposition-Hilbert transform (EEMD-HT)-based analysis to identify natural frequencies of the offshore structures under an artificial and natural excitation. An EMD processing algorithm is used to decompose the vibration response signal into a set of intrinsic mode functions (IMFs) and the EEMD is developed from the EMD to solve the vibration mode mixing in identifying the natural frequencies of the structure. In this study, the experiment of vibration response measurement was conducted on the actual offshore structure at site for both the artificial and natural excitations. A numerical model in an Eigen value analysis was also simulated to evaluate the consistency with the experiment. The main results demonstrate that the instantaneous (time-dependent) frequencies of fixed offshore jacket platform were successfully identified by the EEMD-HT technique under both the artificial and ambient excitation.
Access options
Buy single article
Instant access to the full article PDF.
US$ 39.95
Tax calculation will be finalised during checkout.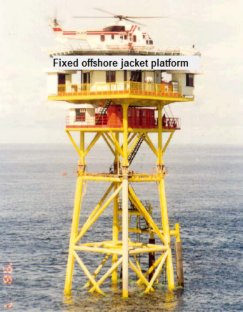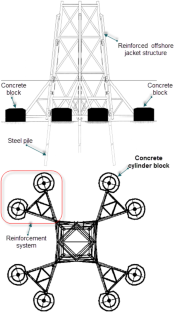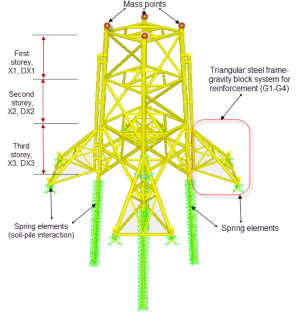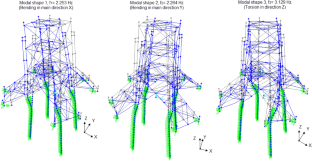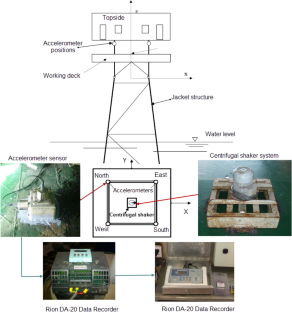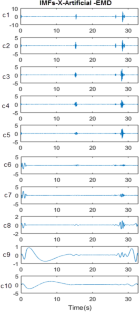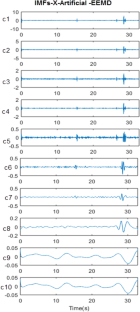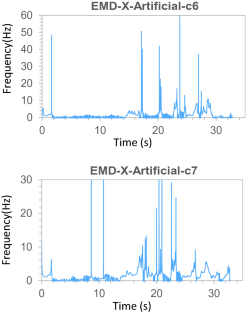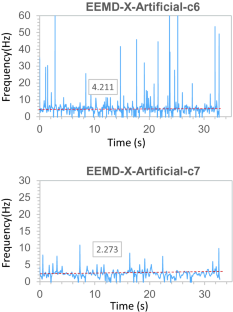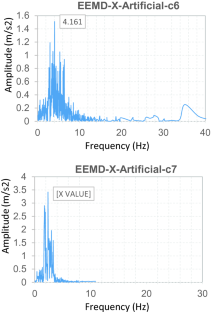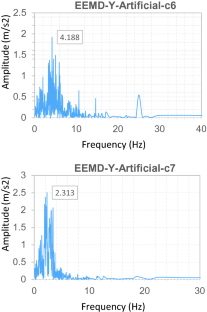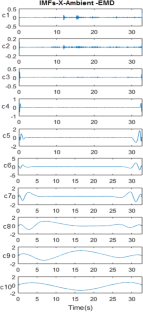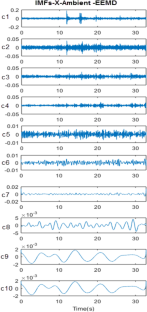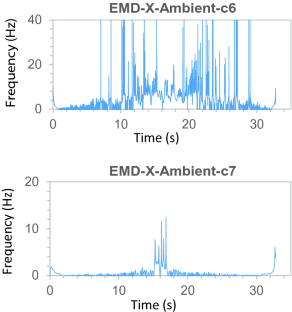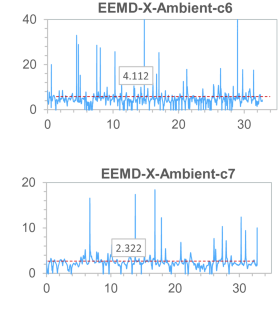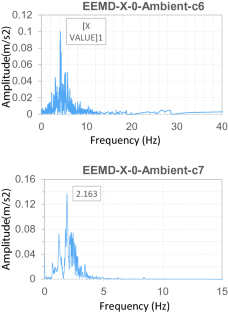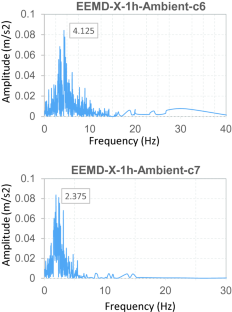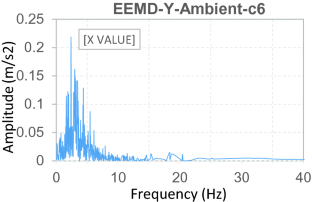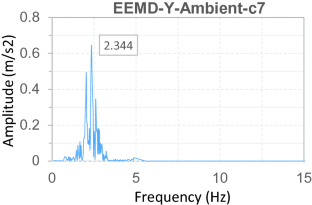 References
1.

Huang NE, Okine NA (2005) The Hilbert–Huang transform in engineering. Taylor & Francis, Oxford

2.

Bacry E, Arn A, Frisch U, Gagne Y, Hopfinger E (1991) Wavelet analysis of fully developed turbulence data and measurement of scaling exponents. In: Proc. organized structures and turbulence in fluid mechanics, pp 203–215

3.

Tong H (1990) Nonlinear time series analysis. Oxford University Press, New York

4.

Flandrin P, Goncalves P (2004) Empirical mode decompositions as data-driven wavelet-like expansions. Proc Int J Wavel Multiresol Inform 2:477–496

5.

Trung NT (2019) Application of Hilbert Huang transform to identify the natural frequencies of steel frame. J STCE NUCE 13(2):64–73

6.

Trung NT (2019) Application of the Hilbert Huang transform to identify the dynamic characteristics of a caisson foundation during a liquefaction. J Struct Control Health Monit 26(10):1–16

7.

Huang NE, Shen SSP (2014) Hilbert–Huang transform and its applications. World Sci., Singapore, p 399

8.

Hsu W, Chiou D, Chen C, Liu M, Chiang W, Huang P (2013) Sensitivity of initial damage detection for steel structures using the Hilbert–Huang transform method. J Vib Control 19(6):857–878

9.

Chang KM (2010) Arrhythmia ECG noise reduction by ensemble empirical mode decomposition. Sensors 10(6):6063–6080

10.

Wu ZH, Huang NE (2009) Ensemble empirical mode decomposition: a noise-assisted data analysis method. Adv Adapt Data Anal 1(1):1–41

11.

Mojtahedi A, Lotfollahi Yaghin MA, Ettefagh MM, Hassanzadeh Y, Fujikubo M (2013) Detection of nonlinearity effects in structural integrity monitoring methods for offshore jacket-type structures based on principal component analysis. J Mar Struct 33:100–119

12.

Viero PF, Roitman N (1999) Application of some damage identification methods in offshore platforms. J Mar Struct 12:107–126

13.

Wang B, Tang D, Yuea Q, Zhoua J, Deonauth N (2018) Study on nonlinear dynamic characteristics inherent in offshore jacket platform using long-term monitored response of ice-structure interaction. Appl Ocean Res 72:23–38

14.

Nichols JM (2003) Structural health monitoring of offshore structures using ambient excitation. J Appl Ocean Res 25:101–114

15.

Bao X (2019) Signal processing for operational modal analysis of a jacket-type offshore platform: sea test study. J Offshore Mech Arct Eng 141(2):021605-1

16.

Bao X (2014) Modal parameters identification based on noise reduction for jacket type offshore platforms. J Vibro Eng 16(3):1219–1230

17.

Martins A, Ortigão CJ (2013) Characterization of jacket-type offshore structure by operational modal analysis. In: Proceedings of EVACES'13—Experimental Vibration Analysis For Civil Engineering Structures. Ouro Preto, Brazil

18.

Rizzo M, Betti M, Spadaccini O, Vignoli A (2018) Structural dynamic monitoring of VEGA-A platform: 30 years of data. In: Proceedings of EWSHM 2018—9th European workshop on structural health monitoring. Manchester, United Kingdom

19.

Liu J, Li H, Wang Y, Hu A (2009) Modal parameters identification of offshore platform structures using HHT method. In: Proceedings of the nineteenth international offshore and polar engineering conference, Osaka, Japan, pp 242–248

20.

Tanga D, Xua CC, Yueb Q, Wuc W, Shid Z, Fengda J (2015) Single point mooring system modal parameter identification based on empirical mode decomposition and time-varying autoregressive model. Appl Ocean Res 53:250–266

21.

Martinez DC, Sanchez JPA, Rodriguez MV, Troncoso RJR, Rios RAO, Perez AG (2014) EEMD-MUSIC-based analysis for natural frequencies identification of structures using artificial and natural excitations. Sci World J (public online, 2014)

22.

Huang NE, Shen Z, Long SR (1998) Empirical mode decomposition and Hilbert spectrum for nonlinear and non- stationary time series analysis. Proc R Soc Lond 454(17):903–905

23.

Wu Z, Huang NE (2005) Ensemble empirical mode decomposition: a noise assisted data analysis method. Center for Ocean-Land-Atmosphere Studies, Calverton

24.

DNV (2012) Modelling and analysis of marine operations, Recommended practice, DNV-RP-H103, Hovik: Det Norske Veritas

25.

Ren WX, Lin PX (2005) Experimental and analytical studies on dynamic characteristics of a large span cable-stayed bridge. J Eng Struct 27(4):535–548
Additional information
Publisher's Note
Springer Nature remains neutral with regard to jurisdictional claims in published maps and institutional affiliations.
About this article
Cite this article
Trung, N.T. EEMD-HT transform for identifying modal parameters of fixed offshore jacket platforms using vibration response measurement. J Civil Struct Health Monit 10, 883–897 (2020). https://doi.org/10.1007/s13349-020-00422-3
Received:

Revised:

Accepted:

Published:

Issue Date:
Keywords
Fixed offshore jacket platform

Natural instantaneous frequency

EEMD-HT

Vibration response measurement