Abstract
Several metallic bridges are present in Egypt and form an important part of the transportation network. Many of these bridges exceeded the intended design life. Currently, deterioration of bridge conditions is pronounced and is leading to many problems. In addition, it is feared that lack of corrective procedures may lead to failure within a few years. Periodic maintenance and major repair activities during a structure service life are mandatory to sustain a satisfactory performance that preserves public safety and extends the service life. The current work is carried out to summarize the most frequent structural problems and defects faced during inspection campaign of a group of metallic bridges in Egypt. Reported problems include but are not limited to corrosion, fatigue cracks, and permanent deformations in structural elements. Data are collected through an extensive investigation of several metallic bridges in Egypt. The study included visual inspection, structural analysis under the action of loads imposed by latest design codes, fatigue assessment of different bridge components, and field tests. Observations include problems or defects related to steel superstructure, pedestrian side walkways, sleepers and rails system, bracing systems, in addition to reinforced concrete substructures. The study is meant to shed light upon the current conditions of vital structures and explore the available practical repair techniques.
This is a preview of subscription content, log in to check access.
Access options
Buy single article
Instant access to the full article PDF.
US$ 39.95
Price includes VAT for USA
Subscribe to journal
Immediate online access to all issues from 2019. Subscription will auto renew annually.
US$ 99
This is the net price. Taxes to be calculated in checkout.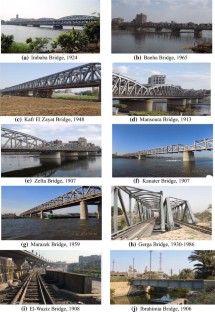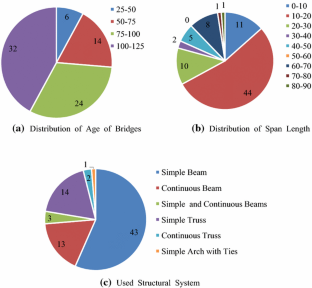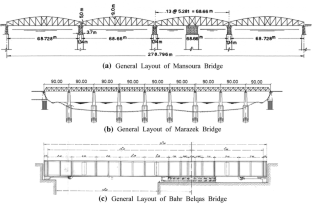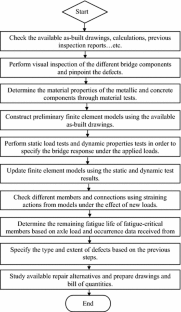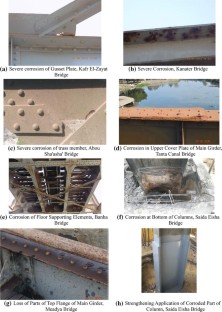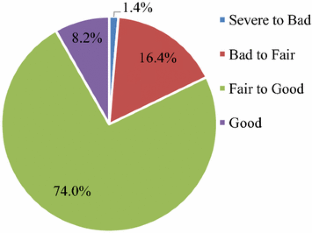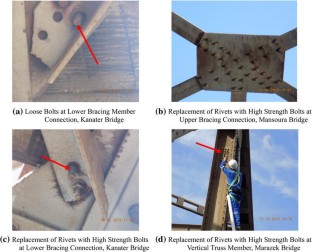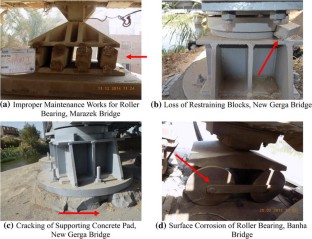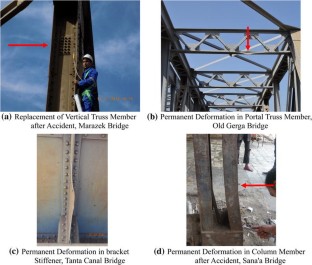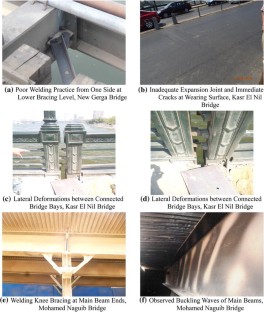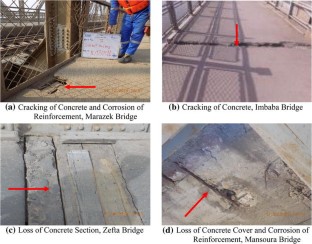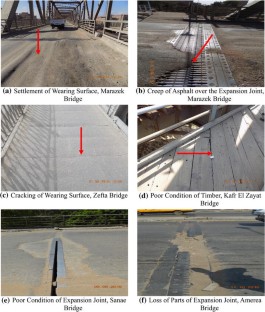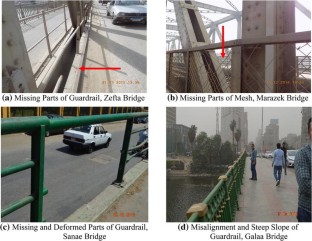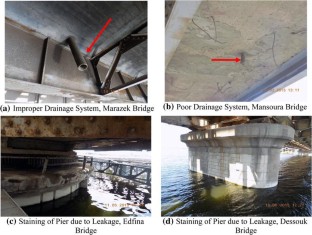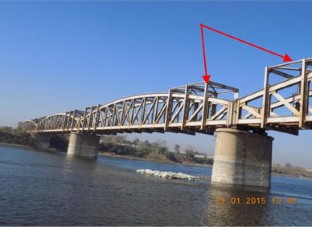 References
1.

Hai DT (2006) Current status of existing railway bridges in Vietnam: an overview of steel deficiencies. J Const Steel Res 62:987–994

2.

Hai DT, Yamada H, Katsuchi H (2004) Existing bridge conditions in Vietnam: current failures and their causes. Bridge maintenance, safety, management and cost (IABMAS). Kyoto 2004:337–339

3.

Spyrakos CC, Raftoyiannis IG, Ermopoulos JC (2004) Condition assessment and retrofit of a historic steel-truss railway bridge. J Constr Steel Res 60:1213–1225

4.

Ermopoulos J, Spyrakos CC (2006) Validated analysis and strengthening of a 19th century railway bridge. J Eng Struct 28:783–792

5.

Bancila R, Petzek E, Silvia R, Ionita O (2009) Assessment of failure and malfunction in steel bridges. Joint workshop of COST action TU0601 and E55, Ljubljana

6.

Zhou YE (2006) Assessment of bridge remaining fatigue life through field strain measurement. J Bridge Eng 11(6):737–744

7.

Frangopol DM, Strauss A, Kim S (2008) Bridge reliability assessment based on monitoring. ASCE J Bridge Eng 13(3):258–270

8.

Morales M, Bauer D (2006) Fatigue and remaining life assessment of steel bridges more than 50 years old. In: Proceedings of the 7th International conference of short and medium span bridges

9.

Oliveira CS, Camacho VT (2016) Data-base with in situ vibration frequencies of bridges in Portugal. J Civil Struct Health Monit 6(5):851–862

10.

Das S, Saha P, Patro SKJ (2016) Vibration-based damage detection techniques used for health monitoring of structures: a review. J Civil Struct Health Monit 6(3):477–507

11.

Hassan MM, Abbas H (2017) Dynamic characteristics of old railway steel bridges in Egypt. In: Proceedings of the International Conference on Advances in Sustainable Construction Materials and Civil Engineering Systems (ASCMCES-17)

12.

Biezma M, Schanack F (2007) Collapse of steel bridges. ASCE J Perform Constr Facil 21(5):398–405

13.

Deng L, Wang W, Yu Y (2015) State-of-the-art review on the causes and mechanisms of bridge collapse. ASCE J Perform Constr Facil 30:1–13

14.

Ghosh U, Ghoshal A (2002) Experiences in rehabilitation of steel bridges. J Struct Eng Int 4:269–272

15.

Caglayan O, Ozakgul K, Tezer O (2012) Assessment of existing steel railway bridges. J Constr Steel Res 69:54–63

16.

Abbas HH, Hassan MM (2016) Evaluation of strengthening applications for old railway bridges in Egypt. In: Proceedings of the 19th International Conference on IABSE Congress, Stockholm

17.

American Railway Engineering and Maintenance of Way Association (2010) Manual of Railway Engineering. AREMA, Lanham

18.

Lee S (2011) Color image-based defect detection method and steel bridge coating. In: Proceedings of the 47th ASC Annual International Conference Proceedings, TX

19.

Shen HK, Chen PH, Chang LM (2013) Automated steel bridge coating rust defect recognition method based on color and texture feature. J Auto Const 31:338–356

20.

The Public Works Research Institute (1992) Joint report on the maintenance of weathering steel bridges. The Japan Iron and Steel Federation and the Japan Bridge Association, p. 71

21.

Haghani R, Al-Emrani M, Heshmati M (2012) Fatigue-prone details in steel bridges. J Build 2(4):456–476

22.

The Egyptian Code of Practice for Steel Construction—Allowable Stress Design (ECP 205-2007) Housing and Building Research Center, Building and Physical Planning, Giza, Egypt

23.

CEN, Eurocode 3 (1992) Design of steel structures, part 1–9: fatigue. European Committee for Standardization, Brussels, Belgium

24.

Faraz S, Helmi K, Algohi B, Bakht A, Mufti A (2017) Sources of errors in fatigue assessment of steel bridges using BWIM. J Civil Struct Health Monit 7(3):291–302

25.

Raeisi F, Mufti A, Mustapha G, Thomson DG (2017) Crack detection in steel girders of bridges using a broken wire electronic binary sensor. J Civil Struct Health Monit 7(2):233–243

26.

Fasl J, Helwig T, Wood SL (2013) Probabilistic method for estimating remaining fatigue life in steel bridges using measured strain data. J Civil Struct Health Monit 3(4):317–324

27.

Zaki MA, Abu-Hamd MH (2007) Rehabilitation assessment of a steel railway bridge by dynamic field testing. J Struct Infrastruct Eng 3(4):343–353
Acknowledgements
The authors wish to express their sincere appreciation to the structural team at EHAF Consulting Office for the technical support. The authors also would like to acknowledge the support provided by the Egyptian National Railways (ENR).
About this article
Cite this article
Hassan, M.M., Elsawaf, S.A. & Abbas, H.H. Existing metallic bridges in Egypt: current conditions and problems. J Civil Struct Health Monit 7, 669–687 (2017). https://doi.org/10.1007/s13349-017-0251-6
Received:

Accepted:

Published:

Issue Date:
Keywords
Assessment

Bridges

Damage

Egypt

Inspection

Metal