Abstract
This paper focuses on Information Warfare—the warfare characterised by the use of information and communication technologies. This is a fast growing phenomenon, which poses a number of issues ranging from the military use of such technologies to its political and ethical implications. The paper presents a conceptual analysis of this phenomenon with the goal of investigating its nature. Such an analysis is deemed to be necessary in order to lay the groundwork for future investigations into this topic, addressing the ethical problems engendered by this kind of warfare. The conceptual analysis is developed in three parts. First, it delineates the relation between Information Warfare and the Information revolution. It then focuses attention on the effects that the diffusion of this phenomenon has on the concepts of war. On the basis of this analysis, a definition of Information Warfare is provided as a phenomenon not necessarily sanguinary and violent, and rather transversal concerning the environment in which it is waged, the way it is waged and the ontological and social status of its agents. The paper concludes by taking into consideration the Just War Theory and the problems arising from its application to the case of Information Warfare.
This is a preview of subscription content, log in to check access.
Access options
Buy single article
Instant access to the full article PDF.
US$ 39.95
Price includes VAT for USA
Subscribe to journal
Immediate online access to all issues from 2019. Subscription will auto renew annually.
US$ 99
This is the net price. Taxes to be calculated in checkout.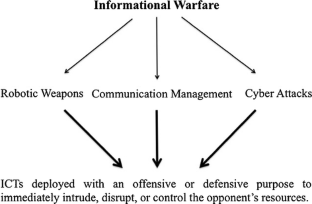 Notes
1.

2.

3.

4.

5.

Note that MQ-1 Predators and EADS Barracuda, and the Northrop Grumman X-47B are Unmanned Combat Aerial Vehicles used for combat actions and they are different from Unmanned Air Vehicles, like for example Northrop Grumman MQ-8 Fire Scout, which are used for patrolling and recognition purposes only.

6.

7.

8.

9.

10.

See Wingfield (2000) for a description of the criteria to assess the whether a war action uses economic, diplomatic forces, and other soft measures.

11.

Note that the problems related to the application of the principle of last resort are not a direct consequence of the informational nature of the possible strike, rather they follow from the fact that cyber attacks may be bloodless. In this respect, the application of the principle becomes problematic in any case where a bloodless first strike could be used to avoid a sanguinary war, independently from the nature of such a strike.

12.

In 2007, Israel launched Operation Orchard and carried out an airstrike on Syria. It has been speculated that the Israeli army may have used a computer program, Suter, to interfere with the Syrian air defense system in order for Israeli planes to pass undetected by the Syrian radar.

13.

14.

This problem is part of the 3R problems described in the section "Introduction".
References
Arquilla, J. (1998). Can information warfare ever be just? Ethics and Information Technology, 1(3), 203–212.

Arquilla, J. (1999). Ethics and information warfare. In Z. Khalilzad, J. White, & A. Marsall (Eds.), Strategic appraisal: the changing role of information in warfare (pp. 379–401). Santa Monica: RAND.

Arquilla, J., & Borer, D. A. (Eds.). (2007). Information strategy and warfare: A guide to theory and practice (contemporary security studies). New York: Routledge.

Arquilla, J., & Ronfeldt, D. (1997). In Athena's camp: Preparing for conflict in the information age. Santa Monica: RAND.

Barnett, R. W. (1998). Information operations, deterrence and the use of force. Naval War College Review, 51(17), 7–19.

Benbow, T. (2004). The magic bullet?: Understanding the revolution in military affairs. London: Brassey.

Blackmore, T. (2005). War X. Toronto: University of Toronto Press.

Bok, S. (1978). Lying: Moral choice in public and private. New York: Pantheon.

Brenner, S. W. (2008). Cyberthreats. New York: Oxford University Press.

Burk, J. (2002). Theories of democratic civil–military relations. Armed Forces & Society, 29(1), 7–29.

Campen, A. D., & Dearth, D. H. (1998). Cyberwar 2.0: Myths, mysteries and reality. Fairfax, VA: AFCEA.

Ciborra, C. (2005). Interpreting e-government and development: Efficiency, transparency or governance at a distance? Information Technology & People, 18(3), 260–279.

DeGeorge, R. T. (2003). Post-september 11: Computers, ethics and war. ar. Ethics and Information Technology, 5(44), 183–190.

Denning, D. (1999). Information warfare and security. Boston: Addison-Wesley.

Denning, D. (2007). The ethics of cyber conflict. In K. E. Himma & H. T. Tavani (Eds.), Information and computer ethics. Hoboken: Wiley.

Floridi, L. (2008a). Information ethics, its nature and scope. In J. V. D. Hoven & J. Weckert (Eds.), Information technology and moral philosophy (Vol. 40–65). Cambridge: Cambridge University Press.

Floridi, L. (2008b). The method of levels of abstraction. Minds and Machines, 18(3), 303–329.

Floridi, L. (2009). The information society and its philosophy. The Information Society, 25(3), 153–158.

Floridi, L. (2010). The Digital Revolution as The Fourth Revolution. Invited contribution to the BBC online program Digital Revolution.

Gelven, M. (1994). War and existence. Philadelphia: Pennsylvania State University Press.

Huntington, S. P. (1957). The soldier and the state; the theory and politics of civil–military relations. Cambridge: Belknap Press of Harvard University Press.

H. Lauterpacht (Ed.) (1952). Oppenheim, International Law (7th ed., Vol. II Disputes, War and Neutrality)

Libicki, M. (1996). What is information warfare? Washington: National Defense University Press.

Matthias, A. (2004). The responsibility gap: Ascribing responsibility for the actions of learning automata. Ethics and Information Technology, 6(3), 175–183.

Nitzberg, S. (1998). Conflict and the computer: Information warfare and related ethical issues. Arlington: Paper presented at the 21st National Information Systems Security Conference.

Perry, D. L. (1995). Repugnant philosophy: Ethics, espionage, and covert action. Journal of Conflict Studies, Spring.

Powers, T. M. (2004). Real wrongs in virtual communities. Ethics and Information Technology, 5(4), 191–198.

Saxena, K. B. C. (2005). Towards excellence in e-governance. Journal of Public Sector Management, 18(6), 498–513.

Saydjari, O., Tinnel, L., & Farrell, D. (2002). Cyberwar strategy and tactics: An analysis of cyber goals, strategies, tactics, and techniques. In 2002 IEEE Workshop on Information Assurance, United States Military Academy, West Point. NY, USA.

Schmitt, M. N. (1999). The principle of discrimination in 21st century warfare. Yale Humna Right and Development Law Journal, 2, 143–160.

Schwartau, W. (1994). Information warfare: Chaos on the electronic superhighway. New York: Thunder's Mouth.

Schwartau, W. (1996). Ethical conundra of information warfare, in cyberwar: Security, strategy and conflict in the information age. In A. D. Campen, D. H. Dearth, & R. T. Goodden (Eds.), Cyberwar: Security, strategy and conflict in the information age. Fairfax: AFCEA.

Shulman, M. R. (1999). Discrimination in the laws of information warfare. Pace Law Faculty Publications, 37, 939–968.

Singer, P. W. (2009). Robots at war: The new battlefield. Wilson Quarterly, 33(1), 30–48.

Sparrow, R. (2007). Killer robots. Journal of Applied Philosophy, 24(1), 62–77.

Steinhoff, U. (2007a). On the ethics of war and terrorism: Oxford University Press.

Steinhoff, U. (2007b). On The Ethics Of War And Terrorism. New York: Oxford University Press.

Toffler, A., & Toffler, H. (1997). Foreword: The new intangibles. In J. Arquilla & D. Ronfeldt (Eds.), In Athena's camp: Preparing for conflict in the information age (pp. xii–xxiv). Santa Monica: RAND, MR- 880-OSD/RC.

Wall, D. S. (2000). Introduction cybercrimes, cyberspeech and cyberliberties. International Review of Law Computers & Technology, 14(1), 5–9.

Waltz, E. L. (1998). Information warfare principles and operations. Norwood: Artech.

Walzer, M. (2000). Just and unjust wars: A moral argument with historical illustrations (3rd ed.). New York: Basic.

Weber, J. (2009). Robotic warfare, human rights & the rhetorics of ethical machines. In R. Capurro & M. Nagenborg (Eds.), Ethics and robotics (pp. 83–104). Amsterdam: Ios.

Wingfield T (2000). The Law of Information Conflict. Falls Church, VA: Aegis Research Corporation.
About this article
Cite this article
Taddeo, M. Information Warfare: A Philosophical Perspective. Philos. Technol. 25, 105–120 (2012). https://doi.org/10.1007/s13347-011-0040-9
Received:

Accepted:

Published:

Issue Date:
Keywords
Cyber attack

Information revolution

Information warfare

Robotic weapon

Just war

Theory

War