Abstract
Nanotechnology-based drug delivery platforms have shown great potential in overcoming the limitations of conventional therapy for glioblastoma (GBM). However, permeation across the blood–brain barrier (BBB), physiological complexity of the brain, and glioma targeting strategies cannot entirely meet the challenging requirements of distinctive therapeutic delivery stages. The objective of this research is to fabricate lipid nanoparticles (LNPs) for the co-delivery of paclitaxel (PTX) and miltefosine (HePc) a proapoptotic agent decorated with transferrin (Tf-PTX-LNPs) and investigate its anti-glioma activity both in vitro and in vivo orthotopic NOD/SCID GBM mouse model. The present study demonstrates the anti-glioma effect of the dual drug combination of PTX and proapoptotic HePc lipid-based transferrin receptor (TfR) targeted alternative delivery (direct nose to brain transportation) of the nanoparticulate system (Tf-PTX-LNPs, 364 ± 5 nm, −43 ± 9 mV) to overcome the O6-methylguanine-DNA methyltransferase induce drug-resistant for improving the effectiveness of GBM therapy. The resulting nasally targeted LNPs present good biocompatibility, stability, high BBB transcytosis through selective TfR-mediated uptake by tumor cells, and effective tumor penetration in the brain of GBM induced mice. We observed markedly enhanced anti-proliferative efficacy of the targeted LNPs in U87MG cells compared to free drug. Nasal targeted LNPs had shown significantly improved brain concentration (Cmax fivefold and AUC0-24 4.9 fold) with early tmax (0.5 h) than the free drug. In vivo intracranial GBM-bearing targeted LNPs treated mice exhibited significantly prolonged survival with improved anti-tumor efficacy accompanied by reduced toxicity compared to systemic Taxol® and nasal free drug. These findings indicate that the nasal delivery of targeted synergistic nanocarrier holds great promise as a non-invasive adjuvant chemotherapy therapy of GBM.
Graphical abstract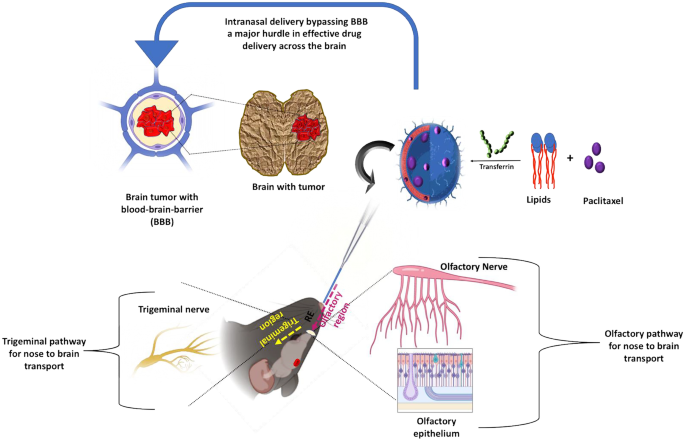 Access options
Buy single article
Instant access to the full article PDF.
USD 39.95
Price excludes VAT (USA)
Tax calculation will be finalised during checkout.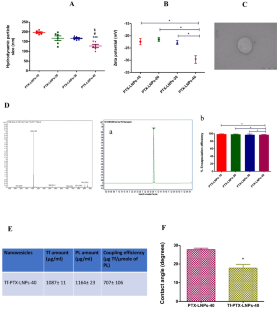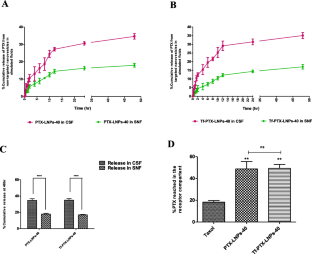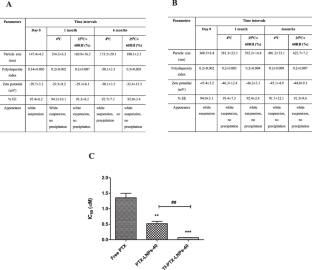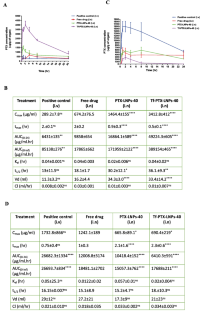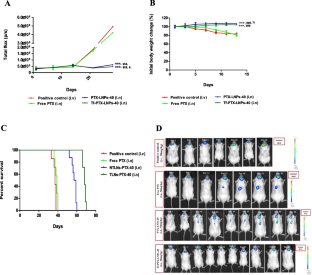 Availability of data and materials
References
Cruz Da Silva E, Mercier MC, Etienne-Selloum N, Dontenwill M, Choulier L. A Systematic Review of Glioblastoma-Targeted Therapies in Phases II, III. IV Clinical Trials Cancers. 2021;13(8):1795. https://doi.org/10.3390/cancers13081795.

El-Khayat SM, Arafat WO. Therapeutic strategies of recurrent glioblastoma and its molecular pathways "Lock up the beast." Ecancermedicalscience. 2021;15:1176. https://doi.org/10.3332/ecancer.2021.1176.

Davis ME. Glioblastoma: Overview of Disease and Treatment. Clin J Oncol Nurs. 2016;20(5 Suppl):S2–8. https://doi.org/10.1188/16.CJON.S1.2-8.

Hottinger AF, Stupp R, Homicsko K. Standards of care and novel approaches in the management of glioblastoma multiforme. Chin J Cancer. 2014;33(1):32–9. https://doi.org/10.5732/cjc.013.10207.

Kamiya-Matsuoka C, Gilbert MR. Treating recurrent glioblastoma: an update. CNS oncology. 2015;4(2):91–104. https://doi.org/10.2217/cns.14.55.

Lu C, Wei Y, Wang X, Zhang Z, Yin J, Li W, Chen L, Lyu X, Shi Z, Yan W, You Y. DNA-methylation-mediated activating of lncRNA SNHG12 promotes temozolomide resistance in glioblastoma. Mol Cancer. 2020;19(1):28. https://doi.org/10.1186/s12943-020-1137-5.

Hsu JB, Lee TY, Cheng SJ, Lee GA, Chen YC, Le N, Huang SW, Kuo DP, Li YT, Chang TH, Chen CY. Identification of Differentially Expressed Genes in Different Glioblastoma Regions and Their Association with Cancer Stem Cell Development and Temozolomide Response. Journal of personalized medicine. 2021;11(11):1047. https://doi.org/10.3390/jpm11111047.

Hart MG, Garside R, Rogers G, Stein K, Grant R. Temozolomide for high grade glioma. Cochrane Database Syst Rev. 2013;(4):CD007415. https://doi.org/10.1002/14651858.CD007415.pub2.

Rezaei V, Rabiee A, Khademi F. Glioblastoma multiforme: a glance at advanced therapies based on nanotechnology. Journal of chemotherapy (Florence, Italy). 2020;32(3):107–17. https://doi.org/10.1080/1120009X.2020.1713508.

Glaser T, Han I, Wu L, Zeng X. Targeted Nanotechnology in Glioblastoma Multiforme. Front Pharmacol. 2017;8:166. https://doi.org/10.3389/fphar.2017.00166.

Noch EK, Ramakrishna R, Magge R. Challenges in the Treatment of Glioblastoma: Multisystem Mechanisms of Therapeutic Resistance. World neurosurgery. 2018;116:505–17. https://doi.org/10.1016/j.wneu.2018.04.022.

Gutkin A, Cohen ZR, Peer D. Harnessing nanomedicine for therapeutic intervention in glioblastoma. Expert Opin Drug Deliv. 2016;13(11):1573–82. https://doi.org/10.1080/17425247.2016.1200557.

Khan M, Sherwani S, Khan S, Alouffi S, Alam M, Al-Motair K, Khan S. Insights into Multifunctional Nanoparticle-Based Drug Delivery Systems for Glioblastoma Treatment. Molecules (Basel, Switzerland). 2021;26(8):2262. https://doi.org/10.3390/molecules26082262.

Fakhoury M. Drug delivery approaches for the treatment of glioblastoma multiforme. Artificial cells, nanomedicine, and biotechnology. 2016;44(6):1365–73. https://doi.org/10.3109/21691401.2015.1052467.

Amaral M, Cruz N, Rosa A, Nogueira B, Costa D, Santos F, Brazão M, Policarpo P, Mateus R, Kobozev Y, Reis CP. An update of advanced nanoplatforms for Glioblastoma Multiforme Management. EXCLI J. 2021;20:1544–1570. https://doi.org/10.17179/excli2021-4393.

van Tellingen O, Yetkin-Arik B, de Gooijer MC, Wesseling P, Wurdinger T, de Vries HE. Overcoming the blood-brain tumor barrier for effective glioblastoma treatment. Drug resistance updates : reviews and commentaries in antimicrobial and anticancer chemotherapy. 2015;19:1–12. https://doi.org/10.1016/j.drup.2015.02.002.

Bruinsmann FA, Richter Vaz G, de Cristo Soares Alves, A., Aguirre, T., Raffin Pohlmann, A., Stanisçuaski Guterres, S., & Sonvico, F. Nasal Drug Delivery of Anticancer Drugs for the Treatment of Glioblastoma: Preclinical and Clinical Trials. Molecules (Basel, Switzerland). 2019;24(23):4312. https://doi.org/10.3390/molecules24234312.

Sandbhor P, Goda J, Mohanty B, Chaudhari P, Dutt S, Banerjee R. Non-invasive transferrin targeted nanovesicles sensitize resistant glioblastoma multiforme tumors and improve survival in orthotopic mouse models. Nanoscale. 2021;14(1):108–26. https://doi.org/10.1039/d1nr05460k.

Zhu L, Chen L. Progress in research on paclitaxel and tumor immunotherapy. Cell Mol Biol Lett. 2019;24:40. https://doi.org/10.1186/s11658-019-0164-y.

Shi X, Sun X. Regulation of paclitaxel activity by microtubule-associated proteins in cancer chemotherapy. Cancer Chemother Pharmacol. 2017;80(5):909–17. https://doi.org/10.1007/s00280-017-3398-2.

Ganipineni LP, Ucakar B, Joudiou N, Riva R, Jérôme C, Gallez B, Danhier F, Préat V. Paclitaxel-loaded multifunctional nanoparticles for the targeted treatment of glioblastoma. J Drug Target. 2019;27(5–6):614–23. https://doi.org/10.1080/1061186X.2019.1567738.

Alomari S, Zhang I, Hernandez A, Kraft CY, Raj D, Kedda J, Tyler B. Drug Repurposing for Glioblastoma and Current Advances in Drug Delivery-A Comprehensive Review of the Literature. Biomolecules. 2021;11(12):1870. https://doi.org/10.3390/biom11121870.

Lyne SB, Yamini B. An Alternative Pipeline for Glioblastoma Therapeutics: A Systematic Review of Drug Repurposing in Glioblastoma. Cancers. 2021;13(8):1953. https://doi.org/10.3390/cancers13081953.

Thakur A, Joshi N, Shanmugam T, Banerjee R. Proapoptotic miltefosine nanovesicles show synergism with paclitaxel: Implications for glioblastoma multiforme therapy. Cancer Lett. 2013;334(2):274–83. https://doi.org/10.1016/j.canlet.2012.08.022.

Roger E, Lagarce F, Garcion E, Benoit JP. Lipid nanocarriers improve paclitaxel transport throughout human intestinal epithelial cells by using vesicle-mediated transcytosis. Journal of controlled release : official journal of the Controlled Release Society. 2009;140(2):174–81. https://doi.org/10.1016/j.jconrel.2009.08.010.

Shah BM, Misra M, Shishoo CJ, Padh H. Nose to brain microemulsion-based drug delivery system of rivastigmine: formulation and ex-vivo characterization. Drug Delivery. 2015;22(7):918–30. https://doi.org/10.3109/10717544.2013.878857.

Sharma A, Gupta S, Sarethy IP, Dang S, Gabrani R. Green tea extract: possible mechanism and antibacterial activity on skin pathogens. Food Chem. 2012;135(2):672–5. https://doi.org/10.1016/j.foodchem.2012.04.143.

Wang B, Lv L, Wang Z, Jiang Y, Lv W, Liu X, Wang Z, Zhao Y, Xin H, Xu Q. Improved anti-glioblastoma efficacy by IL-13Rα2 mediated copolymer nanoparticles loaded with paclitaxel. Sci Rep. 2015;5:16589. https://doi.org/10.1038/srep16589.

Anabousi S, Bakowsky U, Schneider M, Huwer H, Lehr CM, Ehrhardt C. In vitro assessment of transferrin-conjugated liposomes as drug delivery systems for inhalation therapy of lung cancer. European journal of pharmaceutical sciences : official journal of the European Federation for Pharmaceutical Sciences. 2006;29(5):367–74. https://doi.org/10.1016/j.ejps.2006.07.004.

Fernandez CA, Baumhover NJ, Duskey JT, Khargharia S, Kizzire K, Ericson MD, Rice KG. Metabolically stabilized long-circulating PEGylated polyacridine peptide polyplexes mediate hydrodynamically stimulated gene expression in liver. Gene Ther. 2011;18(1):23–37. https://doi.org/10.1038/gt.2010.117.

Cui Y, Xu Q, Chow PK, Wang D, Wang CH. Transferrin-conjugated magnetic silica PLGA nanoparticles loaded with doxorubicin and paclitaxel for brain glioma treatment. Biomaterials. 2013;34(33):8511–20. https://doi.org/10.1016/j.biomaterials.2013.07.075.

Bourganis V, Kammona O, Alexopoulos A, Kiparissides C. Recent advances in carrier mediated nose-to-brain delivery of pharmaceutics. European journal of pharmaceutics and biopharmaceutics : official journal of Arbeitsgemeinschaft fur Pharmazeutische Verfahrenstechnik e.V. 2018;128:337–362. https://doi.org/10.1016/j.ejpb.2018.05.009.

Badhan RK, Kaur M, Lungare S, Obuobi S. Improving brain drug targeting through exploitation of the nose-to-brain route: a physiological and pharmacokinetic perspective. Curr Drug Deliv. 2014;11(4):458–71. https://doi.org/10.2174/1567201811666140321113555.

Yuan Y, Lee TR. Contact angle and wetting properties. In: Bracco G, Holst B, eds. Surface science techniques. New York: Springer Berlin-Heidelberg. 2013;3–29.

Nigam K, Kaur A, Tyagi A, Nematullah M, Khan F, Gabrani R, Dang S. Nose-to-brain delivery of lamotrigine-loaded PLGA nanoparticles. Drug Deliv Transl Res. 2019;9(5):879–90. https://doi.org/10.1007/s13346-019-00622-5.

Kumar M, Pathak K, Misra A. Formulation and characterization of nanoemulsion-based drug delivery system of risperidone. Drug Dev Ind Pharm. 2009;35(4):387–95. https://doi.org/10.1080/03639040802363704.

Liu X, Sun J, Chen X, Wang S, Scott H, Zhang X, Zhang Q. Pharmacokinetics, tissue distribution and anti-tumour efficacy of paclitaxel delivered by polyvinylpyrrolidone solid dispersion. J Pharm Pharmacol. 2012;64(6):775–82. https://doi.org/10.1111/j.2042-7158.2012.01471.x.

Li D, Yang K, Li JS, Ke XY, Duan Y, Du R, Song P, Yu KF, Ren W, Huang D, Li XH, Hu X, Zhang X, Zhang Q. Antitumor efficacy of a novel CLA-PTX microemulsion against brain tumors: in vitro and in vivo findings. Int J Nanomed. 2012;7:6105–14. https://doi.org/10.2147/IJN.S38927.

Danhier F. To exploit the tumor microenvironment: Since the EPR effect fails in the clinic, what is the future of nanomedicine? Journal of controlled release : official journal of the Controlled Release Society. 2016;244(Pt A):108–21. https://doi.org/10.1016/j.jconrel.2016.11.015.

Missaoui WN, Arnold RD, Cummings BS. Toxicological status of nanoparticles: What we know and what we don't know. Chem Biol Interact. 2018;295:1–12. https://doi.org/10.1016/j.cbi.2018.07.015.

Pan J, Feng SS. Targeted delivery of paclitaxel using folate-decorated poly(lactide)-vitamin E TPGS nanoparticles. Biomaterials. 2008;29(17):2663–72. https://doi.org/10.1016/j.biomaterials.2008.02.020.

Pardridge WM. Drug targeting to the brain. Pharm Res. 2007;24(9):1733–44. https://doi.org/10.1007/s11095-007-9324-2.

Botti G, Dalpiaz A, Pavan B. Targeting Systems to the Brain Obtained by Merging Prodrugs, Nanoparticles, and Nasal Administration. Pharmaceutics. 2021;13(8):1144. https://doi.org/10.3390/pharmaceutics13081144.

Pardridge WM, Boado RJ. Reengineering biopharmaceuticals for targeted delivery across the blood-brain barrier. Methods Enzymol. 2012;503:269–92. https://doi.org/10.1016/B978-0-12-396962-0.00011-2.

Kashyap K, Shukla R. Drug Delivery and Targeting to the Brain Through Nasal Route: Mechanisms. Applications and Challenges Current drug delivery. 2019;16(10):887–901. https://doi.org/10.2174/1567201816666191029122740.

Kumar H, Mishra G, Sharma AK, Gothwal A, Kesharwani P, Gupta U. Intranasal Drug Delivery: A Non-Invasive Approach for the Better Delivery of Neurotherapeutics. Pharmaceutical nanotechnology. 2017;5(3):203–14. https://doi.org/10.2174/2211738505666170515113936.

Boradia VM, Malhotra H, Thakkar JS, Tillu VA, Vuppala B, Patil P, Sheokand N, Sharma P, Chauhan AS, Raje M, Raje CI. Mycobacterium tuberculosis acquires iron by cell-surface sequestration and internalization of human holo-transferrin. Nat Commun. 2014;5:4730. https://doi.org/10.1038/ncomms5730.

Chopra A. Transferrin-coated gadolinium-labeled human serum albumin nanoparticles. In Molecular Imaging and Contrast Agent Database (MICAD). National Center for Biotechnology Information (US). 2013.

Verstappen CC, Heimans JJ, Hoekman K, Postma TJ. Neurotoxic complications of chemotherapy in patients with cancer: clinical signs and optimal management. Drugs. 2003;63(15):1549–63. https://doi.org/10.2165/00003495-200363150-00003.

Xiao ZZ, Wang ZF, Lan T, Huang WH, Zhao YH, Ma C, Li ZQ. Carmustine as a Supplementary Therapeutic Option for Glioblastoma: A Systematic Review and Meta-Analysis. Front Neurol. 2020;11:1036. https://doi.org/10.3389/fneur.2020.01036.

Mekhail TM, Markman M. Paclitaxel in cancer therapy. Expert Opin Pharmacother. 2002;3(6):755–66. https://doi.org/10.1517/14656566.3.6.755.

Clive S, Gardiner J, Leonard RC. Miltefosine as a topical treatment for cutaneous metastases in breast carcinoma. Cancer Chemother Pharmacol. 1999;44(Suppl):S29–30. https://doi.org/10.1007/s002800051114.

Jeyapalan, S., Boxerman, J., Donahue, J., Goldman, M., Kinsella, T., Dipetrillo, T., Evans, D., Elinzano, H., Constantinou, M., Stopa, E., Puthawala, Y., Cielo, D., Santaniello, A., Oyelese, A., Mantripragada, K., Rosati, K., Isdale, D., Safran, H., & Brown University Oncology Group Study. Paclitaxel poliglumex, temozolomide, and radiation for newly diagnosed high-grade glioma: a Brown University Oncology Group Study. Am J Clin Oncol. 2014;37(5):444–9. https://doi.org/10.1097/COC.0b013e31827de92b.

Brito DA, Yang Z, Rieder CL. Microtubules do not promote mitotic slippage when the spindle assembly checkpoint cannot be satisfied. J Cell Biol. 2008;182(4):623–9. https://doi.org/10.1083/jcb.200805072.

Gelderblom H, Verweij J, Nooter K, Sparreboom A. Cremophor EL: the drawbacks and advantages of vehicle selection for drug formulation. Eur J Cancer (Oxford, England : 1990). 2001;37:(13), 1590–1598. https://doi.org/10.1016/s0959-8049(01)00171-x.

Sofias AM, Dunne M, Storm G, Allen C. The battle of "nano" paclitaxel. Adv Drug Deliv Rev. 2017;122:20–30. https://doi.org/10.1016/j.addr.2017.02.003.

Ma P, Mumper RJ. Paclitaxel Nano-Delivery Systems: A Comprehensive Review. Journal of nanomedicine & nanotechnology. 2013;4(2):1000164. https://doi.org/10.4172/2157-7439.1000164.

Ullah I, Chung K, Bae S, Li Y, Kim C, Choi B, Nam HY, Kim SH, Yun CO, Lee KY, Kumar P, Lee SK. Nose-to-Brain Delivery of Cancer-Targeting Paclitaxel-Loaded Nanoparticles Potentiates Antitumor Effects in Malignant Glioblastoma. Mol Pharm. 2020;17(4):1193–204. https://doi.org/10.1021/acs.molpharmaceut.9b01215.

Zhang Y, Sun C, Zhang Q, Deng Y, Hu X, Chen P. Intranasal delivery of Paclitaxel encapsulated nanoparticles for brain injury due to Glioblastoma. Journal of applied biomaterials & functional materials. 2020;18:2280800020977170. https://doi.org/10.1177/2280800020977170.

Porru M, Zappavigna S, Salzano G, Luce A, Stoppacciaro A, Balestrieri ML, Artuso S, Lusa S, De Rosa G, Leonetti C, Caraglia M. Medical treatment of orthotopic glioblastoma with transferrin-conjugated nanoparticles encapsulating zoledronic acid. Oncotarget. 2014;5(21):10446–10459. https://doi.org/10.18632/oncotarget.2182.

Guo W, Li A, Jia Z, Yuan Y, Dai H, Li H. Transferrin modified PEG-PLA-resveratrol conjugates: in vitro and in vivo studies for glioma. Eur J Pharmacol. 2013;718(1–3):41–7. https://doi.org/10.1016/j.ejphar.2013.09.034.

Liu G, Mao J, Jiang Z, Sun T, Hu Y, Jiang Z, Zhang C, Dong J, Huang Q, Lan Q. Transferrin-modified Doxorubicin-loaded biodegradable nanoparticles exhibit enhanced efficacy in treating brain glioma-bearing rats. Cancer Biother Radiopharm. 2013;28(9):691–6. https://doi.org/10.1089/cbr.2013.1480.

Madani F, Esnaashari SS, Bergonzi MC, Webster TJ, Younes HM, Khosravani M, Adabi M. Paclitaxel/methotrexate co-loaded PLGA nanoparticles in glioblastoma treatment: Formulation development and in vitro antitumor activity evaluation. Life Sci. 2020;256: 117943. https://doi.org/10.1016/j.lfs.2020.117943.

Dhuria SV, Hanson LR, Frey WH 2nd. Intranasal delivery to the central nervous system: mechanisms and experimental considerations. J Pharm Sci. 2010;99(4):1654–73. https://doi.org/10.1002/jps.21924.

Mittal D, Ali A, Md S, Baboota S, Sahni JK, Ali J. Insights into direct nose to brain delivery: current status and future perspective. Drug Delivery. 2014;21(2):75–86. https://doi.org/10.3109/10717544.2013.838713.
Acknowledgements
The authors acknowledge Sophisticated Analytical Instrumental Facility (SAIF) and Industrial Research and Consultancy Center (IRCC) at the Indian Institute of Technology Bombay for instrumental infrastructures and facilities. The author would like to specially acknowledge Prof. Abhijeet De and Ms. Snehal Valvi (Advance Center for Cancer, Treatment, Research and Education in Cancer, Navi-mumbai, India) for the IVIS imaging facility. We would like to thanks Ms. Khushbu Gandhi, (Clinical Pharmacology Lab, Advance Center for Cancer, Treatment, Research and Education in Cancer, Navi-Mumbai, India) for her help in immunohistochemistry analysis. Puja Sandbhor also acknowledges Tata Memorial Trust, India for the research fellowship.
This article is devoted to late Prof. Rinti Banerjee who had ceded to a post-COVID complication on July 8, 2021. She pioneered this non-invasive drug delivery approach against highly malignant brain tumors with a prophecy to transform this technology into clinics to diminish the mortality and socio-economic stack of brain tumors across the world.
Funding
This work was supported by the Lady Tata Memorial Trust (LTMT) of Tata Memorial Center.
Ethics declarations
Ethical statement for animal studies
Animals were maintained in the laboratory animal facility of ACTREC following the national guidelines mentioned by the Committee for the Purpose of Control and Supervision of the Experiments on Animals (CPCSEA), Ministry of Fisheries, animal Husbandry and Dairying department of animal Husbandry and Dairying, Government of India. The Institutional Animal Ethics Committee (IAEC) of the Advanced Center for Treatment Research and Education in Cancer (ACTREC), Tata Memorial Center, India, Registration no. 65/GO/ReBiBt/S/99/CPCSEA approved the protocol (IAEC protocol no. 07/2017). The animal studies were performed only after taking prior consent and approval from the Institutional Animal Ethics Committee, ACTREC. All the experiments were conducted in strict accordance for the care and use of the laboratory animals. A controlled environment was provided to the animals with a temperature of 22 ± 2 °C and relative humidity maintained at 40–70%. A 12-h day night cycle was maintained (7:00 to 19:00 day and 19:00 to 7:00 night). The animals were given gamma irradiated balanced diet (Altromin 1314P) and sterile water. Individually ventilated Cage system (IVC, M/S Citizen, India) was used to house mice. These IVCs were provided with autoclaved corn cob as bedding for the mice. Animal euthanasia was done under the supervision of attending veterinarian using CPCSEA recommended euthanizing agent, carbon dioxide.
Consent for publication
Not applicable.
Competing interests
The authors declare no competing interests.
Additional information
Publisher's Note
Springer Nature remains neutral with regard to jurisdictional claims in published maps and institutional affiliations.
Highlights
1. A novel transferrin receptor targeted dual drug paclitaxel and proapoptotic miltefosine lipid-based nano-carrier (Tf-PTX-LNPs) was developed to treat chemoresistant GBM via non-invasive nasal drug delivery platform.
2. Nasal targeted LNPs co-delivery of anti-tumor alkyl phospholipids and chemotherapeutic PTX demonstrated anti-glioma efficacy in vitro and in vivo.
3. This novel formulation with nasal route preferentially overcame the BBB barrier, which is a major obstacle in effective chemotherapeutic management GBM.
4. The non-invasive synergistic targeted delivery of PTX through non-neurological pathways demonstrated significant tumor regression and improved survival in orthotopic GBM model.
Supplementary Information
Below is the link to the electronic supplementary material.
Rights and permissions
Springer Nature or its licensor holds exclusive rights to this article under a publishing agreement with the author(s) or other rightsholder(s); author self-archiving of the accepted manuscript version of this article is solely governed by the terms of such publishing agreement and applicable law.
About this article
Cite this article
Sandbhor, P., Goda, J., Mohanty, B. et al. Targeted nano-delivery of chemotherapy via intranasal route suppresses in vivo glioblastoma growth and prolongs survival in the intracranial mouse model. Drug Deliv. and Transl. Res. 13, 608–626 (2023). https://doi.org/10.1007/s13346-022-01220-8
Accepted:

Published:

Issue Date:

DOI: https://doi.org/10.1007/s13346-022-01220-8
Keywords