Abstract
Lymph nodes (LNs) are tissues of the immune system that house leukocytes, making them targets of interest for a variety of therapeutic immunomodulation applications. However, achieving accumulation of a therapeutic in the LN does not guarantee equal access to all leukocyte subsets. LNs are structured to enable sampling of lymph draining from peripheral tissues in a highly spatiotemporally regulated fashion in order to facilitate optimal adaptive immune responses. This structure results in restricted nanoscale drug delivery carrier access to specific leukocyte targets within the LN parenchyma. Herein, a framework is presented to assess the manner in which lymph-derived macromolecules and particles are sampled in the LN to reveal new insights into how therapeutic strategies or drug delivery systems may be designed to improve access to dLN-resident leukocytes. This summary analysis of previous reports from our group assesses model nanoscale fluorescent tracer association with various leukocyte populations across relevant time periods post administration, studies the effects of bioactive molecule NO on access of lymph-borne solutes to dLN leukocytes, and illustrates the benefits to leukocyte access afforded by lymphatic-targeted multistage drug delivery systems. Results reveal trends consistent with the consensus view of how lymph is sampled by LN leukocytes resulting from tissue structural barriers that regulate inter-LN transport and demonstrate how novel, engineered delivery systems may be designed to overcome these barriers to unlock the therapeutic potential of LN-resident cells as drug delivery targets.
Access options
Buy single article
Instant access to the full article PDF.
USD 39.95
Price includes VAT (USA)
Tax calculation will be finalised during checkout.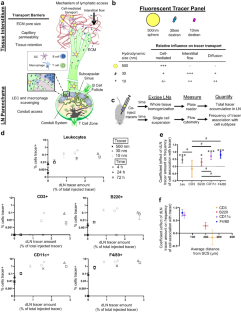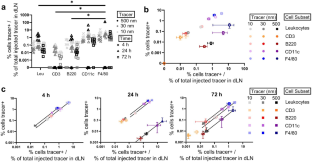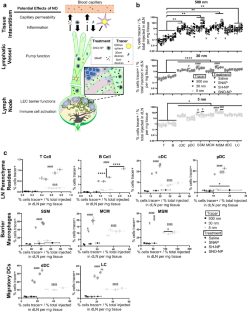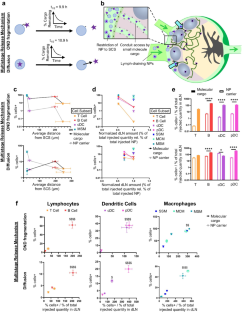 Availability of data and code
Data and code can be made available upon request.
Acknowledgements
LFS and AS were American Heart Association Pre-doctoral Fellows. We thank Jared P. Beyersdorf for technical assistance.
Funding
This work was supported by National Institutes of Health (NIH) Grants R01CA207619 (SNT), R01CA247484 (SNT), U01CA214354 (SNT), T32GM008433 (MJO, NAR), and T32EB006343 (LFS) and the Curci Foundation (SNT). M.P.M. was supported by a National Science Foundation Graduate Research Fellowship.
Ethics declarations
Ethics approval
All institutional national guidelines for the care and use of laboratory animals were followed.
Conflict of interest
The authors declare no competing interests.
Additional information
Publisher's Note
Springer Nature remains neutral with regard to jurisdictional claims in published maps and institutional affiliations.
Supplementary Information
Below is the link to the electronic supplementary material.
About this article
Cite this article
Archer, P.A., Sestito, L.F., Manspeaker, M.P. et al. Quantitation of lymphatic transport mechanism and barrier influences on lymph node-resident leukocyte access to lymph-borne macromolecules and drug delivery systems. Drug Deliv. and Transl. Res. 11, 2328–2343 (2021). https://doi.org/10.1007/s13346-021-01015-3
Accepted:

Published:

Issue Date:
Keywords
Lymph node

Lymphatic system

Transport barrier

Transport mechanism

Drug delivery