The maximum possible amount of drug in rapidly separating microneedles
Abstract
There is an increasing concern on the drug loading capacity of microneedles (MNs) to meet higher drug dosage requirement. The present study describes the fabrication of modified rapidly separating polyvinyl alcohol (PVA)-based MNs (RS-P-MNs) with high drug loading using a mechanical agitation process. The drugs encapsulated within the PVA polymer gel by mechanical agitation served as an encapsulating agent for drugs that provide a high drug loading capacity and also release of drugs in a controlled manner. The various parameters such as microscopic analysis, atomic force microscopy (AFM), drug loading, drug delivery efficiency, mechanical test, skin penetration ability, and in vitro and in vivo analyses indicate the great potential of the RS-P-MNs. The maximum drug loading capacity of RS-P-MNs was measured to be approximately 900 ng per microneedle, which was almost a hundred times than the traditional drug encapsulating mode. The in vitro and in vivo results suggested that the controlled release of drugs is due to the encapsulating mode (mechanical agitation) of drugs. The prepared RS-P-MNs with high drug loading in this study provided a gentle and controlled release of drugs instead of the robust release of drugs from traditional MNs.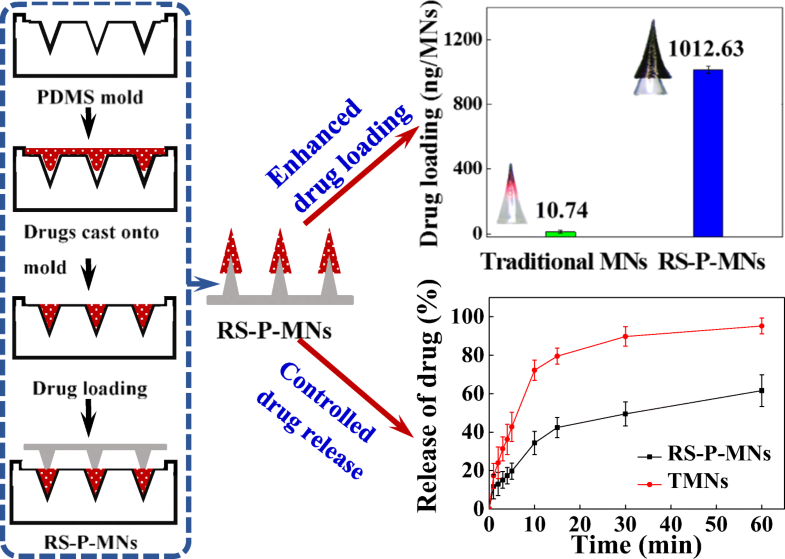 Keywords
Microneedle 
Polymers 
Controlled release 
Rapidly separating 
Notes
Funding
This work was financially supported by the National Natural Science Foundation of China (51673019, 51873015), the Fundamental Research Funds for the Central Universities and Research projects on biomedical transformation of China-Japan Friendship Hospital (PYBZ1817), and the long-term subsidy mechanism from the Ministry of Finance and the Ministry of Education of PRC.
Compliance with ethical standards
All the animal studies were conducted in accordance with the guidelines of the Ethics Committee of Beijing University of Chemical Technology (BUCT), Beijing, China.
Conflict of interest
The authors declare that they have no conflict of interest.
Copyright information
© Controlled Release Society 2019