Abstract
As a leading cause of death and adult disability, ischemic stroke requires the development of non-invasive, long-acting treatments. Osteopontin (OPN) is an endogenous protein shown to have neuroprotective effects in the post-ischemic brain of rats when administered through the non-invasive, intranasal pathway. Previously, gelatin microspheres (GMSs) have been shown to enhance the neuroprotective effects of OPN when used as a carrier during instrastriatal administration, but GMSs are generally too large to enter the brain parenchyma following intranasal administration. Here, gelatin nanoparticles (GNPs) were investigated as a carrier for intranasal delivery of an OPN peptide for the treatment of ischemic stroke. We not only successfully fabricated GNPs with a uniform shape, but also demonstrated the ability of these GNPs to pass into the brain parenchyma following intranasal administration. Critically, the use of GNPs as a carrier allowed for a 71.57 % reduction in mean infarct volume and extended the therapeutic window of intranasally administered OPN peptide to at least 6 h post-middle cerebral artery occlusion (MCAO). Our findings support the development of GNPs as a promising drug delivery platform for the intranasal treatment of ischemic stroke and, potentially, other neurologic disorders.
This is a preview of subscription content, log in to check access.
Access options
Buy single article
Instant access to the full article PDF.
US$ 39.95
Price includes VAT for USA
Subscribe to journal
Immediate online access to all issues from 2019. Subscription will auto renew annually.
US$ 99
This is the net price. Taxes to be calculated in checkout.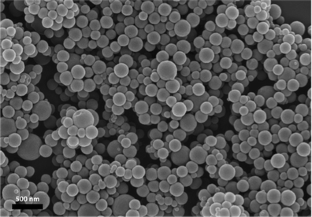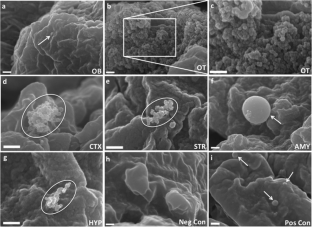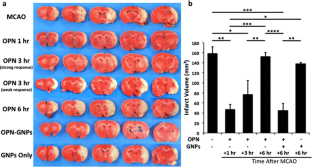 References
1.

Go AS et al. Heart disease and stroke statistics—2014 update: a report from the American Heart Association. Circulation. 2014;129(3):e28–292.

2.

Baker WL et al. Key articles and guidelines in the primary prevention of ischemic stroke. Pharmacotherapy: The Journal of Human Pharmacology and Drug Therapy. 2013;33(6):e101–14.

3.

Meyers PM et al. Current status of endovascular stroke treatment. Circulation. 2011;123(22):2591–601.

4.

Chapman SN et al. Current perspectives on the use of intravenous recombinant tissue plasminogen activator (tPA) for treatment of acute ischemic stroke. Vascular health and risk management. 2014;10:75.

5.

Baker WL et al. Key articles and guidelines in the acute management and secondary prevention of ischemic stroke. Pharmacotherapy: The Journal of Human Pharmacology and Drug Therapy. 2013;33(6):e115–42.

6.

Sodek J, Ganss B, McKee MD. Osteopontin. Crit Rev Oral Biol Med. 2000;11(3):279–303.

7.

Doyle KP et al. Nasal administration of osteopontin peptide mimetics confers neuroprotection in stroke. J Cereb Blood Flow Metab. 2008;28(6):1235–48.

8.

Meller R et al. Neuroprotection by osteopontin in stroke. J Cereb Blood Flow Metab. 2005;25(2):217–25.

9.

Illum L. Nasal drug delivery—possibilities, problems and solutions. J Control Release. 2003;87(1–3):187–98.

10.

Dhuria SV, Hanson LR, Frey Ii WH. Intranasal delivery to the central nervous system: mechanisms and experimental considerations. J Pharm Sci. 2010;99(4):1654–73.

11.

Saladini B et al. Microparticles based on chitosan/pectin polyelectrolyte complexes for nasal delivery of tacrine hydrochloride. Drug Delivery and Translational Research. 2013;3(1):33–41.

12.

Hanson L et al. Intranasal delivery of deferoxamine reduces spatial memory loss in APP/PS1 mice. Drug Delivery and Translational Research. 2012;2(3):160–8.

13.

Freiherr J et al. Intranasal insulin as a treatment for Alzheimer's disease: a review of basic research and clinical evidence. CNS Drugs. 2013;27(7):505–14.

14.

Liu Z et al. Lactoferrin-modified PEG-co-PCL nanoparticles for enhanced brain delivery of NAP peptide following intranasal administration. Biomaterials. 2013;34(15):3870–81.

15.

Kanazawa T et al. Cell-penetrating peptide-modified block copolymer micelles promote direct brain delivery via intranasal administration. Pharm Res. 2011;28(9):2130–9.

16.

Lucivero V et al. Different roles of matrix metalloproteinases-2 and-9 after human ischaemic stroke. Neurol Sci. 2007;28(4):165–70.

17.

Coester CJ et al. Gelatin nanoparticles by two step desolvation a new preparation method, surface modifications and cell uptake. J Microencapsul. 2000;17(2):187–93.

18.

Alam MI et al. Intranasal administration of nanostructured lipid carriers containing CNS acting drug: Pharmacodynamic studies and estimation in blood and brain. J Psychiatr Res. 2012;46(9):1133–8.

19.

Chen J et al. Solanum tuberosum lectin-conjugated PLGA nanoparticles for nose-to-brain delivery: in vivo and in vitro evaluations. J Drug Target. 2012;20(2):174–84.

20.

Jin Y et al. Biodegradable gelatin microspheres enhance the neuroprotective potency of osteopontin via quick and sustained release in the post-ischemic brain. Acta Biomater. 2014;10(7):3126–35.

21.

Cheng F et al. Modeling of small-molecule release from crosslinked hydrogel microspheres: effect of crosslinking and enzymatic degradation of hydrogel matrix. Int J Pharm. 2011;403(1–2):90–5.

22.

Broussalis E et al. Current therapies in ischemic stroke. Part B. Future candidates in stroke therapy and experimental studies. Drug Discov Today. 2012;17(13–14):671–84.

23.

Jahanshahi M et al. Gelatin nanoparticle fabrication and optimization of the particle size. Phys Status Solidi A. 2008;205(12):2898–902.

24.

Ishii T et al. Nanoparticles accumulate in ischemic core and penumbra region even when cerebral perfusion is reduced. Biochem Biophys Res Commun. 2013;430(4):1201–5.

25.

Romanic AM et al. Matrix metalloproteinase expression increases after cerebral focal ischemia in rats: inhibition of matrix metalloproteinase-9 reduces infarct size. Stroke. 1998;29(5):1020–30.
Acknowledgments
This work was financially supported by Research Grants funded by the National Research Foundation of Korea Global Research Network (NRF-220-2011-E00027), Trionix Research Laboratory, Inc., and by a Whitaker International Summer Grant from the Institute of International Education. This work was carried out in part in the Frederick Seitz Materials Research Laboratory Central Facilities, University of Illinois.
All institutional and national guidelines for the care and use of laboratory animals were followed.
Conflict of interest
All authors declare that they have no conflict of interest.
About this article
Cite this article
Joachim, E., Kim, I., Jin, Y. et al. Gelatin nanoparticles enhance the neuroprotective effects of intranasally administered osteopontin in rat ischemic stroke model. Drug Deliv. and Transl. Res. 4, 395–399 (2014). https://doi.org/10.1007/s13346-014-0208-9
Keywords
Osteopontin

Neuroprotection

Ischemic stroke

Gelatin nanoparticles

Intranasal delivery