Abstract
Background and aims
There are few reports on the association between malnutrition and hypoglycemia. The geriatric nutritional risk index (GNRI) allows risk classification by morbidity and mortality resulting from conditions often associated with malnutrition in older individuals. However, the association between GNRI and hypoglycemia is unclear. This study examined the associations between nutrition-related risk and hypoglycemia among older individuals with type 2 diabetes (T2D) using diabetes medication.
Methods
This single-center historical cohort study included hospitalized patients aged ≥ 65 years with T2D on medication. Nutrition-related risk was assessed using the GNRI and classified into four risk groups. Hypoglycemia and serious hypoglycemia were determined by oral or intravenous glucose intake and blood glucose < 3.9 mmol/L (70 mg/dL) as hypoglycemia, among them blood glucose < 3.0 mmol/L (54 mg/dL) as serious hypoglycemia. Data were recorded at least once during hospitalization.
Results
Patients who met the criteria (n = 1.754) were included in the study. The participants median age was 75.0 years. During the study, 81 patients (4.6%) experienced hypoglycemia and 7 patients (0.4%) experienced serious hypoglycemia. Hypoglycemia was observed in patients in the major risk (16.0%), moderate risk (9.7%), low risk (5.2%), and no risk (1.5%) groups (p for trend < 0.001). After adjusting for other risk factors, the hazard ratios of hypoglycemic among people with major, moderate, and low risk were 5.50, 3.86, and 2.55, respectively.
Conclusions
Hypoglycemia increased with increasing nutrition-related risk among older individuals with T2D using diabetes medication. The GNRI is a simple and useful assessment tool in the clinical setting.
Access options
Buy single article
Instant access to the full article PDF.
US$ 39.95
Tax calculation will be finalised during checkout.
Subscribe to journal
Immediate online access to all issues from 2019. Subscription will auto renew annually.
US$ 79
Tax calculation will be finalised during checkout.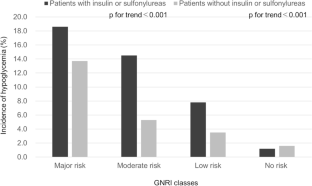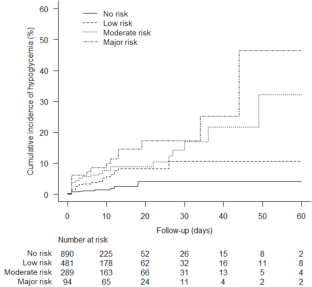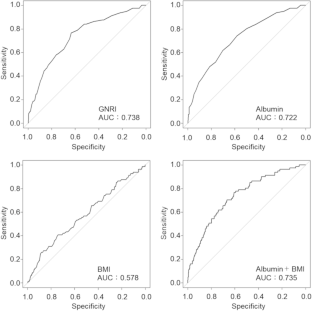 Ethics declarations
Conflict of interest
The authors declare that they have no conflict of interest.
Research involving human participants
All procedures followed were in accordance with the Helsinki Declaration of 1964 and later versions. The study protocol was approved by the Ethics Committees of Soka Municipal Hospital (approval no: 2020–06, approval date: 23 June 2020) and Meiji Pharmaceutical University (approval no: 202010, approval date: 6 July 2020).
Informed consent
Due to the retrospective observational design, written informed consent was not obtained from the participants, although it was obtained via the opt-out method through the website of the institution.
Additional information
Publisher's Note
Springer Nature remains neutral with regard to jurisdictional claims in published maps and institutional affiliations.
About this article
Cite this article
Kimura, Y., Kimura, N. & Akazawa, M. Increased nutrition-related risk as an independent predictor of the incidence of hypoglycemia in the hospitalized older individuals with type 2 diabetes: a single-center cohort study. Diabetol Int (2021). https://doi.org/10.1007/s13340-021-00499-1
Received:

Accepted:

Published:
Keywords
Hypoglycemia

Diabetes mellitus

Geriatric nutritional risk index

Malnutrition