Abstract
Cancer is a major cause of death in patients with type 2 diabetes mellitus (T2DM) and lung cancer is one of the most prevalent cancers in patients with T2DM. In the present study, we examined the anti-cancer effect of the Sodium-glucose cotransporter 2 (SGLT2) inhibitor, canagliflozin, using a lung cancer model. In lung cancer tissues from non-T2DM human subjects, SGLT2 was detected by immunohistochemistry. SGLT2 mRNA and protein were also detected in A549, H1975 and H520 lung cancer cell lines by RT-PCR and immunohistochemistry, respectively. Canagliflozin at 1–50 µM significantly suppressed the growth of A549 cells in a dose-dependent manner. In BrdU assays, canagliflozin attenuated the proliferation of A549 cells, but did not induce apoptosis. In cell cycle analysis, S phase entry was attenuated by canagliflozin in A549 cells. In in vivo experiments, a xenograft model of athymic mice implanted with A549 lung cancer cells was treated with low and high dose oral canagliflozin. Despite the results of the in vitro experiments, tumor weight was not decreased by canagliflozin. In addition, the serum insulin level, but not body weight or blood glucose level, was decreased by canagliflozin. The number of cells positive for Ki67 was slightly decreased by canagliflozin, but this was not statistically significant. In conclusion, SGLT2 is expressed in human lung cancer tissue and cell lines, and the SGLT2 inhibitor, canagliflozin, attenuated proliferation of A549 lung cancer cells by inhibiting cell cycle progression in vitro but not in vivo.
Access options
Buy single article
Instant access to the full article PDF.
US$ 39.95
Tax calculation will be finalised during checkout.
Subscribe to journal
Immediate online access to all issues from 2019. Subscription will auto renew annually.
US$ 79
Tax calculation will be finalised during checkout.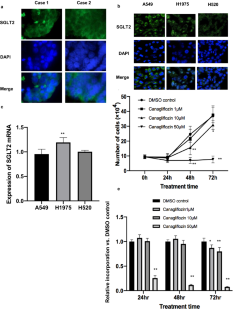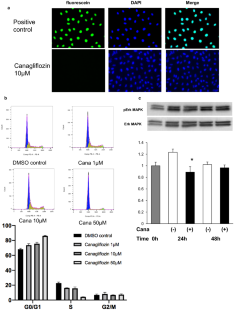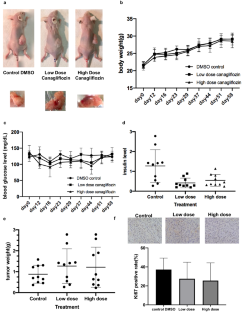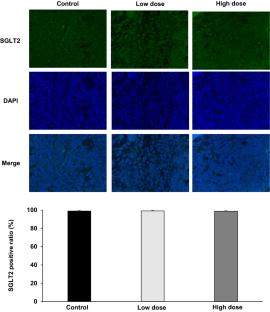 References
1.

Emerging Risk Factors Collaboration, Seshasai SR, Kaptoqe S, Thompson A, Di Angelantonio E, Gao P, Sarwar N, Whincup PH, Mukamal KJ, Gillum RF, Holm I, Njolstad I, Fletcher A, Nilsson LS, Collins R, Gudnason V, Thompson SG, Sattar N, Selvin E, Hu FB, Danesh J. Diabetes mellitus, fasting glucose, and risk of cause-specific death. N Engl J Med. 2011;364:829–41.

2.

Kasuga M, Ueki K, Tajima N, Noda M, Ohashi K, Noto H, Goto A, Ogawa W, Sakai R, Tsugane S, Hamajima N, Nakagawa H, Tajima K, Miyazono K, Imai K. Report of the JDS/JCA joint committee on diabetes and cancer. Diabetol Int. 2013;4:81–96.

3.

Esposito K, Chiodini P, Colao A, Lenzi A, Giugliano D. Metabolic syndrome and risk of cancer: a systemic review and meta-analysis. Diabetes Care. 2012;35:2402–11.

4.

Nomiyama T, Kawanami T, Irie S, Hamaguchi Y, Terawaki Y, Murase K, Tsutsumi Y, Nagaishi R, Tanabe M, Morinaga H, Tanaka T, Mizoguchi M, Nabeshima K, Tanaka M, Yanase T. Exendin-4, a glicagon-like peptide-1 receptor agonist, attenuates prostate cancer growth. Diabetes. 2014;63:3891–905.

5.

Iwaya C, Nomiyama T, Komatsu S, Kawanami T, Hamaguchi Y, Yoshinaga Y, Yamashita S, Tanaka T, Terawaki Y, Tanabe M, Nabeshima K, Iwasaki A, Yanase T. Exendin-4, a glucagonlike peptide-1 receptor agonist, attenuates breast cancer growth by inhibiting NF-kB activation. Endocrinology. 2017;158:4218–32.

6.

Tsutsumi Y, Nomiyama T, Kawanami T, Hamagichi Y, Terawaki Y, Tanaka T, Murase K, Motonaga R, Tanabe M, Yanase T. Combined treatment with Exendin-4 and metformin attenuates prostate cancer growth. PLoS ONE. 2015;10:e0139709.

7.

Nomiyama T, Shimono D, Horikawa T, Fujimura Y, Ohsako T, Terawaki Y, Fukuda T, Motonaga R, Tanabe M, Yanase T. Efficacy and safety of sodium-glucose cotransporter 2 inhibitor ipragliflozin on glycemic control and cardiovascular parameters in Japanese patients with type 2 diabetes mellitus; Fukuoka Study of Ipragliflozin (FUSION). Endocr J. 2018;65:859–67.

8.

Neal B, Perkovic V, Mahaffey KW, de Zeeuw D, Fulcher E, Erondu N, Shaw W, Law G, Desai M, Matthews DR, CANVAS Program Collaborative Group. Canagliflozin and cardiovascular and renal events in type 2 diabetes. N Engl J Med. 2017;377:644–57.

9.

Takahashi H, Nomiyama T, Terawaki Y, Kawanami T, Hamaguchi Y, Tanaka T, Tanabe M, Bruemmer D, Yanase T. Glucagon-like peptide-1 receptor agonist exendin-4 attenuates neuron- derived orphan receptor 1 expression in vascular smooth muscle cells. J Atheroscler Thromb. 2019;26:183–97.

10.

Scafoglio C, Hirayama BA, Kepe V, Liu J, Ghezzi C, Satyamurthy N, Moatamed NA, Huang J, Koepsell H, Barrio JR, Wright EM. Functional expression of sodium-glucose transporters in cancer. Proc Natl Acad Sci USA. 2015;112:E4111-4119.

11.

Shiba K, Tsuchiya K, Komiya C, Miyachi Y, Mori K, Shimazu N, Yamaguchi S, Ogasawara N, Katoh M, Itoh M, Suganami T, Ogawa Y. Canagliflozin, an SGLT2 inhibitor, attenuates the development of hepatocellular carcinoma in a mouse model of human NASH. Sci Rep. 2018;8:2362.

12.

Saito T, Okada S, Yamada E, Shimoda Y, Osaki A, Tagaya Y, Shibusawa R, Okada J, Yamada M. Effect of dapagliflozin on colon cancer cell. Endocr J. 2015;62:1133–7.

13.

Komatsu S, Nomiyama T, Numata T, Kawanami T, Hamaguchi Y, Iwaya C, Horikawa T, Tanaka YF, Hamanoue N, Motonaga R, Tanabe M, Inoue R, Yanase T, Kawanami D. SGLT2 inhibitor ipragliflozin attenuates breast cancer cell proliferation. Endocr J. 2020;67:99–106.

14.

Nakamura J, Kamiya H, Haneda M, Inagaki N, Tanizawa Y, Araki E, Ueki K, Nakayama T. Cause of death in Japanese patients with diabetes based on the resultd of survey of 45,708 cases during 2001–2010: report from the committee on the cause of death in diabetes mellitus. Diabetol Int. 2017;8:117–36.

15.

Scafoglio CR, Villegas B, Abdelhady G, Bailey ST, Liu J, Shirali AS, Wallace WD, Magyar CE, Groan TR, Elashoff D, Walser T, Yanagawa J, Aberle DR, Barrio JR, Dubinett SM, Shackelford DB. Sodium-glucose transporter 2 is a diagnostic and therapeutic target for early-stage lung adenocarcinoma. Sci Transl Med. 2018;10:eaat5933. https://doi.org/10.1126/scitranslmed.aat5933.

16.

Villani LA, Smith BK, Marcinko K, Ford RJ, Broadfield LA, Green AE, Houde VP, Muti P, Tsakiridis T, Steinberg GR. The diabetes medication canagliflozin reduces cancer cell proliferation by inhibition mitochondrial complex-I supported respiration. Mol Metab. 2016;5:1048–56.

17.

Kaji K, Nishimura N, Seki K, Sato S, Saikawa S, Nakanishi K, Furukawa M, Kawaratani H, Kitade M, Moriyama K, Namisaki T, Yoshiji H. Sodium glucose cotransporter 2 inhibitor canagliflozin attenuates liver cancer cell growth and angiogenic activity by inhibiting glucose uptake. Int J Cancer. 2018;142:1712–22.

18.

Hung MH, Chen YL, Chen LJ, Chu PY, Hsieh FS, Tsai MH, Shih CT, Chao TI, Huang CY, Chen KF. Canagliflozin inhibits growth of hepatocellular carcinoma via blocking glucose-influx-induced b-catenin activation. Cell Death Dis. 2019;10:420.

19.

Jojima T, Wakamatsu S, Kase M, Iijima T, Maejima Y, Shimomura K, Kogai T, Tomaru T, Usui I, Aso Y. The SGLT2 inhibitor canagliflozin prevents carcinogenesis in a mouse model of diabetes and non-alcoholic steatohepatitis-related hepatocarcinogenesis: association with SGLT2 expression in hepatocellular carcinoma. Int Mol Sci. 2019;20:5237.

20.

Tang H, Dai Q, Shi W, Zhai S, Song Y, Han J. SGLT2 inhibitors and risk of cancer in type 2 diabetes: a systematic review and meta-analysis of randomized controlled trials. Diabetologia. 2017;60:1862–72.
Funding
T.N. received lecture fees from MDS, Sumitomo Dainippon Pharma and Ono Pharmaceutical, and research grants from Sumitomo Dainippon Pharma and Mitsubishi Tanabe Pharma. T.Y. received research grants from MSD, Eli Lilly Japan, Takeda Pharmaceutical and Nippon Boehringer Ingelheim. D.K. received lecture fees from Eli Lilly Japan, Novo Nordisc Pharma and Takeda Pharmaceutical and Novartis Pharma, and research grants from Nippon Boehringer Ingelheim, Takeda Pharmaceutical, Sumitomo Dainippon Pharma and Ono Pharmaceutical.
Additional information
Publisher's Note
Springer Nature remains neutral with regard to jurisdictional claims in published maps and institutional affiliations.
About this article
Cite this article
Yamamoto, L., Yamashita, S., Nomiyama, T. et al. Sodium-glucose cotransporter 2 inhibitor canagliflozin attenuates lung cancer cell proliferation in vitro. Diabetol Int (2021). https://doi.org/10.1007/s13340-021-00494-6
Received:

Accepted:

Published:
Keywords
SGLT2 inhibitor

Lung cancer

Cell proliferation

Cell cycle