Abstract
Detection of Classical swine fever virus (CSFV) nucleic acid in archival formalin fixed tissue samples and their use for phylogenetic analysis was investigated. Ten samples were examined for the presence of CSFV nucleic acid by reverse transcriptase polymerase chain reaction (RT-PCR) amplification of 5′UTR and E2 gene. RT-PCR was found positive for 5′UTR fragment in eight samples while only one tissue samples showed amplification for E2 gene target fragment. For molecular epidemiology of the disease, 5′UTR PCR product of sample from Darbhanga (Bihar), was cloned and sequenced. The sequence was compared with the sequences available in database. The phylogenetic analysis reveals that the isolate belongs to subgroup 2.2 sharing 98.7% nucleotide identities with Vietnamese isolate (CaTh05-1, AB252170), indicating towards the possible origin of genogroup 2.2 CSFV isolates involved in the outbreak from Vietnam. From the study, it can be concluded that the tissue samples collected and stored in buffer formalin for years can be used to detect CSFV nucleic acid. Results are also suggestive of that the 5′UTR region of genome is more suitable target for RT-PCR based detection of CSFV in archival formalin fixed specimens. The study also indicates the potential of archival formalin fixed tissues for molecular epidemiology and genotyping of the CSF virus.
Access options
Buy single article
Instant access to the full article PDF.
US$ 39.95
Tax calculation will be finalised during checkout.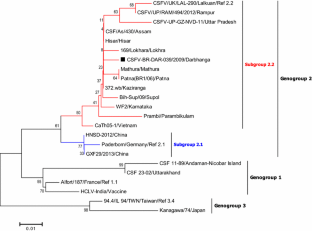 References
1.

Moennig V. Introduction to classical swine fever: virus, disease and control policy. Vet Microbiol. 2000;73(2):93–102. doi:10.1016/s0378-1135(00)00137-1.

2.

Moennig V, Floegel-Niesmann G, Greiser-Wilke I. Clinical signs and epidemiology of classical swine fever: a review of new knowledge. Vet J. 2003;165(1):11–20. doi:10.1016/s1090-0233(02)00112-0.

3.

Patil SS, Hemadri D, Veeresh H, Sreekala K, Gajendragad MR, Prabhudas K. Phylogenetic analysis of NS5B gene of classical swine fever virus isolates indicated plausible Chinese origin of Indian subgroup 2.2 viruses. Virus Genes. 2012;44(1):104–8.

4.

Risatti GR, Callahan JD, Nelson WM, Borca MV. Rapid detection of classical swine fever virus by a portable real-time reverse transcriptase PCR assay. J Clin Microbiol. 2003;41:500–5.

5.

Lowings P, Ibata G, Needham J, Paton D. Classical swine fever virus diversity and evolution. J Gen Virol. 1996;77(6):1311–21. doi:10.1099/0022-1317-77-6-1311.

6.

Paton DJ, McGoldrick A, Greiser-Wilke I, Parchariyanon S, Song JY, Liou PP, Stadejek T, Lowings JP, Bjorklund H, Belak S. Genetic typing of classical swine fever virus. Vet Microbiol. 2000;73:137–57. doi:10.1016/S0378-1135(00)00141-3.

7.

Collins ME, Stevens DA, Jenner LJ, Brownlie J. A rapid method for mRNA detection in single-cell biopsies from pre-implantation stage bovine embryos. Theriogenology. 1995;43:1227–38.

8.

Greiser-Wilke I, Depner K, Fritzemeier J, Haas L, Moennig V. Application of a computer program for genetic typing of classical swine fever virus isolates from Germany. J Virol Methods. 1998;75:141–50.

9.

Singh VK, Saikumar G, Paliwal OP. Detection of classical swine fever virus in archival formalin-fixed tissues by reverse transcription–polymerase chain reaction. Res Vet Sci. 2005;79(1):81–4. doi:10.1016/j.rvsc.2004.11.002.

10.

Hofmann MA, Thur B, Liu L, Gerber M, Stettler P, Moser C, Bossy S. Rescue of infectious classical swine fever and foot-and-mouth disease virus by RNA transfection and virus detection by RT-PCR after extended storage of samples in Trizol. J Virol Methods. 2000;87(1–2):29–39.

11.

Chung HK, Choi C, Kim J, Chae C. Detection and differentiation of North American and European genotype of porcine reproductive and respiratory syndrome virus in formalin fixed, paraffin embedded tissue by multiplex reverse transcriptase polymerase reaction. J Vet Diagn Invest. 2002;14:56–60.

12.

Jung K, Kim J, Kim O, Kim B, Chae C. Differentiation between porcine epidemic diarrhea virus and transmissiblbe gastroenteritis virus in formalin fixed paraffin embedded tissue by multiples RT-PCR and comparision with in situ hybridization. J Virol Methods. 2003;108:41–7.

13.

Blacksell SD, Khounsy S, Boyle DB, Greiser-Wilke I, Gleeson LJ, Westbury HA, Mackenzie JS. Phylogenetic analysis of the E2 gene of classical swine fever viruses from Lao PDR. Virus Res. 2004;104:87–92. doi:10.1016/j.virusres.2004.02.041.

14.

Greiser-Wilke I, Fritzemeier J, Koenen F, Vanderhallen H, Rutili D, De Mia GM, Romero L, Rosell R, Sanchez-Vizcaino JM, Gabriel AS. Molecular epidemiology of a large classical swine fever epidemic in the European Union in 1997–1998. Vet Microbiol. 2000;77(1–2):17–27.

15.

Thompson JD, Higgins DG, Gibson TJ. CLUSTAL W: improving the sensitivity of progressive multiple sequence alignment through sequence weighting, position-specific gap penalties and weight matrix choice. Nucleic Acids Res. 1994;22:4673–80.

16.

Tamura K, Stecher G, Peterson D, Filipski A, Kumar S. MEGA6: molecular evolutionary genetics analysis version 6.0. Mol Biol Evol. 2013;30(12):2725–9. doi:10.1093/molbev/mst197.

17.

Felsenstein J. Confidence limits on phylogenies: an approach using the bootstrap. Evolution. 1985;39:783–91.

18.

Kimura M. A simple method for estimating evolutionary rates of base substitutions through comparative studies of nucleotide sequences. J Mol Evol. 1980;16:111–20. doi:10.1007/BF01731581.

19.

Desai GS, Sharma A, Kataria RS, Barman NN, Tiwari AK. 5′-UTR-based phylogenetic analysis of classical swine fever virus isolates from India. Acta Virol. 2010;54(1):79–82.

20.

Sarma DK, Mishra N, Vilcek S, Rajukumar K, Behera SP, Nema RK, Dubey P, Dubey SC. Phylogenetic analysis of recent classical swine fever virus (CSFV) isolates from Assam,India. Comp Immunol Microbiol Infect Dis. 2011;34:11–5.

21.

Bartak P, Greiser-Wilke I. Genetic typing of classical swine fever virus isolates from the territory of the Czech Republic. Vet Microbiol. 2000;77:59–70.

22.

Zhang H, Wang YH, Cao HW, Cui YD. Phylogenetic analysis of E2 genes of classical swine fever virus in China. Isr J Vet Med. 2010;65(4):151–5.

23.

Kumar R, Rajak KK, Chandra T, Thapliyal A, Muthuchelvan D, Sudhakar SB, Sharma K, Saxena A, Raut SD, Singh VK, Ahmad Z, Kumar A, Chaudhary D, Singh RK, Pandey AB. Whole-genome sequence of a classical swine fever virus isolated from the Uttarakhand State of India. Genome Announc. 2014;2(3):e00371–003714. doi:10.1128/genomeA.00371-14.
Acknowledgements
The authors are grateful to Director, I.V.R.I., Izatnagar, Bareilly (UP) and Department of Biotechnology, Ministry of Science and Technology, New Delhi for providing the necessary facilities and funds to carry out this study.
About this article
Cite this article
Singh, V.K., Rajak, K.K. Phylogenetic analysis of Classical swine fever virus from archival formalin fixed clinical tissues reveals vietnamese origin of the isolates. VirusDis. 28, 121–125 (2017). https://doi.org/10.1007/s13337-017-0364-x
Received:

Accepted:

Published:

Issue Date:
Keywords
CSFV

Detection

Formalin

Retrospective epidemiology

Tissues