Abstract
Mullets are dominant fishes in the catch composition in the southern coasts of the Caspian Sea and after (Rutilus frisii kutum Kamensky, 1901) have a worthy role in production of marine proteins and incomings of north provinces of Iran. Mullets stocks decreased dramatically in recent decades in the Caspian Sea and catch amount reached from 6446 MT on 2002 to 2151 MT in 2012. Mysterious mortalities occurred in wild mullet (Liza auratu) and (Liza saliens) in Iranian waters of Caspian Sea in recent years. Regarding to investigation of causative agent of mentioned outbreak about 322 suspected samples were collected from coastal capture sites of Iranian north provinces in 2008 till 2011. Moribund fish revealed skin darkening, erratic swimming, belly-up at rest and high distension of swim bladder. Target tissues such as brain and eye were removed and then fixed for histopathology and TEM assay. Widespread and massive vacuolation were observed in brain, spinal cord, retina and optical nerve and intracytoplasmic vacuoles and virus particles in retina. So concerning to clinical signs, histopathological and TEM findings, it could be concluded that nodavirus-like agent could be probable cause of mass mortality of wild mullet in Iranian waters of the Caspian Sea.
Access options
Buy single article
Instant access to the full article PDF.
US$ 39.95
Tax calculation will be finalised during checkout.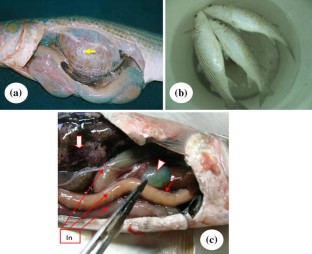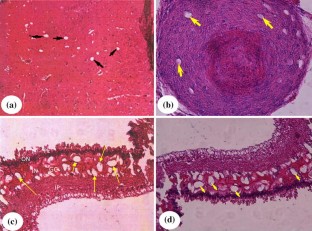 References
1.

Zorriehzahra MEJ, Nakai T, Gomez D, Chi CS, Sharifpour I, Hassan HMD, Soltani M, Sharif Rohani M, Saeidi AA. Mortality of wild golden grey mullet (Liza auratus) in Iranian waters of the Caspian Sea associated with viral nervous necrosis-Like agent. Iran J Fish Sci. 2005;4(2):43–58.

2.

Office International des Epizooties (OIE) (2003).Viral encephalopathy and retinopathy. In: Diagnostic manual for aquatic animal diseases. OIE, Paris p 136

3.

Yoshikoshi K, Inoue K. Viral nervous necrosis in hatchery-reared larvae and juveniles of Japanese parrotfish, Oplegathus fasciatus (Temminck & Schlegel. Fish Dis. 1990;13:69–77.

4.

Munday BL, Kwang J, Moody N. Betanodavirus infection of teleost fish: a review. Fish Dis. 2002;25:127–42.

5.

Sano M, Nakai T, Fijan N. Viral diseases and agents of warmwater fish. In: Woo PTK, Bruno DW, editors. Fish diseases and disorders, vol. 3: viral, bacterial and fungal infections. 2nd ed. London: CABI; 2011. p. 166–244.

6.

Bovo G, Gustinelli A, Quaglio F, Gobbo F, Panzarin V, Fusaro A, Mutinelli F, Caffara M, Fioravanti M. Viral encephalopathy and retinopathy outbreak in freshwater fish farmed in Italy. Dis Aquat Org. 2011;96:45–54.

7.

Chi SC, Shieh JR, Lin SJ. Genetic and antigenic analysis of betanodaviruses isolated from aquatic organisms in Taiwan. Dis Aquat Org. 2003;55:221–8.

8.

Vendramin N, Toffan A, Mancin M, Cappellozz E, Panzarin V, Bovo G, Cattoli G, Capua I, Terregino C. Comparative pathogenicity study of ten different betanodavirus strains in experimentally infected European sea bass, Dicentrarchus labrax (L.). J Fish Dis. 2003;. doi:10.1111/jfd.12117.

9.

Gomez DK, Baeck GW, Kim JH, Choresca CH, Park SC. Molecular detection of betanodavirus in wild marine fish populations in Korea. Vet Diag Invest. 2008;20:38–44.

10.

Roberts RJ. Fish pathology. 3rd ed. W.B: Saunders Co.; 2001;472.

11.

Sheehan DC, Hrapapchak BB. Microorganisms. Theory and practice of histotechnology. 2nd ed. St. Louis: Mosby Publishing Co.; 1980. p. 233–51.

12.

Chi SC, Wu YC, Cheng TM. Persistent infection of betanodavirus in a novel cell line derived from the brain tissue of barramundi Lates calcarifer. Dis Aquat Org. 2005;65:91–8.

13.

Korsnes K, Devold M, Nerland AH, Nylund A. Viral encephalopathy and retinopathy (VER) in Atlantic salmon Salmo salar after intraperitoneal challenge with a nodavirus from Atlantic halibut Hippoglossus hippoglossus. Dis Aquat Org. 2005;68:7–15.

14.

Starkey WG, Ireland JH, Muir KF, Jenkins ME, Roy WJ, Richards RH, Ferguson HW. Nodavirus infection in Atlantic cod and Dover sole in the UK. Vet Rec. 2001;149:179–81.

15.

Glazebrook JS, Heasman MP, de Beer SW. Picorna-like viral particles associated with mass mortalities in larval barramundi Lates calcarifer (Bloch). Fish Dis. 1990;13:245–9.

16.

Bloch B, Gravningen K, Larsen JL. Encephalomyelitis among turbot associated with a picornavirus-like agent. Dis Aquat Org. 1991;10:65–70.

17.

Breuil G, Bonarni JR, Pepin JF, Pichot Y. Viral infection (picorna-like virus) associated with mass mortalities in hatchery-reared sea-bass (Dicentrarchus labrax) larvae and juveniles. Aquaculture. 1991;97:109–16.

18.

Mori K, Nakai T, Nagahara M, Muroga K, Mekuchi T, Kanno T. A viral disease in hatchery-reared larvae and juveniles of redspotted grouper. Gyobyo Kenkyu, Fish Pathol. 1991;26:209–10.

19.

Mori K, Nakai T, Muroga K, Muroga K, Arimoto M, Mushiake K, Furusawa I. Properties of a new virus belonging to Nodaviridae found in larval striped jack (Pseudocaranx dentex) with nervous necrosis. Virology. 1992;187:368–71.

20.

Boonyaratpalin S, Supamattaya K, Kasornchandra J, Hoffmann RW. Picorna like virus associated with mortality and a spongious encephalopathy in grouper Epinephelus malabaricus. Dis Aquat Org. 1996;26:75–80.

21.

Grotmol S, Totland GK, Kvellestad A, Fjell K, Olsen AB. Mass mortality of larval and juvenile hatchery-reared halibut (Hippoglossus hippoglossus L.) associated with the presence of virus-like particles in vacuolated lesions in the central nervous system and retina. Bull Europ Assoc Fish Pathol. 1995;15:176–80.

22.

Soltani M, Ghasemi M, Sharif Rohani M, Sharifpour I, Zorriehzahra MJ. Isolation and identification of Betanodavirus causing mass mortalities in golden grey mullet (Liza auratus) in the Caspian Sea. Iran J Vet Med. 2010;4:201–8.

23.

Munday BL, Nakai T. Special topic review: nodaviruses as pathogens in larval and juvenile marine finfish. World J. of Microbiol Biotechnol. 1997;13:375–81.

24.

Le Breton A, Grisez L, Sweetman J, Ollevier F. Viral nervous necrosis (VNN) associated with mass mortalities in cage-reared seabass, Dicentrarchus labrax (L.). Fish Dis. 1997;20:145–51.

25.

Tanaka S, Takagi M, Miyazaki T. Histopathological studies on viral nervous necrosis of sevenband grouper Epinephelus septemfasciatus Thunberg, at the grow-out stage. Fish Dis. 2004;27:385–99.

26.

Nazari A, Hassan MD, Zorriehzahra MJ, Azmi TI, Siti SA, (2011) Isolation and Identification of Viral Nervous Necrosis (VNN) Disease in wild Golden Grey mullet, (Liza auratus) captured in Iranian water of Caspian Sea. Ph D Thesis, University of Putra Malaysia, (UPM)

27.

Roberts RJ. The pathophysiology and systematic pathology of teleosts. In: Roberts RJ, editor. Fish pathology. London: Bailliere Tindall; 1978. p. 55–91.

28.

Hibiya T. An atlas of fish histology. Tokyo: Kodanshah Ltd.; 1982 149 pp.

29.

Koohkan O, Abdi R, Zorriehzahra MEJ, Movahedinia A, Sharifpoor I. Acute mortality of Liza klunzingeri in Persian Gulf and Oman Sea associated with nervous necrosis. Comp Clin Pathol. 2012;. doi:10.1007/s00580-012-1625-0.
Acknowledgments
This study was supported by Iranian Fisheries Research Organization (IFRO).The authors would like to thank the staff of the Guilan & Mazandaran Research Centres of IFRO for providing samples used in this study. Special thanks also go to Prof. Toshihiro Nakai and Prof. Shau-Chi, Chi for their valuable advices.
About this article
Cite this article
Zorriehzahra, M.J., Nazari, A., Ghasemi, M. et al. Vacuolating encephalopathy and retinopathy associated with a nodavirus-like agent: a probable cause of mass mortality of wild Golden grey mullet (Liza aurata) and Sharpnose grey mullet (Liza saliens) in Iranian waters of the Caspian Sea. VirusDis. 25, 430–436 (2014). https://doi.org/10.1007/s13337-014-0238-4
Received:

Accepted:

Published:

Issue Date:
Keywords
Histopathology

TEM

Nodavirus-like

Caspian Sea

Iran