Abstract
West Nile virus (WNV) is an increasing public health concern in Europe with numerous human cases. A total of 23,029 female mosquitoes were tested for a variety of mosquito-borne flaviviruses and orthobunyaviruses supposedly endemic in Southern Transdanubia, Hungary, in the frames of a large-scale surveillance between 2011 and 2013. WNV nucleic acid was detected in a single pool containing Uranotaenia unguiculata mosquitoes. Sequence- and phylogenetic analyses for two different regions (NS5 and E) of the viral genome showed that the novel Hungarian WNV strain was different from other previously described WNV lineages. These findings may indicate the presence of a putative, novel lineage of WNV in Europe. Our results also indicate that U. unguiculata mosquito may become relevant species as a potential vector for West Nile virus in Europe.
Access options
Buy single article
Instant access to the full article PDF.
US$ 39.95
Tax calculation will be finalised during checkout.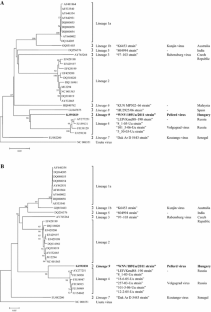 References
1.

Bakonyi T, Ferenczi E, Erdélyi K, Kutasi O, Csörgő T, Seidel B, Weissenböck H, Bruggeri K, Bánc E, Nowotny N. Explosive spread of a neuroinvasive lineage 2 West Nile virus in Central Europe, 2008/2009. Vet Microbiol. 2013;165:61–70.

2.

Becker N, Petric D, Zgomba M, Boase C, Madon M, Dahl C, Kaiser A. Mosquitoes and their control. New York: Kluwer Academic/Plenum Publisher; 2003.

3.

Donadieu E, Bahuon C, Lowenski S, Zientara S, Coulpier M, Lecollinet S. Differential virulence and pathogenesis of West Nile viruses. Viruses. 2013;11:2856–80.

4.

Hall-Mendelin S, Ritchie SA, Johansen CA, Zborowski P, Cortise G, Dandridgef S, Halla RA, Hurk AF. Exploiting mosquito sugar feeding to detect mosquito-borne pathogens. PNAS. 2010;107:11255–9.

5.

Hubálek Z. Mosquito-borne viruses in Europe. Parasitol Res. 2008;103:29–43.

6.

Hubálek Z, Rudolf I, Bakonyi T, Kazdová K, Halouzka J, Sebesta O, Sikutová S, Juricová Z, Nowotny N. Mosquito (Diptera: Culicidae) surveillance for arboviruses in an area endemic for West Nile (Lineage Rabensburg) and Tahyna viruses in Central Europe. J Med Entomol. 2010;47:466–72.

7.

Scaramozzino N, Crance JM, Jouan A, DeBriel DA, Stoll F, Garin D. Comparison of flavivirus universal primer pairs and development of a rapid, highly sensitive heminested reverse transcription-pcr assay for detection of flaviviruses targeted to a conserved region of the NS5 gene sequences. J Clin Microbiol. 2001;39:1922–7.

8.

Weissenböck H, Bakonyi T, Chvala S, Nowotny N. Experimental Usutu virus infection of suckling mice causes neuronal and glial cell apoptosis and demyelination. Acta Neuropathol. 2004;108:453–60.
Acknowledgments
Research activity of Gábor Kemenesi and Ferenc Jakab was supported by the TÁMOP 4.2.4. A/2-11-1-2012 0001—National Excellence Program Elaborating and operating an inland student and researcher personal support system. The project was subsidized by the European Union and co-financed by the European Social Fund. The study was also partially supported by the European Union FP7-261504 EDENext Project (www.edenext.eu) and is catalogued by the EDENext Steering Committee as EDENext227. The contents of this paper are the sole responsibility of the authors and do not necessarily reflect the views of the European Commission. This study was supported by the Hungarian Scientific Research Fund (OTKA; PD77977) project. Krisztián Bányai was supported by the "Momentum program".
About this article
Cite this article
Kemenesi, G., Dallos, B., Oldal, M. et al. Putative novel lineage of West Nile virus in Uranotaenia unguiculata mosquito, Hungary. VirusDis. 25, 500–503 (2014). https://doi.org/10.1007/s13337-014-0234-8
Received:

Accepted:

Published:

Issue Date:
Keywords
West Nile virus

Lineage

Hungary

Uranotaenia unguiculata