Abstract
Although the existence of infectious laryngotracheitis virus (ILTV) in India was first reported in 1964, no reports are available regarding its molecular detection and characterization. The present study was aimed to detect and characterize ILTV from recent respiratory disease complex (RDC) outbreaks of commercial poultry flocks in different parts of the country by using envelope glycoprotein G gene (US4 gene) based PCR and sequencing. A total of thirty two flocks with a history of RDC were investigated. Overall, all the strains/breeds of birds and all ages of birds are equally susceptible and depending on the severity, the clinical signs and gross lesions were varied. Out of 32 flocks investigated 10 were found positive for ILTV infection by PCR. The phylogenetic analyses of eight representative sequences in the present study deciphered that Indian ILT viruses are closely related to chicken embryo origin vaccine strains of Italy, USA, China and Brazil.
Access options
Buy single article
Instant access to the full article PDF.
USD 39.95
Price includes VAT (USA)
Tax calculation will be finalised during checkout.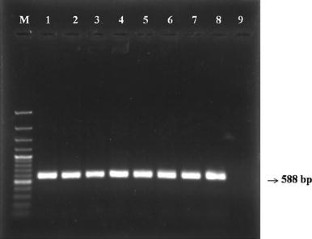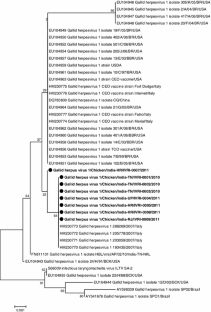 References
1.

Alexander HS, Nagy E. Polymerase chain reaction to detect infectious laryngotracheitis virus in conjunctival swabs from experimentally infected chickens. Avian Dis. 1997;41:646–53.

2.

Bagust TJ, Jones RC, Guy JS. Avian infectious laryngotracheitis. Rev Off Int Epizoot. 2000;19:483–92.

3.

Blacker HP, Kirkpatrick NC, Rubite A, O'Rourke D, Noormohammadi AH. Epidemiology of recent outbreaks of infectious laryngotracheitis in poultry in Australia. Aust Vet J. 2011;89:89–94.

4.

Bradbury JM. Avian mycoplasma infections: prototype of mixed infections with mycoplasmas, bacteria and viruses. Ann Microbiol (Paris). 1984;135A:83–9.

5.

Crawshaw GJ, Boycott BR. Infectious laryngotracheitis in peafowl and pheasants. Avian Dis. 1982;26:397–401.

6.

Davison AJ, Eberle R, Ehlers B, Hayward GS, McGeoch DJ, Minson AC. The order Herpesvirales. Arch Virol. 2009;154:171–7.

7.

Dufour-Zavala L. Epizootiology of infectious laryngotracheitis and presentation of an industry control program. Avian Dis. 2008;52:1–7.

8.

Fuchs W, Klupp BG, Granzow H, Osterrieder N, Mettenleiter TC. The interacting UL31 and UL34 gene products of pseudorabies virus are involved in egress from the host-cell nucleus and represent components of primary enveloped but not mature virions. J Virol. 2002;76:364–78.

9.

Fuchs W, Veits J, Helferich D, Granzow H, Teifke JP, Mettenleiter TC. Molecular biology of avian infectious laryngotracheitis virus. Vet Res. 2007;38:261–79.

10.

Georgiades G, Iordanidis P, Koumbati M. Cases of swollen head syndrome in broiler chickens in Greece. Avian Dis. 2001;45:745–50.

11.

Gough AW, Pettit JR, Gagnon A, Weber LJ. An outbreak of infectious laryngotracheitis in commercial poultry flocks in Ontario. Can J Comp Med. 1977;41:146–51.

12.

Guy JS, Garcia M. Laryngotracheitis. In: Saif YM, Fadly AM, Glisson JR, McDougald LR, Nolan LK, Swayne DE, editors. Diseases of poultry. 12th ed. Ames, Iowa: Blackwell Pub. Professional; 2008. p. 137–52.

13.

Hayles LB, Macdonald KR, Newby WC, Wood CW, Gilchrist EW, MacNeill AC. Epizootiology of infectious laryngotracheitis in British Columbia 1971–1973. Can Vet J. 1976;17:101–8.

14.

Islam MS, Khan MSR, Islam MA, Hassan J. Isolation and characterization of infectious laryngotracheitis virus in layer chickens. Bangladesh J Vet Med. 2010;8:123–30.

15.

Jahan MS, Khan MFR, Nazir KNH, Amin MM, Rahman MB. Sero-Surveillance of infectious laryngotracheitis in layer birds in bangladesh. Microbes and Health [Internet]. 2013 [cited 2013 Oct 16];1. http://banglajol.info/index.php/MH/article/view/14086.

16.

Jones RC. Infectious laryngotracheitis. In: Pattison M, McMullin P, Bradbury JM, Alexander D, editors. Poultry diseases. 6th ed. Edinburgh: Elsevier; 2008. p. 267–71.

17.

Jordan FT. The epidemiology of disease of multiple aetiology: the avian respiratory disease complex. Vet Rec. 1972;90:556–62.

18.

Kirkpatrick NC, Mahmoudian A, Colson CA, Devlin JM, Noormohammadi AH. Relationship between mortality, clinical signs and tracheal pathology in infectious laryngotracheitis. Avian Pathol. 2006;35:449–53.

19.

Leib DA, Bradbury JM, Hart CA, McCarthy K. Genome isomerism in two alphaherpes viruses: Herpesvirus saimiri-1 (Herpesvirus tamarinus) and avian infectious laryngotracheitis virus. Brief Report Arch Virol. 1987;93:287–94.

20.

Malik YS, Patnayak DP, Goyal SM. Detection of three avian respiratory viruses by single-tube multiplex reverse transcription-polymerase chain reaction assay. J Vet Diagn Invest. 2004;16:244–8.

21.

Neff C, Sudler C, Hoop RK. Characterization of western European field isolates and vaccine strains of avian infectious laryngotracheitis virus by restriction fragment length polymorphism and sequence analysis. Avian Dis. 2008;52:278–83.

22.

Ojkic D, Swinton J, Vallieres M, Martin E, Shapiro J, Sanei B, et al. Characterization of field isolates of infectious laryngotracheitis virus from Ontario. Avian Pathol. 2006;35:286–92.

23.

Oldoni I, García M. Characterization of infectious laryngotracheitis virus isolates from the US by polymerase chain reaction and restriction fragment length polymorphism of multiple genome regions. Avian Pathol. 2007;36:167–76.

24.

Oldoni I, Rodríguez-Avila A, Riblet S, García M. Characterization of infectious laryngotracheitis virus (ILTV) isolates from commercial poultry by polymerase chain reaction and restriction fragment length polymorphism (PCR-RFLP). Avian Dis. 2008;52:59–63.

25.

Ottiger H-P. Development, standardization and assessment of PCR systems for purity testing of avian viral vaccines. Biologicals. 2010;38:381–8.

26.

Pang Y, Wang H, Girshick T, Xie Z, Khan MI. Development and application of a multiplex polymerase chain reaction for avian respiratory agents. Avian Dis. 2002;46:691–9.

27.

Rea TJ, Timmins JG, Long GW, Post LE. Mapping and sequence of the gene for the pseudorabies virus glycoprotein which accumulates in the medium of infected cells. J Virol. 1985;54:21–9.

28.

Roussan DA, Haddad R, Khawaldeh G. Molecular survey of avian respiratory pathogens in commercial broiler chicken flocks with respiratory diseases in Jordan. Poult Sci. 2008;87:444–8.

29.

Singh SB, Singh GR, Singh CM. A preliminary report on the occurrence of infectious laryngotracheitis of poultry in India. Poult Sci. 1964;43:492–4.

30.

Srinivasan P, Balachandran C, Gopalakrishna Murthy TR, Saravanan S, Pazhanivel N, Mohan B. Pathology of infectious laryngotracheitis in commercial layer chicken. Indian Vet J. 2012;89.

31.

Tamura K, Peterson D, Peterson N, Stecher G, Nei M, Kumar S. MEGA5: molecular evolutionary genetics analysis using maximum likelihood, evolutionary distance, and maximum parsimony methods. Mol Biol Evol. 2011;28:2731–9.

32.

Wild MA, Cook S, Cochran M. A genomic map of infectious laryngotracheitis virus and the sequence and organization of genes present in the unique short and flanking regions. Virus Genes. 1996;12:107–16.

33.

Williams RA, Bennett M, Bradbury JM, Gaskell RM, Jones RC, Jordan FT. Demonstration of sites of latency of infectious laryngotracheitis virus using the polymerase chain reaction. J Gen Virol. 1992;73(Pt 9):2415–20.
Acknowledgments
Authors are thankful to the Director IVRI for providing facilities and funds for carrying out the study.
About this article
Cite this article
Gowthaman, V., Singh, S.D., Dhama, K. et al. Molecular detection and characterization of infectious laryngotracheitis virus (Gallid herpesvirus-1) from clinical samples of commercial poultry flocks in India. VirusDis. 25, 345–349 (2014). https://doi.org/10.1007/s13337-014-0206-z
Received:

Accepted:

Published:

Issue Date:
Keywords
Infectious laryngotracheitis

PCR detection

Phylogenetic analyses

Molecular epidemiology

India