Abstract
Digital stereoscopic 3D cameras have entered the consumer market in recent years, but the acceptance of this novel technology has not yet been studied. The aim of this study was to identify the benefits and problems that novice users encounter in 3D photography by equipping five users with 3D cameras for a 4-week trial. We gathered data using a weekly questionnaire, an exit interview, and a stereoscopic disparity analysis of the 699 photographs taken during the trial. The results indicate that the participants took photographs at too-close distances, which caused excessive disparities. They learned to avoid the problem to some extent; the number of failed photographs due to excessive stereoscopic disparity decreased 70 % in 4 weeks. The participants also developed a preference for subjects that included clear depth differences and started to avoid photographing people because they looked unnatural in 3D photographs. They also regarded flash-induced shadows and edge violations problematic because of the unnatural effects in the photographs. We propose in-camera assistance tools for 3D cameras to make 3D photography easier.
Access options
Buy single article
Instant access to the full article PDF.
US$ 39.95
Tax calculation will be finalised during checkout.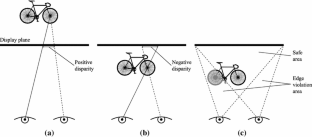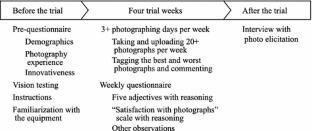 References
1.

Bagozzi, R. P. (2007). The legacy of the technology acceptance model and a proposal for a paradigm shift. Journal of the Association for Information Systems, 8(4), 244–254.

2.

Banerjee, S., & Evans, B. L. (2007). In-camera automation of photographic composition rules. IEEE Transactions on Image Processing, 16(7), 1807–1820. doi:10.1109/TIP.2007.898992.

3.

Berger, L. (2011). Snapshots, or: Visual culture's clichés. Photographies, 4(2), 175–190. doi:10.1080/17540763.2011.593922.

4.

Byers, Z., Dixon, M., Goodier, K., Grimm, C. M., & Smart, W. D. (2003). An autonomous robot photographer. In Proceedings of the IEEE/RSJ international conference on intelligent robots and systems (Vol. 3, pp. 2636–2641). IEEE. doi:10.1109/IROS.2003.1249268.

5.

Fattal, D., Peng, Z., Tran, T., Vo, S., Fiorentino, M., Brug, J., et al. (2013). A multi-directional backlight for a wide-angle, glasses-free three-dimensional display. Nature, 495(7441), 348–351. doi:10.1038/nature11972.

6.

Freeman, J., & Avons, S. E. (2000). Focus group exploration of presence through advanced broadcast services. In Proceedings of SPIE (Vol. 3959, pp. 530–539). SPIE. doi:10.1117/12.387207.

7.

Goldsmith, R. E., & Hofacker, C. F. (1991). Measuring consumer innovativeness. Journal of the Academy of Marketing Science, 19(3), 209–221.

8.

Greene, M. R., & Oliva, A. (2010). High-level aftereffects to global scene properties. Journal of Experimental Psychology: Human Perception and Performance, 36(6), 1430–1442. doi:10.1037/a0019058.

9.

Guest, G., Bunce, A., & Johson, L. (2006). How many interviews are enough?: An experiment with data saturation and variability. Field Methods, 18(1), 59–82. doi:10.1177/1525822X05279903.

10.

Gunnewiek, R. K., & Vandewalle, P. (2010). How to display 3D content realistically. In Proceedings of the international workshop on video processing and quality metrics for consumer electronics.

11.

Hakala, J., Nuutinen, M., & Oittinen, P. (2011). Interestingness of stereoscopic images. In Proceedings of SPIE stereoscopic displays and applications (Vol. 7863, pp. 78631S–1–78631S–11). doi:10.1117/12.872437.

12.

Harper, D. (2002). Talking about pictures: A case for photo elicitation. Visual Studies, 17(1), 13–26. doi:10.1080/14725860220137345.

13.

Hjorth, L. (2007). Snapshots of almost contact: The rise of camera phone practices and a case study in Seoul, Korea. Continuum, 21(2), 227–238. doi:10.1080/10304310701278140.

14.

Hwang, W., & Salvendy, G. (2010). Number of people required for usability evaluation. Communications of the ACM, 53(5), 130. doi:10.1145/1735223.1735255.

15.

Häkkinen, J., Kawai, T., Takatalo, J., Leisti, T., Radun, J., Hirsaho, A., & Nyman, G. (2008). Measuring stereoscopic image quality experience with interpretation based quality methodology. In Proceedings of SPIE stereoscopic displays and applications (Vol. 6808, pp. 68081B–1–68081B–12). SPIE. doi:10.1117/12.760935

16.

IJsselsteijn, W. A., Ridder, H. De, & Hamberg, R. (1998). Perceptual factors in stereoscopic displays: the effect of stereoscopic filming parameters on perceived quality and reported eyestrain. Proc. SPIE, 3299, 282–291.

17.

Karapanos, E., Zimmerman, J., Forlizzi, J., & Martens, J. (2009). User experience over time. In Proceedings of the SIGCHI conference on human factors in computing systems (pp. 729–738). New York: ACM Press. doi:10.1145/1518701.1518814.

18.

Kindberg, T., Spasojevic, M., Fleck, R., & Sellen, A. (2005). The ubiquitous camera: An in-depth study of camera phone use. IEEE Pervasive Computing, 4(2), 42–50. doi:10.1109/MPRV.2005.42.

19.

Kishi, S., Abe, N., Shibata, T., Kawai, T., Maeda, M., & Hoshi, K. (2009). Stereoscopic camera system with creator-friendly functions. In Proceedings of SPIE (Vol. 7237, pp. 72371M–1–72371M–9). doi:10.1117/12.807245.

20.

Kytö, M., Hakala, J., Oittinen, P., Häkkinen, J., & Häkkinen, J. (2012). Effect of camera separation on the viewing experience of stereoscopic photographs. Journal of Electronic Imaging, 21(1), 011011–011019. doi:10.1117/1.JEI.21.1.011011.

21.

Lambooij, M., IJsselsteijn, W., Fortuin, M., & Heynderickx, I. (2009). Visual discomfort and visual fatigue of stereoscopic displays: A review. Journal of Imaging Science and Technology, 53(3), 030201–030214. doi:10.2352/J.ImagingSci.Technol.53.3.030201.

22.

Lindley, S., & Monk, A. (2006). Designing appropriate affordances for electronic photo sharing media. In Extended abstracts on human factors in computing systems (pp. 1031–1036). New York: ACM Press. doi:10.1145/1125451.1125648.

23.

Liu, L., Chen, R., Wolf, L., & Cohen-Or, D. (2010). Optimizing photo composition. Computer Graphics Forum, 29(2), 469–478. doi:10.1111/j.1467-8659.2009.01616.x.

24.

Meesters, L., IJsselsteijn, W. A., & Seuntiëns, P. (2004). A survey of perceptual evaluations and requirements of three-dimensional TV. IEEE Transactions on Circuits and Systems for Video Technology, 14(3), 381–391. doi:10.1109/TCSVT.2004.823398.

25.

Mojsilović, A., Gomes, J., & Rogowitz, B. (2004). Semantic-friendly indexing and quering of images based on the extraction of the objective semantic cues. International Journal of Computer Vision, 56(1/2), 79–107. doi:10.1023/B:VISI.0000004833.39906.33.

26.

Montgomery, D., Jones, C., Stewart, J., & Smith, A. (2002). Stereoscopic camera design. In Proceedings of SPIE stereoscopic displays and virtual reality systems (Vol. 4660, pp. 26–37).

27.

Murray, S. (2008). Digital images, photo-sharing, and our shifting notions of everyday aesthetics. Journal of Visual Culture, 7(2), 147–163. doi:10.1177/1470412908091935.

28.

Neustaedter, C., & Fedorovskaya, E. (2009). Understanding and improving flow in digital photo ecosystems. In Proceedings of graphics interface (pp. 191–198).

29.

Ni, B., Xu, M., Cheng, B., Wang, M., Yan, S., & Tian, Q. (2013). Learning to photograph: A compositional perspective. IEEE Transactions on Multimedia, 15(5), 1138–1151. doi:10.1109/TMM.2013.2241042.

30.

NPD DisplaySearch. (2013). Demand for 3D optical film rises as passive 3D TV competes with shutter glass, according to NPD DisplaySearch. Santa Clara. Retrieved June 11, 2013, from http://www.displaysearch.com/cps/rde/xchg/displaysearch/hs.xsl/130327_demand_for_3d_optical_film_rises_as_passive_3d_tv_competes_with_shutter_glass.asp.

31.

Saldana, J. M. (2009). The coding manual for qualitative researchers. London: Sage.

32.

Sarvas, R., & Frohlich, D. M. (2011). From snapshots to social media—The changing picture of domestic photography (p. 199). London: Springer. doi:10.1007/978-0-85729-247-6.

33.

Schild, J., LaViola, J., & Masuch, M. (2012). Understanding user experience in stereoscopic 3D games. In Proceedings of SIGCHI'12 (p. 89). New York: ACM Press. doi:10.1145/2207676.2207690.

34.

Scifo, B. (2009). The sociocultural forms of mobile personal photographs in a cross-media ecology: Reflections starting from the young Italian experience. Knowledge, Technology & Policy, 22(3), 185–194. doi:10.1007/s12130-009-9080-1.

35.

Seuntiëns, P. (2006). Visual experience of 3D TV. Doctoral dissertation, Eindhoven University of Technology, Eindhoven.

36.

Seuntiëns, P., Heynderickx, I., IJsselsteijn, W. A., van Den Avoort, P. M. J., Berentsen, J., Dalm, I. J.,…,Oosting, W. (2005). Viewing experience and naturalness of 3D images. In Proceedings of SPIE Three-dimensional TV, video, and display (Vol. 6016, pp. 601605–1–601605–7). SPIE. doi:10.1117/12.627515.

37.

Sharples, M., Davison, L., Thomas, G. V., & Rudman, P. D. (2003). Children as photographers: An analysis of children's photographic behaviour and intentions at three age levels. Visual Communication, 2(3), 303–330. doi:10.1177/14703572030023004.

38.

Shen, C. T., Liu, J. C., Shih, S. W., & Hong, J. S. (2009). Towards intelligent photo composition-automatic detection of unintentional dissection lines in environmental portrait photos. Expert Systems with Applications, 36(5), 9024–9030. doi:10.1016/j.eswa.2008.12.041.

39.

Shin, D.-H., & Baek, S.-G. (2012). Can 3DTV create immersive environments? International Journal of Human-Computer Interaction, 28(5), 281–291. doi:10.1080/10447318.2011.586307.

40.

Takatalo, J., Kawai, T., Kaistinen, J., Nyman, G., & Häkkinen, J. (2011). User experience in 3D stereoscopic games. Media Psychology, 14(4), 387–414. doi:10.1080/15213269.2011.620538.

41.

Tam, W. J., Speranza, F., Yano, S., Shimono, K., & Ono, H. (2011). Stereoscopic 3D-TV: Visual comfort. IEEE Transactions on Broadcasting, 57(2), 335–346. doi:10.1109/TBC.2011.2125070.

42.

The NPD Group. (2013). U.S. Consumer Technology retail sales decline 2 percent in 2012. Press release. Port Washington, NY: The NPD Group, Inc. Retrieved June 11, 2013, from https://www.npd.com/wps/portal/npd/us/news/press-releases/us-consumer-technology-retail-sales-decline-2-percent-in-2012-according-to-the-npd-group/.

43.

Vallerand, R. J., & Ratelle, C. (2002). Intrinsic and extrinsic motivation: A hierarchical model. In E. L. Deci & R. M. Ryan (Eds.), Handbook of self-determination (pp. 37–63). Rochester, NY: The University of Rochester Press.

44.

Van der Heijden, H. (2004). User acceptance of hedonic information systems. MIS Quarterly, 28(4), 695–704.

45.

Van Dijck, J. (2008). Digital photography: Communication, identity, memory. Visual Communication, 7(1), 57–76.

46.

Venkatesh, V., Morris, M. G., Davis, G. B., & Davis, F. D. (2003). User acceptance of information technology: Toward a unified view. MIS Quarterly, 27(3), 425–478.

47.

Venkatesh, V., Thong, J., & Xu, X. (2012). Consumer acceptance and use of information technology: Extending the unified theory of acceptance and use of technology. MIS Quarterly, 36(1), 157–178.

48.

Whitehill, J., Littlewort, G., Fasel, I., Bartlett, M., & Movellan, J. (2009). Toward practical smile detection. IEEE Transactions on Pattern Analysis and Machine Intelligence, 31(11), 2106–2111. doi:10.1109/TPAMI.2009.42.

49.

Wöpking, M. (1995). Viewing comfort with stereoscopic pictures: An experimental study on the subjective effects of disparity magnitude and depth of focus. Journal of the Society for Information Display, 3(3), 101–103. doi:10.1889/1.1984948.

50.

Zhang, P., Aikman, S. N., & Sun, H. (2008). Two types of attitudes in ICT acceptance and use. International Journal of Human–Computer Interaction, 24(7), 628–648. doi:10.1080/10447310802335482.

51.

Zilly, F., Muller, M., Eisert, P., & Kauff, P. (2010). The Stereoscopic Analyzer—An image-based assistance tool for stereo shooting and 3D production. In Proceedings of the IEEE international conference on image processing (pp. 4029–4032). doi:10.1109/ICIP.2010.5649828
About this article
Cite this article
Hakala, J., Westman, S., Salmimaa, M. et al. Why 3D Cameras are Not Popular: A Qualitative User Study on Stereoscopic Photography Acceptance. 3D Res 5, 4 (2014). https://doi.org/10.1007/s13319-013-0004-1
Received:

Revised:

Accepted:

Published:
Keywords
Stereoscopic

3D

Cameras

Usability

Acceptance

Disparity

Motivation

Experience

Learning

Photographing