Abstract
Banana production is affected by Yellow Sigatoka, one of the causes of leaf lesions, which causes the reduction of the photosynthetic area of the plant and, consequently, the quality of the fruit and the production. The objective of this study was to analyze using geostatistics and comparing separable and non-separable spatio-temporal covariance models with different adjustment methods. The experiment was carried out in a banana plantation of the Prata-Anã variety, which presented high severity of the disease, without any control measures, which allowed the study of behavior under natural conditions. The Separable Doubly Exponential and the non-separable model of Gneiting were tested with the Weight Least Squares (WLS), Restricted Maximum Likelihood (REML) and Likelihood Pairwise estimation methods. The Gneiting model, WLS curve-fitting methods for estimatives space-time covariance structure, allowed to reduce the uncertainties of the spatial and temporal prediction of the disease, as well as to characterize the spatio-temporal pattern of the disease.
Access options
Buy single article
Instant access to the full article PDF.
USD 39.95
Price excludes VAT (USA)
Tax calculation will be finalised during checkout.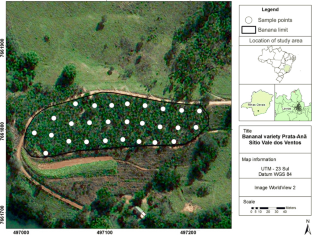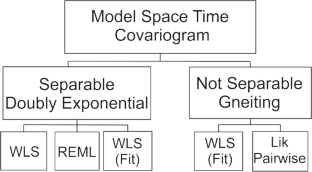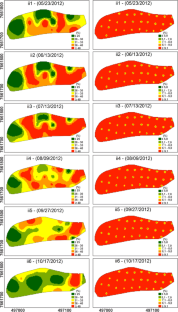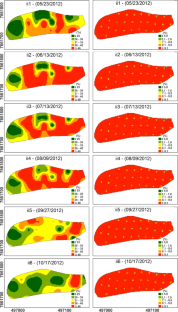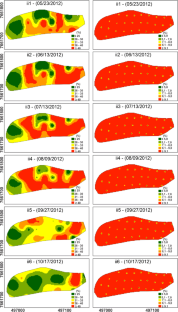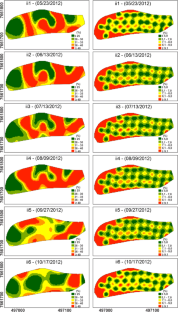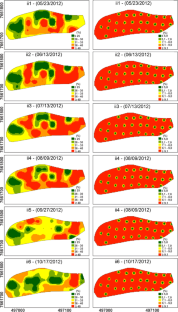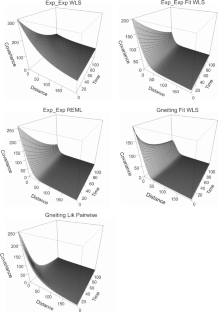 References
Alves MC, Pozza EA, Machado JC, Araújo DV, Talamini V, Oliveira MS (2006) Goestatistics as methodology to study the space-time dynamics of diseases transmited by seed-borne Colletotrichum spp. Fitopatol Bras 31:557–563. https://doi.org/10.1590/S0100-41582006000600004

Alves MC, Silva FM, Moraes JC Pozza EA, Oliveira MS, Souza JC, Alves LS (2011) Geostatistical analysis of the spatial variation of the berry borer and leaf miner in a coffee agroecosystem. Precis Agric 12:18–31. https://doi.org/10.1007/s11119-009-9151-z

Angel Y, Houborg R, McCabe MF (2016) Removal of clouds, dust and shadow pixels from hyperspectral imagery using a non-separable and stationary spatio-temporal covariance model. Remote Sensing for Agriculture, Ecosystems, and Hydrology. Remote Sensing for Agriculture, Ecosystems, and Hydrology XVIII 9998:999824 https://doi.org/10.1117/12.2241518

Castelan FP, Abadie C, Hubert O, Chilin-Charles Y, De Bellaire LL, Chillet M (2013) Relation between the severity of Sigatoka disease and banana quality characterized by pomological traits and fruit green life. Crop Prot 50:61–65. https://doi.org/10.1016/j.cropro.2013.02.019

Cordeiro ZJM, Matos AP (2005) Expressão da Resistência de Variedades de Banana à Sigatoka-Amarela. Fitopatologia brasileira, Brasília 30:532–534. https://doi.org/10.1590/S0100-41582005000500013

Faostat (2018) Food and Agriculture Organization of the United Nations Statistics Division. http://www.fao.org/faostat/en/#home. Acessed 06 Sept 2018

Fioravanço JC (2003) Mercado mundial da banana: produção, comércio e participação brasileira. Informações econômicas 33:15–27

Freitas AS, Pozza EA, Alves MC, Coelho G, Rocha HS, Pozza AAA (2015) Spatial distribution of Yellow Sigatoka leaf spot correlated with soil fertility and plant nutrition. Precis Agric 17:93–107. https://doi.org/10.1007/s11119-015-9409-6

Freitas AS, Pozza EA, Moreira SI, Soares MGO, Silva HR, Alves E (2017a) Infection process of Pseudocercospora musae on banana leaf. Phytoparasitica 45:317–324. https://doi.org/10.1007/s12600-017-0596-8

Freitas AS, Pozza EA, Pozza AAA, Soares MGO, Silva HR, Pérez CDP (2017b) Interaction between potassium (K) and calcium (Ca) on the severity of Yellow Sigatoka in banana plants. Afr J Agric Res 12(16):1353–1361. https://doi.org/10.5897/AJAR2017.12279

Gauhl F (1994) Epidemiology and ecology of black Sigatoka (Mycosphaerella fijiensis Morelet) on plantain and banana (Musa spp) in Costa Rica, Central América. Montpellier, France

Gneiting T (2002) Nonseparable, stationary covariance functions for space-time data. J Am Stat Assoc 97:590–600

Huser R, Davison AC (2014) Space-time modeling of extreme events. J R Stat Soc 76:439–461. https://doi.org/10.1111/rssb.12035

IBGE (2018) Instituto Brasileiro de geografia e Estatística. Produção agrícola municipal http://www.sidra.ibge.gov.br/. Acessed 06 Sep 2018

Ligges, U, Maechler, M, Schnackenberg, S (2018) Scatterplot3d: 3D Scatter Plot R package version 0.3–41, URL https://cran.r-project.org/web/packages/scatterplot3d/scatterplot3d.pdf. Acessed 11 Sept 2018

Montero JM, Fernández-Avilés G (2015) The role of visualisation in the choice of stationary non-separable space-time covariance functions: na application to air pollution data. Int J Geogr Inf Sci 29:1887–1909. https://doi.org/10.1080/13658816.2015.1063152

Montero JM, Fernández-Avilés G, Mondejár-Jiménez J, Vargas-Vargas M (2013) A spatio-temporal geostatistical approach to predicting pollution levels: the case of mono-nitrogen oxides in Madrid. Comput Environ Urban Syst 37:95–106. https://doi.org/10.1016/j.compenvurbsys.2012.06.005

Nychka D, Furrer R, Paige J, Sain. S (2018) Fields: Tools for Spatial Data. R package version 9.6, URL https://cran.r-project.org/web/packages/fields/fields.pdf. Acessed 11 Sept 2018

Oliveira MCN, Barbin D, Silva EF, Macedo JR, Capeche CL, Hissa HR (2006) Estimação dos parâmetros de uma função de covariância no estudo da variabilidade especial do teor de cálcio no solo. Revista de Matemática e Estatística, Marília 24:117–132

Padoan S, Bevilacqua M (2018) CompRandFld: Composite-Likelihood Based Analysis of Random Fields. R package version 1.0.3–5, URL https://cran.r-project.org/web/packages/CompRandFld/CompRandFld.pdf. Acessed 11 Sept 2018

Pozza EA, Pozza AAA (2012) Relação entre nutrição e as doenças de plantas: implicações práticas. SIMPÓSIO AVANÇOS NA OTIMIZAÇÃO DO USO DE DEFENSIVOS AGRÍCOLAS NO MANEJO FITOSSANITÁRIO, 12., Lavras. Anais…Lavras: UFLA, 2012. 1 CD-ROM

Ribeiro Júnior PJ, Diggle PJ (2018) geoR: analysis of geostatistical data. R package version 1.7–5.2.1 URL https://cran.r-project.org/web/packages/geoR/geoR.pdf. Acessed 11 Sept 2018

Rocha HS, Pozza EA, Uchôa CDN, Cordeiro ZJM, Souza PE, Sussel ÂAB, Rezende CA (2012) Temporal progress of yellow Sigatoka and aerobiology of Mycosphaerella musicola spores. J Phytopathol 160:277–285. https://doi.org/10.1111/j.1439-0434.2012.01897.x

Sherman, M (2011) Spatial statistics and Spatio-temporal data: covariance functions and directional properties. Wiley, Chichester

Stover RH (1972) Banana, plantain and Abaca disease. Kew, London

Wardlaw CW (1961) Leaf spot (Sigatoka disease). In: Wardlaw CW (ed) Banana disease: including plantations and Abaca. Longman, Edingburgh, pp 314–341
Acknowledgments
The National Council for Scientific and Technological Development (CNPq) provided the Master's scholarship in Engineering Department in Federal University of Lavras, to the site Vale dos Ventos for allowing the use of the experimental area and to the Foundation for Research Support of the State of Minas Gerais (FAPEMIG), for financing the project.
About this article
Cite this article
Rodrigues, J.D.P., Alves, M.C., Freitas, A.S. et al. Geostatistical stationary space-time covariance functions modeling of Yellow Sigatoka progress in banana crop. Australasian Plant Pathol. 48, 233–244 (2019). https://doi.org/10.1007/s13313-019-0622-z
Received:

Accepted:

Published:

Issue Date:

DOI: https://doi.org/10.1007/s13313-019-0622-z
Keywords