Abstract
Sporisorium reilianum causes head smut in sorghum and maize and exists in two formae speciales, Sporisorium reilianum f. sp. reilianum and Sporisorium reilianum f. sp. zeae that have preference for sorghum and maize, respectively. Infection requires the formation of a dikaryon between sporidia of compatible mating types, leading to a change from yeast-like to hyphal growth within the host plant. This switching is controlled through mating type loci. A total of 66 sorghum isolates of S. reilianum collected from fields in different geographic regions and 2 maize isolates were examined for mating compatibility, leading to the establishment of haploid cultures with three different alleles at the a mating type locus, as verified by gene expression. Interestingly, a mating compatibility was detected between maize and sorghum isolates. Comparison of amino acid sequences, deduced from nucleotide sequencing of pheromone precursor genes of sorghum to the corresponding components in maize, showed 100% similarity of pheromone components mfa1.2, mfa2.1, mfa3.1 and 97% for mfa1.3, mfa3.2 and mfa2.3. Only 1 amino acid substitution was detected in sorghum mfa1.3. To assay host preference in relationship to whole genome polymorphism, six amplified fragment length polymorphism (AFLP) selective primer combinations were used on DNA of S. reilianum isolates. High genetic polymorphism (61%) was observed between sorghum and maize isolates. The resultant dendrogram constructed using neighbor-joining (NJ) analysis grouped maize isolates into one cluster with high similarity (>88%) while sorghum isolates grouped into four clusters suggesting that genetic differentiation contributes to host specific populations of S. reilianum.
Access options
Buy single article
Instant access to the full article PDF.
US$ 39.95
Tax calculation will be finalised during checkout.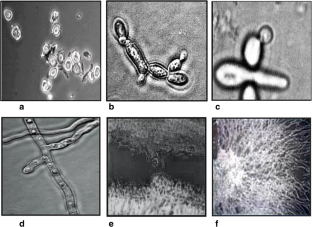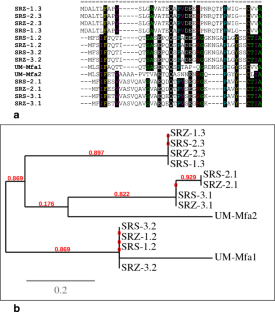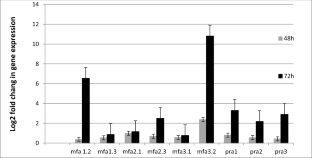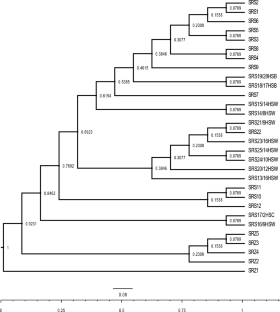 References
Banuett F, Herskovits I (1994) Morphological transitions in the life cycle of Ustilago maydis and their genetic control by the a and b loci. Exp Mycol 18:247–266

Banuett F, Herskowitz I (1989) Different a alleles of Ustilago maydis are necessary for maintenance of filamentous growth but not for meiosis. Proc Natl Acad Sci U S A 86:5878–5882

Casselton L, Olesnicky N (1998) Molecular genetics of mating recognition in basidiomycete Fungi. Microbiol Mol Biol Rev 62:55–70

Dereeper A, Guignon V, Blanc G, Audic S, Buffet S, Chevenet F, Dufayard JF, Guindon S, Lefort V, Lescot M, Claverie JM, Gascuel O (2008) Phylogeny.fr: robust phylogenetic analysis for the non-specialist. Nucleic Acids Res 36:465–469

Dodman RL, Obst NR, Henzell RG (1985) Races of sorghum head smut (Sphacelotheca reiliana) in southeast Queensland Australas. Plant Pathol 2:45

Frederiksen RA (2000) Disease and disease management in sorghum. In: Smith C, Frederiksen RA (eds) Sorghum– origin, history, technology and production. USA. Wiley J & Sons, New York, pp 497–533

Frowd JA (1980) A world review of sorghum smuts. In: Williams RJ, Frederiksen RA, Mughogho LK (eds) Sorghum diseases: A world review. ICRISAT, Patancheru, pp 331–348

Hanna WF (1929) Studies in the physiology and cytology of Ustilago zeae and Sorosporium reilianum. Phytopathol 19:415–443

Hartmann HA, Kahmann R, Bolker M (1996) The pheromone response factor coordinates filamentous growth and pathogenicity in Ustilago maydis. EMBO J 15:1632–1641

Herrera JA, Vallejo AB (1988) Distribution of race of head smut (Sphacelotheca reliliana) in the northeast and southwest areas of Mexico. Sorghum Newsl 29:86

Jaccard P (1908) Nouvelles recherches sur la distribution florale. Bull Soc Vaud Sci Nat 44:223–270

Kellner R, Vollmeister E, Feldbrügge M, Begerow D (2012) Interspecific sex in grass smuts and the genetic diversity of their pheromone-receptor system. PLoS Genet 7(12)

Koopman W, Gort G (2004) Significance tests and weighted values for AFLP similarities based on Arabidopsis in silico- AFLP fragment length distributions. Genetics 167:1915–1928

Kües U, James TY, Heitman J (2011) Mating type in Basidiomycetes: unipolar, bipolar, and tetrapolar patterns of sexuality. In: Pöggeler S, Wöstemeyer J (eds) Evolution of Fungi and fungal-like organisms. Springer Verlag, Berlin, pp 97–160 (The Mycota; vol. 14)

Little C, Perumal R, Tesso T, Prom LK, Odvody GN, Magill C (2012) Sorghum pathology and biotechnology – a fungal disease perspective: part 1. Grain mold, head smut, and ergot. Eur J Plant Sci Biotech 6:10–30

Livak KJ, Schmittgen TD (2001) Analysis of relative gene expression data using real-time quantitative PCR and the 2(−Delta Delta C (T)) method. Methods 25:402–408

Martinez C, Roux C, Dargent R (1999) Biotrophic development of Sporisorium reilianum zeae in maize shoot apex. Phytopathol 89:247–253

Martinez C, Roux C, Jauneau A, Dargent R (2002) The biological cycle of Sporisorium reilianum f. sp. zeae: an overview using microscopy. Mycologia 94:505–514

Naidoo G (1992) Identification and differentiation of host-specific isolates of Sporisorium reilianum using molecular markers. Dissertation, Texas A&M University

Naidoo G, Torres-Montalvo H (2002) Genetic variability among and within host specialized isolates of Sporisorium reilianum. In: Leslie JF, Blackwell A (eds) Sorghum and millets diseases. Iowa State Press, Ames, pp 221–225

Poloni A, Schirawski J (2016) Host specificity in Sporisorium reilianum is determined by distinct mechanisms in maize and sorghum. MolPlant Pathol 17:741–754

Prom LK, Perumal R, Erattaimuthu SR, Erpelding JE, Montes N, Odvody GN, Greenwald C, Jin Z, Frederiksen R, Magill CW (2011) Virulence and molecular genotyping studies of Sporisorium reilianum isolates in sorghum. Plant Dis 95:523–529

Puhalla JE (1968) Compatibility reactions on solid medium and inter strain inhibition in Ustilago maydis. Genetics 60:461–474

Quezada-Salinas A (2010) Selection of resistant maize germplasm to head smut (S. reilianum f. Sp.zea). Colegio De Pastgraduados, Campus Montecillo, Mexico PhD thesis

Raudaskoski M, Kothe E (2010) Basidiomycete mating type genes and pheromone signaling. Eukaryot Cell 9:847–859

Rich P, Ejeta G (2008) Towards effective resistance to Striga in African maize. Plant Signal Behav 3:618–621

Schirawski J, Heinze B, Wagenknecht M, Kahmann R (2005) Mating type loci of Sporisorium reilianum: novel pattern with three a and multiple b specificities. Eukaryot Cell 4:1317–1327

Schirawski J, Mannhaupt G, Münch K, Brefort T, Schipper K, Doehlemann G, di Stasio M, Rössel N, Mendoza-Mendoza A, Pester D, Müller O, Winterberg B, Meyer E, Ghareeb H, Wollenberg T, Münsterkötter M, Wong P, Walter M, Stukenbrock E, Güldener U, Kahmann R (2010) Pathogenicity determinants in smut fungi revealed by genome comparison. Science 330:1546–1548

Snetselaar KM, Mims CW (1992) Sporidial fusion and infection of maize seedlings by the smut fungus Ustilago maydis. Mycologia 84:193–203

Stromberg EL, Stienstra WC, Kommedahl T, Matyac CA, Windels CE, Gealdelmann JL (1984) Smut expression and resistance of corn to Sphacelotheca reiliana in Minnesota. Plant Dis 68:880–884

Teferi A, Petitprez M, Valles V, Albertini L (1989) Influence of soil water potential and soil texture on infection of maize by head smut. Agronomie 9:677–682

Vos P, Hogers R, Bleeker M, Reijans M, Van de Lee T (1995) AFLP: a new technique for DNA fingerprinting. Nucleic Acids Res 23:4407–4414

White TJ, Bruns T, Lee S, Taylor JW (1990) Amplification and direct sequencing of fungal ribosomal RNA genes for phylogenetics. In: Innis MA, Gelfand DH, Sninsky JJ, White TJ (eds) PCR protocols: a guide to methods and applications. Academic Press, New York, pp 315–322

Zarnack K, Eichhorn H, Kahmann K, Feldbrügge M (2008) Pheromone-regulated target genes respond differentially to MAPK phosphorylation of transcription factor Prf1. MolMicrobiol 69:1041–1053

Zhang F, Ping J, Du Z, Cheng Q, Huang Y (2011) Identification of a new race of Sporisorium reilianum and characterization of the reaction of sorghum lines to four races of the head smut pathogen. J Phytopathol 159:342–346
Acknowledgements
The authors extend their sincere thanks to Dr. Ramasamy Perumal, KSU for his instructions for AFLP analysis and Global Crop Diversity Trust and USDA, ARS for the project funding support.
About this article
Cite this article
Radwan, G.L., Prom, L.K., Odvody, G. et al. Mating type a locus alleles and genomic polymorphism in Sporisorium reilianum: comparison of sorghum isolates to those from maize. Australasian Plant Pathol. 48, 119–129 (2019). https://doi.org/10.1007/s13313-018-0607-3
Received:

Accepted:

Published:

Issue Date:
Keywords
Head smut

Mating-types

Basidiomycete

AFLPs