Abstract
The Botryosphaeriales, and in particular the Botryosphaeriaceae, are a well-studied group of fungi best known for the canker diseases they cause on woody hosts especially in stressed or damaged trees. Australian Plant Pathology herbaria contain many records for this group, but due to considerable taxonomic changes over the past decade, many of the species names have since been reclassified. In this article we used all published records with available sequence data of the Botryosphaeriaceae in Australia to examine the distribution and host range of these taxa. There are 24 genera encompassing 222 species in the Botryosphaeriaceae; 9 genera and 62 species have been recorded in Australia. Some genera such as Neoscytalidium are only found in warm, humid climates while Dothiorella species are more common in temperate climates. There were species, such as Lasiodiplodia theobromae, Neofusicoccum parvum and Botryosphaeria dothidea, which had a wide host range with many records. However, there were also several species found only in one location on a single host. While systematic data collection is still required, the information presented here provides a baseline of species present in Australia and will underpin future studies into this group of important pathogens.
Access options
Buy single article
Instant access to the full article PDF.
US$ 39.95
Tax calculation will be finalised during checkout.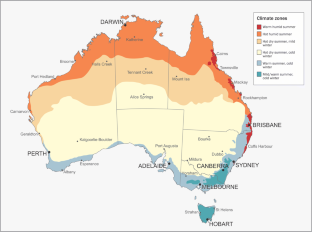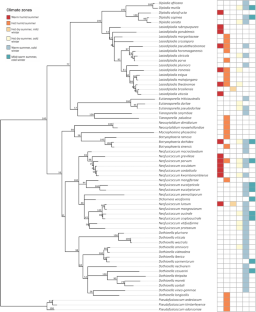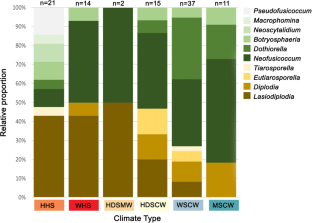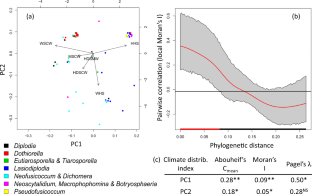 References
Bihon W, Burgess TI, Slippers B, Wingfield MJ, Wingfield BD (2012) High levels of genetic diversity and cryptic recombination is widespread in introduced Diplodia pinea populations. Australas Plant Pathol 41:41–46

Burgess T, Wingfield MJ (2002) Quarantine is important in restricting the spread of exotic seed-borne tree pathogens in the southern hemisphere. Int For Rev 4:56–65

Burgess TI, Barber PA, Mohali S, Pegg G, De Beer W, Wingfield MJ (2006) Three new Lasiodiplodia spp. from the tropics, recognised based on DNA sequence comparisons and morphology. Mycologia 98:423–435

Crous PW, Wingfield MJ, Richardson DM, Le Roux JJ, Strasberg D, Edwards J, Roets F, Hubka V, Taylor PWJ, Heykoop M, Martín MP, Moreno G, Sutton DA, Wiederhold NP, Barnes CW, Carlavilla JR, Gené J, Giraldo A, Guarnaccia V, Guarro J, Hernández-Restrepo M, Kolařík M, Manjón JL, Pascoe IG, Popov ES, Sandoval-Denis M, Woudenberg JHC, Acharya K, Alexandrova AV, Alvarado P, Barbosa RN, Baseia IG, Blanchette RA, Boekhout T, Burgess TI, Cano-Lira JF, Čmoková A, Dimitrov RA, Dyakov MY, Dueñas M, Dutta AK, Esteve-Raventós F, Fedosova AG, Fournier J, Gamboa P, Gouliamova DE, Grebenc T, Groenewald M, Hanse B, Hardy GESJ, Held BW, Jurjević Ž, Kaewgrajang T, Latha KPD, Lombard L, Luangsa-Ard JJ, Lysková P, Mallátová N, Manimohan P, Miller AN, Mirabolfathy M, Morozova OV, Obodai M, Oliveira NT, Ordóñez ME, Otto EC, Paloi S, Peterson SW, Phosri C, Roux J, Salazar WA, Sánchez A, Sarria GA, Shin H-D, Silva BDB, Silva GA, Smith M, Souza-Motta CM, Stchigel AM, Stoilova-Disheva MM, Sulzbacher MA, Telleria MT, Toapanta C, Traba JM, Valenzuela-Lopez N, Watling R, Groenewald JZ (2016) Fungal Planet description sheets: 400–468. Persoonia 36:316–458

de Wet J, Slippers B, Presig O, Wingfield BD, Wingfield MJ (2008) Phylogeny of the botryosphaeriaceae reveals patterns of host association. Mol Phylogenet Evol 46:116–126

De Wet J, Slippers B, Preisig O, Wingfield BD, Tsopelas P, Wingfield MJ (2009) Molecular and morphological characterization of Dothiorella casuarini sp. nov. and other Botryosphaeriaceae with diplodia-like conidia. Mycologia 101:503–511

Dissanayake AJ, Camporesi E, Hyde KD, Yan JY, Li XH (2017) Saprobic Botryosphaeriaceae, including Dothiorella italica sp nov., associated with urban and forest trees in Italy. Mycosphere 8:1157–1176

Farr DF, Rossman AY (2018) Fungal Databases, U.S. National Fungus Collections, ARS, USDA. Retrieved April 4, 2018, from https://nt.ars-grin.gov/fungaldatabases/.

Jacobs KA, Rehner SA (1998) Comparison of cultural and morphological characters and ITS sequences in anamorphs of Botryosphaeria and related taxa. Mycologia 90:601–610

Jami F, Slippers B, Wingfield MJ, Loots MT, Gryzenhout M (2015) Temporal and spatial variation of Botryosphaeriaceae associated with Acacia karroo in South Africa. Fungal Ecol 15:51–62

Jami F, Wingfield MJ, Gryenhout M, Slippers B (2017) Diversity of tree-infecting Botryosphaeriales on native and non-native trees in South Africa and Namibia. Australas Plant Pathol 46:529–545

Keck F, Rimet F, Bouchez A, Franc A (2016) phylosignal: an R package to measure, test, and explore the phylogenetic signal. Ecol Evol 6:2774–2780. https://doi.org/10.1002/ece3.2051

Lawrence DP, Hand FP, Gubler WD, Trouillas FP (2017) Botryosphaeriaceae species associated with dieback and canker disease of bay laurel in northern California with the description of Dothiorella californica sp. nov. Fungal Biol 121:347–360

Marsberg A, Kemler M, Jami F, Nagel JH, Postma-Smidt A, Naidoo S, Wingfield MJ, Crous PW, Spatafora JW, Hesse CN (2017) Botryosphaeria dothidea: a latent pathogen of global importance to woody plant health. Mol Plant Pathol 18:477–488

Mehl J, Wingfield MJ, Roux J, Slippers B (2017) Invasive everywhere? Phylogeographic analysis of the globally distributed tree pathogen Lasiodiplodia theobromae. Forests 8. https://doi.org/10.3390/f8050145

Mohali S, Burgess TI, Wingfield MJ (2005) Diversity and host association of the tropical tree endophyte Lasidioplodia theobromae revealed using SSR markers. For Pathol 35:385–396

Pavlic D, Slippers B, Coutinho TA, Wingfield MJ (2009) Multiple gene genealogies and phenotypic data reveal cryptic species of the Botryosphaeriaceae: a case study on the Neofusicoccum parvum/N. ribis complex. Mol Phylogenet Evol 51:259–268

Pitt WM, Úrbez-Torres JR, Trouillas FP (2015) Dothiorella and Spencermartinsia, new species and records from grapevines in Australia. Australas Plant Pathol 44:43–56

R Core Team (2017) R: A language and environment for statistical computing. R Foundation for Statistical Computing, Vienna, Austria. URL https://www.r-project.org/.

Sakalidis ML, Hardy GES, Burgess TI (2011a) Endophytes and potential pathogens of the baobab species Adansonia gregorii; a focus on the Botryosphaeriaceae. Fungal Ecol 4:1–14. https://doi.org/10.1016/j.funeco.2010.06.001

Sakalidis ML, Hardy GES, Burgess TI (2011b) Use of the Genealogical Sorting Index (GSI) to delineate species boundaries in the Neofusicoccum parvum- N. ribis species complex. Mol Phylogenet Evol 60:333–344. https://doi.org/10.1016/j.ympev.2011.04.026

Sakalidis ML, Slippers B, Wingfield BD, Hardy GES, Burgess TI (2013) The challenge of understanding the origin, pathways and extent of fungal invasions: global populations of the Neofusicoccum parvum -N. ribis species complex. Divers Distrib 19:873–883. https://doi.org/10.1111/ddi.12030

Slippers B, Wingfield MJ (2007) Botryosphaeriaceae as endophytes and latent pathogens of woody plants: diversity, ecology and impact. Fungal Biol Rev 21:90–106

Slippers B, Crous PW, Jami F, Groenewald JZ, Wingfield MJ (2017) Diversity in the Botryosphaeriales: looking back, looking forward. Fungal Biol 121:307–321

Tan Y-P, Shivas RG, Marney TS, Edwards J, Dearnaley J, Jami F, Burgess TI (2018) Australian cultures of Botryosphaeriaceae held in Queensland and Victoria plant pathology herbaria revisited. Australas Plant Pathol. https://doi.org/10.1007/s13313-13018-10559-13317

Taylor K, Barber PA, Hardy GES, Burgess TI (2009) Botryosphaeriaceae from tuart (Eucalyptus gomphocephala) woodland, including the description of four new species. Mycol Res 113:337–353

Úrbez-Torres JR (2011) The status of Botryosphaeriaceae species infecting grapevines. Phytopathol Mediterr 50:5–45

Yang T, Groenewald JZ, Cheewangkoon R, Jami F, Abdollahzadeh J, Lombard L, Crous PW (2017) Families, genera, and species of Botryosphaeriales. Fungal Biol 121:322–346
Acknowledgements
The authors would like to thank all the plant health diagnostic staff and herbaria curatorial staff for isolating and maintaining the cultures accessed from BRIP and VPRI.
Electronic supplementary material
About this article
Cite this article
Burgess, T.I., Tan, Y.P., Garnas, J. et al. Current status of the Botryosphaeriaceae in Australia. Australasian Plant Pathol. 48, 35–44 (2019). https://doi.org/10.1007/s13313-018-0577-5
Received:

Accepted:

Published:

Issue Date:
Keywords
Lasiodiplodia
Neofusicoccum
Dothiorella
Mangifera indica
Vitis vinifera

Phylogenetic conservatism